Opinion |
Are Jewish Lives More Threatened by the Left or the Right? That's the Wrong Question
There's just one problem with the entire debate about whose anti-Semitism is worse: neither are the post-WWII source of the abuse and murder of the most Jews. That distinction belongs to Islamists
Videograb taken from security footage shows the gunman Mehdi Nemmouche who opened fire at the Jewish museum in Brussels on May 24, 2014 killing three people
Credit: AFP
Everyone agrees that anti-Semitism is a dangerous phenomenon that must be strongly condemned whenever it rears its ugly head – as long as it's in the opponent's political camp.
Nobel laureate Paul Krugman is no exception, as he demonstrated when he recently informed his four-and-a-half million Twitter followers that he takes the "persistence of anti-Semitism" as a given, but that the only "brand of antisemitism" that "scares" him was "not on the left."
Krugman illustrated his tweet with a photo from the 2017 march of militant white nationalists in Charlottesville, Virginia.
Back in 2017, it was President Donald Trump who faced criticism for his reluctance to unequivocally condemn the far-right. Now, less than two years later, the Democrats seemed reluctant to condemn their new colleague Ilhan Omar for repeatedly invoking anti-Semitic motifs in her remarks about the "allegiances" of Israel's American Jewish supporters and AIPAC "vote-buying."
But like many on the left, Krugman apparently believes that Omar's anti-Semitic dog whistles sound sweeter because they come from his own camp. Perhaps the Nobel laureate is unaware that the far-right former KKK leader David Duke - on the "scary" end of Krugman's anti-Semitism spectrum - celebrated the congresswoman's comments for boosting his own views. Duke just can't stop praising Omar as "the most important Member of the US Congress!" Where would that fit into Krugman's categorization?
This was not the first time Duke has cheered on self-described "progressives" who make the news for their "criticism" of Israel. Moreover, since the far-right and the far-left don't hesitate to bond over their shared hatred for Jews and/or their "Zio" state, it's perhaps time to question how useful it is to view far right and far left-wing anti-Semitism as two clearly distinct "brands."
But if the question is, as Krugman suggested, which "brand of anti-Semitism" is most scary, neither left or right-wing fit the bill. The answer would have to be Islamist anti-Semitism.
Hamas took the trouble to explain in considerable detail what Islamist anti-Semitism entails when it formulated its charter in 1988. Ever since, statements by its leaders as well as the terror group's conduct have provided plenty of evidence that this noxious brew of European anti-Semitism, fascism, and Islamic text-based Jew-hatred remains central to Hamas ideology.
While many on the left may be tempted to shrug this off as Israel's problem, anyone who is sincerely concerned about virulent anti-Semitism will know that the kind of views propagated by Islamist Jew-haters are all too often also spread by fanatic preachers in the U.S. and Europe.
If we're appalled by Omar's anti-Semitic speech, and by Trump's race-baiting rhetoric, which many blamed for inciting and legitimizing extremist violence against Jews in Pittsburgh, then we can't "forget" in our league table anti-Jewish incitement by Islamists in America either, nor forget that the deadliest massacre of Jews anywhere since World War II was carried out by Hezbollah in Buenos Aires.
'Shoot the Jews': How Sweden's Jews Just Became Key Targets for Violent Muslim Anger >> In Denial About ISIS: We British Muslims Still Aren't Facing Up to Islamist Radicalization
One of the most recent incidents of Islamist anti-Semitic incitement happened not all that far from where Paul Krugman lives. In a series of fairly well-attended sermons that were also live-streamed, a preacher at the Al-Aqsa Islamic Society in Philadelphia, PA, denounced Jews as vile, sadistically murderous, manipulative and all-controlling.
The Al-Aqsa Islamic Society is known for its interfaith activities, and officials have unequivocally condemned the sermons and vowed to "make sure that this never happens again." However, the imam who delivered the offensive sermons remained "shamefully unrepentant." He had reportedly been employed by a local mosque for a decade and had served as a guest speaker at other mosques in the area.
There is unfortunately no shortage of similar examples from the U.S. and Europe, and it almost goes without saying that in the Middle East, this kind of incitement is commonplace. At the Al-Aqsa mosque, which is often described as Islam's third-holiest site, hate preachers regularly hold forth without facing any consequences.
Yet the words of hate preachers do have consequences, because in the biographies of Islamist terrorists, exposure to twisted interpretation of religious texts and traditions whether in person or online is a common feature. And in Islamist demonology, Jews are arguably no less central than for the far-right's foundational conspiracy theories.
That hate speech and bigotry leaches out to the wider population; as Fareed Zakaria recently pointed out, anti-Semitism "is now routine discourse in Muslim populations in the Middle East and also far beyond."
A real-world reminder of the lethality of Islamist terrorism came just a day after Paul Krugman posted his thoughts on anti-Semitism, when a Belgian court found French Islamist Mehdi Nemmouche guilty of murdering four people in a terrorist attack at the Jewish Museum of Brussels in 2014.
But it is in France where the toll of Islamist Jew-hatred has been particularly grim: "Eleven victims in a dozen years. All French citizens, all murdered on French soil, all, without exception, because they were Jews. All of the murderers (also French citizens, for the most part) acted in the name or under the sway of Islamist ideology."
>> Mein Kampf Meets Jihad: How Neo-Nazis Are Copying the ISIS Terror Playbook >>>> We Muslims Need to Talk About Muslim anti-Semitism
In the U.S., the worst ever atrocity against the Jewish community was perpetrated by a far right activist in Pittsburgh last year. But we shouldn't forget that an Islamist who reportedly planned to "mimic" this deadly neo-Nazi attack on a Pittsburgh synagogue last October was indicted just a few weeks ago; another Islamist plot to bomb a synagogue was foiled in 2016.
In Germany, government statistics published last year revealed "that German police nationwide documented an average of four criminal incidents with an anti-Semitic motive every day last year, for a total of 1,453 incidents." German Interior Ministry statistics found "that Muslims are responsible for most of Germany's anti-Semitic assaults, whether physical or verbal."
A recent survey of Jewish communities across 12 EU member states highlighted the "shocking statistic" that more than 30% of the continent's Jews say that they would consider emigrating because they no longer feel safe as Jews: "Anti-Semitism appears to be so deep-rooted in society that regular harassment has become part of their normal everyday life. Almost 80% do not report serious incidents to the police or any other body."
And the source of this "pervasive antisemitism [that] undermines Jews' feelings of safety and security"? Respondents were asked about the most serious experience of anti-Semitism they'd faced in the last five years: 30% responded they were targeted by an "extremist Muslim," 21% by a left-winger, and 13% by someone from the right.
While it is understandable that current debates about anti-Semitism are shaped by worrisome news about a resurgent far-right, xenophobia in the GOP and the seemingly endless scandals of the British Labour party under Jeremy Corbyn, as well as more recent controversies about remarks by newly elected Democrats like Ilhan Omar, it is clear that the right-left dichotomy isn't the sum of the threat facing Jews. Islamist anti-Semitism, its deathcount and its global reach shouldn't be forgotten.
And there is arguably even less justification for ignoring the fact that when Islamist Jew-haters target Israelis, chances are those left-wing activists who reject Israel's legitimate existence will whitewash the murderous hate.
The most recent example comes from the anti-Israel activists who are preparing to launch their 15th Annual Israeli Apartheid Week with an official poster that prominently features the incendiary and explosive kites modified by Hamas terrorists designed to start devastating fires or hurt unsuspecting children once they are let loose to drift across the border with Israel.
What's in the minds of those who launch these kites was documented last year in an NPR report from Gaza. A 19-year-old Palestinian "holding a homemade white kite" told the NPR reporters that his kite, decorated with swastikas and slogans claiming Jerusalem for the Palestinians, was "going to go to the Jews." The reporter asked: "What does this [swastika] mean to you? Why do you put that on there?" He was told: "The Jews go crazy for Hitler when they see it."
The reporter responded that the Israelis "know that people are flying kites with swastikas. They know this, and they use it to discredit you, to say this shows you're bad people. What do you think about that?" The response he got was: "This is actually what we want them to know, […] that we want to burn them."
Wanting to burn Jews has long been a favorite among Jew-haters, but that this would be again openly celebrated on a poster for a supposedly "progressive" cause in 2019 is something that should concern us all.
After all, left-wing activists wouldn't glamorize or reframe or excuse anti-Semitism from the right, whether from Republican leaders or neo-Nazis. Nor should they do the same for Islamist anti-Semitism, whose lethal nature, Paul Krugman, should scare you just as much, if not more, than the far right's hatemongerers and murderers.
Petra Marquardt-Bigman is a German-Israeli researcher and writer with a Ph.D. in contemporary history. Twitter: @WarpedMirrorPMB
Click the alert icon to follow topics:
ICYMI
Ken Burns' Brilliant 'The U.S. and the Holocaust' Has Only One Problem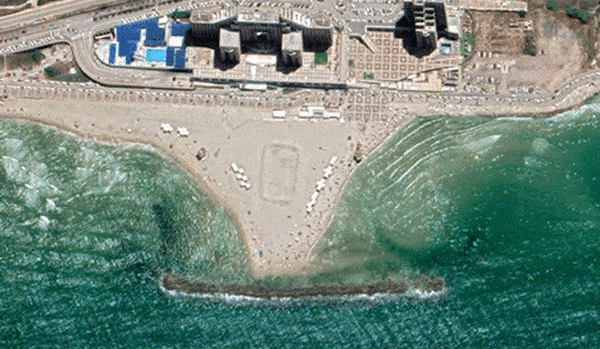 Facing Rapid Rise in Sea Levels, Israel Could Lose Large Parts of Its Coastline by 2050
Lapid to Haaretz: 'I Have Learned to Respect the Left'
The Mossad's Fateful 48 Hours Before the Yom Kippur War
As Israel Reins in Its Cyberarms Industry, an Ex-intel Officer Is Building a New Empire
How the Queen's Death Changes British Jewry's Most Distinctive Prayer