Analysis |
What a Netanyahu Election Victory Will Mean for American Jewry
The prime minister's religious coalition partners are inching toward supporting a law that will shield him from indictment; non-Orthodox Jews will pay the price if such legislation passes
Israeli Prime Minister Benjamin Netanyahu delivering a speech at the launch of Likud party election campaign in Ramat Gan, March 4, 2019.
Credit: \ AMIR COHEN/ REUTERS
WASHINGTON — Amid the flood of news, fake news and spin emerging from the Israeli election campaign, a headline came out Tuesday that's very relevant to the American Jewish community.
Moshe Gafni, a Knesset member from United Torah Judaism, said that after the election his party will seriously consider supporting legislation to protect Benjamin Netanyahu from a corruption indictment if the prime minister wins another term and forges a governing coalition with the Haredim.
This statement was one of many election-related headlines in Israel on Tuesday, but it's probably the most important one for the country's relationship with U.S. Jewry.
Gafni's remark basically means that if Netanyahu's Likud wins next month, the ultra-Orthodox parties will make him an offer he can't refuse. If he brings them into the coalition and supports their interests, they'll let him skirt a criminal indictment in the three corruption cases plaguing him.
Likud already tried in the previous Knesset to pass legislation shielding Netanyahu from indictment, but failed to find a majority. If he wins at the ballot box, however, he's expected to take another stab at such a bill, arguing that since he won re-election despite the indictments, it's legitimate to pass a law protecting him from standing trial.
There's zero chance that Kahol Lavan, the centrist electoral alliance challenging Netanyahu on April 9, will support such legislation. The left-wing parties won't back it either.
This means that if he's serious about such a law, Netanyahu's only potential coalition will be a re-creation of his narrow right-wing/religious coalition from the previous Knesset. Thus the main question won't be whether the coalition parties support such a law, but what they'll request in return.
The first of Netanyahu's likely coalition partners to support protection from an indictment was the right-wing Habayit Hayehudi party, which forged an electoral alliance with the far-right Otzma Yehudit last month. For this outfit, the main quid pro quo with Netanyahu will be expanding settlements in the West Bank and possibly annexing parts of it.
For both Habayit Hayehudi and the ultra-Orthodox, another priority will be keeping laws that discriminate against non-Orthodox streams of Judaism and shunning steps to create legitimacy for Reform and Conservative Judaism in Israel.
In his outgoing government, Netanyahu caved to the religious parties and canceled an agreement to provide a prayer space for non-Orthodox Jews at the Western Wall. That happened before he faced the threat of a bribery indictment; the ultra-Orthodox parties know very well they'll be able to get almost anything from him after the election for a law protecting Netanyahu from the legal system.
Bennett normally caves
Naftali Bennett, the leader of the right-wing Hayamin Hehadash party, will probably make it harder for Netanyahu before agreeing to such legislation. His position now is that he can live with a bill protecting prime ministers from indictment, but won't support making it retroactive to help Netanyahu.
But Bennett, as anyone following Israeli politics knows very well, has a long history of presenting red lines to Netanyahu and then capitulating in embarrassment.
Just a few months ago he threatened to bring down the coalition if Bibi didn't appoint him defense minister, but caved within days. In return for the right package for his party, Bennett will very likely go along with Netanyahu's demands for legal impunity — especially if the alternative is a bombardment of criticism from Netanyahu's loyalists in right-wing media outlets.
For American Jews, all this means that their major organizations should start preparing for a grim reality on April 10.
If Netanyahu reforges his religious/right-wing coalition, the result will very likely be that the parties most responsible for the cracks in Israel's relationship with the Diaspora will receive more influence than ever on government policy — in return for protecting Netanyahu from indictment.
Women of the what?
"How can you not see the long-term damage these policies are causing?" is a question dozens of Israeli politicians have heard in recent years, especially since Netanyahu backtracked from the Western Wall agreement.
The question was raised once again last weekend following the publication of a New York Times piece by columnist Bari Weiss on the violence against Women of the Wall at the Kotel. Weiss, a strong supporter of Israel, concluded by blaming Netanyahu and his ultra-Orthodox coalition partners for the situation and the damage it is causing Israel's relationship with the non-Orthodox majority of American Jews.
Articles like Weiss' are important, but they won't deter Netanyahu from re-creating a coalition with the ultra-Orthodox and accepting their demands. The main reason is his focus on survival. But there's another reason, one that has to do with American Jewry's failure to convince ordinary Israelis that these policies are actually harmful.
Many ordinary Israelis who don't pore over every New York Times article on Israel or every criticism by a Jewish organization simply don't believe the reports in the Israeli media (including Haaretz) on the growing rift with American Jewry. They hear or see some of the stories, but they also see the rock-star reception that Netanyahu draws every year at the AIPAC Policy Conference.
Last year, in his first AIPAC speech after withdrawing from the Western Wall agreement, Netanyahu received dozens of standing ovations from thousands of American Jews during a speech broadcast live in Israeli prime time. After that, anyone trying to convince Israelis that Netanyahu had a problem with American Jews was treated like a fool — the claim directly contradicted the evidence just presented on the screen.
This will probably happen again in two weeks when Netanyahu comes to the AIPAC conference and his speech achieves even higher ratings because of the election campaign. Netanyahu's address and the enthusiastic response will prove for many Israelis that American Jews don't really care about his political pact with Otzma Yehudit or his capitulation to the ultra-Orthodox parties.
That's the deeper reason why, if he wins another term, Netanyahu won't hesitate to give the religious parties anything they wish for — even if it means every Jewish organization in America will publish a statement denouncing him and warning of an unprecedented crisis.
Netanyahu knows those denunciations will make headlines in Israel, and some experts will flock to the TV studios and warn that Israel is losing its greatest supporters.
Maybe Likud will lose a seat or two in the polls as a result. But Netanyahu knows that if this happens, the political storm will pass — and by the next time he comes to Washington, thousands of American Jews, including many Reform and Conservative ones, will be waiting with their annual standing ovations.
Click the alert icon to follow topics:
ICYMI
Ken Burns' Brilliant 'The U.S. and the Holocaust' Has Only One Problem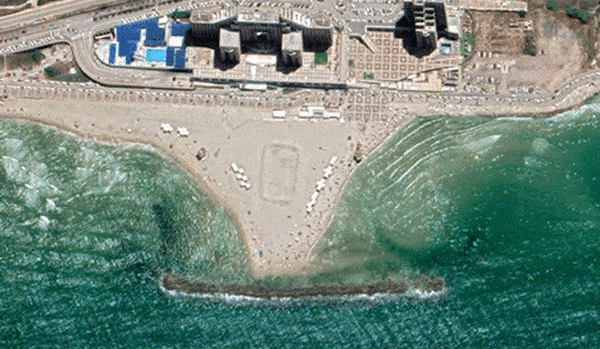 Facing Rapid Rise in Sea Levels, Israel Could Lose Large Parts of Its Coastline by 2050
As Israel Reins in Its Cyberarms Industry, an Ex-intel Officer Is Building a New Empire
How the Queen's Death Changes British Jewry's Most Distinctive Prayer
Chile Community Leaders 'Horrified' by Treatment of Israeli Envoy
Over 120 Countries, but Never Israel: Queen Elizabeth II's Unofficial Boycott