Analysis |
Trump's Wild and Wacky 2018 Was Just a Dress Rehearsal for an Explosive Showdown in 2019
The U.S. president and his lost twin Netanyahu are both headed for a critical clash between their boundless vanity and the rule of law
U.S. President Donald Trump and Israeli Prime Minister Benjamin Netanyahu speaking during the former's visit to Israel, May 2017.
Credit: Marc Israel Sellem/Pool
Donald Trump is undoubtedly Man of the Year for 2018. He was Man of the Year in 2017, his first in office, and 2016, after his astounding victory in the elections. He's been setting the tone and determining the world's agenda ever since.
The clash between Trump's capriciousness, arrogance, belligerence, ignorance and the fact that he is the most powerful man alive creates constant commotion and controversy, which fall within the scale from comedy to catastrophe and often include both.
>> Why Netanyahu's election campaign is a preview for Trump 2020 ■ Don't expect Netanyahu to shout 'Make Israel great again' ■ Trump will make Palestine great again: The most uncomfortable op-eds of 2018 <<
Millions of Americans still have to pinch themselves every morning to make sure it isn't all a dream: Sweet for some but nightmarish for many more. Trump's fanatically loyal base worships his relentless battle against a despised establishment, including Congress, the media and the law, that's out to get him. The rest of America, along with most of the world, sees him as a ruffian who threatens world peace, a hooligan who endangers democracy and a charlatan who demeans the august office he holds.
Trump manufactures in a week more embarrassment and scandal than most of his predecessors in their entire term in office. In the first week of January 2018, for example, he described third world countries as "shitholes", defined his own Justice Department as "deep state" and accepted the resignation of NSA Director Michael Rogers, the first victim of Trump's rapid hire and fire game of musical chairs that would later claim National Security Adviser H.R. McMaster, Secretary of State Rex Tillerson and, as of Wednesday, Secretary of Defense James Mattis.
On January 3, Trump announced, in his customary street-gang tone, that his "nuclear button" is bigger than North Korean leader Kim Jong Un's. The world was gripped with hysteria and the media outlined scenarios of nuclear war. Two months later, Trump did a U-turn and astounded the world by announcing that a summit with Kim was in the offing. The world turned from hysteria to euphoria and a breathless media predicted world peace.
But these tremors were just a harbinger of the turbulence to come. After meeting with Kim in Singapore, Trump told the American people, as if his words would suffice, that the nuclear threat from North Korea "is over." Six months later, it's clear that Kim had taken Trump for a ride. The North Korean despot understood that he is facing a novice who couldn't spell "non-proliferation" if his life depended on it, a U.S. president who would sell the country store with the kitchen sink for another feel-good tweet.
The secret of Trump's hold on the media, and on the world's consciousness, is his unpredictability. It's what keeps the world riveted and makes him into an endless source of sensation. In the morning he turns America's enemies into his BFFs and in the evening he renders America's allies, like Canada and the European Union, into rivals and foes. Things he said yesterday don't obligate him today, and things he says today won't have any bearing on what he proclaims tomorrow. Lies and fabrications are his guiding light, and it grows stronger by the day: The latest tally by the Washington Post lists 7,465 lies he's told since taking office, more than two thirds of which were uttered during his second year. He now lies on average 15 times a day, once for every hour he's awake.
Most often, Trump will fabricate and falsify without batting an eyelid, oblivious to the gap between his words and the facts. In this regard, his ridiculous clarification in mid-July, following his disastrous press conference with Vladimir Putin in Helsinki, was an aberration: Trump knew full well that he was lying and that everyone else also knew he was lying. He claimed that in his statement "I don't see any reason why Russia would" be involved in trying to rig the presidential elections, which aligned with his past statements and the entire context of his presser with Putin, he had actually meant to say "wouldn't".
The internet erupted in a fit of laughter and a burst of mocking memes, especially after Trump reversed himself again within a few days by telling reporters that the entire Russia affair was just a big hoax.
But the embarrassment of Trump's abrupt volte-face paled in comparison to the shame of the Helsinki summit itself, which should rightly be seen as the year's greatest disgrace. It was the start of Trump's unraveling in public opinion, and more importantly, in the hawkish wing of his own GOP. Even his greatest fans found it hard to digest the spectacle of a U.S. president groveling before a Russian tyrant, praising Russia and trashing his own country as "stupid."
Trump not only trampled U.S. honor, he actually defied logic itself: The expectation was that he would be unusually combative with Putin in order to quell suspicions that he is a Kremlin stooge. Instead, his behavior seemed like a caricature of the Manchurian Candidate. Putin was so alarmed he had to intervene on behalf of America's good name.
The Helsinki debacle horrified most of the world, with the exception of Russia, which views Trump as the gift that keeps on giving, and Israel, where he had just been anointed as savior, champion and, as Prime Minister Benjamin Netanyahu asserts ad nauseam, the best friend we ever had. In a momentous May, Trump heralded the transfer of the U.S. embassy to Jerusalem as well as his decision to ditch the Iran nuclear deal.
In the eyes of Israelis, both moves were proof of Trump's friendship, wisdom and courage, rather than – as most of the world believes – another link in a continuous chain of dangerous and foolhardy decisions.
Toward year's end, however, even Israel's hitherto blind admiration was cracking under the strain of reality. Trump's childish efforts to defend Saudi Crown Prince Mohammed Bin Salman following the murder of Saudi journalist Jamal Khashoggi were deemed ridiculous.
The designation of the Saudi heir as the lynchpin of Trump's Middle East strategy, backed and encouraged by Netanyahu, to form an anti-Iranian coalition and a sea change in Arab attitudes to Israel suddenly seemed like a miscalculated gamble.
The doubts multiplied this month, after Trump unexpectedly announced the withdrawal of U.S. troops from Syria and after he deflected criticism that the move is bad for Israel by citing the $4.5 billion that the U.S. gives it each year. The implication was that having gotten paid, Israel was in no position to question the president's decisions.
The Israeli admiration for Trump, however, is much more than simple appreciation of his policies. In many ways, Trump is a kind of rash, primitive and vulgar version of Netanyahu himself. They are like twins separated at birth that grew up in radically different environments and developed contrasting behavior but whose basic personality and gut instincts nonetheless remain identical.
Both are masters of incitement against rivals; foreigners and immigrants, both see themselves as victims of hostile liberal elites; both have erased the line that marks truth from lies; and both are waging a chillingly similar war of mutually assured destruction against the rule of law and its agents, who are pursuing them.
Even the most meticulous of news consumers will be hard pressed to answer which one of them first described the investigations against them as "a witch hunt"; which one first depicted the media as "an enemy of the people" and advised the public not to believe a word they say? Which of them conjured an all-encompassing conspiracy of liberals/leftists that was trying to undermine the people's will by deposing them? Who sent a confidante to warn that their fans will rise up in anger if the plot succeeds? Claimed that all the evidence that's already known of their wrongdoing is just "fake news"? Issued a staple response to any new revelation by claiming that they've been completely exonerated, and at the same time, that nothing will come out of the investigations because they did nothing wrong in the first place?
Still, Netanyahu is a goody two-shoes compared to Trump's wild and wacky ways. He takes advice from his wife and son, but hasn't appointed them to official positions. If he's profited from his post, as police investigators claim, Netanyahu was careful and discreet, unlike Trump, who rakes in millions as president by virtue of the logo that adorns his many properties, for the entire world to see.
Netanyahu, after all, didn't have an extramarital affair with a Playboy model concurrently with a one-night stand with a porn star at the same time that his new wife was pregnant.
When he was once caught in a marital indiscretion, just before his first election as prime minister, Netanyahu quickly went on national television to confess. He didn't emphatically deny the allegations only to dismiss them, as Trump did when caught in his lies, though the deceitful pattern, on second thought, certainly isn't foreign to him.
The crucial difference is that while Netanyahu runs a country that fancies itself a great power, Trump is leading an undisputed superpower to retreat from the world and look after itself alone. Netanyahu's fate is crucial for Israel and possibly the Middle East, while Trump's fortunes could decide the future of humanity.
But both are approaching, with remarkable concurrence, the moment of truth when their self-perception as irreplaceable leaders clashes with the law, which increasingly seems likely to brand them common criminals. Momentous as it was for both, 2018 was just a rehearsal for the spellbinding clash of the titans that will take place in 2019. One thing's for sure: It's going to be a blast.
Click the alert icon to follow topics:
ICYMI
Ken Burns' Brilliant 'The U.S. and the Holocaust' Has Only One Problem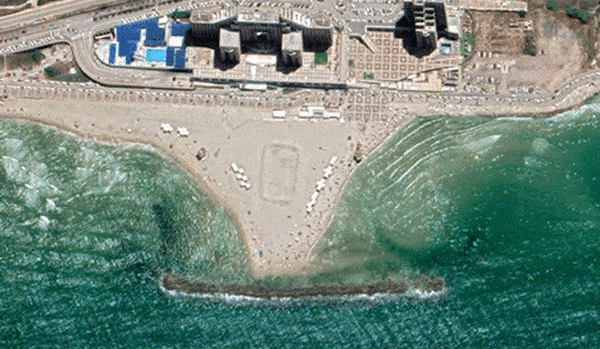 Facing Rapid Rise in Sea Levels, Israel Could Lose Large Parts of Its Coastline by 2050
As Israel Reins in Its Cyberarms Industry, an Ex-intel Officer Is Building a New Empire
How the Queen's Death Changes British Jewry's Most Distinctive Prayer
Chile Community Leaders 'Horrified' by Treatment of Israeli Envoy
Over 120 Countries, but Never Israel: Queen Elizabeth II's Unofficial Boycott