Der Spiegel Reporter Who Faked His Stories Isn't the Real Problem
Der Spiegel reporter Claas Relotius could have easily been caught had he not been pegged years earlier as a talent to watch and a journalist of impeccable credibility
A man looks into the latest issue of German news weekly Der Spiegel with a cover page that reads: "To say, what is" at a kiosk on December 22, 2018 in Cologne, Germany.
Credit: Thomas Lohnes / Getty Images IL
The glee of "Fox & Friends" co-host Steve Doocy was palpable as he informed viewers, including the program's most famous viewer, Donald Trump, about a scandal that had just come to light in Germany: An acclaimed journalist was discovered to have been producing faked stories for years. Doocy devoted most of the show to one of the reporter's stories, which had portrayed the small town of Fergus Falls, Minnesota, as emblematic of the places where Trump supporters are found.
Town Mayor Ben Schierer was put on the air so Doocy could quickly review with him the "facts" that appeared in the Der Spiegel story from last year: Do you really carry a Beretta to work? No. Are you against a woman being president? No. Each time Schierer refuted another claim that had appeared in the story, Doocy beamed. The host, who spends his day presenting the news in a way that the president likes, summed up with a jab at the mainstream press, suggesting that the German reporter clearly "wanted to invent another narrative." For him and Fox News viewers, here, at last, was winning proof that there really is a whole world of fake news out there.
Since the story broke, last week, Der Spiegel, a highly respected weekly in Germany, has been reeling from the worst blow in its 71-year history. In a lengthy and detailed article, the magazine revealed that one of its most acclaimed reporters, Claas Relotius, had fabricated at least 14 of the 60 extensive pieces he had written for the magazine. Relotius, who became a staff writer in 2014, was considered a real star. Although only 33, he had already won a number of prestigious prizes for investigative journalism, including the title of Reporter of the Year from CNN Europe and the European Press Award.
Most of his stories were published in German and not translated for Der Spiegel's English website, and most of his writing dealt with stories outside of Germany. The language gap between his readers and his interviewees made it easier for him to be deceptive. The young reporter made a name for himself in his country with his ability to present sensitively written magazine stories that were seen as poetic and literary. Yet while many of the people who featured in his stories do actually exist, the stories he wrote about them turned out to be akin to fiction.
The fiasco – which led Der Spiegel to dedicate an issue to a lengthy apology – was testimony to a system-wide breakdown. Neither editors nor fact-checkers spotted the lies, even though some were fairly brazen and could have been uncovered with a quick Google search. The person who finally exposed Relotius was Juan Moreno, a freelance journalist who sometimes worked for the magazine and had collaborated with Relotius on the story that led to his downfall – when the pair were sent to report on armed militias on the U.S.-Mexican border. Before its publication, the reporters were sent a copy of the edited piece, and Moreno noticed that photos of some of the interviewees did not appear in it. Relotius wrote about the days he supposedly spent with a militia leader named Tim Foley, but there was no image of him. Relotius said that Foley hadn't wanted his picture taken. But Moreno had seen him before: His picture had accompanied other interviews and he also appeared in a documentary film, so Moreno knew that the man was far from shy. Thus were aroused his suspicions.
According to the long (and self-flagellating) explanation in Der Spiegel, Moreno quickly notified his editors about his concerns, but no one believed him. In an interview with the English-language German website The Local, he said the editors even began to think that he was jealous of his colleague's success. Nonetheless, Moreno was given another assignment in the United States, and on his own dollar set about tracking the interviewees from the piece about the militias. When he located two of the sources, they both said the same thing: They had never met Relotius. Digging deeper, Moreno uncovered a huge web of lies and deceit. Relotius had even faked documents and emails in order to corroborate claims made in his stories.
To its credit, Der Spiegel subsequently strove for full transparency about the fiasco and provided a detailed description of the sequence of events and the changes it plans to institute. This week, it was learned that Relotius' deceit had a criminal aspect too. In 2016, he published an article about a pair of orphaned Syrian siblings, 12-year-old Ahmed and his 13-year-old sister Alin, whom he'd met in Turkey. He urged readers to donate money to the children, but now it turns out that the bank account number he provided was that of his personal account. A Turkish photographer who worked with him on the article said that Relotius also faked details of Ahmed's life story and that the boy doesn't have a sister.
Many media outlets in Germany and America reported on the reporter who was outed as a rotten apple, but for many of the right-wing outlets, the story only served as evidence of a great lie and a worldwide conspiracy. Right-wing American news sites made sure to note that the German-language reporter Relotius had been recognized as "Journalist of the Year" by CNN (Europe) in 2014 – the network detested by Trump – and to highlight his articles that mocked the president's supporters. The Breitbart website suggested that, "In the left-liberal mainstream media so long as you're pushing the correct 'woke' narrative you can get away with murder." The Trump administration has also gotten in on the act, with U.S. Ambassador to Germany Richard Grenell calling for an independent investigation of the magazine, writing, in a letter to Der Spiegel, "It is clear that we [the U.S.] were targeted by institutional bias and we are troubled by the atmosphere that encouraged this recklessness."
Trust at all-time low
The case of Relotius, who fabricated interviews and information for years and still made it unhindered to the top of his profession, is unusual but not unique in the history of journalism. One notorious case of journalistic fraud, for instance, humiliated The New York Times 15 years ago. Jayson Blair was just 27 when his career at the prestigious paper came to a crashing end. In April 2003 he published a straightforward piece about a family who lost a son in the Iraq war that had started a month before. Unlike other completely false stories that he had published, this time the quotes were accurate; the problem was that Blair had never met the bereaved mother who was quoted. She had been interviewed by Macarena Hernández, a reporter for the San Antonio Express-News. An editor at the Texas newspaper brought this to the attention of an editor at the Times, which led to an investigation that ended with Blair's dismissal. Here too there had been a system-wide breakdown. Blair wasn't caught because of an internal oversight mechanism, but rather thanks to a call from a rival publication.
Just three months later, with coincidental but apt timing, the film "Shattered Glass" was released, telling the story of Stephen Glass, the journalist who had been caught several years earlier writing fraudulent stories for The New Republic. Blair and Relotius blended lies with facts, but Glass published complete fabrications. The piece that led to his downfall in 1998 exemplified his method: Entitled "Hack Heaven," it told the exciting tale of a 15-year-old hacker who hacked into the computer system of a big company, Jukt Micronics, just to show off his talents.
Glass included much colorful description of the ensuing negotiations, with serious businesspeople trying to cope with the teen's capricious blackmail demands – for everything from a trip to Disneyworld to a copy of rare "X-Men" comic book. The New Republic, which also had a serious internal oversight system, did not pick up on Glass' deception. It was Adam Penenberg, a reporter for Forbes Magazine's then-brand-new website, who discovered the hoax. Intrigued by the story and curious to know more about Jukt Micronics, he found out that the company didn't even exist. Investigating further, he learned that, in terms of Glass' oeuvre, it was just the tip of the iceberg.
Glass, Blair and Relotius were behind three of journalism's biggest scandals, but it's hard to believe that they're the only ones who have ever resorted to deception. Like any profession, journalism has practitioners who run the gamut in terms of personality and integrity. The big fuss over the Relotius case right now probably has more to do with the current, pervasive distrust of the media. Glass and Blair disgraced highly reputable publications too, but public faith in the press was not yet at the low ebb that it finds itself at today. Relotius covered Trump and his supporters in the age of "fake news" – only to become the poster boy for that very phenomenon. This is the proper context in which to read Der Speigel's very lengthy apology, in which it spends thousands of words chastising itself.
Each case of journalistic fraud led to a serious and comprehensive internal investigation aimed at preventing a similar thing from recurring. Until 20 years ago, The New Republic maintained a long tradition of only using illustrations and not photographs to accompany an article. The magazine's investigation of the Glass affair revealed that most of the false articles he had published would have been easily found out had he been accompanied by a photographer.
It took a long time for Der Spiegel to realize the extent of the fraud being perpetrated in its pages, but the Relotius case is already serving as a warning to the entire industry. In the apology piece, the magazine's editors explained that while its fact-checking mechanism could catch mistakes such as misspelled names or mistranslated quotes, it was blind when it came to deliberate deception. The system was built to catch sloppiness, not malicious intent. Relotius took pains to forge emails, to offer editors misleading screenshots and to file articles at nearly the last minute so his editors wouldn't have enough time to verify everything.
"There will probably now be changes to that," Ullrich Fichtner, the magazine editor-in-chief, told The Washington Post. "Up until now, we've operated on a fundamental trust between journalist and editor. Maybe the checks in our system are too weak."
Yet, according to a 2010 article in the Columbia Journalism Review, Der Spiegel employs an extremely large team of fact-checkers (apparently even bigger than The New York Times Magazine and The New Yorker). Deep in the magazine's lengthy mea culpa was the admission that Der Spiegel did not carefully check the facts and that the editors and fact-checkers trusted too much in the reporter's credibility.
The deliberate deception apparently succeeded in part due to Relotius' unofficial standing at the magazine. He was young but already a star – a celebrity journalist of the type most often seen in television and sometimes in the printed press and, increasingly, in social media. Such journalists are gaining more and more status and power as the journalistic system that is supposed to oversee their work is steadily weakening.
The article that was so gleefully held up for scorn on Fox News clearly exemplifies this failure. Michelle Anderson, a resident of Fergus Falls, conducted her own investigation to see if she could verify the information in Relotius' notorious piece. One person she interviewed was Andrew Bremseth, the city administrator, whom Relotius described in his piece as a fervent Trump supporter who had never slept with a woman or seen the ocean. A simple check was all it took to see that both claims were wrong. "I went on his Facebook page and I saw his girlfriend there. His profile picture showed the two of them on the beach," Anderson told Canada's CBC network, marveling about how Der Spiegel's crack fact-checking team could have missed this and much more.
Relotius' fraud is certainly a riveting tale that would make a great Hollywood movie, but what it says about the press is a lot less cheery. And I don't mean the conclusions drawn by Trump and Fox News, who continue to tout the power of the media as a liberal leftist propaganda machine. The opposite is true: Over the last decades, the power of the editorial desk at every media outlet has been eroded by rapid technological shifts and prolonged economic crisis. The problem is only increasing as weakened editors become less able or inclined to stand up to rising journalistic talents. With the Fourth Estate dependent upon public trust for its survival, the biggest threat it faces is internal. As is true for the three main branches of government as well, cheaters will come and go, but the most important thing is to maintain a strong system of checks and balances.
Click the alert icon to follow topics:
ICYMI
The Artist Who Survived Auschwitz Thought Israel Was 'Worse Than the Concentration Camp'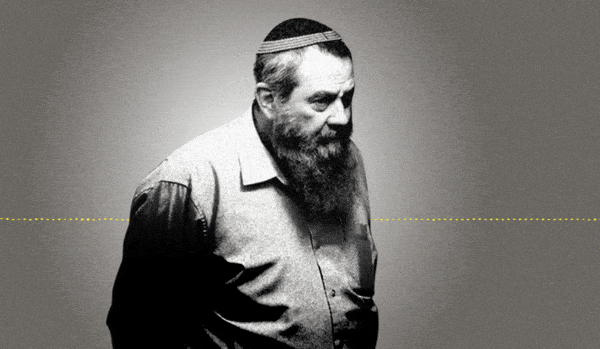 Jewish Law Above All: Recordings Reveal Far-right MK's Plan to Turn Israel Into Theocracy
Why I'm Turning My Back on My Jewish Identity
Down and Out: Why These New Immigrants Ended Up Leaving Israel
The Reality Behind 'The White Lotus' Sex Work Fantasy
Why Is Converting to Judaism So Hard?