Midterms MitzVote: Inside Efforts to Get Jewish Students Out to Vote
From the Pittsburgh massacre to immigration issues, nonpartisan campaigns are looking to improve historically low turnout rates among the young, with both Democrats and Republicans fired up
University of Michigan student Ali Rosenblatt is working with Hillel's MitzVote campaign to get out the vote in the U.S. midterms.
Credit: Benji Bear
BOSTON – College senior Zachary Spitz always carries stamps in his backpack. That way, when one of his classmates says they haven't registered to vote because they don't have the stamps to mail their forms or send in an absentee ballot, he swoops in and helps them do their civic duty. (Access to stamps is reportedly one of the main reasons given for why college students do not vote.)
"There is a lot of anger on campus, a lot of frustration," Spitz, 21, a University of Chicago student who is Jewish and who has been canvassing for Democratic candidates ahead of Tuesday's midterm elections. "I'm compelled to get involved to oppose [U.S. President Donald] Trump and the Republicans and to support policies we can only get through with a Democratic majority in Congress on issues like healthcare, the environment, LGBT rights and the protection of immigrants."
"I get the sense that folks feel this is an 'all-in' kind of time," Matan Neeman-Arad, a 20-year-old Haverford College student says of the midterm elections, when Americans will vote in hundreds of congressional, state and local races. "It feels like this could be the emergency brake," he says.
Young Americans are historically the least likely age group to vote. In the 2016 presidential election, for example, 46 percent of 18- to 29-year-olds voted, compared to 71 percent of those over 65, according to U.S. Census Bureau data. And among college students, the figure wasn't much higher: 48.3 percent voted in 2016 – although that was actually up on 2012, when only 45.1 percent of students cast ballots.
But in this highly charged time, with the midterms widely seen as a referendum on President Donald Trump, college students – including Jewish students – have been on the frontlines of both getting out the vote, and knocking on doors and making calls for the candidates they are campaigning for.
Jewish campus organization Hillel is one of the groups leading the get-out-the-vote effort with a campaign called MitzVote (a play on "mitzvot," the Hebrew word for good deeds). It is helping to organize parties at polling stations while voters stand in line, and orchestrating marches of students from campuses to polling stations. (Another major campaign, the Big Ten Voting Challenge, is trying to improve registration and turnout at all 14 Big Ten universities.)
The MitzVote initiative was driven by dismay at the record low turnout of 18- to 20-year-olds in the last midterms, in 2014, when less than 20 percent of young people voted. It is a nonpartisan campaign and was launched with a humorous social media video by the co-creator of Sarah Silverman's The Great Schlep video from 2008.
Rite of passage
Sheila Katz, vice president for student engagement and leadership at Hillel International, says the idea was to make a "simcha" (the Hebrew word for celebration) out of the first time a young person comes of age, bnai mitzvah-style, but this time as a voting American citizen.
"A lot of people are pushing to get out the vote for a variety of reasons, but I was excited Hillel and the Jewish community is coming out for voting," says Ali Rosenblatt, a University of Michigan senior who has been active in her university's efforts. She says her political involvement is driven by her Jewish and feminist identities.
She has a message for fellow young voters: "For a long time, people have not paid attention to issues because we were not voting. But the more we vote, the more we will care about the issues."
Raising the stakes
As crucial as getting out the vote feels for some Jewish-American students, others say the October 27 Pittsburgh shooting – where 11 Jewish congregants were murdered in the Tree of Life synagogue – has upped the stakes.
The suspected shooter Robert Bowers "hates us because we are a people who stand with refugees and immigrants," says Spitz, the University of Chicago senior. "In his mind, that meant we had to die. But in my mind, and in most Jews' minds, helping refugees and immigrants is a source of pride, our moral duty, part of who we are.
"I believe in Jews' dedication to that cause, even if politicians like Naftali Bennett do not," he says, referring to the Israeli Diaspora affairs minister who visited Pittsburgh following the massacre. "And I will hold those values with me when I go canvassing this weekend, and when I continue my activism in the years to come.
"Voting and canvassing alone cannot end anti-Semitism and xenophobia – but we need to do everything we can this week to throw enablers of racism out of office and send a message that the president's rhetoric and actions will not be tolerated," Spitz adds.
Rosenblatt admits to being deeply affected by the shooting. "I did not immediately draw the connection to voting – shock and sadness made me shy away from anything which I saw as 'politicizing the issue,'" she says. "And at the same time I have realized that this kind of hatred has become political – whether I like it or not. Hateful rhetoric, anti-Semitic tropes and overall prejudice has undoubtedly been spread from the highest office of this country – offering the green light for people who share these views to feel emboldened and accepted," she tells Haaretz.
"My sadness – my outrage – has lit a fire under me for the midterms," she continues, "and I hope everybody votes because there is just too much at stake. And also I am fearful that we may not have done enough to make it clear that hatred is not welcome in our politics at any level."
Matthew E. Berger, Hillel's vice president of communications, says Jewish students on campuses across the country have been coming together in the past week.
"They have been leading and organizing vigils, caring for one another, and finding productive ways to express their shock, sorrow and grief," he says. "We are encouraging them that engaging in the political process is a good way to use their voice and express their values."
Fighting apathy
CJ Wechsler, a 20-year-old University of Southern California student, is active in Hillel and its get-out-the-vote efforts, together with other partners on campus. She says voting efforts two years ago resulted in registering only 411 students.
"That is absolutely pathetic considering we are 40,000 students," she says, noting the common feeling among students that their vote won't make a difference. "In our age of social media, we are overly exposed to things and people shut down, and there is this misconception that the midterms are less important," she says.
Back in Pennsylvania, Arad-Neeman has been campaigning hard for the Democratic Party. "I feel this is really the moment we can turn the tide," he says. A J Street-affiliated student, he is focused on domestic issues – the separation of children from their parents along the Mexican border has especially outraged him – but says he also cares deeply about a diplomatic push to try to resolve the Israeli-Palestinian conflict.
"We need to have congresspeople who are pro-diplomacy, pro-peace," he says. "The current situation is a pro-peace sham. There is thinking that by somehow taking Jerusalem off the table or defunding [Palestinian refugee agency] UNRWA, we are being brought closer to peace. But if we had a pro-diplomacy majority in Congress, we would have more leverage in telling [Israeli Prime Minister Benjamin] Netanyahu he cannot get away with, for example, demolishing people's homes or having such a heavy hand in the disproportionate civilian death toll in Gaza."
Arad-Neeman also sees Republican Jewish megadonors as Sheldon Adelson supporting Trump, and says there will need to be "a moment of reckoning" for the American-Jewish community. "We have been oppressed and now we are oppressing others?" he asks.
Not just young Democrats
Joel Belfer, 21, takes issue with these kinds of accusations and says he hears them all too often at the University of Michigan where he is a senior.
He voted for Trump in 2016 and says he supports his policies on the economy and Israel. He is now campaigning locally in Michigan on behalf of the Republican Party. His right-leaning politics do not make him exceptional in his Orthodox community in New Jersey, but in liberal Ann Arbor they do.
He has been going door-to-door for John James, the Republican candidate against incumbent Debbie Stabenow in Michigan's competitive Senate race. Immigration has been a big issue for liberal American Jews, but Belfer defends the Republican approach, saying the party wants "immigrants to fit in with our values, and to do so in a legal way. We don't want a country without borders. That's an important distinction."
Belfer admits that being a Republican on a liberal college campus can leave one feeling marginalized.
"There's lots of talk of diversity and inclusion, but diversity of thought is not given the same weight," he says. "What motivated me to share my political views and beliefs – even if I get called certain names and booed, which has happened – is that it's important to get out the vote, to tell students they have to take the initiative to learn about the issues and candidates. Because if they only listen to what [they are] hearing on campus, they will only hear one side of the issue."
Click the alert icon to follow topics:
ICYMI
Ken Burns' Brilliant 'The U.S. and the Holocaust' Has Only One Problem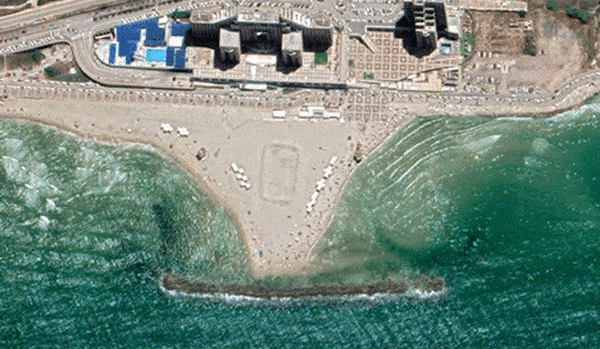 Facing Rapid Rise in Sea Levels, Israel Could Lose Large Parts of Its Coastline by 2050
As Israel Reins in Its Cyberarms Industry, an Ex-intel Officer Is Building a New Empire
How the Queen's Death Changes British Jewry's Most Distinctive Prayer
Chile Community Leaders 'Horrified' by Treatment of Israeli Envoy
Over 120 Countries, but Never Israel: Queen Elizabeth II's Unofficial Boycott