High-stakes Ford-Kavanaugh Hearing Concludes, Trump Tweets Support of His Candidate
The Senate Judiciary Committee hearing Thursday turns on the credibility of its two star witnesses, Supreme Court nominee Brett Kavanaugh and Christine Blasey Ford, the woman who says he sexually assaulted her
Professor Christine Blasey Ford, who accused Brett Kavanaugh of a sexual assault in 1982, is sworn in to testify before a Senate Judiciary Committee confirmation hearing, September 27, 2018
Credit: REUTERS/Jim Bourg
The Senate Judiciary Committee hearing Thursday turned on the credibility of its two star witnesses, Supreme Court nominee Brett Kavanaugh and Christine Blasey Ford, the woman who says he sexually assaulted her.
"I'm here today not because I want to be. I'm terrified. I'm here because I believe it is my public duty to speak about what happened," Ford said in her opening statement, addressing Kavanaugh as "the boy who sexually assaulted me."
"I truly wish I could be more helpful with all the information. The details about that night that bring me here today are ones that I will never forget. They have been seared into my mind," Ford said.
"When I got to the small gathering, people were drinking beer in a small living room on the first floor of the house. I drank one beer that evening. Brett and Mark were visibly drunk. Early in the evening, I went up a narrow set of stairs leading from the living room to a second floor to use the bathroom," Ford said.
"When I got to the top of the stairs, I was pushed from behind into a bedroom. I couldn't see who pushed me. Brett and Mark came into the bedroom and locked the door behind them. There was music already playing in the bedroom. It was turned up louder by either Brett or Mark once we were in the room. I was pushed onto the bed and Brett got on top of me," she continued.
"He began running his hands over my body and grinding his hips into me. I yelled, hoping someone downstairs might hear me, and tried to get away from him, but his weight was heavy. Brett groped me and tried to take off my clothes. He had a hard time because he was so drunk, and because I was wearing a one-piece bathing suit under my clothes," Ford said.
"I believed he was going to rape me. I tried to yell for help. When I did, Brett put his hand over my mouth to stop me from screaming. This was what terrified me the most, and has had the most lasting impact on my life. It was hard for me to breathe, and I thought that Brett was accidentally going to kill me."
"Both Brett and Mark were drunkenly laughing during the attack. They both seemed to be having a good time. Mark was urging Brett on, although at times he told Brett to stop. A couple of times I made eye contact with Mark and thought he might try to help me, but he did not."
"During this assault, Mark came over and jumped on the bed twice while Brett was on top of me," Ford said. "The last time he did this, we toppled over and Brett was no longer on top of me. I was able to get up and run out of the room. Directly across from the bedroom was a small bathroom. I ran inside the bathroom and locked the door. I heard Brett and Mark leave the bedroom laughing and loudly walk down the narrow stairs, pin-balling off the walls on the way down. I waited and when I did not hear them come back up the stairs, I left the bathroom, ran down the stairs, through the living room, and left the house. I remember being on the street and feeling an enormous sense of relief that I had escaped from the house and that Brett and Mark were not coming outside after me."
"Brett's assault on me drastically altered my life. For a very long time, I was too afraid and ashamed to tell anyone the details. I did not want to tell my parents that I, at age 15, was in a house without any parents present, drinking beer with boys."
Ford said that she did not discuss the incident for decades, until she told her husband about it at a family therapy session in 2012, during which she named Kavanaugh, then a relatively unknown judge in Washington, as the teenager who assaulted her.
"I confided in some close friends that I had an experience with sexual assault. Occasionally I stated that my assailant was a prominent lawyer or judge but I did not use his name. I do not recall each person I spoke to about Brett's assault, and some friends have reminded me of these conversations since the publication of The Washington Post story on September 16, 2018. But until July 2018, I had never named Mr. Kavanaugh as my attacker outside of therapy."
"This all changed in early July 2018. I saw press reports stating that Brett Kavanaugh was on the 'short list' of potential Supreme Court nominees. I thought it was my civic duty to relay the information I had about Mr. Kavanaugh's conduct so that those considering his potential nomination would know about the assault."
As the hearing is continuing, President Trump is on Air Force One flying from New York to Washington and is watching it on television.
Chris Wallace, a prominent commentator on the right-wing Fox News, said during the first break in the hearing that so far it has been "a disaster for the Republicans."
"My family and I have been the targets of harassment and death threats. These messages have been terrifying and have rocked me to the core. People have posted my personal information and that of my parents. My family and I were forced to move out of our home. We have been visiting in various secure places, with the help of security guards," Ford said. "I have had to relive this trauma in front of the world, and to see my life wrecked apart in front of the world."
"I have been accused of acting out of political partisan motivations. Those who say that do not know me. I'm an independent person," she said. "I am no one's pawn."
Former Republican Senator Rick Santorum said on CNN that he finds Ford's testimony to be "authentic" and that "this is a big problem for Kavanaugh."
Senator Lindsey Graham (R-SC) said that he is bothered by some lapses in Ford's memory. "All I can deal with is what's in front of me," Graham said. "She can't tell me the time and the place. If this becomes the new standard, I don't want to reward that kind of behavior. These allegations are 35 years old. There is no corroboration. This happens to us Republicans, this never happens to them. To the Democrats I say - watch out for your nominees."
"There is no political motivation behind my actions. I tried to bring my information to the Senate even before Kavanaugh was chosen out of the list of potential nominees," Ford said.
Kavanaugh responds
"Eleven days ago, Dr. Ford publicly accused me of committing a serious wrong more than 36 years ago when we were both in high school. I denied the allegation immediately, unequivocally, and categorically. The next day, I told this Committee that I wanted to testify as soon as possible, under oath, to clear my name."
Kavanaugh quoted a statement from one of the people at the party who claimed that she had never met or known him.
"It took the committee ten days to get to this hearing. My name has been destroyed by vicious and false accusations. The ten days delay has been destructive to the Supreme Court and to the country."
"Any kind of investigation will clear me. Listen to the people I know. The people who have known me my whole life. Listen to the witnesses, who allegedly were at this event 36 years ago. I was not at the party described by Dr. Ford. This confirmation process has become a national disgrace."
"There has been a frenzy on the left to come up with something, anything, to block my confirmation."
"The behavior of several Democratic members of this committee was an embarrassment. But it was not enough. A new tactics was needed. This allegation was held in secret for weeks. It would be needed if you couldn't take me out on the merits. When it was needed, it was unleashed and publicly deployed. And then, as no doubt was expected if not planned, came a long series of false, last minute smears."
"Crazy stuff, gangs, fights on boats, all nonsense. Reported by the media. This has destroyed my family and my good name, a good name built through decades."
"Fear that has been unfairly stoked, revenge on behalf of the Clintons, and millions of dollars from left wing groups. This is a circus."
"The consequences will be with us for decades. This character assassination will keep good people from serving our country. What goes around, comes around."
"This will not drive me out. You may defeat me in the final vote, but you will never get me to quit. I've never sexually assaulted anyone. Not in high school, not in college, not anywhere."
"I never attended a gathering like Dr. Ford describes. I never sexually assaulted her or anyone. I'm not questioning that she may have been assaulted by some person at some time. But I've never done that to anyone."
"I've been a judge for 12 years. I revere the constitution. I'm deeply grateful to President Trump for nominating me. I thank him for his steadfast support. I knew this process would be challenging, but never expected it would devolve into this. Explaining this to our daughters has been one of the worst experiences of our life."
"We live in a country devoted to due process and the rule of law. That means taking allegations seriously. But if the mere allegation, mere assertion, a refuted allegation from 36 years ago, is enough to destroy a person's life and career, we will have abandoned the principles of our legal system. "
Grassley vs. Feinstein
The hearing began with Senator Chuck Grassley (R-Iowa), the chairman of the Senate Judiciary Committee, apologizing to both Ford and Kavanaugh for "how you've been treated" in the media. He said that Ford was treated "shamefully" by some of her critics. He also attacked the Democrats on his committee for knowing in advance about Ford's allegations but not asking Kavanaugh about it in previous hearings.
Grassley said that "nothing turned up" about sexual harassment or inappropriate behavior during Kavanaugh's FBI background checks in previous weeks, before the Ford allegations were made public.
Senator Dianne Feinstein, the ranking Democratic member of the committee, criticized Grassley for failing to introduce Ford during his opening statement. Grassley then interrupted Feinstein in the middle of her own statement, as she was attempting to introduce Ford's biography. Feinstein ignored his comments and continued introducing Ford to the committee, speaking about her professional, academic and family background.
Senator Feinstein criticized the Republicans for refusing to invite any other witnesses to the hearing, or the other women who have made allegations against Kavanaugh. She also said it was" inexcusable" for them to "rush a vote" on his nomination before the FBI has looked into the allegations.
But there is much more electrifying the atmosphere in the cramped hearing room and the nation beyond the cameras. Allegations by other women. Death threats against the witnesses' families and lawmakers considering the testimony. President Donald Trump's Twitter rants. The #MeToo movement and the looming Nov. 6 midterm elections.
Ford said she "could be more helpful with the details" if there was an FBI investigation into the allegations against Kavanaugh. She specifically said that she had met Mark Judge, the other person who she alleges was in the room during the assault, at a supermarket in which he was working, in the weeks after the incident.
She said that if Judge would have been investigated, and his time of employment at the supermarket would have been established, she could give a more specific time frame for when the alleged assaults took place.
Ford said she decided to do a polygraph test after telling her attorneys about the incident and being asked by them if she would be willing to do such a test.
Trump arrived at the White House and refused to answer questions about the first two hours of the testimony.
Democratic Senator Richard Blumenthal (D-Connecticut) accused Trump and the Republicans of a "cover up" for not opening an FBI investigation into the allegations against Kavanaugh.
Following the hearing's conclusion, Trump tweeted in support of Kavanaugh, saying: "Kavanaugh showed America exactly why I nominated him. His testimony was powerful, honest, and riveting. Democrats' search and destroy strategy is disgraceful and this process has been a total sham and effort to delay, obstruct, and resist. The Senate must vote!"
Click the alert icon to follow topics:
ICYMI
Ken Burns' Brilliant 'The U.S. and the Holocaust' Has Only One Problem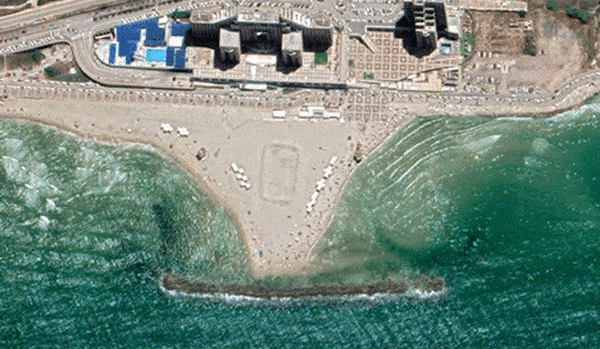 Facing Rapid Rise in Sea Levels, Israel Could Lose Large Parts of Its Coastline by 2050
As Israel Reins in Its Cyberarms Industry, an Ex-intel Officer Is Building a New Empire
How the Queen's Death Changes British Jewry's Most Distinctive Prayer
Chile Community Leaders 'Horrified' by Treatment of Israeli Envoy
Over 120 Countries, but Never Israel: Queen Elizabeth II's Unofficial Boycott