After Roy Moore Takedown, Sacha Baron Cohen's Col. Erran Morad Is Officially the Funniest Israeli Ever
He may be an 'anti-terror expert,' but the 'Who is America?' character's greatest gift is disarming Trump supporters and GOP politicians
Roy Moore, left, with Sacha Baron Cohen in "Who is America?"
Credit: Screengrab from YouTube/Showtime
Is it too soon to call Col. Erran Morad the funniest Israeli character of all time? Well, as Esquire has already crowned him Sacha Baron Cohen's finest ever creation (after only three appearances on Showtime's "Who is America?"), I'm also going to rush to instant judgment and say hell, lo, it's not too soon.
Admittedly, much like "Greatest Israeli swimmer," the category of funniest Israeli character is not a very competitive one. Humor may be the greatest Jewish export after cream cheese and lox bagels, but something strange happened when it reached Israel.
The country is more startup nation than stand-up nation, with most of its comedians more Catskills than improv skills. You just have to watch the (very) average Israeli sitcom to be transported back in time to staid, safe humor whose punch lines can be carbon-dated to the Second Temple era.
Subscribe to Haaretz today, save 25% - and stay updated on everything important
There are exceptions, of course – most notably Sayed Kashua's "Arab Labor" – but generally in Israel we prefer to elect our comedians to the Knesset rather than putting them in edgy shows. This also explains why so few Israeli comedies, with the notable exception of "Ramzor" ("Traffic Light"), sell overseas.
So, even after only three episodes, it is easy to consider Baron Cohen's former Mossad agent the funniest Israeli ever to grace our screens.
The British actor may have played a reluctant spy in his last film (the box office flop "The Brothers Grimsby"), but his Col. Erran Morad is the ultimate super-spy. He uses his disguise of a hard-ass Israeli to infiltrate right-wing circles and run amok. To invoke another Israeli TV series, I imagine people at GOP HQ running around shouting "Fauda, fauda!" (chaos, chaos!) as he takes down another of their politicians.
The modus operandi is the true act of genius. Under cover of being an "anti-terror expert" – which is basically code for "anti-Muslim expert" – he disarms congressmen, gun nuts, Roy Moore, rabid Trump supporters and Jason Spencer (if you don't know who he is yet, you're not following the news closely enough). And once he gets them in his sights, the end result is invariably fatal for careers and reputations.
The segment with Moore in episode three is a classic bait-and-switch example of how to ensnare a seedy politician: Put them at ease by playing up your bona fides (Israeli terror expert), mention things they might like (high-tech destroying Hamas terror tunnels) and then slowly turn the screw by introducing things that make them uncomfortable (sexual equality) and then go for the jugular – in the Alabama politician's case, his dating of minors.
When Morad (who promotes himself to general in this segment) says the phrase "Sweating like a rapist" as he introduces the high-tech wand that's "able" to detect pedophiles, Moore's face is beyond any comedy reaction you could ever script.
It will be interesting to see if Col. Morad is used only as an attack dog to sic on right-wingers (like the Trump supporters he convinces to throw a Quinceañera to try and catch "illegal" Mexicans). You suspect so. Maybe the most fascinating thing will be seeing how high up the GOP ranks he can actually infiltrate in the coming weeks.
But even if he weren't a GOP wrecking ball, the character of Col. Erran Morad would still be funny as hell.
First, there's that look. Everything about him screams macho Israeli military type: the swaggering gait straight from an IDF propaganda video; the ramrod-straight back; the outfits – the black sweatshirt with ATS "Anti Terror School" logo whose accompanying Hebrew translation is printed the wrong way around i.e., the text goes from left to right, mocking the interviewees' superficial awareness of Israel. Heck, even his hair is jet-black.
Seeing Baron Cohen's disguise serves as a reminder that he was originally set to play Freddie Mercury in the Queen biopic "Bohemian Rhapsody." There's also a hint of a bulked-up Leonard Nimoy after way too many whey shakes as he struts down D.C. halls of power in pursuit of gullible congressmen (spoiler alert: there are many).
The voice is comedy gold, too. Baron Cohen may have grown up in very comfortable surroundings in north London, but presumably his Israeli-born sabra mother provided some inspiration for the vocals here. He must also have come across a few macho Israeli types in his Habonim Jewish youth group days (which may explain his "Sheket tzair," or "Quiet, youngster" greeting) or during his year spent on various kibbutzim in northern Israel. Wherever he got the accent from, it certainly wasn't by listening to Adam Sandler in "You Don't Mess with the Zohan."
Even more impressive is his ability to remain in character throughout, no matter how meshuga his comments or the responses he elicits from his subjects – ranging from the already infamous one from now ex-Georgia lawmaker Spencer ("I'll make you homosexual!") to gun nuts Philip Van Cleafe and Larry Pratt.
You could almost believe he is some kind of mentalist, manipulating people to think certain things by planting images and words in their minds a la Lior Suchard. But it's way simpler than that. You just have to press certain buttons among reactionary right-wingers (terror, immigration, Second Amendment rights) and then just be on hand to capture the ensuing insanity.
Maybe that's why although "Who is America?" boasts many new characters, Col. Erran Morad has made the strongest impression – and has featured in more sketches than anyone else.
For watching liberals (and it's hard to imagine any other audience), Morad is a "false flag" operation designed to reel in extremists, gun freaks and (in a future episode, apparently) the pro-Israel lobby.
On paper, of course, we should be repulsed by elements of his character: Here is a man who jokes about raping his wife, killing people with iPads and sacrificing his young son on the first training program for kindergarteners ("He died doing what I love").
Yet it is always clear who the butt (too soon, Jason?) of the joke is: the idiots who are prepared to say and do whatever he tells them, even when it is so obviously a very bad idea – whether that be trying to touch a terrorist with exposed buttocks; telling kids to aim at the heads, shoulders, not the toes; or wearing "pussy panties" to entice those goddamn rapey Mexicans.
Things aren't so clear-cut with other new characters. The Alex Jones-esque Billy Wayne Ruddick PhD, for example, isn't funny because the likes of Bernie Sanders and Ted Koppel see him for the idiot he is: He says dumb shit; they call him out on it. But when Morad says dumb shit, his subjects actually agree with him.
Along with the snowflake liberal Dr. Nira Cain-N'Degeocell, Morad is the only character who has so far provided an answer to the show's underlying question of who is America. Based on what we have seen, it's a very troubled soul with schizophrenic tendencies. (While Morad goes after right-wingers in relatively safe settings, the Cain-N'Degeocell character really is on the front line, whether at a rap battle or in an Arizona city baiting racists by offering to build a super mosque.)
It's true that "Who is America?" is all over the map in more ways than one, but in Col. Erran Morad the show has created a sabra to celebrate. Maybe it's no coincidence that the Hebrew spelling of "Morad" (מורד, pronounced "mored") means rebel or revolutionary. It's an apt term for the fearless Baron Cohen, who continues to shun the limelight and prefers to let his characters do the talking. In the inimitable words of Col. Erran Morad, Yalla, let's go.
Click the alert icon to follow topics:
ICYMI
Ken Burns' Brilliant 'The U.S. and the Holocaust' Has Only One Problem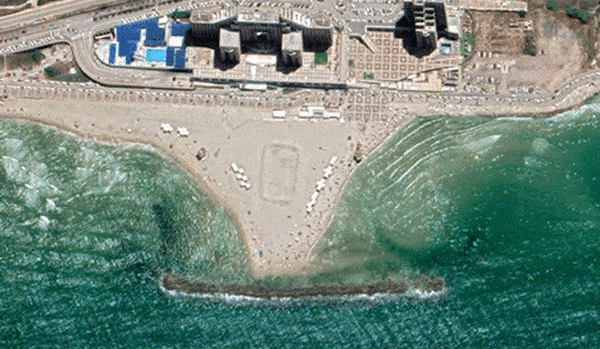 Facing Rapid Rise in Sea Levels, Israel Could Lose Large Parts of Its Coastline by 2050
As Israel Reins in Its Cyberarms Industry, an Ex-intel Officer Is Building a New Empire
How the Queen's Death Changes British Jewry's Most Distinctive Prayer
Chile Community Leaders 'Horrified' by Treatment of Israeli Envoy
Over 120 Countries, but Never Israel: Queen Elizabeth II's Unofficial Boycott