'I'm Sure Putin Is Very Happy With Trump's Disruption,' Jewish-American Economist Says
Eric Maskin, the 2007 Nobel Prize laureate, doesn't understand what the U.S. president is thinking
Prof. Eric Maskin at his Jerusalem hotel last month, on a visit during which he was awarded an honory doctorate by the Hebrew University.
Credit: Emil Salman
On June 15, U.S. President Donald Trump announced he would slap a 25% tariff on some $50 billion of Chinese goods a year, to come into effect at the beginning of July. China struck back with tariffs on some $50 billion in U.S. goods. Four days later, he announced tariffs on an additional $200 billion in Chinese goods.
Economist Eric Maskin, 2007 Nobel Prize laureate, has trouble understanding what the American leader could be thinking. Maskin recently joined 70 economists who signed an open letter opposing the tariff policy, based on bitter experience from the past – the Smoot-Hawley Tariff. The tariff was legislated in 1930, during the Great Depression, in a bid to increase governmental income and protect America's industrial and farming produce. But it ignited a world trade war and significantly impacted the scope of global trade, while exacerbating the economic weakness of the United States. Economists maintain that the act only intensified the Depression.
Maskin, who received an honorary doctorate from the Hebrew University in Jerusalem in June, as part of the celebrations marking the centenary of the university's cornerstone laying, refutes Trump's claim that the United States has been unfairly treated throughout the world, and that thus his attempts to balance the situation are justified.
"To begin with, the U.S. has been the primary beneficiary from the NAFTA agreement. It has gained more from that trading than either Canada or Mexico," says Maskin.
As for China, he believes, there may be something to the claim that it should open its markets more, "but tariffs are not the answer," says Maskin.
Doesn't the argument that the American manufacturing sector has been badly damaged by free trade and that many people lost their jobs because of globalization convince you that Trump is somewhat right?
"It's true that some segments of American industry, and sometimes workers, have lost their livelihoods ... But production in the U.S. is not going to return to its past extent.
"And one reason why Trump was elected in the first place was because these people who lost their jobs were not retrained or compensated. And he promised them to get their jobs back. They're not going to get their jobs back. Manufacturing in general is not going to go back to what it was, and some manufacturing workers need to be retrained.
"Another major reason why manufacturing workers in the U.S. are not going to get their jobs back is automation. The automation process in international trade will cause a greater loss of jobs in manufacturing."
Do you think Trump's acts will bring about a change in world order as we know it?
"Well, I don't think we should get ahead of the story. Because Trump is only one figure, and he's not going to be there indefinitely. And despite all of this talk, it's not clear yet that there are major international consequences. But certainly, the way he talks gives encouragement to Russia. Russia would very much like to see cooperation in the West disrupted, and Trump is doing that much more effectively than Vladimir Putin ever did. So I'm sure Putin is very happy with the way Trump has been behaving, and also Xi Jinping is happy, because to the extent that the U.S. is now losing the lead in world affairs, China can take over that role."
The American economy is now in a good place, after 10 years of recovering from the financial crisis. Will the tariffs harm it?
"The tariffs will have some negative effect because, if you're making foreign imports more expensive, that reduces in effect the income of Americans who want to buy these goods. They'll have to pay more, so that's not a good thing. It's going to contribute to higher inflation and a lower standard of living, if things you want to buy are now more expensive than they were."
What happened during the great recession was very difficult, says Maskin, but it's too soon to gauge the overall effect of the tariffs. In any event, he says, a trade war will not contribute to the global economy.
Do you think the idea of globalization has run its course?
"The proper response is not to try to dismantle globalization, but rather to make sure that those people who didn't get jobs, who lost their jobs, find something else. And that's where government can play a role by subsidizing job training, by subsidizing education.
"What is happening now is similar in some respects to what happened during the Industrial Revolution, in the late 18th century. At that point, there were a lot of technical innovations, machines, which caused millions of people to lose their jobs. And those people were made worse off by the revolution. But within a period of about 30 years, new jobs started that made use of the new technology. And it turned out that the 19th century saw the greatest growth of wages that the world had ever seen. By the end of the 19th century, workers in Europe were far better off than they had been at the beginning of the 19th century. And this was mostly due to the Industrial Revolution. It's the same thing with globalization, globalization has done more to reduce poverty than anything we have previously seen. It has put hundreds of millions of people to work."
Do you think that the tax reform is going to help?
"No, it'll help large corporations and very wealthy individuals. Trump says that he's going to invest in infrastructure, [but] there's been no investment in infrastructure," which was supposed to compensate for the tax cuts. What's interesting, Maskin says, is that the Republicans protested loudly when President Obama, was forced to increase the budget deficit, yet when their turn came they created an even bigger deficit.
Maskin does not support easing up on regulating Wall Street, even though the markets seem to have recovered from the financial crisis. The problem of the 2008 financial crisis was not one of illegal behavior, he says. The banks and the big CEOs didn't break the law. Rather, they took enormous risks and no one stopped them. That is the role of regulation.
Do you think Wall Street learned its lesson?
"Wall Street will never learn, that's what we have regulation for, to make sure that things don't blow up.... They'll keep doing what they've been doing unless there are rules in place to stop them from doing so. I worry that it's moving in the wrong direction."
'Raising interest has a depressive effect'
This month, the Federal Reserve raised the interest rate in the United States for the second time this year and signaled that it intends to raise it four times next year in light of the decline in unemployment and rise in inflation. The Fed raised the inflation target range 0.25%, to a range of 1.75% to 2% – its highest level since 2008.
Maskin doesn't see the point in raising interest rates now. He thinks the fear of inflation is exaggerated and premature.
"This can be a religion. So inflation is an evil that must be suppressed, even if there's no sign of inflation. Raising rates has a depressive effect on the economy," he says: People buy less, investment declines and the economy slows.
Maskin, the Adams University Professor at Harvard, is 68, and he specializes in game theory and in capital markets. He was awarded the 2007 Nobel Memorial Prize in Economic Sciences jointly with Roger Myerson and Leonid Hurwicz for having laid the foundations of mechanism design theory. This theory is designed to bridge the knowledge gap between buyers and sellers so as to make the market more efficient.
Can you give an example of the effective use of your theory?
"The point of an international trade treaty is to increase trade, or to make trade less costly, and every country wants to make trade less costly. But in order to have a successful treaty, it should be the case that every country gets a fair share of the increased gains from trade. Well, how do you accomplish that? That's what mechanism design is for."
You have individuals or countries who have goals they want to achieve but have their own interests in mind, he says, so the question becomes, "How do you build a mechanism to reconcile that conflict and achieve the goals?"
'People have to blame somebody'
Maskin was born into a Jewish family in New York. He says that the ultranationalist and authoritarian trends seen in Western Europe over the past several years can have deleterious economic effects. He warns against complacency, and believes that these trends will not disappear on their own. If mainstream political groups are to attract more voters, they must offer more attractive policies than the ones being peddled by the extremists. When voters don't get satisfactory answers from mainstream politicians, they turn to extremists.
"Maybe there's something in human nature when something really bad happens, people have to blame somebody. And when we had this devastating financial crisis and a very, very deep recession, people had to blame somebody, so they're blaming international organizations and they're blaming globalization. I think that blame is misdirected but when populists come along and they say, 'Here are some easy answers to your problems,' people go, because the mainstream politicians have failed: They allowed this recession to happen and they allowed many people to suffer.... Liberal democracy has seen far worse threats in the past.... I don't want us to go through another World War II. That would be a terrible tragedy. But I don't think we have to, I think that what's needed now is for sensible leaders, and there are a few, to propose policies that will really make people better off."
Click the alert icon to follow topics:
ICYMI
Ken Burns' Brilliant 'The U.S. and the Holocaust' Has Only One Problem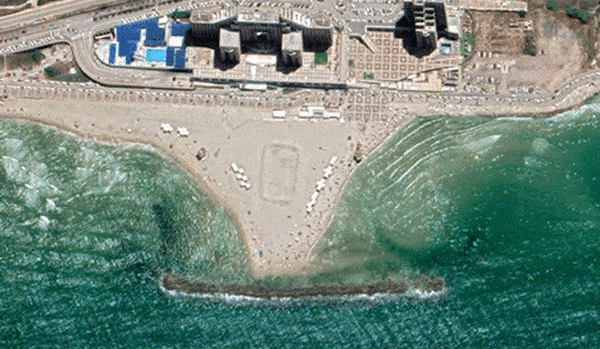 Facing Rapid Rise in Sea Levels, Israel Could Lose Large Parts of Its Coastline by 2050
As Israel Reins in Its Cyberarms Industry, an Ex-intel Officer Is Building a New Empire
How the Queen's Death Changes British Jewry's Most Distinctive Prayer
Chile Community Leaders 'Horrified' by Treatment of Israeli Envoy
Over 120 Countries, but Never Israel: Queen Elizabeth II's Unofficial Boycott