Opinion |
For Jeff Sessions, the Bible Justifies Separating Children From Parents - and Authoritarian Rule in America
When he grotesquely defends the Trump administration's policy by citing Romans 13, the Attorney General exposes not his belief in God - but in unchecked power. Just like his boss
U.S. Attorney General Jeff Sessions at the Justice Department's Executive Officer for Immigration Review Annual Legal Training Program, Tysons, Virginia. June 11, 2018
Credit: ALEX WONG/AFP
On Thursday, Attorney General Jeff Sessions defended the Justice Department's policy of separating children from their parents at the United States Border by citing a biblical passage, from Romans 13.
Well, the stuff that you're liable to quote from the Bible (to parphrase Porgy and Bess) - it may not necessarily be so, but it does necessarily reveal who you are and what you believe.
And what it reveals about Jeff Sessions is that his authoritarianism runs so deep, he no longer understands the difference between law and power.
Here's what he said:
"Persons who violate the law of our nation are subject to prosecution. I would cite you to the Apostle Paul and his clear and wise command in Romans 13 to obey the laws of the government because God has ordained them for the purpose of order. Orderly and lawful processes are good in themselves and protect the weak and lawful."
Critics have pointed out that Romans 13 was wildly popular in the 1850's, when it was used to defend slavery as a legal regime. That's true, but it misses the real point, since Romans 13 was also used to defend abolitionism. In truth, Romans 13 has a mixed history because it is an ambiguous text - and what matters is not so much that Sessions quoted it as how.
Here's the passage itself:
"Let everyone be subject to the governing authorities, for there is no authority except that which God has established. The authorities that exist have been established by God. Consequently, whoever rebels against the authority is rebelling against what God has instituted, and those who do so will bring judgment on themselves. For rulers hold no terror for those who do right, but for those who do wrong.
"Do you want to be free from fear of the one in authority? Then do what is right and you will be commended. For the one in authority is God's servant for your good. But if you do wrong, be afraid, for rulers do not bear the sword for no reason. They are God's servants, agents of wrath to bring punishment on the wrongdoer. Therefore, it is necessary to submit to the authorities, not only because of possible punishment but also as a matter of conscience."
The "governing authority" here is the Roman empire, to which Paul is counseling his addressees, Christians living in Rome, to submit. That context is important, because it means that Paul is not in sympathy with this government - he could hardly have been, since it persecuted the fledgling church. (Indeed, Paul spent two years imprisoned by these same governing authorities!)
Fundamentally, he is counseling tactical submission here: recognizing that political revolt would fracture the emerging Christian community and would be futile against the might of Rome.
It is thus a very weird passage, in which Paul recommends submission to a bad government. And that weirdness leads to a deep ambiguity in the text. Are we supposed to submit to Rome simply because they hold power ("the authorities that exist have been established by God,") or because they are working in our interest and on our behalf ("the one in authority is God's servant for your good")?
The first reason applies to all government (even, say, the Nazi Reich, to which it was indeed applied), whereas the second requires that the government be, at least to some degree, good and legitimate. Paul is hedging, because he refuses to say either fully: he cannot bring himself to say that even the worst government requires full submission, but he also cannot say that the Roman government is a good one.
It is this ambiguity that has made Romans 13 such a powerful, important text in the history of political thought. In every debate over the Bible and political authority, Romans 13 has been brought on both sides, since it says two contradictory things.
Slaveholders claimed the text required obedience to the Fugitive Slave Act ("the authorities that exist"), while abolitionists claimed it required defiance. Since a regime supporting slavery could note be said to be "God's servant for your good," they argued, it was no authority at all.
In Germany, some Christians quoted Romans 13 and subordinated their church to Nazism; the great theologian Karl Barth, quoting the very same passage, argued Christians owed authority only "the respect which is determined and limited by divine decree" - and courageously rejected Nazism, forcing him into exile.
The radical reading of Romans 13 was put most strongly by John Milton, who was defending the English republicans' resistance to King Charles and refuting the Royalist claims that Romans required total submission to the monarch:
"Saint Paul in the forecited Chapter tells us that such Magistrates he meanes, as are, not a terror to the good but to the evil; such as beare not the sword in vaine, but to punish offenders, and to encourage the good. If such onely be mentiond here as powers to be obeyd, and our submission to them onely requir'd, then doubtless those powers that doe the contrary, are no powers ordain'd of God, and by consequence no obligation laid upon us to obey or not to resist them."
That is, if the rulers bear a sword for a reason, and if obedience is a matter of conscience, then it must be subject to the limits of conscience.
What does all this tell us about Jeff Sessions?
Well, first, it clarifies that the problem here is not Romans 13. It's not about who cited the verse, it's about how they read it.
But secondly, it clarifies that Sessions is not just reaching for biblical support. Rather, he is joining a tradition of interpretation that sees in Romans 13 a support for unchecked authority - whether it's Charles' absolute monarchy, the Fugitive Slave Act, or even worse. "Orderly and lawful processes," Sessions says, "are good in themselves" - which is to say, he is rejecting the idea that government must justify its legitimacy. Authority, for Sessions, is its own justification.
And that's especially clear in the present case, since after all, the Trump Administration's policy of mass child separation, as well as Sessions' decision that those fearing domestic violence or gang violence may not be granted asylum, are not law, in the sense of external dictates that Sessions is required to obey. Rather, they are policies and interpretations of law, that legal scholars, and more importantly, past administrations, have disagreed upon.
What's truly crazy in Sessions citing Romans is that he is positioning himself as the submitting servant - Paul's Christian audience - when he is in fact the man wielding power - the Roman government. "I am not going to apologize for carrying out our laws," Sessions said.
But they're not our laws at all, except perhaps in the sense of the royal "we." They are his laws, his choices, his policies. And by quoting Romans 13, Jeff Sessions is telling us that, as far as he is concerned, he is the law, and he will brook no questions.
Raphael Magarik is a Phd Candidate in English and Jewish Studies at the University of California, Berkeley. Twitter: @raffimagarik
Click the alert icon to follow topics:
ICYMI
Ken Burns' Brilliant 'The U.S. and the Holocaust' Has Only One Problem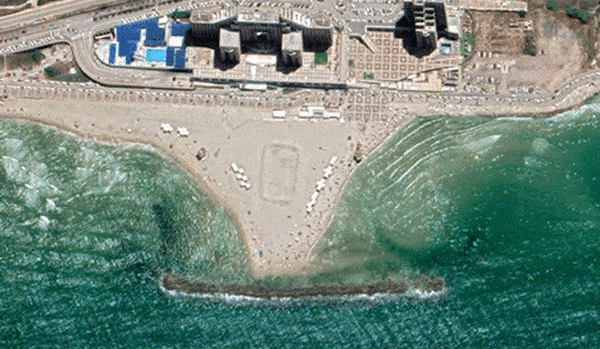 Facing Rapid Rise in Sea Levels, Israel Could Lose Large Parts of Its Coastline by 2050
As Israel Reins in Its Cyberarms Industry, an Ex-intel Officer Is Building a New Empire
How the Queen's Death Changes British Jewry's Most Distinctive Prayer
Chile Community Leaders 'Horrified' by Treatment of Israeli Envoy
Over 120 Countries, but Never Israel: Queen Elizabeth II's Unofficial Boycott