As Trump Meets Qatari Leader, Top GOP Fundraiser Accuses Qatar of 'Cyberespionage Campaign on U.S. Soil'
American-Jewish millionaire Elliott Broidy, who raised millions for Trump's presidential run, alleges he is the victim of smear campaign due to his criticism of Qatar, and is suing the Emirate for allegedly stealing his private information
Elliott Broidy with Benjamin Netanyahu who gave the key address at an evening where Broidy received the Raul Wallenberg Award at the Waldorf Astoria Hotel in New York Wednesday, Feb. 27, 2008
Credit: AP Photo/HO/David Karp
WASHINGTON – Ahead of a crucial meeting between U.S. President Donald Trump and the Emir of Qatar on Tuesday, a leading Republican fundraiser, Elliott Broidy, has told Haaretz that Qatar has conducted a "cyberespionage campaign" against him and must be held accountable for its actions.
"Qatar has provided a voice to [Osama] bin Laden, critical financial and political support to Hamas and other Islamic terrorist groups, and a helping hand in advancing Iran's regional ambitions," Broidy says. He adds, though, that he "commends" Trump for "making very clear that the Qataris have to change their behavior if they wish to be partners of the U.S."
The meeting between Trump and Emir Tamim bin Hamad Al-Thani in the White House comes amid reports that the president is expected to tell the Qatari leader he believes its Gulf rivals are preventing a solution to an ongoing crisis between Sunni Muslim states.
A Jewish-American millionaire, Broidy is deputy finance chairman of the Republican National Committee. He has been a vocal critic of Qatar in Washington and is currently involved in a lawsuit against the Qatari government, which he accuses of hacking his emails and distributing private information to news outlets in an attempt to discredit his criticism of Qatar's policies.
"They targeted me with a sophisticated and illegal cyberespionage attack for speaking out about their support for America's enemies," Broidy says.
Broidy, it should be noted, is a contractor with significant defense deals with the United Arab Emirates, reportedly worth hundreds of millions of dollars. Together with Saudi Arabia, the UAE has been at the forefront of a blockade imposed on Qatar last June.
Some of the stolen and leaked emails that have been published in the American and British media reveal meetings between Broidy and White House officials in which Broidy allegedly tried to advance anti-Qatari policies. Others feature correspondence between him and George Nader, a lobbyist associated with the UAE government. Nader is reportedly cooperating with an investigation by Justice Department Special Counsel Robert Mueller into possible ties between the UAE and Trump's presidential campaign.
A lawyer for Broidy, Lee Wolosky, tells Haaretz that his client was hacked specifically because of his activity against Qatar, which "frustrated the Qataris and helped to prevent them from achieving their objectives in Washington."
"We believe it's clear there was an attack on Mr. Broidy, a hostile electronic attack on him, his company and his wife. There is forensic evidence that ties this attack to Qatar. The attack started on December 27, 2017, and proceeded in the weeks that followed," says Wolosky.
The Qatari government has denied these allegations, which also appear in Broidy's lawsuit against it. A spokesman for the Qatari Embassy in Washington said last month that Broidy was simply trying to divert attention from negative news stories about him. Those stories, says Wolosky, were in fact what caused Broidy to realize the Qataris had hacked his emails in the first place.
"He realized he was under attack only after media organizations began making inquiries and writing news stories based on stolen electronic data in late February or early March," Wolosky says.
The New York Times reported last week that a federal judge in California refused to order Qatar to stop disseminating emails and other documents from Broidy, saying the Republican fundraiser had failed to provide evidence that Qatar was involved.
However, Wolosky has no doubts about Qatar's involvement. "There were two components to this attack," he explains. "The first was an unlawful electronic penetration, and the second an information campaign that was very carefully orchestrated, based on the deliberate curating and collation of the stolen electronic data."
According to Wolosky, the hacking operation became a media effort when the vast amount of information stolen from Broidy's emails was filtered and arranged by topics. It was then offered to media outlets based on their previous reporting on relevant subjects, such as Qatar-UAE relations or issues related to the Trump campaign, Wolosky says.
"It was a very sophisticated operation both on the front end – the hacking, which relied on obfuscation techniques that ultimately failed – and the back end, which entailed the distribution of the stolen information in carefully compiled packages to specific news organizations," he says.
The Trump administration has yet to officially respond to these allegations. Yet Wolosky says Broidy and his legal team "have confidence that U.S. authorities are already taking this matter seriously and will respond appropriately."
Wolosky adds that Broidy had previously shared his views of Qatar with Trump and senior officials in the U.S. administration – and that his criticism of Qatar was not limited to its support for Hamas and other Islamist groups.
Broidy "has also spoken out against cynical attempts to divide the U.S. Jewish community by paying large amounts of money to certain American Jews to promote and visit Qatar while that nation simultaneously supports people and organizations dedicated to the murder of Jews," Wolosky tells Haaretz.
These allegations refer to an ongoing political and media effort launched by Qatar last year to improve the Emirate's image in the United States, and specifically within the Jewish community.
This campaign has included the hiring of an influential lobbyist and strategic adviser, Nick Muzin, who previously served as an aide to Sen. Ted Cruz (R-TX). Muzin helped arrange visits to Qatar for prominent figures within the U.S.-Jewish community. Muzin is also a defendant in Broidy's California lawsuit.
One interesting allegation appearing in court documents relates to Muzin's relationship with Victoria Coates, a senior director for international negotiations in envoy Jason Greenblatt's team working on the Israeli-Palestinian peace process. Coates previously worked with Muzin in Cruz's office, where she spent three years as the senator's foreign policy adviser.
The legal complaint alleges that Muzin "met with Coates" in order to "advocate for United States policies that would be supportive of the State of Qatar," and that at least on one occasion "Muzin got Coates to have her boss, Jason Geenblatt, the special envoy for international negotiations, send out a tweet that was supportive of Qatar."
That specific tweet, published by Greenblatt in February, praised Qatar for working together with Israeli officials to improve the humanitarian situation in Gaza – a policy for which Qatar has also won some praise from Israeli officials over the years. Muzin strongly denies the details mentioned in the court documents.
Broidy's allegations against Qatar and Muzin are the latest example of how the spat between the rival Gulf monarchies has created divisions within the U.S.-Jewish community, particularly among the right-wing parts of it.
The Qatari outreach effort in the Jewish community focused on known supporters of Trump and the current Israeli government – people such as Zionist Organization of America President Morton Klein, attorney Alan Dershowitz, and even prominent non-Jewish supporters of Trump and Netanyahu such as former Republican governor Mike Huckabee.
On some issues – such as Trump's recognition of Jerusalem as the capital of Israel, his criticism of the United Nations and his promise to pull out of the Iran nuclear deal – these people are policy-aligned with Broidy, who is also a conservative Republican with ties to right-wing political figures in both America and Israel. (The first news story to feature some of his emails, which was published in The New York Times, included a photograph of him with Israeli Prime Minister Benjamin Netanyahu.)
Yet ever since the beginning of 2018, these individuals have been part of a bitter dispute over their different attitudes to the Gulf crisis. Broidy has advocated support for the UAE-backed embargo, while some of those who visited Qatar as part of its outreach efforts have called for Qatar to be given credit for its work in Gaza and for allowing Israeli athletes to compete in sporting events it hosted, unlike its neighbor Saudi Arabia.
A similar split has characterized the Trump administration's policy toward Qatar and the embargo. While some senior officials – such as Trump's son-in-law and senior adviser Jared Kushner – have reportedly given quiet backing to the blockade, others such as Secretary of Defense James Mattis and the recently ousted Secretary of State Rex Tillerson reportedly asked the Saudis and other Gulf states to ease the embargo and find ways to cooperate with Qatar.
Trump himself has sent mixed signals on the issue: He initially expressed support for the blockade against Qatar, but later had a number of positive phone calls with Qatari Emir Al-Thani, and is now set to host him in the White House Tuesday.
The New York Times reported Monday that the State Department has told Congress it approved the potential sale of $300 million in advanced rocket sales to Qatar. This follows a $12 billion deal last year to sell 36 F-15 fighter jets to the tiny Emirate.
The Trump administration also signed a Memorandum of Understanding with Qatar last year that reportedly includes significant support for its defense and intelligence arenas. The memorandum is secret and has not been approved for public release. Broidy has called for members of Congress to be allowed to view it, in light of its importance for U.S. policy in the Middle East.
Wolosky concludes that Broidy "will not be deterred from speaking about this and calling out Qatar for its support of terrorism. We're alleging that [Qatar], which claims to be a friend of the United States, has engaged in offensive cyberoperations against U.S. citizens on American soil. There needs to be full accountability," he says.
Click the alert icon to follow topics:
ICYMI
Ken Burns' Brilliant 'The U.S. and the Holocaust' Has Only One Problem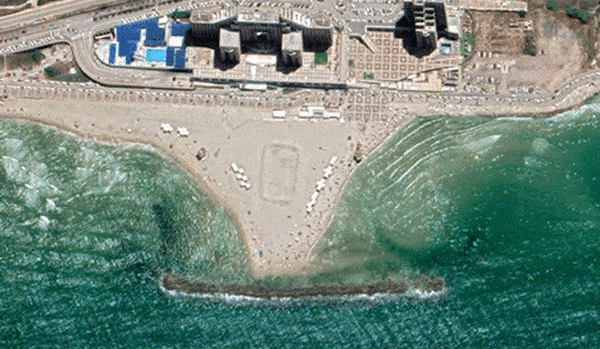 Facing Rapid Rise in Sea Levels, Israel Could Lose Large Parts of Its Coastline by 2050
As Israel Reins in Its Cyberarms Industry, an Ex-intel Officer Is Building a New Empire
How the Queen's Death Changes British Jewry's Most Distinctive Prayer
Chile Community Leaders 'Horrified' by Treatment of Israeli Envoy
Over 120 Countries, but Never Israel: Queen Elizabeth II's Unofficial Boycott