Opinion |
If Anybody Can Bring Gun Control to America, It's Trump
The 310 million guns that Americans own are a front in the culture wars, not a policy issue. But the president may be signaling that that is about to change
U.S. President Donald Trump, February 26, 2018.
Credit: MANDEL NGAN/AFP
When Wayne LaPierre, the long-time head of the National Rifle Association, came to the defense of guns, he did it by going on the offensive.
The thrust of LaPierre's argument wasn't an impassioned plea for gun-owners' constitutional rights, or how every good American needs a weapon to protect himself in a crime-ridden America.
He did make those arguments, but what he mainly did was to attack the enemies of guns. Those included not a few Jews, but his actual definition of the enemy was the news media, Democrats, "socialists" and the elite. As it happens, Jews are overrepresented in all these areas.
The power of the NRA and America's preoccupation with guns are not the result of a costs versus benefits calculation of gun ownership, or about the best way to fight crime. Nor is the issue at stake what the Constitution says. Guns have become another front in America's culture wars, alongside abortion, immigration, religious freedom and, alas, it seems, even Israel. LaPierre understands that better than the hapless and perpetually defeated advocates of gun control.
And that explains the power of the NRA. It isn't about money and campaign contributions, as its detractors would like to think; the lobby directly donated a mere $1.1 million to candidates for federal office in 2016. Rather, it's about its ability to rally America's gun-owners at election time or after a mass shooting.
The NRA can do that because its members are true believers who only need to be alerted to come out in force. Politicians don't need to be paid to oppose even the feeblest efforts at gun control, because they know that opposing gun control is the will of the people. More importantly, it is the will of people who really care and will vote you in or out on that single issue.
To anyone not besotted by the idea of controlling all that personal firepower, it's a sad statement on American values. But the fact of the matter is that the NRA is a perfect example of the democratic system working as it's supposed to work. More Americans may die as a result of their democratic choice.
And, gun control advocates have a problem. Nearly a third of all adult Americans own a gun. There are about 310 million of them, almost one for every man, woman and child. The average person is never going to use his or her gun for personal protection, but that's not the point. Owning and carrying a gun, especially a thing like an assault-style weapon for which no conceivable civilian use can be imagined, is a political and lifestyle statement.
To argue that more Americans die of shootings than in any other Western country, or that gun violence cost the American economy somewhere between $100 billion and the less probable $229 billion falls on deaf ears. Gun ownership is no more about economics than opposition to immigration and international trade agreements are.
Indeed, these are just the kind of wonkish arguments that LaPierre disdains – the experts telling people how they should live based on reasoned policy analysis.
Recipe for revolt
Because it's not a policy problem looking for a legislative solution, gun control advocates are wasting their time looking at models from other countries for how to handle America's gun problem.
In Australia, after a1996 shooting that left 35 dead, the government undertook a massive gun-buyback program and introduced strict gun control – and shooting deaths plummeted. There was no serious opposition.
But can you imagine Americans stepping up and voluntarily handing in their 310 million guns? And the alternative of forcibly taking them away could easily spark a violent revolt.
Is there any hope that America can resolve its gun fixation?
The media have detected signs that after the Florida shooting, the tide may have begun to turn, and maybe it has. Even on the bitterest fronts of the culture wars, occasionally one side ends up retreating.
Only a few years back Obamacare was regarded by the American right as nothing less than an instance of creeping socialism and an offense to the basic right to get sick and die because you don't have access to healthcare. That attitude has changed since the Republicans went down in humiliating defeat trying to abolish the plan last year.
The fact is that Obamacare more or less works and addresses a real problem. Over time, the Americans who once loathed the idea came around to thinking that it might not be so bad after all. They might not be enthusiastic supporters, but the talk about big government and elites forcing people to do things like buy health insurance no longer has the resonance it once did.
It's hard to imagine the trajectory that could occur with guns, but Donald Trump, the right's culture war commander in chief these days, seems to be signaling a sea-change in the ideological battle and that guns might be treated in America for what they are – dangerous tools that only a few people really need to carry. True to form, the president was vague, talking on Saturday about "a great bill very soon, having to do with background checks, having to do with getting rid of certain things, and keeping other things, and perhaps we'll do something on age."
The president is inarticulate and inconsistent, not the kind of guy who is going to manage a policy change, but he is attuned to the thinking of the kid of people who like guns.
ICYMI
Ken Burns' Brilliant 'The U.S. and the Holocaust' Has Only One Problem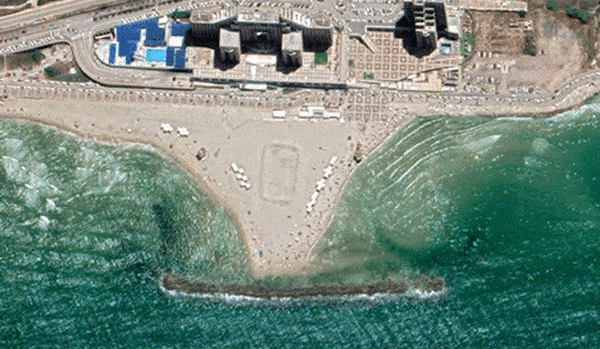 Facing Rapid Rise in Sea Levels, Israel Could Lose Large Parts of Its Coastline by 2050
As Israel Reins in Its Cyberarms Industry, an Ex-intel Officer Is Building a New Empire
How the Queen's Death Changes British Jewry's Most Distinctive Prayer
Chile Community Leaders 'Horrified' by Treatment of Israeli Envoy
Over 120 Countries, but Never Israel: Queen Elizabeth II's Unofficial Boycott