N.Y. Artist Returns to Old ultra-Orthodox 'Hood With a Liberating Message
Years after she fled a Haredi sect on the eve of being married off to a total stranger, Sara Erenthal became a prolific street artist with a liberating agenda
A Haredi man walks by a painting of a woman whose shirt reads 'open your eyes.' Next to it, sits artist Sara Erenthal.
Credit: Emil Salman
The canvas most favored by Sara Erenthal, a New York artist and former member of an ultra-Orthodox community, is street junk. She never simply walks along a sidewalk: She is always alertly surveying the space and when in the distance she spies an inspiring discard, she swoops down on it and pulls out her marker. Over time, she developed expertise: When it's best to go out to draw so that the work will last longest, in what kind of weather to work and how to find places where there aren't other people who will eye her find.
In the coming weeks it's the discarded items in Tel Aviv that will become her canvas. Erenthal, 36, has gained recognition in recent years as an up and coming and many-faceted contemporary artist. However, most of the attention she gets is in Brooklyn, where she lives and works, thanks to her consistent activity and her unstoppable urge to paint a female figure that has become her trademark.
This image crops up in many variations in Brooklyn hipster neighborhoods and the eastside of Manhattan on discarded objects like refrigerators, television sets, doors and mattresses, as well as on old telephone booths, bus stops and walls. The Artnet site has already declared that Erenthal is "a rising street artist to watch."
"The character I draw represents both me and all women and people. I want to send her out, into the world. I want people to see her. I have not had my fill of her. To my mind, this is the core of art, an act of self-expression," she says. "In the city there is an excess of consumption that creates garbage. People don't really notice the waste anymore and it has become a kind of background noise. The moment I draw on things that have been thrown away there is a statement here. People begin paying attention to trash, to excess. As a total pauper, I have always noticed abandoned objects in the street and very often I collect what I need and take it home."
Of all the elements of junk in the street, her favorites are the double mattresses. "They are like a huge canvas for me," she says. On some of her works Erenthal writes "Pick me." After she completes a work, she stands off to one side and watches to see who picks up her work and takes it home.
Erenthal's beginnings were the complete opposite of the freedom that street art gives her. She was born in Israel to a family that belongs to Neturei Karta, one of the most insular communities in ultra-Orthodox Judaism, and she spent her childhood and adolescence in the United States in the closed community. When she turned 17 and a half, her family immigrated to Israel. Shortly thereafter her father informed her solemnly that a match had been found for her and she would meet the fellow on a Saturday evening. Erenthal realized that she had to act quickly because she was expected to get engaged on the spot to a person she was seeing for the first time. Before the start of the Sabbath on the Friday, she made her getaway with the help of family members from a more open community than hers.
Joining the army
A few weeks later, in long clothing and braids, she reported to the IDF draft board. She did not know Hebrew and had to convince the army authorities that she was not mentally ill as her father had declared to get her exempted from compulsory service. Her story touched the heart of one of the soldiers and he invited her to his home.
The soldier's parents helped her find a kibbutz where she entered an ulpan to learn Hebrew. Later she joined the army and after she was demobilized she went back to the United States. For a long time she did not think about her past. The alienation from her family, her parents and her siblings, was total.
"It was important to me to be a part of the wide world," she says. "I didn't even want any connection with the community of those who have left religion and sometimes get stuck in the transition stage and don't move on. I shut a door and I even forgot Yiddish."
In her 20s, Erenthal worked at odd jobs and looked for creative ways to support herself and live the life of a single woman in New York. Gradually she also began to paint.
"I was confused then. I already had the instinct and the feeling for art but I didn't know what I wanted," she says. The recognition that she wanted to be an artist occurred when she had a steady job at a jewelry company, an apartment and a dog. "I was living the life I wanted and I didn't have economic worries but something was gnawing inside me."
With the help of a social worker and artist from the American organization Footsteps, which helps former ultra-Orthodox Jews, Erenthal began to get acquainted with the art market. He instructed her in the ins and outs of the scene and taught her how works get assessed and how to price art. Eventually she showed her work in the organization's space. To earn her living she worked as a nude model in a studio giving classes for amateur artists.
"One of the women there was a psychiatrist. One day she came up to me and said, 'You intrigue me. You are naked but you look as though you are dressed in layers.' That was weird, because she didn't know my background but she apparently sensed the embarrassment I felt about my body."
Erenthal overcame the embarrassment. A few years later, in 2014, she showed her full nudity in a video work in which she is seen tied up in phylactery straps. Just five years ago she discovered street art, also known as urban art. She was fascinated by it and tried it herself. That was the start of the female figure she draws that pops up everywhere, accompanied by inscriptions.
Last week Erenthal was in the Geula neighborhood of Jerusalem, the tumultuous ultra-Orthodox heart of the city, to make art. A few hundred meters from Mea Shearim, from which she fled on the eve of her planned betrothal, she looked anxious and threatened. But she did not allow her emotions to silence her. Out of caution, she did her painting on a side street on a discarded window, writing on it in Hebrew, "Open your eyes," and took care to prop it up on the sidewalk on the main street.
She often does similar things in ultra-Orthodox areas of Brooklyn and in the neighborhood where she lived as a child, Borough Park, or in the Hasidic neighborhood of Williamsburg. Mostly she leaves on notice boards her stickers with an image of a character along with provocative messages. She has done similar works on the streets of the ultra-Orthodox areas of Jerusalem. In a place where exclusion of women breaks new records every single day and even a drawing of a little girl in an advertisement is considered an abomination, Erenthal's guerrilla actions are doubly meaningful. Thus, for example, next to a sticker that encourages men not to look at women with the exhortation, "Don't look, and you won't be frustrated," she put up a counter-sticker: "Look, don't touch."
'This is my activism'
"I want to use my voice and share my truth particularly in the ultra-Orthodox neighborhoods because people grow up there so protected and separated from the world. I don't go there to tell the ultra-Orthodox that they are wrong or how to live their lives. My activity is implicit. When I put this window on the sidewalk, I want to stimulate thinking. Maybe it will influence just one boy or girl. Maybe it will tell a story about someone who survived even though she left her society. This is my activism."
Half an hour goes by and Erenthal returns to see what has become of her window. Passersby block the view of the part of the sidewalk where she had placed her work. Hasidim, clusters of girls going home from their school and mothers with baby carriages pass by the window and only when she gets close does she see that the face of her character has been defaced. "I knew it," she says, triumphantly, and rushes to upload the picture on Instagram, on her way to the next image.
Click the alert icon to follow topics:
ICYMI
Ken Burns' Brilliant 'The U.S. and the Holocaust' Has Only One Problem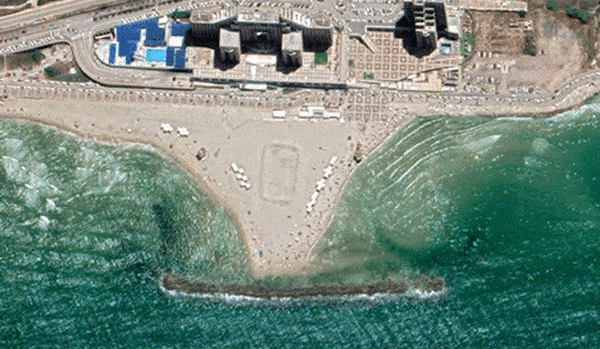 Facing Rapid Rise in Sea Levels, Israel Could Lose Large Parts of Its Coastline by 2050
Lapid to Haaretz: 'I Have Learned to Respect the Left'
The Mossad's Fateful 48 Hours Before the Yom Kippur War
As Israel Reins in Its Cyberarms Industry, an Ex-intel Officer Is Building a New Empire
How the Queen's Death Changes British Jewry's Most Distinctive Prayer