Opinion |
Is Mark Zuckerberg the Next Stage of Capitalism?
500 years after Martin Luther put Europe on the capitalist road and 100 years since Lenin tried to take it off, it's Mark Zuckerberg's turn
Mark Zuckerberg: Possibly not a harbinger of a warmer, fuzzier capitalism.
Credit: Nam Y. Huh, AP
Exactly 500 years ago, on October 31, Martin Luther posted the "95 Theses," a.k.a. the Disputation on the Power of Indulgences, on the door of Württemberg Cathedral, commencing the Protestant Reformation. And 100 years ago, on November 7, Vladimir Lenin's Bolsheviks stormed the Winter Palace in Petrograd, inaugurating the first communist regime.
These were watershed moments for capitalism, which most people may not like, but they do accord it grudging respect.
Technically, capitalism predated the Protestant Reformation, and Luther himself didn't have much to say about business and economics. He was more concerned with salvation than stock options.
As for the Russian Revolution, it was supposed to mark the end of the end of the capitalist era. But a century later, you can shop for jewelry at a Cartier shop or a handbag at Hermes only a few tens of meters from Lenin's own tomb. It wasn't capitalism that he buried.
Nevertheless, the German scholar Max Weber got it right when he detected the roots of capitalism in the rise of Protestantism. In his path-breaking book "The Protestant Ethic and the Spirit of Capitalism," (1905), Weber says that Luther started Europe down the road of capitalism when he extracted personal salvation from the supernatural world of sacraments and papal indulgences, and made it the personal business of each Christian. Your place in heaven now hinged on your personal faith.
But how could you know for sure you weren't slated for damnation, especially after John Calvin averred that faith alone wasn't sufficient, and insisted that salvation or damnation was predestined?
Calvinists and other Protestants answered that you should live like you were confident of being on the road to salvation by, among other things, working hard and disdaining luxury. Labor and enterprise became religious values, not something you did just to sustain yourself until heaven snatched you up.
The catch was that all the money that came from hard work and enterprise couldn't be endlessly stuffed into a mattress. It had to go somewhere and that ended up being invested in new enterprises, hence the rise of business and industry and with it continuous economic growth.
Empty devotion to work
Writing a century ago, Weber acknowledged that the Protestant ethos had long disappeared. But its values lived on in secularized form.
People who never go to church still think there is value in work, that work and enterprise are expressions of creativity, give life meaning, and can even fun. Even those who don't think so highly of labor are likely to disparage people who don't work, or do it badly.
Weber wasn't happy with the secular capitalism that grew out of the Protestant ethos. All that was left was an empty devotion to work. Economic life was now governing by rationalistic calculations based on profit and self-interest.
Capitalism delivered material goods in quantities and varieties no other economic system could begin to match, but it lacked humanity. Family, tribal and religious ties and other forms of social solidarity so valued by humans had all been eliminated. Capitalism is alienating and impersonal, and the joys of unbridled consumerism are not a complete palliative.
Weber wasn't alone in seeing the alienating qualities of capitalism. Karl Marx did, too, as did a line of utopian socialists before him and endless Marxists of various stripes have ever since.
Still lonely in Lenin-land
Marx stubbornly insisted that his critique of capitalism was objective science, and that the eventual emergence of socialism was nothing less than the diktat of history. For the millions, however, the appeal of communism lay less in theories than in the idea that society could go back to those good old days when people took care of each other, and weren't just so many commodities.
Even a tough nut like Lenin, who seemed to be more motivated by hatred of the Russian tsar than by utopian idealism, had some utopian ideas about the future.
"Socialism, by organizing production without class oppression, by ensuring the well-being of all members of the state, gives full play to the 'sympathies' of the population, thereby promoting and greatly accelerating the drawing together and fusion of the nations," he once said. Not exactly a picture of fluffy clouds and daffodils, but by Leninist standards, it's dreamy.
For all that, however, Lenin himself spent little time thinking about the outlines of the socialist paradise he envisaged, despite years of plotting and writings that filled up no fewer than 45 volumes.
Apologists would say that Lenin didn't live long enough to ensure that the revolution he launched proceeded in the right direction. That apology fails on two counts.
One is that communism was supposed to be a historic development not reliant on any one person to set its course. The other is that Marxism has been tried in so many places, by many different leaders and in many different variants over the last 100 years, and none either created the abundance that capitalism does, or relieved humankind of alienation.
Thus the biggest and most audacious challenge to 500 years of capitalism failed miserably, but the urge to fix it is alive and well.
Trump and tribalism
One minor instance of trying to fix capitalism is the rise of Donald Trump, who will have been elected exactly one year ago on November 8.
Like the other populists in Europe and America, Trump isn't promising an assault of capitalism itself but to counterbalance it with modern tribalism that puts country first. Trump says he will bring back jobs from China and Mexico, send immigrants back to where they came from, and protect ordinary people from the pointy-headed experts who disparage their country and bamboozle them with scientific and economic ideas that cost jobs, like climate change and free trade.
There is also the high-tech challenge to modern capitalism. Silicon Valley likes to think of itself as no less revolutionary than Luther or Lenin, and that it can solve capitalism's worst excesses, where others have failed. Social media will break down barriers to communication and the shared economy of Uber and Airbnb will undermine the old business models.
Tech companies even claim they work by different rules than traditional capitalist businesses.
"We don't build services to make money; we make money to build better services," Mark Zuckerberg declared in a manifesto before Facebook conducted its initial public offering.
If this sounds smarmy or hypocritical – after all, Facebook is not just a business but a huge business that generates huge profits – remember that Lenin was a middle-class lawyer with bourgeois tastes, and Luther was a monk and a theologian, not a management guru. The revolutionary doesn't have to embody the revolution.
But more likely, tech is going to make capitalism even more alienating and more inescapable.
Artificial intelligence and big data present new opportunities to make the system bigger, less human and more rational than it is now. The rough and tumble of new business and new products competing in the marketplace for the consumer's affection will give way to data-driven predictability and sameness. Maybe then, some angry robot will lead us to a post-capitalist utopia.
ICYMI
Ken Burns' Brilliant 'The U.S. and the Holocaust' Has Only One Problem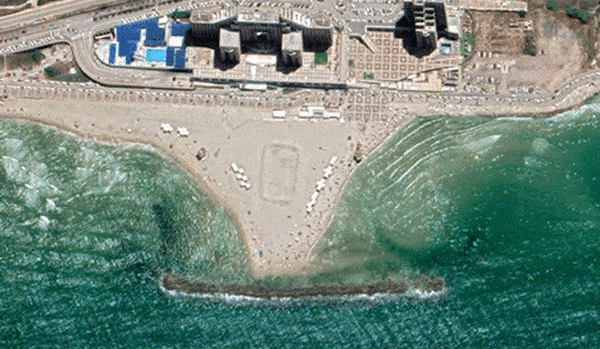 Facing Rapid Rise in Sea Levels, Israel Could Lose Large Parts of Its Coastline by 2050
Lapid to Haaretz: 'I Have Learned to Respect the Left'
The Mossad's Fateful 48 Hours Before the Yom Kippur War
As Israel Reins in Its Cyberarms Industry, an Ex-intel Officer Is Building a New Empire
How the Queen's Death Changes British Jewry's Most Distinctive Prayer