Bernie Sanders Is Staging a Comeback but Is Still Awkward About Being Jewish
The Vermont senator, progressive leader, and possible 2020 hopeful never liked talking about his Jewishness. After Charlottesville that feels more troubling for some
U.S. Sen. Bernie Sanders speaks at a town hall meeting on jobs and health care at Fellowship Chapel Church in Detroit on August 22, 2017.
Credit: Robin Buckson/AP
With a dedicated young progressive fan base continuing to cheer him on, U.S. Senator Bernie Sanders hasn't really been out of the spotlight since he ran his combative primary campaign against Hillary Clinton in the race for the 2016 Democratic presidential nomination.
But in recent days, the 75-year-old Vermont senator and his pointed messages of economic equality and social justice have definitely been having a comeback moment.
Over the past week, Sanders has crisscrossed the nation and made numerous appearances in the national media promoting his new book aimed at young readers "Bernie Sanders Guide to Political Revolution." He has used the opportunity to announce he has teamed up with California's rising star Senator Kamala Harris to introduce a single-payer healthcare bill. And most significantly, despite the fact that Sanders will be 79 years old the next time a presidential race rolls around, he is not quashing efforts by his fans pushing him as a candidate for the 2020 race. On the contrary, he made a point of stopping by Iowa in his book tour – his second visit to the state this summer. Even if the "Sanders2020" hashtag never becomes an actual run, he is making it clear that he will be a political force to be reckoned with for any serious contender.
At the very beginning of his book tour, Sanders spoke powerfully at an event sponsored by Harper's Magazine that took place at the Riverside Church on Manhattan's Upper West Side, ground zero for progressive politics. His audience was dominated by his fan base and former 2016 primary volunteers, who applauded wildly at his high-energy speech. The speech revisited favorite Sanders themes from the 2016 campaign trail: calls for tuition-free college, single-payer health care (the subject of his new bill) and the need to radically reform a "corrupt political system" and crack down on Wall Street's "greed and recklessness" and "the grotesque level of income disparity." The theme he returned to again and again was income disparity, and the sins of the nation's billionaires. "Greed has become an unbearable sickness, and some are ready to step on everybody to get another billion dollars," he said.
It was vintage Bernie Sanders. But for at least some the many Jews in the Riverside Church audience, one familiar aspect of Sanders was very difficult to handle in this particular political moment.
It was the aspect of Sanders addressed in the New York Times headline in February 2016: "Bernie Sanders Is Jewish, but He Doesn't Like to Talk About It."
In the opening of his speech, as he condemned President Donald Trump's divisiveness – and recited a laundry list of groups "who are undergoing oppression and suffering" in the Trump era – Jews and anti-Semitism in particular felt notably absent.
"Our hearts go out to immigrant families in this country who are scared to death," Sanders said in his speech. "To the African-American community, which recoils in horror seeing Ku Klux Klan people and neo-Nazis march on the streets of America, to the gay community and to all of us who respond with disbelief at a president who wants to deny transgender people the right to serve in the military. To women who are fighting every day for the right to control their own bodies."
Some Jewish audience members were deeply disappointed that Sanders, one of the most prominent Jewish Americans in U.S. history – he was the first and only Jew to win a presidential primary – would omit Jews and other religious groups like Muslims from his remarks. The omission, they said, felt deliberate.
Sanders' reticence to mention his own Jewishness, except when pressed about it – or discussing religion at all, was a much-discussed point in the Jewish press when he emerged as a force during the 2016 primary race, with pundits like +972 Magazine's Lisa Goldman asking, "Can an American politician who was born to Jewish parents just be an American politician who happens to be Jewish? In the country that considers the right to re-invent oneself a defining value, surely that is Sanders' right. It's not as though he's pretending to be something he's not. He simply doesn't seem to feel that his Jewishness is an important factor in his political views."
That may not have felt like a loaded question in early 2016. But this is the era of Trump. It comes after events in Charlottesville, when anti-Semitic slogans were chanted on the streets, and Nazi memes abound on Twitter. It is a time when some Jewish celebrities have gone as far as to wear yellow stars to publicly identify as an embattled minority.
In such an atmosphere, what was once mild discomfort in at Sanders' distance from his identity as an American Jew has become a matter of deeper concern and emotion.
Paula Rackoff, a physician who lives on the Upper West Side who attended the Sanders speech, felt strongly enough about his omission to write Sanders a letter, which she posted on social media:
"I was especially surprised when you referred to the threats against African-Americans, women, and transgender people, and could not recognize the increased and quite scary threats against Jews?" she wrote. "My own synagogue, Bnai Jeshurun , which shares space with a Methodist church in Manhattan had a large swastika on its facade Sunday morning."
Rackoff said in an interview that "I really felt as if – given what happened in Charlottesville – something had to be said." The fact that any discussion of anti-Semitism was missing from Sanders' speech shocked her, she said.
"I mean, even in Trump's own cabinet, people spoke out about it."
Rackoff wasn't the only one in the room who felt that way.
"I was very, very surprised," said Risa Starr, a marketing professional who was also in the Riverside Church audience for Sanders' speech. "There is an uptick on swastikas and other graffiti being painted on synagogues; there are Jewish cemeteries being defaced. And here is a political figure who is Jewish and even refuses to mention that there is anti-Semitism in America. He just ignores it."
Even though she was conscious that "all through the campaign he avoided the topic and I think that's just who he is," Starr said she "was still very surprised that he didn't acknowledge anti-Semitism at all."
Rackoff and Starr acknowledged that they were probably in the minority of Bernie-loving Jews who attended the speech, especially younger attendees who were more focused on Sanders's economic message.
John Siegal, an attorney in New York and a longtime Democratic activist who also went to hear Sanders, said he thought that such "virulent" reaction to Sanders' omission was over the top.
"Bernie Sanders and (actor) Larry David are the most high-profile Brooklyn Jewish figures in the US. There is an expectation that because he looks like your uncle, he should speak for the Jews, when he is a lifelong movement national politician and has never been or never held himself out to be any kind of a spokesman for the Jewish people."
He pointed out that at the very end of his hour-long speech in the church, when talking about his father's pride in being American, Sanders did note, "My dad came at the age of 17 from Poland. He escaped terrible, terrible poverty and anti-Semitism and everything else."
To complain that "he isn't addressing or being a spokesman for Jews is "missing the point," Siegal said.
Sanders' words at Riverside, he felt, were an important rallying cry of unity for Democrats. "I was pleasantly surprised as the moral clarity and force he had. It is what the Democratic party needs to be doing in opposition to Trump."
Rackoff is still waiting for a response from Sanders to her letter, but is not sure she will receive one. In the meantime, there are signs that reactions like hers may have somehow been picked up by the canny politician.
Just a few days after the Manhattan speech, during an appearance in Iowa, Sanders made a much more pointed criticism of Trump's reaction to Charlottesville and noted that "the African-American community and Jewish community were outraged" when the president said "there are nice people on both sides."
Sanders declared, "Mr. President, there are no nice Nazis."
That, presumably, is a message that all American Jews can get behind.
Click the alert icon to follow topics:
ICYMI
Ken Burns' Brilliant 'The U.S. and the Holocaust' Has Only One Problem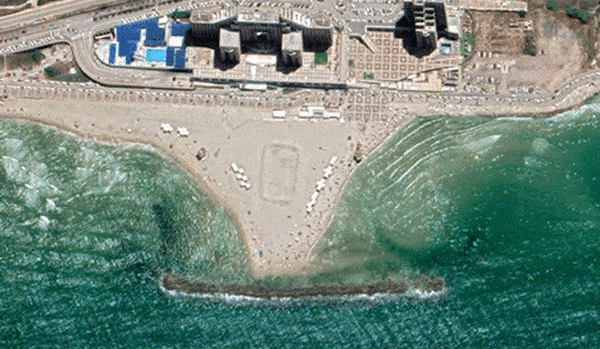 Facing Rapid Rise in Sea Levels, Israel Could Lose Large Parts of Its Coastline by 2050
As Israel Reins in Its Cyberarms Industry, an Ex-intel Officer Is Building a New Empire
How the Queen's Death Changes British Jewry's Most Distinctive Prayer
Chile Community Leaders 'Horrified' by Treatment of Israeli Envoy
Over 120 Countries, but Never Israel: Queen Elizabeth II's Unofficial Boycott