Trump's First Foreign Trip: President Leaves Scandals Behind to Meet With Arab Leaders in Riyadh
Trump just landed in Saudi Arabia. Here's what's his visit will focus on, and what he hopes to achieve
Trump's first foreign trip: President Trump and first lady Melania Trump arrive at the Royal Terminal of King Khalid International Airport, in Riyadh, Saudi Arabia, May 20, 2017.
Credit: Evan Vucci/AP
WASHINGTON - When President Donald Trump took off from Washington on Friday for his first foreign trip since entering office, no one expected that just hours after his departure, the trip would turn into the third, or maybe even fourth, item on the national news agenda. A number of breaking stories that emerged on Friday evening, all of them having to do with the mess surrounding Trump, Russia and the FBI, took over the headlines, all of that while Trump and his most senior advisers were in the air.
For any American president, the first long trip abroad is always an important moment. It is used to set ambitious goals for the next three and a half years in office, and helps craft the president's relationship with foreign leaders, as well as his image as a statesman, both in the U.S. and on the world stage.
Trump's trip, which began Saturday morning as he landed in Saudi Arabia, not only fits all the criteria mentioned above, but in fact, carries an added weight of importance and significance for the 45th president. He is headed for a week-long tour that will include stops in four countries (not including the Vatican and the Palestinian Authority) and meetings with over a dozen world leaders – all of that, while his political standing at home is under attack, and his future seems increasingly uncertain.
Stepping away for a grandiose foreign trip during a time of internal crisis in Washington isn't a totally new invention. "Using the statesmanship and pageantry of a foreign trip to escape domestic troubles is a time-honored tradition, and not only in American politics," says Tamara Cofman-Wittes, a senior fellow at the Brookings Institute and a former deputy assistant secretary of state for Near East affairs. Former President Richard Nixon, she says, "went on a major Middle East swing while the Watergate investigation was boiling" – a trip which also included the first-ever visit by an American president to Israel.
She also recalls a visit by President Bill Clinton to Israel in 1998, at the same time that the House of Representatives was preparing to impeach him over the Monica Lewinsky scandal. "What's different in this case," says Cofman-Wittes, "is that it is President Trump's very first foreign trip, an occasion that's usually a victory lap rather than an escape." The Trump White House announced the visit two weeks ago, when things were looking brighter for the president – before his decision to fire FBI Director James Comey, and his controversial meeting in the Oval Office with senior officials from Russia, created a firestorm in Washington.
Now, with members of Congress from his own party calling to intensify the investigation into his campaign's ties to Russia, and the Democrats already speaking publicly about the prospect of impeachment, the stakes are higher than ever for Trump, who desperately needs to turn the page – and will try to use the foreign trip for that purpose exactly.
"The trip to the Middle East offers Trump an opportunity to divert attention from the controversies bedeviling him at home by presenting an image of power and mastery abroad," says Michael Doran, who served as a senior director in George W. Bush's National Security Council, and is currently a senior fellow at the Hudson Institute. Doran says that the first part of the trip, in which Trump will visit Saudi Arabia and meet with leaders from across the Arab world, will be devoted to fixing America's ties with the Arab-Sunni world, which deteriorated under the Obama administration, mainly as a result of disagreements over the former president's Iran policy.
"Strategically, he is committed to reversing Obama's tilt toward Iran and Russia and away from America's traditional allies – an approach that the Saudis and Israelis wholeheartedly support," Doran says of Trump. "He will find the Saudis and the Israelis to be very eager partners in making his visit a success in every respect." One factor that could have complicated his visit to Saudi Arabia was the discussion of using the Israel visit to announce the move of the American embassy to Jerusalem, but for now it seems that the president has decided against taking that step.
As tangled in controversy as he may be at home, Trump is expected to receive a hero's welcome in the Saudi capital Riyadh on Saturday. His schedule on the first day of the trip is packed with ceremonial and celebratory events, and it will be devoted solely to bilateral meetings with the leaders of the host country. In recent weeks, the Trump administration concluded a massive arms deal with Saudi Arabia, worth more than $100 billion according to some reports.
A source who is aware of the contents of Washington's dialogue with Riyadh told Haaretz that the arms deal is a top priority, and so is the U.S. policy towards Iran. In addition, the Kingdom's leadership is eager to attract more American companies and investors, and to develop fields where its economy is currently lagging behind its neighbors in the Gulf, such as tourism and real estate. Trump could prove to be the perfect visitor for creating that kind of interest in the country.
One of the highlights of Trump's 48 hours in Saudi Arabia will be a speech he will deliver on Sunday, during a summit with leaders from the Arab world that will focus on fighting religious extremism and terror. The speech will be Trump's first major appearance on the international stage, and somewhat like Barack Obama's famous "Cairo speech" from May 2009, it will be a new president's attempt to offer the Islamic world a fresh start and a joint plan of action.
A draft of the speech, which was obtained by the AP on Friday, did not include the term "radical Islamic terrorism," which Trump routinely mocked Obama for not using in recent years. Trump's national security adviser, General H.R. McMaster, has urged the 45th president to follow in his predecessor's footsteps and avoid that term, in order not to alienate important Muslim allies in the fight against ISIS and other terror groups. Trump refused to accept McMaster's advice during his first speech before a joint session of Congress in March, but listened to him this time, perhaps in order not to offend his hosts.
And yet, it will be interesting to see the reactions in the Arab world to the speech, in light of Trump's prejudiced statements against Muslims during the Republican primaries, his suggestion to ban all Muslim immigration into the United States, and his ties to racist advisers and writers who have spread false conspiracy theories about the Islamic religion.
Cofman-Wittes says that she doesn't think the speech "is intended to repair a breach with Muslims over Trump's divisive rhetoric or his attempts to keep refugees and immigrants from Muslim countries out of the United States." His meeting with leaders of Muslim countries in Riyadh, she explains, "is about counterterrorism, and President Trump will want to show his public at home that he is leading the fight against terrorism and enlisting more support from these partners in the fight. I think the regional governments are so eager to have more active American engagement that they will overlook any slights they might otherwise perceive in the president's view of their religion."
If the visit as a whole will be a test for Trump's ability to overcome the scandals engulfing him and to show leadership in a time of crisis, then the speech at the U.S.-Arab summit will similarly test whether Trump can put the rhetoric of the campaign behind him, and build strong alliances in the Arab and Muslim world. Michael Doran believes that if Trump focuses his Middle East policy on creating a regional axis to counter Iran's influence, he will return to Washington with an achievement, and a policy that could lead to additional ones down the road.
Trump will be accompanied on most of the trip by Secretary of State Rex Tillerson. Secretary of Defense General James Mattis will join the last part of the trip, during which Trump will attend a NATO summit. Their presence near the president could be crucial, since both of them, together with General McMaster, are considered to be the calmer, more experienced and less politically motivated voices on the top ranks of the Trump administration.
Cofman-Wittes says that the trip "will be an important opportunity for them to learn his mind, gain his trust, and try to shape his thinking and his policies without layers of political staff getting in the way. That said, much of the senior White House staff seems to be joining the trip, including Jared and Ivanka, so we will see if Tillerson and Mattis, still outsiders to Trumpworld, can break through."
The best way to assess their success, and Trump's, will be to see whether the trip will improve Trump's standing at home and abroad a week from today, or if the controversies and scandals will travel with him from one country to the other, and thus only make things worse.
ICYMI
Ken Burns' Brilliant 'The U.S. and the Holocaust' Has Only One Problem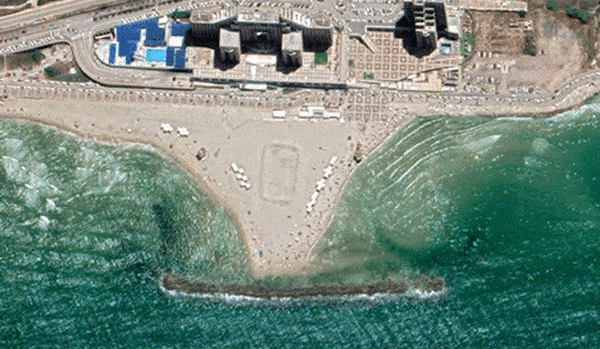 Facing Rapid Rise in Sea Levels, Israel Could Lose Large Parts of Its Coastline by 2050
Lapid to Haaretz: 'I Have Learned to Respect the Left'
The Mossad's Fateful 48 Hours Before the Yom Kippur War
As Israel Reins in Its Cyberarms Industry, an Ex-intel Officer Is Building a New Empire
How the Queen's Death Changes British Jewry's Most Distinctive Prayer