Analysis |
100 Days of the Topsy-turvy Trump Presidency
Trump should have visited Israel right now, rather than May 22, because Netanyahu would give him an A or A- for his opening salvo
U.S. President Donald Trump greets visitors touring the White House in Washington, March 7, 2017.
Credit: Evan Vucci/AP
The ideal date for U.S. President Donald Trump's first visit to Israel isn't May 22, which is currently under discussion, but Saturday morning, when his first 100 days in office will officially end. Unlike the jeers and failing mark he's bound to receive in most parts of the world, Trump will get loud applause and an A grade in Israel for the opening salvo of his presidency – which is certainly more than he can expect at home. The world views Trump as an ignorant and reckless leader and even his loyal fans in the U.S. concede that his achievements are still light years away from his pledges.
But in Israel, Trump's a man after our own heart, in the right place at the right time. Some Israelis feel that unlike his predecessor, Trump can tell the good guys from the bad. And now that he's said the right words about the Holocaust and the Jews – and hopefully removed any excuse to accuse him of fostering anti-Semitism – there's no reason left not to embrace him wholeheartedly, for now.
Prime Minister Benjamin Netanyahu would have received Trump with open arms in any case, because he's a Republican, because he's not Barack Obama, because human rights and the wishes of the Palestinians don't interest him in the least and because he enjoys the support of Sheldon Adelson, or at least he did until a black cat passed between the two, as the media reported this week. But in his first one hundred days, Trump went above and beyond Netanyahu's expectations: He bombed Syria, used the terrifying "mother of all bombs" in Afghanistan, warmed up to Israel's Sunni allies and allowed U.S. Ambassador Nikki Haley to tackle anti-Israel bias at the United Nations.
As a token of appreciation – and possibly as a preemptive effort to soften the blow of any American peace plan – Netanyahu has repeatedly cited the "welcome strategic change" that Trump has brought to the Middle East. In his speech at the opening of Holocaust Remembrance Day this week, Netanyahu described Trump as the solitary righteous person in the global Sodom who stood up for the children targeted in Syrian President Bashar Assad's chemical attack. If we'd had someone like Trump in World War II instead of those weak-kneed lefties Roosevelt and Churchill, the prime minister almost intimated with his feverish Revisionist imagination, millions of Jews might have been saved.
To Trump's regret, however, he won't be spending the weekend with his ardent admirers abroad, but instead with his harsh critics on the news networks – the same ones he so avidly follows despite repeatedly accusing them of purveying "fake news." Trump will skip Saturday night's White House Correspondents Dinner, where he was only going to get roasted anyway, and will instead hold a political rally in Harrisburg, Pennsylvania. In doing so, Trump's hoping for a double revenge: To steal some thunder from the annual event that he's boycotting and to force some of the correspondents to return their tuxedos and evening gowns to the closet and cover his speech in Harrisburg instead.
Trump will undoubtedly praise his unique achievements, which are more discernible to him than to anyone else, while pooh-poohing the "ridiculous" and "meaningless" yardstick of the first 100 days. Trump, for whom facts are malleable like putty in the hands of a child, is denying that he ever mentioned a 100-day deadline, despite the fact that this was the main theme in the closing weeks of his campaign and that he was recorded time and again pledging to get things done before the 100 days were up. He even went to Gettysburg to cast himself as Abraham Lincoln's heir, no less, and to announce his "Contract with America" that listed the promises he would keep within his first 100 days in office.
Calling his record for making good on those pledges dismal is an overstatement. In Gettysburg and in other rallies and interviews that Trump gave at the end of October 2016, he promised to repeal and replace ObamaCare, which he hasn't, though he's still trying; he promised to pass a massive infrastructure bill, which he didn't; he promised to start building a border wall with Mexico and to find a way to finance it, which ain't happening; he promised to impose an import tax, but has now reneged; he pledged to declare China a currency manipulator, but that was before he became infatuated with Chinese President Xi Jinping; he said he would get rid of the NAFTA trade agreement with Canada and Mexico, but is now thinking twice; he claimed he would eliminate Common Core, but let's not rush things; he vowed to impose a travel ban on Muslims, but the courts have held that up; and he promised to introduce massive tax reform, something he did at the last minute this week so he could point to at least one promise that he's kept. Experts, however, maintain that it's half-baked, difficult if not impossible to pass in Congress and that it doesn't do much for the middle class, as Trump promised, instead easing the burden on poor billionaires like him. Trump's solitary success in appointing Neil Gorsuch as the conservative ninth justice in the Supreme Court is the exception that proves the rule.
The enormous discrepancy between Trump's promises and their fulfillment can be ascribed to the energy-guzzling Clash of the Titans among his confidantes and advisers in the White House, to the inexcusable delay in appointing top and mid-level administration officials, to Trump's lack of knowledge and experience and to his misconceptions about Washington. As he and his advisers have found out in recent weeks, the administration is nothing like a large corporation and the president is not a CEO whose instructions are carried out instantly. Congress, even one with solid Republican majorities, doesn't simply play dead and roll over.
The frustration has led Trump to fall in love with executive orders, which don't require congressional approval. Trump, who now boasts about the 32 executive orders he has already signed, has carried out a spectacular flip flop on this matter too: In February 2016, he said that "this country wasn't built on executive orders" and called their use by former U.S. President Barack Obama "a disaster." This week, Trump admitted – as only Trump could – that he doesn't even read some of the orders that he signs, proving that truth is stranger than satire. In a recent "Simpsons" episode broadcast on Fox, Trump is asked to read a thick file on proposed legislation, but suggests that it be leaked instead to Fox News so that its presenters would sum it up for him.
Trump's hyperactivity on foreign and defense matters can also be ascribed, inter alia, to the fact that while Congress puts obstacles in his path on domestic policy, he is still a relatively unrestrained president and unbridled commander-in-chief on foreign and defense matters. But here, as well, there's hardly any connection between what Trump said before and after his election and what he's actually done since taking office. From a Russia groupie he's become its rival; from NATO liquidator he's turned into its defender; instead of confronting China he's sucking up to it; and rather than staying away from foreign interventions and concentrating on "America First," as he promised, Trump attacked Syria even though the chemical attack didn't threaten any immediate U.S. interest and plunged head-long into a direct clash with nuclear North Korea, stomping heavily where his predecessors – including Obama, Bush and Clinton – were very careful to tread.
Trump's zigzags and the toxic combination of his arrogance and his ignorance have alienated world leaders, though some have learned to use these traits to their advantage. According to a report in the London Times this week, German Chancellor Angela Merkel repeatedly lectured Trump on what the European Union is and how it works, but her patience paid off: Trump reportedly decided to give precedence to a new trade deal with the EU over one with post-Brexit Great Britain. Western public opinion, with the notable exception of Israel's, regards Trump the way it did former U.S. President George Bush during the latter part of his presidency, and perhaps even worse: Bush was seen as a quick drawing cowboy while Trump is a reckless pyromaniac.
Most of the American public is also disappointed with Trump. The controversy, suspicions and revelations regarding his collusion with Russia have taken their toll. Polls conducted for the 100-day landmark widely gave Trump historically low approval ratings, especially on domestic issues. Trump's voters, though, are far from giving up on him. They hope that he will soon master the intricacies of Washington and of manipulating Congress to do his will. They aren't bothered so much by his disavowal of previous positions, his denial of past promises, his unwillingness or inability to tell truth from fiction or fantasy from reality: they knew he was like this when they voted for him in November.
One thing that can be said for Trump is that he dominates the international agenda and grabs the attention of the global media in the same way that he engrossed the American public and hypnotized U.S. news organizations both before and after his shock victory in November. He is erratic and impulsive, devoid of any knowledge or experience and, perhaps surprisingly, shows no inclination or ability to correct these faults anytime in the near future. He is an endless source for storms and scandals and surprises and breaking news alerts, and the entertainment and news industries are making a mint off of his antics. After 100 days it's clear that life with Trump is much more interesting, but in the bad sense of the word – at least for most of humanity. Israelis, however, for their part, are apparently having a ball.
Click the alert icon to follow topics:
ICYMI
Ken Burns' Brilliant 'The U.S. and the Holocaust' Has Only One Problem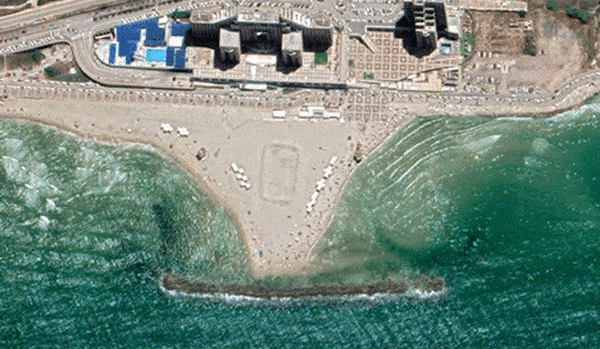 Facing Rapid Rise in Sea Levels, Israel Could Lose Large Parts of Its Coastline by 2050
As Israel Reins in Its Cyberarms Industry, an Ex-intel Officer Is Building a New Empire
How the Queen's Death Changes British Jewry's Most Distinctive Prayer
Chile Community Leaders 'Horrified' by Treatment of Israeli Envoy
Over 120 Countries, but Never Israel: Queen Elizabeth II's Unofficial Boycott