Analysis |
Trump Challenges Putin With First Western Punishment for Assad's Massacres Since Start of Syria War
Netanyahu hopes shockwaves of Donald Trump's Syria strike will be felt most in Moscow.
Donald Trump after U.S. missiles strike Assad regime airbase in Syria, April 7, 2017
Credit: JIM WATSON/AFP
Commander in Chief Trump – The speculation over U.S. President Donald Trump's motives in ordering the cruise missile strike on a Syrian air force base began immediately as soon as the attack was announced. But whatever his real reasons, history will record that it was Trump who punished Syria's Bashar Assad for murdering at least eighty of his own citizens with sarin nerve agents on Tuesday morning in Khan Sheikhoun, three and a half years after former President Barack Obama decided to do nothing following a much larger sarin attack by Assad's forces, which killed at least 700 civilians in a Damascus suburb. More significantly, six years and three weeks after the start of the Syrian war and with at least 400,000 Syrians dead at the hands of the regime and its Russian, Iranian and Hezbollah allies, the West has for the first time punished Assad for massacring his people.
>> Get all updates on Trump, Syria and Israel: Download our free App, and Subscribe >>
In the next few hours and days, more details will emerge on who in Trump's administration pushed for action and who if at all counseled him to hold back like Obama. One thing that has been proven is that when a president does to decide to act, the American war machine is still capable of being very swift. Just 70 hours passed between the sarin falling on the homes of Khan Sheikhoun and the Tomahawk missiles impacting on Shayrat airbase, where Assad's planes took off from.
Challenging Putin – The most astonishing feature of the American strike so far is the brazen way in which the Trump administration seems to be challenging Russian President Vladimir Putin. In the three days since the Khan Sheikhoun attack, the Kremlin has doubled down on its denials of allegations against its protégé Assad, calling them "baseless" and pushing the highly improbable narrative that the casualties were caused by a hit on a "rebel chemical factory."
The attack at 4:40 A.M. Syria time came after a day of escalating statements from Washington that both accused Assad of carrying out a war crime and his Russian benefactors of complicity. The easy assumption is that Trump is trying to deflect attention from the ongoing investigations into illegal ties between his team and the Kremlin, but if that is the case, then it's a high-risk tactic. Burning bridges with Putin would almost certainly lead to a series of damaging leaks on what took place in those secret meetings. The Russians will have recorded it all.
However, Putin may choose to look the other way this time around. This could still prove to be a one-off confrontation. The Americans took care to warn Russia in advance and as far as we know, none of their personnel on the ground was hit. Secretary of State Rex Tillerson is due in Moscow in six days. That visit could still go ahead as planned, and differences may be smoothed over by then. The important thing for Putin is to preserve his control over Syria's fate and it is much too early to say whether one missile strike will change the course of events on the ground.
Impact on the ground – Reports so far indicate that a number of Syrian aircraft and key infrastructure at the base were damaged in the attack. This will be a tactical blow for the already much-depleted Syrian air force, but not enough to take it out of commission. As the Russians have done repeatedly in the past years, they can easily replace Assad's lost fighter jets. In its official statement, the Pentagon characterized the attack as "a proportional response to Assad's heinous act." In other words, it's proportional to one single massacre of civilians, not the thousands it has carried out in the last six years. The question now is whether it will have any lasting deterrent effect on Assad and his allies. They will be anxious to demonstrate that is not the case.
The regime's key objective is to recapture the Idlib province, which has remained a rebel stronghold for most of the war. Even without the use of chemical weapons, the people living in Idlib have come under horrendous Syrian and Russian air attacks, which have intensified in recent weeks. The casualties from conventional weapons far outweigh those from sarin. Speaking to reporters after the attack, Secretary Tillerson said that the "kinetic" action did not mean that the U.S. has changed its overall policy on Syria. There is nothing to indicate that the civilians in Idlib will be better protected from now on. The only way of doing so – short of an intervention on the ground – is by having the West and perhaps some of the Arab nations imposing a no-fly zone over northwestern Syria. This would mean direct confrontation with Russian warplanes operating over the region.
Barack Obama argued repeatedly that even if he had chosen to retaliate after the Ghouta attack in 2013, it likely would not have eliminated the regime or changed the trajectory of the war in a positive way. If Trump's attack was a one-off, he will be proven right.
U.S.-Russia military balance – The last year and a half has seen a series of exhibitions of Russian military prowess in the skies above Syria and on the ground below. For all the breathtaking footage on the Kremlin's propaganda channels, Russia's war on terror has consisted largely of dropping unguided bombs on soft targets like schools and bakeries – terrorizing the civil population rather than taking out well-hidden rebel headquarters. More complex operations, including cruise missiles launches, long-range strategic bombers and the deployment of aircraft carrier Kuznetzsov have been few, cumbersome and with little real impact. Missiles of gone off course, bombers needed to make pit stops in Iran and the Kuznetsov was incapable of actually launching even one full carrier-borne strike mission.
By comparison, with little prior planning or preparation, the U.S. was capable of launching 59 Tomahawks against Syria from a couple of guided-missile destroyers it already had in the Mediterranean, hundreds of kilometers away. As far as we know, none of these missiles were shot down by Russia's advanced S-300 and S-400 anti-aircraft systems deployed to Syria and which, theoretically at least, are supposed to have missile-defense capabilities. This has been a timely reminder of the huge advantage the U.S. still has over Russia in most military parameters, especially the global reach and flexibility of America's armed forces. Ultimately it depends on the political will to wield this force. Putin has dominated Syria's fate by skillfully using a far from ideal set of options. Under President Obama, the U.S. chose not to use its superior options. Trump has now demonstrated just how superior they can be. The question now is if he has any plans for repeat performances.
Israel's role – The American strike came a few hours after a phone call between Prime Minister Benjamin Netanyahu and Putin, in which, according to Moscow, the Russian president objected to the way members of the prime minister's government (particularly Defense Minister Avigdor Lieberman) had pointed the finger of blame directly at Assad. According to the official statement, Putin "highlighted that it was unacceptable to make groundless accusations against anyone without conducting a detailed and unbiased investigation." This is a highly unorthodox public display of differences between Putin and the Israeli leadership, which are usually aired in strict privacy.
Less than ninety minutes after the American strike, Netanyahu's office issued a statement (at the ungodly hour of 6 A.M. Israel time) saying that "Israel fully supports President Trump's decision and hopes that this message of resolve in the face of the Assad regime's horrific actions will resonate not only in Damascus, but in Tehran, Pyongyang and elsewhere." Tactfully, Moscow wasn't listed, but that is where Netanyahu hopes the shockwaves will be felt most. For the last few months, he has been constantly pressuring Putin to prevent Iran and Hezbollah from establishing permanent strongholds in Syria as the war there seemed to be winding down.
Israeli intelligence had a clear picture of Assad's responsibility for the Khan Sheikhoun attack within hours of it taking place on Tuesday morning. There can be no question that Israel provided the White House and the Pentagon with whatever it had. After years of being very careful not to provoke Putin and assuring him that Israel has no interest in removing Assad, it is suddenly changing course. This can only be as a result of an understanding with Washington that Trump is also about to surprise us all by getting tougher with Russia himself.
Click the alert icon to follow topics:
ICYMI
Ken Burns' Brilliant 'The U.S. and the Holocaust' Has Only One Problem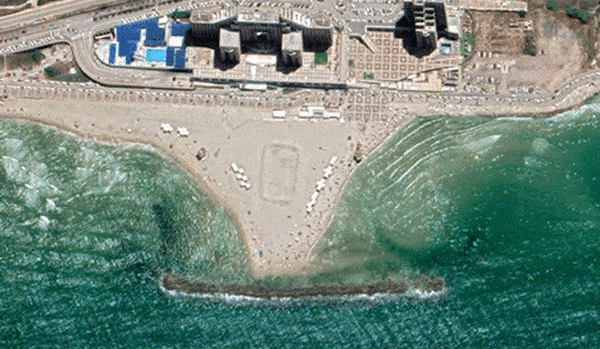 Facing Rapid Rise in Sea Levels, Israel Could Lose Large Parts of Its Coastline by 2050
As Israel Reins in Its Cyberarms Industry, an Ex-intel Officer Is Building a New Empire
How the Queen's Death Changes British Jewry's Most Distinctive Prayer
Chile Community Leaders 'Horrified' by Treatment of Israeli Envoy
Over 120 Countries, but Never Israel: Queen Elizabeth II's Unofficial Boycott