Analysis |
Reality Bites Trump as Syria Crisis Looms Large
He should emulate predecessors such as Andrew Johnson and delegate strategic decisions to more able subordinates
U.S. President Donald Trump on board Air Force One, April 6, 2017.
Credit: CARLOS BARRIA/REUTERS
Inspired by Steve Bannon, Donald Trump occasionally compares himself to Andrew Jackson, the successful general and populist president of the early 19th century, widely known today for his removal of Native Americans from the American south. Some of Trump's critics claim that he's got his surnames mixed up: he resembles a president called Andrew, all right, but it's Johnson, not Jackson. Jackson, the seventh president, is considered a colorful and transformational leader, whether you like him or not. Johnson, on the other hand, is a perennial contender for the title of worst president ever.
Johnson was Abraham Lincoln's vice president and his successor after Lincoln was assassinated, 152 years ago next Friday. Ignorant, stubborn and narrow-minded, Johnson is seen today as having squandered the Union's victory in the Civil War by allowing the defeated Confederate states to return to the Federal fold without prosecuting the leaders of the secession and without changing their basic attitude towards African Americans. Slavery may have been abolished, at least in the formal sense, but discrimination and segregation continued for another century and their memory haunts America to this day.
Johnson, who savaged critics from his own party with a ferocity that should seem familiar today, was seen by many of his Republican colleagues as betraying Lincoln's legacy. In 1868 Johnson became the first U.S. President to be impeached by the House of Representatives but his conviction in the Senate was one vote short of the two-thirds majority needed for his removal from office.
The attitude towards Johnson changed over the years. He was considered an average and even above average president until the mid 20th century but was downgraded to bad and then to terrible by later historians who viewed him through the prism of the Civil Rights Movement and the liberal values of the 1960's and onwards. But even from this more critical vantage point, Johnson's foreign policy was judged much more positively, mainly because Johnson didn't really run it. His secretary of state William Seward, a leftover from the Lincoln administration, improved strained relations with Great Britain during the Johnson years and maneuvered Napoleon III's French Army to withdraw from Mexico. His towering achievement, which puts the Art of the Deal to shame, was the purchase of Alaska from Russia for $7.2 million, a measly $150 million today.
Even though there's no comparing America's limited foreign engagement during Johnson's era to its complex international role today, the Seward precedent does provide a glimmer of hope about Trump's future conduct. The surprising removal of Bannon from the National Security Council increases expectations, or at least wishes, that Trump, like Johnson, will relegate most foreign and defense decisions to judicious and dependable subordinates. Secretary of State Rex Tillerson is a disappointment so far, but National Security Adviser McMaster and Secretary of Defense Mattis are seen as professional, level headed and not prone to overreactions, especially when compared to Trump himself. In the internal arena, Bannon's removal paints Trump's son in law Jared Kushner as one of the most influential advisers in presidential history and marks a reassuring victory for the "rational" wing in the White House over Bannon-led fanatics.
One can't escape the symbolic timing of Bannon's dismissal from the NSC, which may not be coincidental, on the eve of a dramatic summit between Trump and Chinese President Xi Jinping, in which the escalating crisis with North Korea will be the focus, and in the midst of a deteriorating situation in Syria following the chemical attack in Irbil, which could put Trump on a collision course with his friend Vladimir Putin. In both cases, Trump has been making belligerent and aggressive declarations that contradict his expressed hopes to disentangle the U.S. from costly military interventions. He is finding out, perhaps to his surprise, that the world is more complex than the simplistic slogans he disseminated with abandon on the campaign trail. Just as you can't repeal and replace Obamacare, presto-chango, just because the president wills it, as Trump found out late last month, so he is beginning to understand that he has to take risks and threats into account before making military decisions, just like his predecessor Obama, whom Trump continues to malign nonetheless. McMaster and Mattis, along with CIA chief Mike Pompeo and possibly UN Ambassador Nikki Haley will surely tell the president that there are no instant fixes in real life and that the U.S. must assess what price America could pay for its military endeavors, and whether they include an feasible exit strategy.
There is no doubt that Assad's renewed use of chemical weapon justifies renewed criticism of the agreement brokered by Vladimir Putin in August 2013 that ostensibly saw Damascus get rid of its stockpiles at the time. Everyone agrees today that Obama damaged America's deterrence when he failed to act on his threat to take military action if Syria crossed his red line on the use of chemical weapons, which it did. People tend to forget, however, the wide praise the agreement garnered, Benjamin Netanyahu included, and the reason that Obama ultimately decided not to make good on his threats. Trump, then a bored real estate tycoon, was one of those who warned Obama against military action in Syria that could entangle the U.S. in another costly but ultimately futile Middle East war.
It's not hard to conjure the outrage that would engulf the right if Assad had dared to launch his attack in Idlib a few days after Obama's representatives would publicly declare that it is no longer seeking his removal from power, as Tillerson and Haley did recently - until they recanted late Thursday night. By taking away the sword that was hanging over his head, hysterical conservative sites would scream, Obama had given Assad a license to commit genocide or worse. Trump gets off easy, however, because hypocrisy is the right wing's middle name - in Israel as well as America - as shown these days in the GOP"s fury over the Democrats' obstruction of Neil Gorsuch's confirmation to the Supreme Court, as if the Republicans hadn't just refused to even consider Obama's nominee Merrick Garland.
Every new and inexperienced president sparks apprehension at first, especially one like Trump whose random blasts of bombast never add up to a coherent policy. The ongoing suspicions hovering over the essence of Trump's links with the Kremlin add to the uncertainty. Any president would have to think ten times before ordering a military strike on Syria that could put U.S. warplanes in a Russian line of fire, but hesitation by Trump might also be interpreted as kowtowing to Moscow, if not obeying its direct orders. On Thursday night, in any case, the White House and Pentagon were pointing to the possibility of a military strike. With his widespread image as a "lyin' sack of s***:, as comedian Louis CK bluntly described it to Stephen Colbert this week, Trump will have a harder time than most previous U.S. Presidents in persuading America and the world that the situation justifies military action.
If it was Trump that had tried to persuade the international community in 2002 that Saddam Hussein had massive quantities of unconventional weapons, the Iraq War might never have taken place because no one would have believed him, and it may actually be a shame that he wasn't. If there's one thing most historians agree on, it's that the decision to launch the Iraq war was one of the worst in American history. Which is why Johnson may be a frontrunner for worst president on domestic issues, but George W Bush is usually cited, everywhere but in Israel, as the worst President, at least in recent memory, in defense and foreign affairs.
Perhaps Israel's outlier sentiments can explain the strange joy that overtook the usually levelheaded Moshe Arens this week. Arens was practically ecstatic about the great atmosphere and shared views that now unite the Netanyahu government and the Trump administration, which stand in stark contrast to the tensions and conflicts of the Obama era. Perhaps Trump will indeed turn out be the greatest president ever, but in the meantime his presidency has caused great rifts among Western democracies who are traditional U.S. allies and created strong incentives for its rivals, including Assad, to challenge America throughout the globe. International doubts about American leadership and perceptions that the presidency is in unsteady hands weaken its deterrence just as badly, if not worse, than Obama's policies, thus decreasing its abilities to defend Israel against threats such as confrontation with Russia in Syria. This is true even if Nikki Haley takes out her high heels to kick Israel's critics in the Security Council and Ambassador David Friedman hi-fives Israel every time a new building is announced in the territories. When American sneezes, Israel gets pneumonia, the late Prime Minister Levi Eshkol once said. By the same token, if America goes off the rails, it is Israel that will crash into a brick wall.
Against this backdrop, Trump's determination to push for an agreement between Israel and the Palestinians continues to amaze the world and scare Jerusalem. Even though Netanyahu tries to position himself as Trump's BFF forever, the President's press conference with Jordan's King Abdullah on Wednesdays seemed to indicate that he treats the Arab monarch, along with his colleagues from Saudi Arabia and Egypt with far greater respect. Trump certainly wouldn't dare instruct any of them condescendingly in public, as he did Netanyahu, to "hold back on settlements for a little bit". So maybe Arens is right after all, and maybe his approach should be adopted by despondent leftists as well: If Trump tortures Netanyahu and the Israeli right, he will provide such copious amounts of Schadenfreude that life could seem pleasant as the world falls apart around us.
Click the alert icon to follow topics:
ICYMI
Ken Burns' Brilliant 'The U.S. and the Holocaust' Has Only One Problem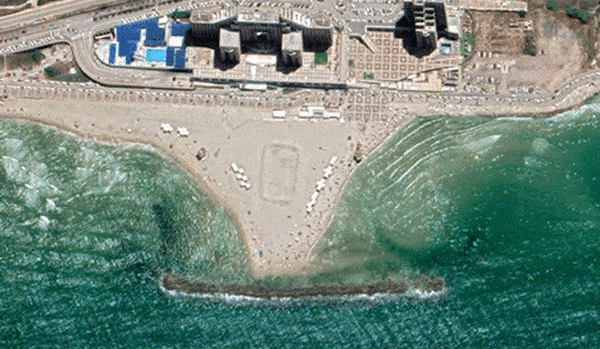 Facing Rapid Rise in Sea Levels, Israel Could Lose Large Parts of Its Coastline by 2050
As Israel Reins in Its Cyberarms Industry, an Ex-intel Officer Is Building a New Empire
How the Queen's Death Changes British Jewry's Most Distinctive Prayer
Chile Community Leaders 'Horrified' by Treatment of Israeli Envoy
Over 120 Countries, but Never Israel: Queen Elizabeth II's Unofficial Boycott