The Palestinian Woman Convicted of Terror Casting a Shadow Over 'Day Without Women'
Who is Rasmea Yousef Odeh, what was she convicted of and is the criticism against her legitimate?
Rasmea Yousef Odeh outside the Detroit court after her sentencing.
Credit: Reuters
The Women's March on January 21, a display of female solidarity and defiance at the outset of the Trump presidency, has since aspired to blossom into a longer-term political movement.
The first official major follow-up event in that effort was slated to kick off with a "Day Without a Woman" as part of with a global International Women's Strike marking International Women's Day. The global strike isn't a new concept – it has been around for years in Europe and Asia – but it has gained new traction and momentum in the U.S. in the Trump era.
The Women's March website explains that "in the same spirit of love and liberation that inspired the Women's March, we join together in making March 8th A Day Without a Woman, recognizing the enormous value that women of all backgrounds add to our socio-economic system," urging American women to stay away from work, wear red as a color of solidarity and refrain from shopping – except at businesses owned by minorities and women.
It does so as it "stands in solidarity" with the "International Women's Strike organizers, feminists of color and grassroots groups in planning global actions for equity, justice and human rights."
Despite evidence that the effort has garnered far less popular enthusiasm and participation than the Women's March, and some backlash with charges that the idea of a strike weakens, not strengthens, female solidarity, it has forged ahead.
The most powerful salvo launched against an effort by supporters of U.S. President Donald Trump to crack progressive solidarity around the strike can be found in a letter written by a group of women published in The Guardian on February 6. The letter preached taking the strike a step further in the direction of radical and more militant political action, recommending that women "use the occasion... to be done with lean-in feminism and to build in its place a feminism for the 99 procent, a grassroots, anti-capitalist feminism – a feminism in solidarity with working women, their families and their allies throughout the world."
The letter proposed "blocking roads, bridges, and squares, abstaining from domestic, care and sex work," and "boycotting" pro-Trump businesses, since it "is not enough to oppose Trump and his aggressively misogynistic, homophobic, transphobic and racist policies. We also need to target the ongoing neoliberal attack on social provision and labor rights."
The most recognizable name on the list of signatories to the letter was former Black Panther Angela Davis. But the name that caught the eye of the conservative media and blogosphere and supporters of Trump was Rasmea Yousef Odeh. Odeh, 69, is the associate director of the Arab American Action Network and leader of that group's Arab Women's Committee. She has also been convicted of participating in a terrorist attack in Israel that claimed two lives and immigration fraud after lying about her past upon entering the U.S. and applying for citizenship.
An Israeli military court found Odeh guilty of participating in two terrorist attacks and sentenced her to life in prison in 1970. One of those bombings, that took place at a crowded Jerusalem supermarket on February 21, 1969, claimed the lives of two young students, Leon Kanner and Eddie Joffe, and injured nine others. A decade later, Odeh was released from prison as part of a prisoner exchange and she moved to Jordan. Fifteen years later, in 1995, Odeh emigrated to the United States. When she entered the country, she declared she had only lived in Jordan and – making no mention of her conviction and imprisonment for terrorism – said she had no criminal record. She repeated the same falsehoods when applying for U.S. citizenship in 2004.
Those declarations came back to haunt her in 2013, when she was arrested and charged with lying to the federal government. Her case went to trial in 2014, when she was convicted of immigration fraud, stripped of U.S. citizenship and sentenced to 18 months in prison. In 2016, an appeals court sent her case back to the court that convicted her and ordered a new trial. Originally set for January 10, 2017, that trial is now scheduled to begin in May. During most of this process, she has remained free on bail.
Her legal battle is based on the assertion that she was tortured and sexually assaulted while in prison in Israel and suffered from posttraumatic stress disorder, which, her lawyers argue, was the reason she misinterpreted the questions on her application in the U.S. They have also claimed that the U.S. government knew about her background when she was admitted to the country and that she was targeted for prosecution decades later because of her political activism. In her first trial, the federal judge did not permit her to present evidence backing her PTSD claim. Odeh also maintains that her initial confession to planting the bomb in Jerusalem followed prolonged torture and was thus invalid, an assertion Israeli officials deny.
Her cause has garnered her numerous allies in pro-Palestinian and other progressive circles, including "intersectional" support for Black Lives Matter. She will be a "featured speaker" at the National Member Meeting of the Jewish Voice for Peace at the end of the month, which has also drawn notice and criticism in the Jewish community.
Opponents of the Women's March launched a major public awareness effort, seizing on Odeh's signature of the Guardian letter in order to attack the effort as terrorism-friendly. The criticisms echo attacks on one of the March's organizers, Linda Sarsour, who came under fire in January for her pro-Palestinian activism (and who has also been criticized for speaking alongside Odeh at the JVP event.)
But the attacks on Odeh have packed a harder punch, because her background, unlike Sarsour's, isn't merely one of controversial speech, but deadly action.
The most emotionally-laden criticism has come from the niece of one of the bombings, Terry Joffe Benaryeh, who published a column in the Huffington Post asking "how my family is supposed to reconcile the reality that the woman who stripped my uncle of his life is now deemed a hero by many of my fellow Americans. What justification is there for Rasmea Odeh, a woman who killed two people (with the intention of killing more!) to lead a peaceful fight for human rights?"
She continued:
"Explain to me how Odeh, who was a member of the Popular Front for the Liberation of Palestine (PFLP), a U.S. designated terrorist group, was chosen to represent American feminists who seek to peacefully stand up for women's rights. The Women's Strike lists as its Principle #1 that 'Nonviolence is a way of life for courageous people. It is a positive force confronting the forces of injustice and utilizes the righteous indignation and spiritual, emotional, and intellectual capabilities of people as the vital force for change and reconciliation.' Rasmea Odeh signed her name to this movement. And she did so with blood on her hands I support the empowerment of American Muslims and refugees, and especially Muslim women at this time of heightened prejudice. A self-confessed murderer should not be the voice for them. Do these feminists support her despite her past? Or worse, because of it?"
Leading the charge against Odeh has been the conservative blog Legal Insurrection, which has closely followed the Odeh case as it has unfolded over the years. The blog called for #ADayWithoutWomen to be tranformed into a #ADayWithout EdwardAndLeon and writes that the strike "was conceived by a small group of radicals, including convicted terrorist murderer Rasmea Odeh."
Fox News, which picked up the story, called Odeh an "organizer" of the event. "Meet the terrorist behind the next women's march" was the headline in the New York Post.
Herein lies the weakest part of the campaign against the march by spotlighting Odeh. While the outlets attacking the effort repeatedly describe Odeh as being "behind" the Day Without Women, as having "conceived" it, helped "organize" it, or being a "leader" of it, there is scant evidence of her having done anything other than sign a letter that was actually somewhat critical of the Women's March effort for being too "corporatist lean-in feminism" and urging it into a more radical direction. Unlike Sarsour, who is one of those leading the Women's March movement, Odeh's name doesn't appear on the Women's March website, nor does her group, the Arab-American Action Network, appear on the long list of the effort's "partners."
Still, in the weeks during which criticism of Odeh has appeared, none of the Women's March organizers or partners has stepped forward to denounce her endorsement or distance themselves from her either.
One feminist pundit, Jill Filipovic, who dared to step forward on Twitter and ask why progressives have been so protective of Odeh, was harshly criticized for doing so by many progressives – attacks which caused the right to snicker in derision.
Click the alert icon to follow topics:
ICYMI
Ken Burns' Brilliant 'The U.S. and the Holocaust' Has Only One Problem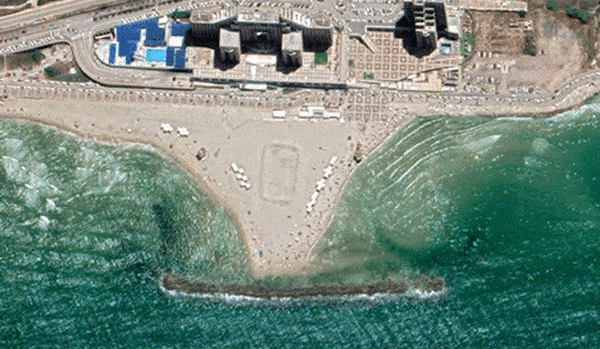 Facing Rapid Rise in Sea Levels, Israel Could Lose Large Parts of Its Coastline by 2050
As Israel Reins in Its Cyberarms Industry, an Ex-intel Officer Is Building a New Empire
How the Queen's Death Changes British Jewry's Most Distinctive Prayer
Chile Community Leaders 'Horrified' by Treatment of Israeli Envoy
Over 120 Countries, but Never Israel: Queen Elizabeth II's Unofficial Boycott