Opinion |
Ivanka Trump Fails the Queen Esther Test
The president's daughter shows that she'll stand up to the White House only when her father threatens to harm her brand.
Donald Trump, Ivanka Trump and Steve Bannon
Credit: AP Photo/Evan Vucci, AP Photo/Mark Tenally, AFP PHOTO / Brendan Smialowski, Dreamstime
Ivanka as Queen Esther - the image popped up periodically in political conversations among Jews throughout the presidential campaign. It peaked during times of highest concern regarding Donald Trump's dog whistles to white supremacist anti-Semitic supporters and the influence that adviser Steve Bannon, with his "Alt-Right" sympathies had on the candidate - now the president.
The Purim story tells of a vain and clueless king, Ahasuerus, who is manipulated by his evil racist henchman Haman. Esther, a Jew who hides her identity, is the heroine who risks her husband's wrath by speaking out for her people and saving them from Haman's murderous wrath. In the happy, but bloodthirsty ending, the Jews are saved.
The argument made was that - if push comes to shove and the situation for Jews became dire under a Bannon-influenced Trump, the president's beloved Ivanka - a convert to Judaism - would similarly step up, whisper in her father's ear, and save the day.
Obviously, there are big problems with this analogy. First of all, it's Jared Kushner, an Orthodox Jew from birth, the son of Holocaust survivors who married into the family, not Ivanka. In all fairness, he, not she, should be burdened with the Esther role. He does, after all, serve at his side as a senior adviser. Unfortunately, Jared doesn't really look the part - his tall beautiful fashionable wife rocks a gown and tiara much better. And according to those in the inner circle, he actually listens to Ivanka in a way he doesn't to others, even her brothers. While Kushner may have earned his trust, too, she is his flesh and blood.
A profile of Ivanka in The Atlantic, written in September, before the election, explored the comparison in-depth "Like Esther, Ivanka has a familial, almost accidental position of influence with a powerful gentile political figure now, as Ivanka steps more into her public role as the daughter of a potential U.S. president, she faces the same dilemma as Esther: figuring out whether and what obligation she has to be a champion of her people—especially when it's not clear what her people might want from her."
It must be stressed that neither Ivanka - nor Jared - has ever made any promises to champion their "people." If there is a group that Ivanka has said she would advocate for, it is women - specifically, working mothers like herself, pledging at the Republican National Convention that she would "fight" for policies that would empower working women like childcare and equal pay.
But during the first two weeks of the Trump administration, Ivanka hasn't been seen fighting for anything. She's been busy unpacking, getting her kids settled into school as her father's executive order drastically curtailing immigration for refugees and others landed like a bombshell. Since inauguration, she appeared publicly only when she accompanied her father to Andrews Air Force Base to pay respects to a soldier killed in the ill-fated Yemen raid, playing substitute first lady for the absent Melania Trump. Rather disastrously, Ivanka appeared callous and out-of-touch when she uploaded a photograph of herself and her husband onto Instagram dressed elegantly for a night on the town, as protests over immigration ban were erupting. Unflattering comparisons were made to a different queen - Marie Antoinette.
As the actual holiday of Purim approaches, with Ahasuerus/Trump now sitting uneasily on his throne, Haman/Bannon at his side - neither Ivanka nor Jared showed any desire to play the part of Esther.
Ivanka and Jared's silence has been deafening, as hate crimes against Jews skyrocket along with other forms of racist violence including three waves of bomb threats to Jewish community centers across the country. Neither said a word when the White House nixed a statement drafted by the State Department to mark International Holocaust Remembrance Day, specifically mentioning Jewish victims and replaced it with one that omitted Jews entirely - sparking an outcry even in the most pro-Trump corners of the Jewish community. As refugee families were torn apart by the clumsily enacted Muslim ban, betraying the American immigrant tradition that the Holocaust survivor members of Kushner's family benefited from - nothing. As for the millions of the women she pledged to stand up for took to the streets with their fear and worry on the day after her father was inaugurated, not a peep was heard from Ivanka.
Jared has his own problems, with leaks to the press describing him as a "weak" and "green" disempowered force being bulldozed by Bannon, he is hindered by the fact that he is off the grid on the Jewish Sabbath.
But then, on Friday, there was evidence of major pushback from the Jared and Ivanka camp. A heroic tale hit Politico and the New York Times and other outlets, crediting Ivanka and Jared with "leading the charge" that scuttled a draft White House executive order rolling back Obama-era LGBT rights in the workplace. The Times reported that they "helped kill" the order: not only did the Trump-Kushner couple "express their dissatisfaction" to the White House, they "weighed in directly" with the president.
The fact that the "multiple sources" quoted in the media were carrying water for the young couple themselves was obvious. They wanted it spread far and wide that they were responsible for the statement that replaced the executive order: "President Donald J. Trump is determined to protect the rights of all Americans, including the LGBTQ community. President Trump continues to be respectful and supportive of LGBTQ rights, just as he was throughout the election."
It can't be a coincidence that the injection of good publicity in what Ivanka's father calls the lying and crooked elite media is taking place just as Ivanka Trump's fashion brand is in deep trouble. Unsurprisingly, the educated, affluent women who shop at department stores like Nordstrom's and Neiman Marcus are the same ones who marched on Washington in protest two weeks ago. The last thing they're interested in doing is buying shoes, jewelry or clothing bearing the name Trump - and both department stores announced this week that they are dropping them due to poor sales. It's got to hurt both her ego and her pocketbook. (Despite the fact that she announced she was taking a leave of absence from the Trump organization, it has been reported that she is still listed in New York state business filings as the chief executive officer of some of her companies)
There are few industries in which the LGBT community wields more power and influence than the fashion industry - what better arena for Ivanka to be seen as savior and to avoid being seen as providing aid and comfort to a gay-hostile White House.
It was a clever PR move in what must be a difficult time for Ivanka. Presumably, part of the Kushner-Trump family decision to move down to Washington D.C. was the hope that as first lady stand-in for her camera-shy stepmom, she could burnish her image - and her brand - to sky-high Michelle Obama levels. Instead, both are taking a beating.
So the bad and deeply disappointing news is that Ivanka only seems willing to stand up to Dad when it's in her personal interest. The good news is that she seems to have taken a stand on something and stood up for one minority group, despite the underlying self-serving agenda. Who knows? Maybe she's got some Queen Esther in her after all.
Click the alert icon to follow topics:
ICYMI
Ken Burns' Brilliant 'The U.S. and the Holocaust' Has Only One Problem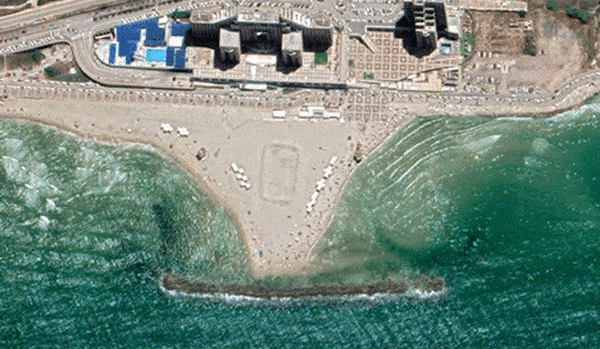 Facing Rapid Rise in Sea Levels, Israel Could Lose Large Parts of Its Coastline by 2050
Lapid to Haaretz: 'I Have Learned to Respect the Left'
The Mossad's Fateful 48 Hours Before the Yom Kippur War
As Israel Reins in Its Cyberarms Industry, an Ex-intel Officer Is Building a New Empire
How the Queen's Death Changes British Jewry's Most Distinctive Prayer