What Trump Is Teaching American Children
Studies show that Donald Trump's campaign, his victory and what followed brought about a sharp rise in racist behavior in the U.S. – including among children. Researchers and therapists explain the phenomenon and suggest ways to cope with it.
Children react to being called on stage by Donald Trump during a campaign rally in Detroit, Michigan, November 6, 2016.
Credit: Carlo Allegri, Reuters
Evelyn Momplaisir is a teacher in a public school in Virginia. She's the mother of an infant and of a boy in the third grade. A few days before the election, in November, she received a phone call from her son's teacher. She told her that two of her sons' friends in the class had decided to make it clear that if Donald Trump were to be elected, the "immigrants" in the class would be sent back "home." They pointed to her son, laughed at him and explained to him that he would have to leave because he was dark-skinned.
Outraged, Momplaisir published a post on Facebook, which was shared by more than 4,000 people, who also thought the story was disturbing and worrisome. Is it possible that Trump's provocative remarks about race and religion are going beyond the political realm and fomenting a substantial change in the American society, generating increasing manifestations of hatred and violence against minorities?
According to Dr. Michal Reifen Tagar, a social and political psychologist from the Interdisciplinary Center, Herzliya, "When a person in a position of power such as Trump expresses himself like that, he legitimizes this discourse. In recent years we saw a significant decrease in racist remarks in the U.S., but that decrease has now stopped. Trump is contemptuous of political correctness, but language possesses great power to define social norms that shape people's views and behavior."
Do the rules of political correctness really shape behavior?
"It may be surprising, but the answer is definitely affirmative. When people who hold problematic views realize that the social norm conflicts with their opinions, that has an influence on them. They will be less opposed to policy that is consistent with the normative attitudes. The norms relating to racist statements appear to have undergone a rapid change in the period before and after the elections. It's far more legitimate now to express racist opinions in the U.S. According to a study published by researchers from the University of Massachusetts, Trump's racist and sexist opinions led people to vote for him. For a leader like him, who represents the white male interest group, shaping public opinion is of great importance."
What happens to minority groups, or to groups that have no power, when they are exposed to racist slurs?
"Since the elections, we've seen a significant increase in racially motivated incidents in the United States. Meaning that it's not just words. In general, we know that it's difficult to be an object of offensive words, that it heightens processes of being paralyzed by fear. When women are in a milieu in which they are exposed to objectification, they express themselves less. They feel less comfortable participating."
Yet people heard Trump make those statements, and instead of keeping their distance from him they put him in the White House. What does that say?
'In recent years we saw a significant decrease in racist remarks in the U.S., but that decrease has now stopped.'

Dr. Michal Reifen Tagar
"One of the psychological traits of many of Trump's supporters is authoritarianism – that is, an inclination to accept authority and to sanctify social conventions relating to power. These people are responsive to a leader who presents himself as strong and confident, and they like unequivocal, simple messages. That reduces uncertainty and glorifies the 'inside' group. People like that tend to attribute greater weight to positions taken by people of authority, which is why his remarks wield great influence."
What characterizes people with that tendency?
"A tendency to perceive the world as a dangerous place and to consider people different from them as dangerous. The moment they feel threatened by those who are ready to violate the norms and the traditions and demand change – they will prefer the preservation of the group over the freedom of its members."
Who's prone to that way of thinking?
"The tendency to be responsive to authoritarianism passes from one generation to the next – in fact, scientists have identified a genetic element that characterizes it. Socialization also plays a part, of course."
The rise in the legitimization of racist opinions is not confined to adults. A worrisome consequence of the "Trump effect" has been a rise in violence in American schools since he was elected. As Katherine Kinzler, a professor of developmental psychologist at Cornell University, told Haaretz in an email interview, "Children absorb everything quickly. We're happy when they are quick to acquire language and to imitate us verbally. Well, they do exactly the same thing when it comes to understanding social groups, and they are particularly skilled at translating and internalizing hidden social messages."
Furthermore, she adds, "Children tend to remember especially well negative information about specific groups. They pick up the threatening tone and very quickly understand which group they belong to and which group they should keep a distance from."
"Children learn through experience," Dr. Reifen Tagar notes, "but there is some information that they are obliged to acquire from the people around them. In recent years we have been discovering that as early as age 4, children are able to distinguish between different sources of information and to decide who is supplying relevant information for them."
From whom do they prefer to get information?
"They are more attentive to sources from the inside group. In other words, they would rather listen to people who don't have a foreign accent, who dress as they do. From the age of 4, children of parents who advocate a strong leader display higher sensitivity toward authority and social norms. Authoritarian parents punish their children more and expect them to respect authority. The child 'copies' that expectation to the social level. That psychological inclination is formed at a very early age.
"In addition," she continues, "authoritarian parents tend to expose their children more to the perception that the world is a dangerous place. Seeing the world in this way connects to worldviews and social and political values that support the preservation of a strong leader, a strong group and clear boundaries between 'us' and the Other. Everything is experienced through a prism of threat, intolerance and hostility toward those who are different."
Intelligence and racism
A 2013 study found that the higher the intelligence level among white males, the less disposed they are to display racism toward blacks.
A racist worldview may well be a product of both education and genetics, but it rests on a general human tendency to divide people into groups. According to Gil Diesendruck, professor of psychology at Bar-Ilan University, that inclination is driven by two principal motives, both of them evolutionary. "One is that, in order to survive, we need a group," he explains. "Its members will help us find food and will provide protection and essential knowledge. That is a 'belonging' drive: In order to get along I need to identify the people who resemble me and will fulfill that role. The second motive is preventive: I want to beware of people who can harm me."
And children are able to identify who belongs to their group and who doesn't?
Diesendruck: "Year-old infants are able to do so. In a study conducted by doctoral student Matar Ferrara, as yet unpublished, infants were shown different video clips. The first clip shows two students cooperating, the second shows a conflict between them. After the infants watched the clips for 30 seconds, they were given the task of dividing men and women into groups on the basis of skin color. After they watched the confrontation clip, the infants were better able to divide men of different skin color, whereas the cooperation clip greatly improved their classification with regard to women."
Why is that?
"Our explanation is evolutionary. In the past it was the men who went out to hunt and were compelled to clash with other groups over resources – food and territory. When we think in terms of confrontation, our in-built connotation is masculine."
At an early age, children have difficulty processing complex information about differences between groups. In many cases they dichotomize the world into good and bad. As their cognitive ability develops, so too does their ability to show empathy for other groups and view their members in a more complex way.
Is it the case that adults who demonstrate racist opinions missed a significant part of their cognitive development? The results of a 2013 study conducted by sociologists from the University of Toronto support this hypothesis. The study found that the higher the intelligence level among white males, the less disposed they are to display racism toward blacks. In a 2012 study, researchers from Brock University in St. Catharines, Ontario, found that children who score low on IQ tests are more likely to develop racist beliefs and support conservative political parties in adulthood.
But we should not allow evolution to make us despair. "The fact that we discover that something is natural doesn't make it good or inevitable," Prof. Diesendruck says, adding, "It's precisely because of this that humans developed civilization."
So we stand a fighting chance against nature?
"Our animal heritage is very strong. It's what pushes us to do things, including those that have proved themselves to be negative across human history, with regard to both individuals and society. For example, we are attracted to sugar-rich foods, but we don't polish off a chocolate bar whenever we encounter one, because culture has taught us that it's worth our while to stop. These are cases in which an instinct that was survival-geared and was appropriate in other circumstances no longer suits the radically different circumstances that exist today.
"Racism is not innate. The tendency to divide people into inside and outside groups is innate, but not on the basis of race. It appears that infants under the age of one aren't able to distinguish between black people and white people."
What happens to a child who grasps that he belongs to the unpopular group?
"That's definitely an experience that generates bewilderment, frustration and anger. At young ages it's not important which group we belong to – we know that we are the 'good.' Children don't yet know which group rules and which is the ruled ... but tend to think they are part of the good group. But at a slightly older age, around 8, children begin to be exposed to a message from society, that if I am an Arab or an Ethiopian, I am actually on the margins of society, I am not part of the hegemony, and control is not in my hands. That feeling is liable to cause a self-esteem problem. I identify with a group and I am aware that it's inferior in the eyes of the society. That, in turn, creates a feeling of helplessness within me: I am stuck in a no-exit situation."
This disparity is often addressed by commercial companies, which offer products to help make people feel that they are part of a desirable group. In a 2015 study that I conducted together with Brian Wansink and Aner Tal from Cornell University, and Moty Amar and Yaniv Gvili from Ono Academic College, in Kiryat Ono, near Tel Aviv, subjects reported that a food product that was considered representative of a group to which they aspired to belong tasted better.
For example, someone who wanted to belong to a running group but didn't yet feel that he was part of it, would experience as tastier an energy-boosting isotonic sports drink, which in his view was representative of the group's members. Thus, commercial firms offer us an avenue of escape from the social groups to which we naturally belong. By means of buying certain items, we can, at least ostensibly, partially enhance our status, self-perception and sense of our place in the society.
Still, there is hope that negative views themselves can be influenced and changed, suggests Diesendruck: "From the moment a child is exposed to labels – Jew and Arab, black and white – he understands that they are relevant when it comes to the groups divided in the culture, and that a fundamental distinction exists between them. Positive information about social groups can change and even reverse negative views. In any event, I believe that we need to talk about it and not leave things only in the child's head, for them to decide by themselves the content with which to fill the labels and the meaning to attribute to them."
And, notes Michal Reifen Tagar, "Reality can be shaped by an encounter with the Other, greatly reducing the experience of a threat on his part. A child or an adult who succeeds to integrate the Other into the 'us' group takes a big step forward. The power group in the society wants to preserve its power and the perception that it is being moral. When we intervene and attempt to modify outlooks, we need to understand how to act on the basis of the psychology of the power group, in order to allow it to preserve its moral self-image and use it to show the inconsistency between it and concrete behavior, and create an opening for change."
Yael Hallak is a doctoral student at the Center for the Study of Rationality at the Hebrew University of Jerusalem.
ICYMI
Ken Burns' Brilliant 'The U.S. and the Holocaust' Has Only One Problem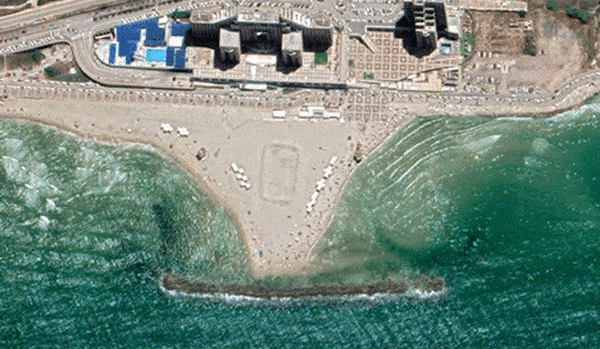 Facing Rapid Rise in Sea Levels, Israel Could Lose Large Parts of Its Coastline by 2050
Lapid to Haaretz: 'I Have Learned to Respect the Left'
The Mossad's Fateful 48 Hours Before the Yom Kippur War
As Israel Reins in Its Cyberarms Industry, an Ex-intel Officer Is Building a New Empire
How the Queen's Death Changes British Jewry's Most Distinctive Prayer