Jewish Insider's Daily Kickoff: January 17, 2017
Meet Trump's determined inaugural spokesman Boris Epshteyn | Ofer Brothers' Lottery | Wary of Adelson, Jon Ralston launches
Workers prepare for the upcoming inauguration of President-elect Donald Trump in Washington, D.C., January 16, 2017.
Credit: Aaron P. Bernstein/AFP
Have our people email your people. Share this sign up link with your friends
HEARD AT DAVOS -- "His expertise seems to be that he once went to Jewish summer camp," Tom Friedman telling John Kerry about Jared Kushner becoming Trump's Middle East peace envoy. [Twitter]
PATH TO PENN AVE -- With Donald Trump's inauguration only days away, several prominent JI readers shared with us their expectations for the upcoming Trump Administration, its relationship with the Jewish community and Israel, along with any advice they would give to the new President and his senior advisor Jared Kushner. Over the next few days, we will feature additional responses here. Email us your thoughts at Editor@JewishInsider.com
Q: What are your expectations of a President Trump?
Dr. Dore Gold, former Director-General of Israel's Foreign Ministry: "I hope President Trump will restore America' deterrent power making its enemies think twice before they drag the US or its allies into another war."
NYC Councilman David Greenfield (D-Brooklyn): "I expect President Trump will be more pragmatic than candidate Trump."
Noam Neusner, WH Jewish Liaison for Bush 43: "Washington has never seen anything like a Donald Trump Administration. It's impossible to predict what he will do, but one thing is for sure – 100 days won't limit him in any way."
Q: What will the relationship between the Trump administration and the Jewish community look like?
Greenfield: "The relationship between President Trump and most Jewish groups will likely be contentious with the exception of Orthodox Jewish groups that traditionally skew Republican."
Neusner: "Cautious and wary, on both sides. But both sides of that relationship have a lot to gain by regular dialogue, and they'd both be smart to focus on where they can work together."
Q: Will Israel become more partisan in DC?
Greenfield: "There is enough political support in both parties for Israel to remain bi-partisan. A good example of that is the significant number of senior Democratic members of Congress who slammed President Obama for the UN resolution. That's good. Because it's not in Israel's interest for Israel to be a partisan issue."
Neusner: "It already is – the party's leadership and major supporters are still meaningfully and overwhelmingly pro-Israel, but a party's base determines the party's future – and the Democratic base has turned against Israel. The pro-Israel Democratic activists have their work cut out for them."
Ann Lewis, former White House Communications Director for the Clinton Administration: "I think this new administration poses a serious challenge for the Jewish community. For decades, we have built bipartisan support for a strong US-Israel relationship, based on shared values and shared strategic interests. Unfortunately, it seems that Trump administration strategy is to make Israel a partisan issue, one that divides the Jewish community and our allies. That's bad math and bad politics. It would reduce our ability to be effective on everything we care about: US-Israel and domestic issues alike. With so much at stake, I think the American Jewish community will be smart enough to overcome attempts to divide us - but we will have work to do."
Q: What will happen with the Iran deal?
Gold: "The agreement with Iran is dangerous for Israel and the West as a whole. It expires after little more than a decade allowing Iran to resume unlimited uranium enrichment with fast centrifuges. The agreement puts no limits on Iran's ballistic missile program which will give it the ability to strike America, just as its enrichment program is restarted. The West needs an entirely new approach."
Neusner: "Depends on a lot of things I don't know – what does the intel say, what promises were made by the Obama administration have been broken by the Iranians, how angry are Republicans about being lied to and steamrolled by the Obama administration, and the appetite of Trump's security team for a big effort to rebuild the international coalition blocking Iran from access to global banking, trade and energy markets. That takes a lot of work – they have to be willing to do it to tear up the deal. Also, it may be a major test for Trump and his relationship with Putin."
PROFILE: "No Stars? No Problem! Meet Donald Trump's Determined Inaugural Spokesman" by Olivia Nuzzi: "[Boris] Epshteyn's journey to the center of Trump's orbit begins, like Trump's victory might've, in Moscow. He was raised there until 1993, when he immigrated to Princeton, New Jersey, with his father, who he said is a scientist, and mother, a real-estate agent. He describes his family as Jewish refugees and doesn't have much by way of a sense of humor about the coincidence of his Russian heritage and the claims that the country meddled in the U.S. election that made his boss president. "I was 11," he said, sternly, when asked about any connections he might have to Russia now. He added that rumors, like one that he's a Russian spy, which have been floated on Democratic message boards, are "offensive.""
"Asked how he reconciles his Jewish faith with the enthusiastic support of some anti-Semites for the incoming president, he denied the premise. "If you look at my Twitter and the things the left has said about me, it's as bad if not worse," he said, "and I've had family who died in the Holocaust." He added, "I know that the president-elect is somebody who's accepting, uniting, kind, obviously he's got members of his family who are Jewish—his daughter is Jewish, his son-in-law's Jewish, his grandkids are Jewish, and to me personally, I cannot express the amount of support and positivity that I've experienced from the president-elect."" [DailyBeast]
"Surprisingly, Trump inauguration shapes up to be a relatively low-key affair" by John Wagner and Karen Tumulty: "Trump's trip down Pennsylvania Avenue is expected to clock in at 90 minutes — making it among the shortest on record. In a word, the 45th president's inaugural activities will be "workmanlike," said Boris Epshteyn, communications director for the Presidential Inaugural Committee." [WashPost]
Anshel Pfeffer: "Nearly every settler leader I've spoken to in the last few days is boarding a plane in 24 hours to Washington for the #TrumpInauguration" [Twitter]
Eli Pieprz, Director of International Affairs for YESHA Council tells us that Oded Revivi, Chief Foreign Envoy for YESHA Council and Mayor of Efrat, will lead the delegation, which includes Yossi Dagan, Mayor of Samaria Regional Council, and Beni Kashriel, Mayor of Maale Adumim and leading candidate to replace Natan Sharansky as head of the Jewish Agency in June.
"Scalpers losing money on tickets to Trump inauguration" by Adam Edelman: "Yossi Rosenberg, 36, of upper Manhattan, told the Daily News, he bought a pair of tickets to Friday's Washington, D.C. event from a woman in Westchester County for $700, thinking he could flip them for at least twice as much. But nobody's biting. "Nobody wants to buy them," Rosenberg told The News." It looks like I'm stuck with them, I might even have to go."" [NYDN]
TOP TALKER: "Jared Kushner has Trump's trust but lacks experience for Middle East role" by Peter Beaumont: "It has emerged that the only previous encounter Kushner has had with Israel's prime minister was when he was a child and Benjamin Netanyahu visited his father. Indeed, Kushner's only other significant contact with a senior Israeli politician before last year appears to have been with the mayor of Jerusalem, Nir Barkat Kushner's views on the issue are believed to be reflected in his contribution to a speech Trump delivered to a pro-Israel lobby group, the American Israel Public Affairs Committee, in the spring Palestinian officials told the Guardian that they had been told several weeks ago that Kushner was calling "the shots on the issue", including over the embassy move." [Guardian]
"Likud minister Tzachi Hanegbi: Trump could edge Palestinians toward peace" by Raphael Ahren: "The fact that we have such a major change in the US could make the Palestinians become more realistic and more pragmatic about going back to the negotiating table," he said If the Trump administration decides it wants to play a role in fostering Israeli-Palestinian peace, "we will be more than happy," as long as Washington's role remains helping the parties "sit in intimate environment to try to put our disputes to an end." [ToI]
"For Israel, more unknowns than knowns with Trump" by Ben Caspit: "No one can remember the last time that Jews waited for anyone — apart from the Messiah... with the kind of eager anticipation they have of Trump taking office. One Likud member jokingly told Al-Monitor that the people of Israel expect Trump to forgo Air Force One and come riding in on a white donkey, as Jewish tradition has the Messiah arriving. The Israeli right's expectations in regard to the new president are sky high When it comes to Israel's relationship with the Palestinians, to moving the US Embassy to Jerusalem... Israel's defense establishment prefers to wait until Trump formulates his positions. "There is no way of knowing which way he will go," one senior defense official told Al-Monitor." [Al-Monitor] Yair Lapid: 'Donald Trump is a great friend of Israel' [France24]
John Kerry on Kushner as Mideast peace envoy: "Well, more power to them if they can do that. But you have to have a theory of how you're going to do that and what compromises are going to be made to do it The leaders of the two countries involved – one country and one entity, the Palestinian Authority – have failed to come to the table and reach [an] agreement. You know the old saying – you can lead a horse to water, you can't make it drink. Now, we did a lot of leading to a lot of water, but people decided they weren't ready for one reason or another to move." [State] Kerry tells Benjamin Netanyahu: 'You're affecting the ability to make peace' [JPost]
HEARD YESTERDAY -- Outgoing National Security Advisor Susan Rice to CNN's Wolf Blitzer on moving the U.S. Embassy to Jerusalem: "Already, the reaction of some of our closest partners in the region, most notably Jordan that has indicated that it would put great stress on their security - the internal dynamics in Jordan and throughout the region - because this is a very emotional issue and one that many presidents have considered when they were running for president, but not a single American President has chosen to date to make that decision because it's an extremely volatile choice and one that would put stability inside of Israel and the Palestinian territories, and potentially even the security of American personnel in the region at risk."
EXIT INTERVIEW -- "Joe Biden: 'I Wish to Hell I'd Just Kept Saying the Exact Same Thing'" by Jonathan Alter: "Biden's national security adviser, Colin Kahl, who was with the vice president on the plane, interjected to outline the contradictions in Trump's emerging foreign policy. If the United States is going to be more cooperative with Russia and Bashar al-Assad's Syria but more confrontational with Iran, Kahl asked, how will Trump handle them joining together to fight ISIS? "It's like a Rubik's cube trying to figure this guy out," Biden sighed. "We have no freakin' idea what he's gonna do." [NYTimes]
"CIA Director John Brennan Rejects Donald Trump's Criticism" by Shane Harris: "It's when there are allegations made about leaking or about dishonesty or a lack of integrity, that's where I think the line is crossed," he continued, taking particular umbrage at Mr. Trump's comments last week that leaking intelligence on political figures was something that Nazi Germany "would have done and did do." "Tell the families of those 117 CIA officers who are forever memorialized on our wall of honor that their loved ones who gave their lives were akin to Nazis," Mr. Brennan said. "Tell the CIA officers who are serving in harm's way right now and their families who are worried about them that they are akin to Nazi Germany. I found that to be very repugnant, and I will forever stand up for the integrity and patriotism of my officers who have done much over the years to sacrifice for their fellow citizens." [WSJ]
"Ex-CIA chief rejects report Israel was warned of sharing intel with Trump" by Yonah Jeremy Bob: "Former CIA and NSA director Gen. (ret.) Michael Hayden rejected a recent report that Obama administration intelligence officials told Israeli officials to be wary of sharing intelligence with the incoming Trump administration "I don't share those concerns. I saw the reporting. I don't think, even looking at the dynamics we are talking about, I don't think the Americans would do it. It is still America's CIA." Regarding US-Israeli intelligence cooperation in general, he said that Trump's pick for CIA director, Mike Pompeo, should see to it that one of his first visits is to Israel." [JPost]
TRANSITION TOWER: "'Never Trump' national-security Republicans fear they have been blacklisted" by David Nakamura: "The conflict was exacerbated shortly after the election when Eliot Cohen aired new criticism of the Trump transition and he warned young policy experts against working for the administration. Cohen has had no further communications with the transition team. "Believe me — my phone is not ringing," he said in a recent interview. Other letter signers said Cohen had misinterpreted emails from the transition official and overreacted, and some of them expressed a sense of regret." [WashPost]
"How a liberal Santa Monica high school produced a top Trump advisor and speechwriter" by Lisa Mascaro: "Miller grew up in the tony north-of-Montana neighborhood, the middle child, in a Jewish family of longtime Franklin Roosevelt Democrats. He played tennis and golf. But their status abruptly shifted when his parents' real estate company faltered and the family moved to a rental on the south side of town. A subscription to Guns and Ammo magazine introduced him to the writings of National Rifle Assn. leader Wayne LaPierre, sparking Miller's interest in politics. The conservative ideas were like nothing he had ever heard." [LATimes]
"Mnuchin's stiff prep" by Mike Allen:

[Axios]

"Donald Trump Asks Richard LeFrak, Steven Roth to Monitor Infrastructure Plan's Costs" by Peter Grant and Ted Mann:

[WSJ]
ON THE HILL: "McCain leans toward voting for Tillerson" by Cyra Master: "Some of my concerns have been satisfied, [but] I haven't made up my mind completely," McCain said When pressed Monday evening on whether he'll support Tillerson going forward, McCain said, "Barely, yes." [TheHill]
"Marco Rubio still mulling vote on Tillerson confirmation" by Patricia Mazzei: "We're going to go through the transcripts of the hearing, which I've begun to do," Rubio told reporters in Miami. "We need to have a foreign policy that while always acting in the national interest of the United States is always rooted in our values as a nation." [TampaBay]
"What will Feinstein do? California Democrats await senator's reelection decision to plot their own futures" by Seema Mehta: "News that Feinstein was fitted with a pacemaker last week reignited the parlor game, with California political circles discussing anew what the procedure might mean for the veteran lawmaker as she evaluates her options." [LATimes]
BUZZ ON BALFOUR: "New Leaks: Netanyahu and Mozes Discuss How Deeply Adelson's Daily Must Be Cut" by Haaretz: "According to Channel 2, Netanyahu and Mozes discussed how the number of copies of Sheldon Adelson's Israel Hayom can be reduced in order to ease the competition with Mozes' Yedioth Ahronoth Meanwhile, Channel 10 reported Monday that the prime minister's son Yair Netanyahu will arrive Tuesday evening at the offices of the police's Lahav 433 fraud investigations unit to give his version of the gifts affair. The younger Netanyahu is expected to be asked about the financing he received from the Australian billionaire James Packer and Packer's connection with his father." [Haaretz]
"Adelson expected to testify in Netanyahu probe — report" by Raoul Wootliff: "According to a Channel 10 report Monday, investigators are expected to ask Adelson whether he was aware of the alleged quid pro quo deal the prime minister discussed with Yedioth publisher Arnon Mozes. It is unclear if Adelson, who lives in the US, will come to Israel to speak with police or will provide a written or video testimony." [ToI]
MEDIA WATCH: "Wary of Sheldon Adelson, Nevada Journalist Starts a News Website" by Timothy Pratt and Sydney Emberjan: "In blog posts and postings on Twitter, Jon Ralston, perhaps the state's most prominent political reporter and columnist, referred to The Review-Journal as "The Adelson News," suggesting Mr. Adelson was unduly influencing Nevada's largest newspaper On Tuesday, Mr. Ralston will set off on his own with The Nevada Independent, a nonprofit, donation-based news website that he hopes will add more journalistic heft to the coverage of state politics The site, he said, will focus on state and local politics, and public policy, but it will also delve into areas like business Mr. Ralston said he did not start The Independent as a response to Mr. Adelson's acquisition or any other negative perceptions about the state of the news media in Nevada." [NYTimes]
** Good Tuesday Morning! Enjoying the Daily Kickoff? Please share us with your friends & tell them to sign up at [JI]. Have a tip, scoop, or op-ed? We'd love to hear from you. Anything from hard news and punditry to the lighter stuff, including event coverage, job transitions, or even special birthdays, is much appreciated. Email Editor@JewishInsider.com **
DAVOS SCENE: "Trump's Translator Wants The Global Elite To Understand Him" by Miriam Elder: "Anthony Scaramucci was once known as the party boy of Davos, hosting a shindig at the hotel piano bar that is the center of social life during the week that the small Alpine village turns into a gathering of the global elite. This year, the asset manager turned Trump adviser came to the World Economic Forum, as one participant put it, as an "ambassador and future interpreter." Those gathered at Davos represent the epitome of what Donald Trump ran against — men (and a few women) in fine suits cloistered away in the Swiss Alps discussing their prescriptions for making the world a better place, while ensuring the average Joe remains far from the checkpoints that line the roads to the village center." [BuzzFeed]
SPOTLIGHT: "One Winner, One Loser in Brothers' Lottery Worth Billions" by Devon Pendleton and Yaacov Benmeleh:

"Mark Zuckerberg: Don't Raise Your Child as a JewBu" by Naomi Schaefer Riley:

[Acculturated]
TALK OF THE TOWN: "Dispute over Obama's membership in largely Jewish country club heats up" by George Altshuler: "[Jeffrey] Slavin wrote in a widely circulated email to Woodmont General Manager Brian Pizzimenti that he was withdrawing from the club "I can no longer belong to a community where intolerance is accepted, where history is forgotten, where freedom of speech is denied and where the nation's first black president is disrespected," wrote Slavin, who is active in the Democratic Party and the liberal pro-Israel organization J Street Slavin said that he was inspired this weekend to resign from the club after attending an interfaith Shabbat service at Washington Hebrew Congregation that honored Dr. Martin Luther King Jr. He added that since he went public with his resignation, he had received a good amount of hate email, including from Jews who accused him of being anti-Semitic." [WashJewishWeek; TheHill]
"Will Holocaust survivor, longtime presidents' tailor, dress Trump?" by Renee Ghert-Zand: "Martin Greenfield, 88, has made suits for both Democratic and Republican presidents, including President Dwight Eisenhower, who, as a Supreme Commander of the Allied Expeditionary Forces in Europe had liberated Greenfield from the Buchenwald concentration camp in April 1945 Whether or not Trump would be open to changing his look, Jay Greenfield said Martin Greenfield Clothiers would be appreciative to get a suit order from the White House after January 20. "It is always an honor to dress the president of the United States," he said." [ToI]
"The alt-right eats its own: Neo-Nazi podcaster "Mike Enoch" quits after doxxers reveal his wife is Jewish" by Matthew Sheffield: "Mike Enoch's downfall was set in motion in December when a former alt-right vlogger named Mike Cernovich hinted to his viewers that one of his rivals "is morbidly obese and is married to a Jewish woman." He declined to say whom he meant, but that salacious rumor set the cyber-sleuths to their task. As the doxxing unfolded this weekend, Peinovich said nothing on Twitter or on his own site... When asked if he would be willing to conduct a telephone interview, Peinovich replied, "Let me talk to my wife." He never answered back." [Salon]
HOW I BUILT THIS -- Honest Tea: Seth Goldman:

[NPR]

SPORTS BLINK: "Theo Epstein on baseball, politics and what he may do next" by Matthew Jaffe:

[CNN]

[Pic]

WEEKEND WEDDING:

[Instapic]
BIRTHDAYS: Host of tv tabloid talk show "Maury," originally known as the "Maury Povich Show," Maury Povich turns 78... Joseph Berger turns 71... Majority owner of the NBA's Cleveland Cavaliers, founder and Chairman of Quicken Loans, Dan Gilbert turns 55... Odessa-born, dancer, choreographer and dance instructor, widely known as one of the professional dancers in "Dancing with the Stars," Maksim Chmerkovskiy turns 37... Freelance writer and digital content manager at Emily's List, Alyssa Franke turns 25... President and co-founder of Bluelight Strategies, a marketing, media relations, message development, branding and social media firm, Steve Rabinowitz... Kansas City-native, now DC-based SVP for PR firm Finsbury, previously VP of media strategy at Ketchum, and for 15 years prior to that a reporter for both Reuters and Bloomberg, Jeremy Pelofsky (h/t Playbook)... New York Director of Institutional Advancement for Moishe House, previously director of individual giving at the JCC Association, Jason Freeman... National Political Reporter at RealClearPolitics, previously a writer for the Washington Examiner and BuzzFeed, Rebecca Berg... Aisha Creswick...
Gratuity not included. We love receiving news tips but we also gladly accept tax deductible tips.100% of your donation will go directly towards improving Jewish Insider. Thanks! [PayPal]
ICYMI
Ken Burns' Brilliant 'The U.S. and the Holocaust' Has Only One Problem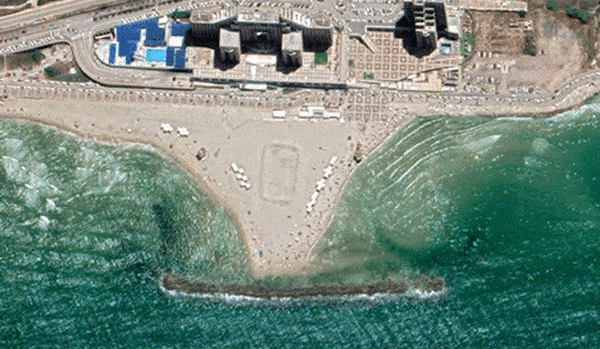 Facing Rapid Rise in Sea Levels, Israel Could Lose Large Parts of Its Coastline by 2050
Lapid to Haaretz: 'I Have Learned to Respect the Left'
The Mossad's Fateful 48 Hours Before the Yom Kippur War
As Israel Reins in Its Cyberarms Industry, an Ex-intel Officer Is Building a New Empire
How the Queen's Death Changes British Jewry's Most Distinctive Prayer