Opinion |
How Will Jews Fare in the Trump Era?
Get ready to stand out, as Trump peels away the layer of political correctness that blurred distinctions within humanity; now everyone will be reminded that we're Jews, and that's not necessarily in our favor.
President-elect Donald Trump with Ivanka at a press conference in New York. Could Trump's converted daughter be a genetic-strategic asset in the White House?
Credit: Timothy A. Clary, AFP
The day after a Muslim asylum seeker ran over a crowd of Christmas shoppers in Berlin last month, a Fox News correspondent questioned President-elect Donald Trump about his initial response, in which he'd stated that this was an attack on Christians. "Who said that?" asked Trump. "I think it was you in a press release," she replied. "How will it affect relations with Muslims?" she continued. Trump interrupted her to say, "this was an attack on humanity. That's what it was, an attack on humanity. This has to stop."
Trump's spontaneous reaction was a bit confusing. At first it seemed as though he was demonstrating some responsibility, pulling back from the divisive terminology of a religious conflict. It wasn't a Muslim man attacking Christians but an attack against humanity. But if humanity is the victim, who does Trump think the assailant is? It's unclear who is on the other side of the fence he drew around humanity – is it only the terrorist or all Muslims? And where are the Jews in all this?
Under the cloak of political correctness, under which any differences between human beings are denied, differences between Jews and Christians have been relegated to differences in their religious beliefs. Moreover, in a secular world such differences have lost their behavioral distinctions, not to mention their ethical ones. It is forbidden to think, let alone express out loud, the obvious: that the differences between Judaism and Christianity, which embrace different systems of morality and education and differ in character, manifest themselves in the way states conduct themselves. And now, even before Trump has been sworn in, a layer of political correctness that has covered "humanity" like natural toned makeup is being peeled away, exposing a mix of skin tones for all to see.
Even here in Israel we've discovered this month that we're Jewish, with the attendant characteristics. The sharp response to the UN Security Council resolution on the settlements was explained by the prime minister thus: "We don't turn the other cheek." We all know who does. Everyone knows we're Jews, so what did Benjamin Netanyahu try to clarify? It looks as though he wanted to endow this fact with new meaning.
For the first time it appears that Netanyahu is trying to highlight differences between us and Christians, instead of searching for common denominators. He pointed to a qualitative moral difference between us, not just a quantitative one. Until now we were simply more ethical than others – the Israel Defense Forces is the most moral army in the world, we said. The implied assumption was that Christians and Jews share the same moral yardstick. But now all that universal values nonsense is behind us. "Enough with that Diaspora mentality," clarified Netanyahu. "There is no political wisdom in groveling." What are we, Christians? From now on we'll respond as Jews, in other words, using a different ethical yardstick.
Netanyahu laid the foundation for a new kind of dialogue between Israel and the world. No longer will values shared by Israel and the Western world dictate Israel's policies, but a value system unique to Jews. Jews, as is well known, do not turn the other cheek when they're slapped. For us, the guiding principle is to preemptively kill anyone rising to kill you, as the Talmud decrees. All that remains is to convince Chief-of-Staff Gadi Eisenkot, who is still stuck in yesteryear's Diaspora code of ethics.
However, words cast into the vacuum of space can return like a boomerang. Anyone who talks about "we" should not be surprised if he soon hears the term "you" in the plural. The state of the Jews should prepare to be on the receiving end of the attitude the world reserves for Jews. This time it will be without the protection of political correctness, which was invented specifically for them. What does it mean to be a nation that lives among others as if it were like them, while at the same time living according to a different ethical system?
Is it, for example, Jewish of us to refuse to determine our political borders? Is it Jewish of us to use the UN in order to force the Arabs to recognize the establishment of the State of Israel ("They rejected the Partition Plan!!!"), even though "they" were the majority in Mandatory Palestine, and then to scornfully dismiss this institution when we are displeased with its resolutions? Is it Jewish of us to scold the world for keeping silent while the Jews were being exterminated (despite the fact that the world was engaged in total war against Germany), while we ourselves remain silent in face of other genocides, of all other war crimes committed since then (while at the same time supporting some of the darkest regimes)?
Is it Jewish of us to confound the world by stating that the Israeli-Palestinian conflict is about the right of Israel to self-determination (even though that right has been enjoyed for almost 70 years) rather than about the denial of such a right for the Palestinian people (who, with their lands, have been under Israeli occupation for 50 years)? Is it Jewish of us to hold the U.S. Congress in our pockets, to try and interfere with American election results? To give a speech in Congress and try to derail an international accord with "humanity's" main enemy? Are we just Jews behaving like Jews?
It seems like the world has awoken from its dream in which people are judged by their character rather than by the color of their skin. Blacks have become blacks again and Hispanics are Hispanics, Americans are white and Jews are Jews. Is this good for the Jews? In this kind of world Ivanka (Yael), Trump's converted daughter, is no less than a genetic-strategic asset in the White House. Trump once said of her that if she weren't his daughter he'd date her. His wish is about to be partially fulfilled. It seems that in practice, the First Lady's role will be filled by Yael. Small wonder then that in the tweet sent by our prime minister to President-elect Trump, in which he thanked the latter for supporting Israel after the UN resolution ("Stay strong Israel, the 20th of January is approaching") he also tagged Ivanka. After all, she is flesh of our kosher flesh. Almost kosher, to be precise. It remains to be seen whether her conversion is recognized in Israel. Yael was converted by Orthodox Rabbi Haskel Lookstein in New York, but the rabbinical court in Petah Tikva ruled that Israel does not recognize his conversions.
The New York weekly Jewish Week published a report last month, according to which Trump's people turned to Israel, concerned about the legitimacy of Ivanka's conversion. Will Ivanka make sure that Daddy takes care of the UN for us while we sort things out in Petah Tikva? I have a feeling that Netanyahu won't object if I tweet in his stead: "Stay strong, Ivanka, the 20th of January is fast approaching for you too."
Click the alert icon to follow topics:
ICYMI
Ken Burns' Brilliant 'The U.S. and the Holocaust' Has Only One Problem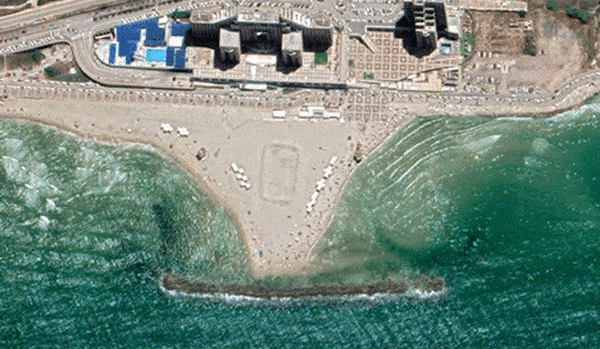 Facing Rapid Rise in Sea Levels, Israel Could Lose Large Parts of Its Coastline by 2050
As Israel Reins in Its Cyberarms Industry, an Ex-intel Officer Is Building a New Empire
How the Queen's Death Changes British Jewry's Most Distinctive Prayer
Chile Community Leaders 'Horrified' by Treatment of Israeli Envoy
Over 120 Countries, but Never Israel: Queen Elizabeth II's Unofficial Boycott