Analysis |
Will a GOP Congress Stop an Out-of-control President Trump?
Confirmation hearings prove his cabinet appointees are more suited for their jobs than Trump himself.
U.S. President-elect Donald Trump speaks during a press conference in Trump Tower, Manhattan, New York, U.S., January 11, 2017.
Credit: SHANNON STAPLETON/REUTERS
Israelis who watched the Senate confirmation hearings that started this week can only be envious: there is nothing similar in the Knesset. The Senators were eloquent and knowledgeable, the candidates were alert and prepared, topics were discussed thoroughly, the hearing was mostly polite and disciplined, with none of the cacophony and "I didn't disturb you, don't disturb me" that are a staple of any parliamentary hearing in Israel. There was also plenty of drama, worthy of House of Cards or West Wing, when Florida Senator Marco Rubio, for example, fried Secretary of State designate Rex Tillerson over his attitude toward Russia, when New Jersey's Cory Booker broke with precedent and roasted his colleague Jeff Sessions, the prospective attorney general, over his civil rights record, or when James Mattis, designated for defense secretary, responded to Lindsey Graham's grilling by claiming Tel Aviv was Israel's capital. Generally speaking it was evident that most of his cabinet appointees are far more suited to their jobs than Donald Trump himself.
Congressional hearings are one of the foundations of American democracy, and, since the advent of television, also providers of top-notch television sagas. The roving hearings held by Estes Kefauver in the early 1950's not only opened America's eyes to organized crime and the mafia, they were also a ratings blockbuster that paved the way for future live news broadcasts. The moment that Army Counsel Joseph Welch asked Joseph McCarthy "At long last, have you no sense of decency?" will long be remembered as the beginning of the end of anti-Communist witch-hunts. Senator Howard Baker's insistence on knowing "What did the president know and when did he know it?" was the overarching motto of the Watergate hearings, which brought America to a standstill in the summer of 1973. The traumatic testimony of Anita Hill against Supreme Court Justice Clarence Thomas in 1991 haunts America to this day. And everyone remembers Hillary Clinton's impatient retort at the Benghazi hearings "What difference does it make anyway?" which was twisted and distorted by her Republican rivals to tar her as indifferent to American deaths.
Only a small fraction of candidates is ultimately disqualified, though the danger of such an outcome is obviously enhanced when the party in power is in the minority in the Senate or holds only a slim majority, as the Republicans do in the new Congress. In the Senate Foreign Relations Committee the GOP has a majority of only one, so in the unlikely event that Rubio decides to nix Tillerson, for example, his appointment could fall through: the Senate has approved a candidate contrary to the opinion of a committee only once in history. But even if approval is almost certain, the hearings provide a platform for the public to get acquainted with the positions of the prospective candidates and for Senators to secure public pledges on their future moves. They enhance Congress' stature as an independent arm of government, contrary to the situation in Israel where Knesset Members are not elected personally and, if they are in power, must follow the instructions of their coalition. They cast the Congress as a counterweight and possible last ditch obstacle to an administration that oversteps its bounds: This is how the GOP justified its blanket opposition to Barack Obama.
The tenure of Donald Trump, one can already predict, is bound to pose a tougher challenge for Congress, because his party holds the majority. Unlike their refusal to cooperate with the Obama administration, which was popular with the GOP base, a confrontation with Trump, especially in the first year or two of his tenure, could cost Republican lawmakers dearly. At the same time, Trump seems set for a much more dramatic break with established norms than Obama. The outgoing President, who sang the praises of U.S. democracy in his farewell speech in Chicago this week, is a constitutional scholar. Trump repeatedly proved during the election campaign that he has no idea what's written in the Constitution and, even when appraised, that he doesn't really care.
The contrast between the Senators, solemnly carrying out their constitutional duty to "advise and consent," and the president-elect, raging like a bull and goring everything in sight, was evident this week as television cameras moved from the sober hearings on Capitol Hill to the unruly press conference in Trump Tower in Manhattan. Trump made clear, if anyone had any doubts, that the inflammatory conduct that characterized his election campaign did not end with his November 8 victory and that his presidency is likely to break many of the customs and conventions kept by his 43 predecessors. Trump presented his own conflict of interest arrangements, which were immediately rejected by outside observers as a sham. He reneged on his commitment to publish his tax returns, as all of his immediate predecessors have. He brutally attacked a CNN reporter on the basis of an erroneous claim that it had published the contents of the report that allegedly detailed the damning information that could be used by Russia to blackmail him. He doubled down on his outrageous comparison between U.S. intelligence chiefs and Nazi Germany, also based on his yet-to-be-proven claim that they had leaked the report to the press.
The 35-page dossier composed by the reputable former British MI6 agent Christopher Steele includes, among other things, the story of Trump's alleged escapades with escorts at Moscow's Ritz Carlton Hotel. his debts to questionable Russian moneylenders, the collaboration between his campaign staff and Russian efforts to intervene in the U.S. elections and Putin's personal involvement in all of the above. Intelligence experts claimed that the report seemed to include unverified accounts that may or not be proven, but were certainly not an intentional fabrication. In this regard, most of the U.S. media may have been too hasty in condemning Buzzfeed for publishing the complete report: it has already been circulating among journalists and lawmakers for weeks, it was deemed credible enough for Senator John McCain to forward it to U.S. intelligence chiefs and for them to update Trump on its existence - and it's too early to tell if the report won't turn out one day to have been partially or wholly accurate.
Samantha Bee said on her TBS program that even if the salacious story about Trump and his peculiar pastimes in the Moscow hotel formerly occupied by Obama is bullshit, it is "plausible bullshit": No-one would try to concoct such a tale about Obama. Of course this sensationalist story drew attention away from the other, far more serious allegations contained in the report. In his defense, Trump cited the Russian denial of the story, sparking chuckles all around. The use of honey traps and the new Russian buzzword "kompromat" - compromising material - to get rid of political rivals and blackmail foreigners has been a Russian staple since the days of Joseph Stalin and his secret police chief, Lavrentiy Beria. After the fall of Communism, "kompromat" has turned into a countrywide industry, with which Putin is closely acquainted, both as perpetrator and, reportedly, as victim.
The report touches on Trump's most sensitive nerve - his relations with Putin. Even though he has changed his tone slightly on Russian hacking of Democratic Party computers and even though Tillerson was more critical than expected of Putin's policies, Trump continues to speak softly and positively about the Russian president, even though his tone exacts a political price among top Republican leaders. One can view Trump's obstinacy as the admirable consistency of a statesman who won't relinquish his goal of containing friction with Russia. If you find it hard to view Trump as a man of principle with a sweeping geo-strategic vision, then you'll have to wait for another explanation that will come from the controversial report or from somewhere else.
But Trump's rage in the wake of the publication of the report is a recurring symptom of his inability to restrain himself whenever he feels personally insulted. When asked about an initiative of McCain and Graham to impose new sanctions in retaliation for Russia's computer hackings, Trump chose to personally and needlessly insult Graham for his failure in the GOP primaries, even though he has no Republicans to spare if he wants the Senate's collaboration. Trump's instinctive and aggressive reactions to personal slights are an Achilles Heel that could be exploited by political rivals and external enemies. The wrath that overwhelms him could drive him to rash steps in the future, both inside and outside the U.S.
It's too early to tell whether Congress will be able to apply breaks to stop him. Judging by the experience in Israel, which admittedly has a different system of government, the answer is a resounding no: not only does the Knesset serve as a rubber stamp for the Netanyahu government but in efforts to erode constitutional conventions and curtail civil liberties, it is often more zealous than government. The U.S. Congress is much more independent and powerful than the Knesset, but Trump is also bolder and far more reckless than Netanyahu. The reliance on constitutional checks and balances is unproven: the Supreme Court will soon take a turn to the right and may be less inclined to intervene and Trump has already shown how adept he is at enlisting rank and file Republicans to overcome his party's establishment.
In this regard, Trump's altercation with the U.S. intelligence community may be ominous: his use of extreme comparisons to Nazi Germany may be a gut reaction but may also be an effort to legitimize his pledge to shake up intelligence bodies and change their mode of behavior. Another famous Senate Committee, headed by the late Idaho Senator Frank Church, investigated illegal CIA activities abroad and internal surveillance by the CIA and other intelligence organizations in the 1970's. Remarking on his findings, Church presciently warned, in a pre-Internet era: "If this government ever became a tyrant, if a dictator ever took charge in this country, the technological capacity that the intelligence community has given the government could enable it to impose total tyranny, and there would be no way to fight back because the most careful effort to combine together in resistance to the government, no matter how privately it was done, is within the reach of the government to know. I don't want to see this country ever go across the bridge. I know the capacity that is there to make tyranny total in America, and we must see to it that this agency and all agencies that possess this technology operate within the law and under proper supervision so that we never cross over that abyss. That is the abyss from which there is no return."
Click the alert icon to follow topics:
ICYMI
Ken Burns' Brilliant 'The U.S. and the Holocaust' Has Only One Problem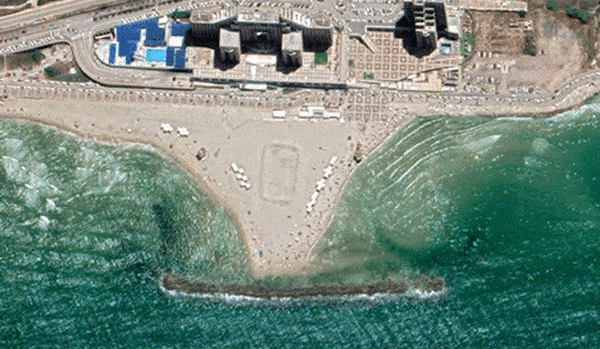 Facing Rapid Rise in Sea Levels, Israel Could Lose Large Parts of Its Coastline by 2050
As Israel Reins in Its Cyberarms Industry, an Ex-intel Officer Is Building a New Empire
How the Queen's Death Changes British Jewry's Most Distinctive Prayer
Chile Community Leaders 'Horrified' by Treatment of Israeli Envoy
Over 120 Countries, but Never Israel: Queen Elizabeth II's Unofficial Boycott