How a Boa Constrictor Manages to Breathe While Squishing Prey
If you hold a goat in your coils and squeeze hard, can your lungs expand to breathe? Probably not. But the solution isn't that the snake is holding its breath
Boa constrictor having supper
Credit: Jens Raschendorf
How does a boa constrictor breathe while squishing its prey in its coils? When the snake tightens its coils around an animal, its own ribs also come under pressure from the snake's own contracting muscles. How does it not suffocate? Does the reptile hold its breath until its dinner is done?
It does not. Boa constrictors turn out to use different parts of their lungs when ingesting big prey, report Scott Boback, John Capano and colleagues of Brown University in the Journal of Experimental Biology, in an article titled "Modular lung ventilation in Boa constrictor."
Normally, i.e., when not constricting prey, boas breathe using only the front third of their lungs, explains Kathryn Knight, an editor at the Journal of Experimental Biology. They don't even have alveoli – the lung parts that exchange oxygen for carbon dioxide – in the rear area of their lungs.
But when coiling around an animal, the boa chooses to stop using its front ribs to breathe. So how does it breathe in the course of squishing the victim, which can take awhile? That underused lung capacity in the rear acts like bellows to suck in air while the front ribs are otherwise occupied. The oxygen is still absorbed by the alveoli in the front part even though the ribs there aren't moving.
"The front region could be either unable to expand, such that the ribs cannot splay out to produce inhalation and breathing (they could be too full of food or constricting), or the lung could be compressed so that it cannot expand in that front area," Capano helpfully elaborates. "In either instance, if the snake breathes with the back section of the lung, it will draw the air through the front area."
In any case, the snake's lung cannot fully collapse no matter how big its meal or how hard it's squeezing, because the lung has cartilaginous tissue in the front to keep sections open even if being pressed by the food item from inside, he explains.
How did the team demonstrate that boa constrictors can modulate which segments of ribs are used to breathe when constricting or eating? They did this with the help of blood pressure cuffs, which imitate what happens to parts of the snake's anatomy while throttling its meal.
"The cuff was used as a controlled experiment to be analogous to constriction, in that it would prevent the ribs from moving much during constriction, particularly from doing a large rotation that would expand the body cavity and lung to breathe," Capano says.
All this has implications for the evolution of ye snake. In fact science had long since noticed that the snake doesn't use the rear section of its lungs when it's just going about its routine business, which means, if it has its druthers, doing nothing much; and science wondered why that rear lung section is there, given that it has no alveoli, Knight points out. Now we know it helps the animal stay aerated while constricting another animal for lunch.
And after the snake has killed and swallowed its victim, that back portion of the lungs stops working again and the snake resumes breathing with the front part of the lungs, and doing nothing much.
Crictor, corrected
The boa typically strikes at the head and shoulders of the prey, biting down with its teeth and wrapping their scaly torsos around the animal, applying two or more fully encircling loops. The inevitably lurid descriptions of constrictors preparing to eat often involve the word "throttle" or "suffocate," but that turns out to be herpetological hyperbole. That is not what's going on.
In 1958 Tomi Ungerer published a kiddie book "Crictor" about a boa constrictor that a loving herpetologist mailed to his mother in France. The book did great service in making slithering serpents appealing, but fudged the solicitous Crictor's table manners, as attempts to portray predators as warm and fuzzy tend to do. When Crictor wrapped himself around a burglar, it turns out, he wouldn't have been suffocating the man.
That is just as well – suffocation is a slow way to go, everything being relative. What constrictors are doing is stopping their supper's heart, "rogue herpetologists" Boback and colleagues reported in the Journal of Experimental Biology in 2015.
As the snake tightens its grip on the meal's chest, the victim's veins and arteries are crushed; the blood can't flow; the brain is starved of oxygen; the animal passes out within seconds, and then after some minutes, its organs fail.
The theory of cardiac arrest rather than suffocation was first touted in 1931, but Boback and his team have demonstrated it.
How long might a process of death by snake take? "This can be rapid, but also can take between five to 10 minutes, with constriction events lasting up to 45 minutes. It is also faster in an endotherm (e.g., a mammal or bird) and slower in an ectotherm (e.g., a lizard) because a lizard can withstand low oxygen to the brain for a long time," Capano says. "Boas do also eat iguanas, so it is possible constriction could last much longer than 10 minutes."
A goat in the throat
Consider this. Constriction and macrostomy, the ability to eat large prey, had to have evolved in parallel with modular lung ventilation. You couldn't eat a goat whole (hooves and all) without a solution for it inhibiting the inflation of your lungs. Lacking a diaphragm, early snakes had to develop an ability to shift the location of ventilatory rib motions away from the regions involved in squishing the goat to unencumbered regions.
When this night have happened, we do not know. Snakes were thought to date to about 100 million years ago and mind you, the snakes of that time still had vestigial legs; their classification relied on skull characteristics. The specimens of earlier proto-snakes with legs were found from the mid-Jurassic, about 170 to 140 million years ago, in diverse places such as today's North America, Portugal and England. Evidently snakes had branched off and spread well before this time.
Branched off from whom? Argument still rages on over whether they arose from terrestrial lizards or a marine animal. Recent thinking is less that the snake arose from the aquatic mosasaur, and more that they had a common ancestor who bequeathed to them the ability to stretch their jaws in order to consume impressively large prey.
Despite their fearsome reputation, snakes are delicate beasts that don't preserve well in the fossil record, hence the confusion in the snake's antecedents. But survive they did while the mosasaur did not, and you can take comfort in the thought that if your children send you a large snake and it decides to eat you, you will die a lot faster than you'd thought, and the snake won't strangle itself in the attempt.
Click the alert icon to follow topics:
ICYMI
Ken Burns' Brilliant 'The U.S. and the Holocaust' Has Only One Problem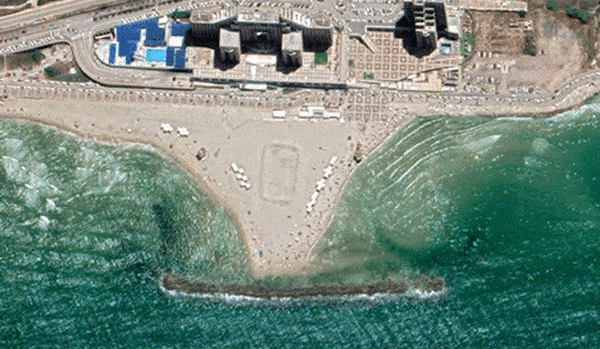 Facing Rapid Rise in Sea Levels, Israel Could Lose Large Parts of Its Coastline by 2050
As Israel Reins in Its Cyberarms Industry, an Ex-intel Officer Is Building a New Empire
How the Queen's Death Changes British Jewry's Most Distinctive Prayer
Chile Community Leaders 'Horrified' by Treatment of Israeli Envoy
Over 120 Countries, but Never Israel: Queen Elizabeth II's Unofficial Boycott