Forget Coronavirus! |
Microscopic Parasitic Jellyfish Have Made It to Land
Myxozoans, a jellyfish that evolved backwards, are the only member of the vast cnidarians group to have reached the terrestrial domain. Inside hosts, that is, because they're parasites
The Eurasian pygmy shrew is infected with myxozoans
Credit: Andrew / polandeze
You might think jellyfish are ethereally beautiful but otherwise objectionable denizens of the sea. Stay on land and you are safe from cnidarians, right?
You are not. Myxozoans – a vast family of microscopic parasitic jellyfish that underwent a bizarre evolutionary process from complex to simple animals – were first discovered in fish, and some amphibians and turtles. But it turns out the enigmatic creatures left the water eons ago, despite having no feet or in fact almost anything else, and can and do infest a number of terrestrial hosts.
Not us, at least as far as we know. But if we eat certain infected animals we can get sick, though we don't develop active parasitic infection. As far as we know.
Stealing the very breath of life
The myxozoan is a wonder on several grounds, not least being the only jellyfish out of that vast group to have conquered the land. All other cnidarians are complex animals that build reefs or swim the seas, oftentimes poisoning other life-forms for consumption and/or defense, and clogging up power stations.
Myxozoans had been known for a over a century, but aside from being eerie blobs in fish, biologists didn't know what they were and placed them in different categories over time. Finally, DNA sequencing proved they were cnidarians, to the utter shock of biologists.
We know this because they have hallmark jellyfish genes. Though not many of them. In the course of their evolution as the Complete Parasite, they had regressed to a degree not even thought possible, and were left with the smallest genome known in the animal world. Recently, a species of these microscopic jellyfish, which parasitizes salmon, was discovered to have gone so far in its evolution from complex to simple that it doesn't even have genes for breathing any more. It steals even the energy molecules it would normally "manufacture" itself from its host.
These microscopic jellyfish exist in all the oceans and on all the continents except Antarctica, Prof. Stephen Atkinson explains in the must-read book "Myxozoan Evolution, Ecology and Development," co-written with Sascha Hallett, Jerri L. Bartholomew, and Csaba Székely.
Happily, it turns out that myxozoans are highly host-specific.
Unhappily, each fish probably has its own myxozoan, Atkinson of Oregon State University tells Haaretz. So, it turns out, do some terrestrial animals, including some that we eat.
The myxozoans that infect warm-blooded animals, certain rodents and birds are genetically closest to the myxozoans infecting amphibians and terrestrial reptiles. That, says Atkinson, suggests just two evolutionary leaps from an aquatic ancestral myxozoan to a semi-aquatic one and then onto terrestrial.
So, which land-based animals harbor microscopic parasitic jellyfish inside?
Watch out! Duck!
For the first 150 years since their discovery, it was thought that myxozoans only infect cold-blooded animals: fish, amphibians and turtles (and newts in France). That was an innocent time. They are also, we now know, actively infecting multiple species of shrew, Austrian moles and many ducks, which are all warm-blooded.
Insofar as we know, mammalian infection is confined to species of shrew in Europe – including the common shrew in Poland, the pygmy shrew in the Czech Republic and Hungary, and the lesser white-toothed shrew (also in the Czech Republic).
No myxozoans were detected in North American shrews or voles. That doesn't mean they're not infested: it is possible that none have been found yet. It isn't as though scientists have been stampeding to study parasitic infections in shrews.
Atkinson is one, though, and even though he hasn't found any in American shrews yet, he predicts that myxozoans will be found in many European ones.
Let us for a moment distinguish between "true myxosporean infections," in which myxo spores develop into active parasites, and "incidental myxosporean infections," in which the micro-jellyfish is there (because of eating an infected animal) but the parasite doesn't thrive, procreate and spread.
In the Austrian moles, 55 percent of the ones tested for myxosporean infection proved to have them in their brains. That is unfortunate. But the infection seems to be "incidental," not "true": no mature spores were detected. They probably got them from eating infected earthworms.
Specific duck species from North America did prove to have true myxosporean infections. Despite their names, the following birds are all North American and they're all ducks: the Pekin, mallard, Baikal teal, wood duck, African yellow-billed duck, and also the smew and the Cape teal.
Myxozoans have not been found, at least yet, in birds from any other continent, Atkinson says. But then, nobody has been systematically looking for any and the day is young.
What happens to the infected animals? Some die. Some don't seem to show egregiously worrisome effects, though in frogs, for instance, they were associated with kidney problems. And if you eat an infected animal?
Eating an infected animal
It seems the myxozoans generally pass through our digestive tracts intact. If you eat a fish infected with them, you usually feel nothing.
The first known case of humans with myxozoan signals was two guys who ate infected salmon. The parasitic jellyfish were found in their stool. Neither got sick from it, apparently. Wondrously: one sample was initially misidentified because it looked like human spermatozoa, Atkinson says. The mind boggles.
Later, myxozoans were identified in the waste of some Swedish people who ate salmonid whitefish and in Australians who ate freshwater golden perch. Whatever intestinal issues they had were deemed to be unrelated to the visit of the microscopic parasitic jellyfish in their innards.
But in Japan, Atkinson explains, a myxozoan called Kudoa septempunctata was linked directly to food poisoning among consumers of raw olive flounder – which had been imported from South Korea, where it is farmed.
Disturbingly, administering Kudoa-infected food to other creatures, including lab mice, induced illness and vomiting. Also, lab tests in which human intestine cells were injected with Kudoa developed active infections. This is good to know, even though active myxo infection of olive flounder consumers has not been found.
Mark you, there is more than one type of myxo that can infect olive flounder, and other Kudoa types infect other fish; but the others aren't believed to have similar effects on us.
As for their fish and frog hosts, myxozoans can make them ill or even kill them.
Which begs the question, what effect do myxozoans have on shrews who develop active infections? "Probably not much! Most myxo infections do not seem to cause disease," Atkinson tells Haaretz.
What about animals that eat European shrews? "Like in fish, there are no records of predators getting prey myxos," Atkinson answers. "I suspect this is because of the two available parasite stages that could possibly infect the predator – the developmental stages are structurally weak and probably just get digested, and the mature myxospores are probably not triggered by another vertebrate host anyway (they are the stage infectious to the required invertebrate host)." So go ahead, dear reader, you can eat shrews without quailing. Cook them first.
Even in the case of raw olive flounder consumers in Japan, the Kudoa septempunctata myxos may make the eater sick as a dog, but apparently this is a sort of side effect: the eater will not have an active myxo infection.
Why actually wouldn't a predator develop the myxo infection of its prey? Possibly incompatible biochemistry, Atkinson says. Parasites tend to specialize; and in the case of the genetically minimized myxozoans, they were probably "pushed by efficiency" to get rid of the genes that would have enabled them to infect multiple hosts.
The bottom line: If you're going to eat an olive flounder, cook it first.
How the hell did these jellyfish spread from the seas to the land, anyway? Probably they started out in marine environments, spread to brackish water and thence to freshwater, in all infesting not only fish but annelid worms too. "Some annelid worms are happy in moist soil," Atkinson says – specifically, earthworms. Myxos have been found in annelids but not in earthworms, so far, yet that's likely where the hapless shrews of Europe got their infection.
"Shrew eats worm, develops and poops out myxospores, worm eats feces, actinospores develop in worm," Atkinson explains. And around and around it goes.
This probably happened a very, very long time ago, he says: No genetic relationship has been found between the shrew myxos and fish myxos, which would be a hallmark of recent spillover to a new host. But with myxos it seems that if ye seek, ye may well find.
The bottom line: Don't eat earthworms before cooking them, either. You read it here first.
Click the alert icon to follow topics:
ICYMI
Ken Burns' Brilliant 'The U.S. and the Holocaust' Has Only One Problem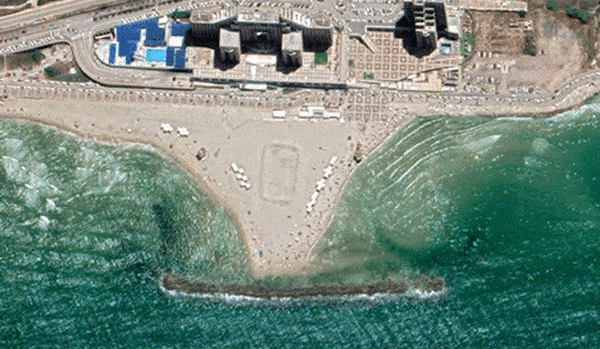 Facing Rapid Rise in Sea Levels, Israel Could Lose Large Parts of Its Coastline by 2050
As Israel Reins in Its Cyberarms Industry, an Ex-intel Officer Is Building a New Empire
How the Queen's Death Changes British Jewry's Most Distinctive Prayer
Chile Community Leaders 'Horrified' by Treatment of Israeli Envoy
Over 120 Countries, but Never Israel: Queen Elizabeth II's Unofficial Boycott