The Dutch Model for How to Tackle Climate Change
Arid Israel and the waterlogged Netherlands have more in common than one might assume and should collaborate, says Carola van Rijnsoever, Dutch ambassador for sustainable development
Delta Works, built between 1950 and 1997 in the southwest Netherlands to protect land around the Scheldt delta
Credit: Martin Terber
"We are gathered together to address the defining challenge of our age. … Climate change is happening. The impact is real. The time to act is now." — UN Secretary-General Ban Ki-moon, New York 2007; quoted by Carola van Rijnsoever, Dutch ambassador of sustainable development, special guest speaker at the Fourth Israeli Climate Convention, Tel Aviv, 2019
The world is going to hell in a handbasket and Israel isn't being spared. The Middle East is a hot spot for climate change and forecasters are predicting another dry winter following record temperatures this summer. The government claims to be right-minded on the matter, but admitted in a recent report to "a large gap in meeting energy efficiency targets." The Israel Union for Environmental Defense (Adam Teva V'Din) suggested in a report this week that Israel's climate-mitigation targets are "embarrassing," the government's view of climate change outdated and climate-related legislation all but nonexistent. Israel's Greens never made it into the Israeli parliament.
Where the government is faltering, the third sector has swung into action. Last Sunday, the fourth Israeli Climate Convention — an initiative of the Israeli Climate Coalition, involving 18 environmental nongovernmental organizations — met at the Tel Aviv Museum of Art. The event featured a call to action by special guest speaker Carola van Rijnsoever, director of the Inclusive Green Growth department at the Dutch Ministry of Foreign Affairs: Tackle the climate crisis together.
"We need to step up our game to keep the planet healthy for ourselves and future generations," the Netherlands' ambassador for sustainable development told the audience. "The intergovernmental panel for climate change has made clear what needs to be done: to stabilize temperature rise, reduce emissions by at least 45 percent by 2030, and achieve neutrality by 2050."
It will take more than a village. Can desertifying Israel and the waterlogged Netherlands collaborate to mitigate climate change and advance adaptation? Van Rijnsoever and Hans Docter, the Dutch ambassador to Israel, met with Haaretz at the convention and explained how the two countries can actually help each other and, hopefully, the world.
Dutch treat
Talk is cheap and promises to act on climate change are legion. Action isn't. "But the time to act is now," van Rijnsoever told the packed auditorium. "Climate change is moving faster than we are, exceeding worst-case projections. … We cannot afford to put off action any more."
Indeed. The low-lying Netherlands, wrestling the ocean for centuries, is hardly in a state of climate change denial. Sea levels are rising and the realization dawned that the techniques of yore to stave off the waters would inevitably fail. Yet even that sober country is short of its target for eliminating fossil fuels.
"I think it fair to say that the Netherlands was a slow starter in using renewable energy," she tells Haaretz. She notes that, in fairness, hydropower is not an option in her pancake-flat country and solar power is not a reliable option. "But we are really catching up and the government has very strong ambitions to reduce greenhouse gas emissions by 49 percent in 2030 compared with 1990," van Rijnsoever says.
Prof. Mark Z. Jacobson of Stanford University famously advocates aiming for 100 percent replacement with renewables a lot faster. Several countries are at or nearing the coveted goal of 100 percent renewable energy for the national grid, including Iceland, Albania and Paraguay. Can't the Netherlands move faster?
"What's important here is that we set targets and we meet those targets," van Rijnsoever responds. "We could set targets like to be 100 percent emissions-free in 2022, but it wouldn't be doable. We have a plan: it's feasible and affordable for everyone. It's doable, and it sets us on a 1.5 degree path," she says, referring to capping global warming at a global average of 1.5 degrees Celsius (2.7 degrees Fahrenheit).
Turning a country green involves persuading the people to adopt sustainability, van Rijnsoever adds. For instance, one difference between Israel and the Netherlands is that electric cars flopped in Israel. But in the Netherlands today there are about 45,000 electric vehicles — twice as much as in 2018, Dutch officials say. Presently, 10 percent of Dutch public transport buses are emissions-free, a figure expected to reach 20 percent by the end of next year.
But hang on: Electric cars recharging from electricity generated by fossil fuel-fired power stations is merely relocating the smog. Electric cars only become effective environmentally when the power source is green too.
"You need to tackle the whole way we work, live and move," Docter says. "With the new climate law we enacted, we really now are firmly on the path of changing the way we do that. But you have to tackle it all together, look where things could go wrong and adapt [your measures] as you move forward."
Row, row, row your boat gently down the park
While still coming to grips with renewables, the Netherlands is spectacular at planning how to contend with another huge climate change challenge: sea level rise, which is expected to be anywhere from about 50 centimeters [20 inches] to, at the edge of forecasts, a few meters by 2100. The Dutch government created an innovative, integrated approach not based on building ever-higher walls, but on learning how to live with flooding. The Netherlands is a giant delta and when the rain pelts down, the rivers flood — which is an even more immediate problem than sea level rise.
How did they do it? First of all they have a central official, the delta commissioner, who coordinates all policies in managing the waters, sea and rivers, van Rijnsoever explains. And they use different methods. To avoid a hulking ugly great wall in one area, architects designed an integrated dike with housing, a parking garage, restaurants, etc., built into the dike. Other areas need multiple levels of protection. "You can also widen the beach; create systems that continuously reinforce the beach through managing the water flow in front of the coast," she says.
"That's the concept of living with the sea, living with the water," Docter says. "In the past, we tried to keep the water out as much as possible. Now we integrate it much more in our living areas." Near where his parents live, he relays, a park is slated for conversion into a wash that can absorb river overflow — creating room for the river.
In short, you have to be innovative, the two sum up.
Innovative in Israel
The conference, which was publicized mainly on social media, apparently booked up within about a week. Between 1,300 and 1,500 people attended — a huge success, according to the organizers. The museum's auditorium was packed from the morning panels with government officials to the late afternoon closing discussion on the boundaries of climate protest.
With every seat in the house occupied, people clustered at the back of the auditorium for van Rijnsoever's address. Israelis, it seems, are starting to care about climate change — some possibly motivated by their kids joining in the global protest movement.
Arguably, Israel is too small for its emissions and other sins to impact the global climate much. But what about its virtues?
Israel and the Netherlands both have strong backgrounds in innovation. They share strengths that could be magnified by collaboration: for instance, smart agriculture, water management, materials design and energy efficiency, van Rijnsoever points out.
Counterintuitively, perhaps, both Israel and the Netherlands also have a shared need for hardier crops: Because much of the land is below sea level, the groundwater is affected as the oceans rise. The Netherlands also suffers from the odd summer drought and foresees water shortage in the long term because it's densely populated, Docter says.
Happily for salad-oriented Israelis, the Dutch have invented an "efficient tomato" that needs less water to grow, van Rijnsoever adds.
Resilient tomatoes aside, Israel could learn about making hard choices and enacting them into law — and, possibly, taking ideas from the Dutch process for doing so.
Since no solution is a panacea and the conditions are in flux, one must adopt a range of measures and continually adjust policies based on whether targets are being reached, Docter says.
The Dutch approach is to work together with all parts of society to create and implement the policies. How?
When the government decided it needed to be more ambitious in climate polices, an interministerial endeavor assembled representatives from five basic sectors: electricity, construction, industry, transportation and agriculture. They were split up among roundtables that were led by "stakeholders" represented from all over society: from NGOs to trade unions, business, science and government. And they hashed out policy and the necessary measures.
"You can't please everyone. But the bottom line is that compromise was achieved with measures that add up to the 49 percent reduction by 2030," van Rijnsoever observes.
That has been the Dutch way for centuries: democratically devising how and where to battle the sea. "We have a long tradition of collective policymaking and implementation," Docter says.
Every region in the Netherlands has its own democratically elected water board, which sets and raises taxes and spends the money to manage the area. Crucially, the plan must be feasible and affordable, or it can't gain public support. Public involvement in water management policy and implementation has been in place for centuries. It's the oldest institution in the country, the two say.
As climate change bites, our choices will have to change. The Dutch have an elegant plan to motivate people to switch from natural gas to electricity (ideally powered from renewable sources): hike tax on gas; cut tax on electricity. "It's about replacing where the money goes," Docter says.
Rotterdam is a poster child for learning to live in high water (or blizzard), assuring that life can go on at the level of metropolis, city, neighborhood and individual building. Amsterdamers are learning to forgo tiled backyards for green gardens. Around the country, rooftop gardens (including on bus stops) are taking off, which among other things provide insulation from heat and cold, van Rijnsoever says.
How strong does a roof have to be to take the plants, soil, water, etc.? She notes that a garden isn't as heavy as snow. Of course, if it snows on the garden… "It could very well be that what we think is a solution now might turn out otherwise," Docter adds. "We should not be hung up on one solution forever, but have to continue to adapt."
Their key message to the people of the Netherlands and the crowd thronging the museum auditorium: "Climate change is a defining challenge that we have to master. We have no choice," van Rijnsoever spells out. "We have to keep the planet livable for everyone, and the sooner we act the better. The way to get a real action on the ground is to cooperate with all stakeholders in an inclusive manner, to bring along everyone in society, to make sure people know it is not only necessary but that they can be part of it."
It's not just a burden, it's also an opportunity, she adds: "Especially in Israel. It can create high-quality jobs if you're a fast mover in mitigating and adapting to climate change." Indeed. And we are, as she said, all in this together.
Click the alert icon to follow topics:
ICYMI
Ken Burns' Brilliant 'The U.S. and the Holocaust' Has Only One Problem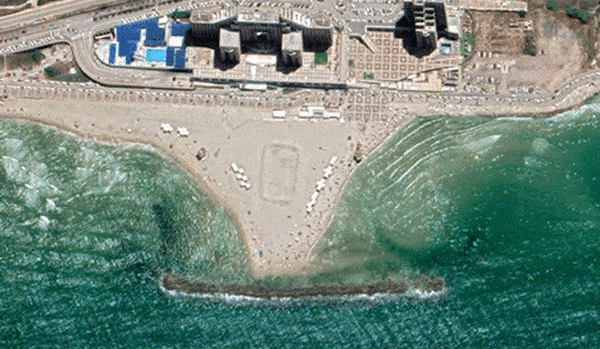 Facing Rapid Rise in Sea Levels, Israel Could Lose Large Parts of Its Coastline by 2050
As Israel Reins in Its Cyberarms Industry, an Ex-intel Officer Is Building a New Empire
How the Queen's Death Changes British Jewry's Most Distinctive Prayer
Chile Community Leaders 'Horrified' by Treatment of Israeli Envoy
Over 120 Countries, but Never Israel: Queen Elizabeth II's Unofficial Boycott