How Rapidly Changing Technology Threatens Future Scientific Discoveries
Why are religion and science so closely linked, and what do Muslim kids in Brussels have to do with ultra-Orthodox youngsters in Jerusalem? An interview with science historian Lorraine Daston
Various Sony Corp. cassette tapes are displayed at the "It's a Sony" exhibition in Tokyo, Japan, on Nov. 12, 2016.
Credit: Bloomberg
On a hill between Naples and Rome, St. Benedict of Nursia founded his monastery in what's thought to have been around the year 530. Because of the strategic location of Monte Cassino, its inhabitants had to cope with repeated raids, but the abbey survived them all. However, the walls of stone and fortifications of faith were of no avail on February 15, 1944.
Until that point, the Germans, who were aware of the site's religious and historic importance, had left it alone, and many local citizens found refuge there under the monks' flowing robes. But the Allies, whose forces were being battered on the rocky cliffs of Monte Cassino, were concerned about how the structure might be used by the enemy, and on that winter day, dispatched a squadron of bombers to drop tons of explosives on it. The monastery was reduced to rubble, and many who had taken shelter behind its walls were killed.
On board one of the bombers that fateful day was a tail gunner named Walter M. Miller, Jr. What he saw changed him forever. In an interview with The Washington Post in 1997, a fellow science-fiction writer named Joe Haldeman said of Miller, "Walt was deeply depressed by post-traumatic stress disorder and had been for half a century. I don't know how many people he felt responsible for killing, but it was a lot."
The harrowing effects of the bombing raid left their mark on Miller, who took his own life in 1996, and are engraved on every page of the monumental novel he wrote – the only one he published – entitled "A Canticle for Leibowitz." In this post-apocalyptic work Miller chronicles the history of a monastery established after a nuclear war. The monastery was named for Isaac Edward Leibowitz, a Jewish nuclear engineer who died a martyr's death in an attempt to preserve what remains of human knowledge. The novel, published in 1960, spans hundreds of years and follows developments in the Albertian Order of Leibowitz, which safeguards the archive left it by its founder, across the post-atomic Middle Ages, through the new Renaissance, until the inevitable second fall of civilization. The knowledge the monks salvage from the smoking embers of one holocaust helps forge the conditions for another holocaust.
The spirit of the future saint, Leibowitz, and of the community of monk-archivists named for him, hovers over me in a conversation I held last month with American-born Lorraine Daston, director of the Max Planck Institute for the History of Science, in Berlin. She was in Israel to receive a 2018 Dan David Prize, and was to share her million-dollar award with Simon Schaffer, from Cambridge University, and Evelyn Fox Keller, of MIT. This is the first year in which the annual prize, which honors practitioners of innovative and interdisciplinary research, has been awarded to scholars from the field of history of science, which Daston defines as a "small, interstitial discipline lodged between the natural and social sciences and the humanities."
'I can open a book from the 16th century and read it without any extra technology, while the physical lifetime of the compact disc is 30 years.'
She herself came to the field almost by chance. "I didn't think of it as a real career path. I thought of it as a way of combining my interest in the sciences, and especially history and philosophy... I don't think I ever really thought – until I was about 50 – that I was going to stay in the history of science. It seemed like a hospitable refuge for people like me, who couldn't make up their mind."
With an articulateness that is fitting for someone who spends her time with the writings of 16th-century scholars, Daston, 66, confesses that she thought she would be an astronaut, "for reasons which do not bear rational scrutiny." Her parents, who were of Greek-American origin, baptized her as Ourania (also spelled "Urania"), Greek for "the heavenly one," the muse of astronomy.
That muse and her eight sisters were the companions of Apollo, the god of poetry, prophecy and medicine. A temple in his honor was built at Monte Cassino hundreds of years before the arrival of St. Benedict, who built his monastery on its pagan ruins. The edifice became a shrine for the preservation of books and manuscripts.
Libraries are a crucial part of Daston's life, too. In fact, she's insisted that the archive of the institute she directs, which contains about 65,000 manuscripts, remain open 24 hours a day. This passion drove her to induce her fellow researchers at the institute, each of whom specializes in a different field – archaeology, astronomy, philology, meteorology – to cooperate in a study of the history of the archive itself.
Such buried treasures of knowledge are important in the sciences, whose reach can extend across hundreds or thousands of years, as in the study of climate or of the heavenly bodies. The lifespan of an individual, or even of an entire civilization may not be enough to allow one to grasp the complexity and slow, majestic movement of such phenomena. Were the astronomers of old aware that they were toiling for the generations yet to come, I wonder.
"The longest continuous tradition of astronomical and meteorological observations that we have is the Babylonian," Daston says. "They were hyper-conscious that this was a transgenerational collective effort. It was transmitted from father to son, and there are stories – perhaps apocryphal but very moving – that perhaps catch some of the spirit, of invaders at the gate; but the measurements have to be registered and observations taken. They had an enormous sense of responsibility toward the collective enterprise. Yet, I don't believe they could ever have imagined that someone like NASA would be including their observations in the Five Millennium Canon of Lunar Eclipses [a compendium of dates of all known lunar eclipses, past and future]. It stops one's heart for a moment to think about that."
To my observation that the modern era throws up multiple challenges to these preservation enterprises, she replies, "We're in an important archival moment now. Whenever there is a media revolution, there is a move to use the new medium – sometimes successfully and sometimes less so – to renew the archives... Microfiche was a great technology of the mid-20th century. Where is it now? I can open a book from the 16th century and read it without any extra technology, while the physical lifetime of the compact disc is 30 years."
Weak faith
But the means of preservation are not the only problem science confronts today. When I tell Daston about how the Natural History Museum in Jerusalem was reported to be covering up exhibits relating to the theory of evolution during visits by ultra-Orthodox schoolchildren, her flow of speech is broken for the first time. "Is their faith so weak that it could be shaken by such things?" she asks. "It seems to me enormously timorous of them, that they do not feel they can do battle with the evidence."
The Babylonians never imagined that someday NASA would be including their observations in the Five Millennium Canon of Lunar Eclipses.
I tell her that Evgeny Reznitsky, the museum's educational coordinator, explained that he acceded to the request "for the sake of pluralism and for the sake of education." Daston contemplates this. "I have some sympathy for that position. On the other hand, it seems to me negligent of the public authorities that the education of these children should be so censored, and for them not to be given all that education should offer. We would feel indignation if they were being told, possibly according to the same rationality, that it would be better not to learn to read and write. That way you would not come into contact with ideas that would tempt you from the straight and narrow. Surely anyone would find that an untenable position."
Daston herself encountered similar sensitivities when serving as an adviser to a nature museum in Brussels. "The founders were worried about Muslim children. Now I'm sure that Muslim theologians did not – until very recently – give much thought to evolution as problematic. I wonder sometimes whether or not this is indeed a kind of epidemiology of prejudices, which began with the Christian right in the United States, which, for a very long time, has been attempting to get evolution out of the school curriculum. There is now a very interesting and deeply disturbing – but still sociologically interesting – calibration of fundamentalism all over the world," she notes.
But in the professor's eyes, it's not the differences between religion and science that are responsible for this clash, but actually their points of interface: "They inhabit, in many ways, the same emotional space. They bet that tradition will go on and are aware of the importance of safeguarding the tradition, often at great cost. There is an enormous amount of displaced religious rhetoric surrounding scientific archival projects, lots of metaphors having to do with building a cathedral that will not be finished in our generation. The people who write these apologies for the archives are people who were probably raised in a faith, and have become secularized. They no longer believe, as their parents and grandparents did, in a providential view of history, and that sense of mission and destiny has to go somewhere – and is channelized into science. Where religion and science are coplanar is in this sense of complete dedication to a superhuman cause. On that level there is a pre-programmed collision. It's really very much about serving two gods."
Along with fear over the fate of archives in an era in which technology becomes obsolete, and of science in an age of anti-scientific frames of mind, there are also more direct threats to the future, to which Daston is also out to apply historical tools. Those efforts have of late distanced her from the advent of modernity, her favorite period, and moved her into the 20th century. The desire to understand how "logic" became "rationality" led her to the era of the Cold War and to the sciences that emerged around it and in its wake. I ask her what role logic has in a world in which the acronym "MAD" – for mutually assured destruction – prevailed, and whether the current geopolitical situation reminds her of that era.
"In a very bizarre way, it makes me nostalgic for the 1970s," she admits, "because in the 1970s, the idea of the destruction of the entire planet, in one great conflagration, was so vivid in people's minds, that there was an emphasis – not just on rationality, but on mutual transparency. The whole nuclear strategy, at least on the American side, was one of making it absolutely clear to the Soviets that if you do this, I'll do that. Up to the point of making it automatic, so there would be no deliberation. The Russians could not rely on negotiation. [But,] policy was governed by the assumption of transparency and a certain kind of stripped-down rationality. Given the current world leaders, I think we can no longer take that for granted. It's a much scarier situation."
But ultimately, the long-term optimism that Daston displays determinedly throughout the interview succeeds in rising above the prophecies of destruction of "A Canticle for Leibowitz" and the pessimism of her interviewer.
"There is always a utopian element to science," she says. "While there is, as well, a melancholy version of the history of science, which at once awards it [science] the medal for being the most important event in human history since the Neolithic era, but also sees it as an impoverishment of experience. There is a whole genre – of often very beautiful writing – on how the world of Dante, the world of Milton, the world that was infused with meaning, with color, with song, was lost. It's the same dynamic of people understanding that they have unleashed the genie from the bottle. But if you look at 'Frankenstein,' by Mary Wollstonecraft Shelley, and Balzac's 'The Alchemist,' they're really stories about obsession and its horrific effect on the family... It's not about the power of science to make things that go boom. It's about the psychological power, the obsessive power, that destroys all human relationships. Disproportionate obsession with the use of science that is perceived as corrosive."
All we can do is to explore, to discover, to accumulate the knowledge and to ascertain that it will be available and accessible to those who will follow us.
I ask her, therefore, whether, if the scientific obsession can divorce the scientist from humanity, with potentially catastrophic consequences, collaboration with other scientists could be the key to humanity's salvation, or at least can reveal new aspects of knowledge in the highly hazardous sea that is nature.
"One of the first international efforts was in the 1880s," Daston says. "It was called the Carte du Ciel [Map of the Sky], launched by the Parisians but involving 16 observatories across the world. This was supposed to be a photographic map of the sky, which was to be bequeathed to the astronomers of the year 3000. But the study of phenomena on a meta-human scale, from paleontology to philology, is an expensive undertaking. It takes time, money, personnel. And therefore this project was, finally, abandoned.
"It was enormously labor-intensive,' Daston adds, "and the project was ended – not finished but ended – by the International Astrophysical Union in 1974. They did that because they realized it was a complete black hole for money, especially for the observatories in the southern hemisphere, which were covering 80 percent of the sky, and it meant that they had not invested research funds in anything else for almost a century. So they stopped it. These glass plates, which have survived two world wars, were now gathering dust in file drawers in Potsdam, Toulouse and other places. Suddenly, in the 1990s, when physicists begin to speculate about the existence of dark matter, they realized: We could use those plates! We have long-term evidence, so we can now compare small differences in stellar positions."
The moral of such an anecdote, Daston says, is that, "we cannot anticipate the research questions of the future." All we can do is to explore, to discover, to accumulate the knowledge and to ascertain that it will be available and accessible to those who will follow us.
"There will be moments, possibly centuries, of dormancy," she says. "And then, like Sleeping Beauty, it will be awakened by a new question and suddenly flash into relevance again. It's a bet on the future. It's a bet with worse odds than any casino – that there will be people who care enough."
This, in Daston's conception, is an act of immense optimism, for even if "civilizations will fall, civilizations will rise," there will always be those who will turn their gaze to the stars and seek to understand them.
Click the alert icon to follow topics:
ICYMI
Ken Burns' Brilliant 'The U.S. and the Holocaust' Has Only One Problem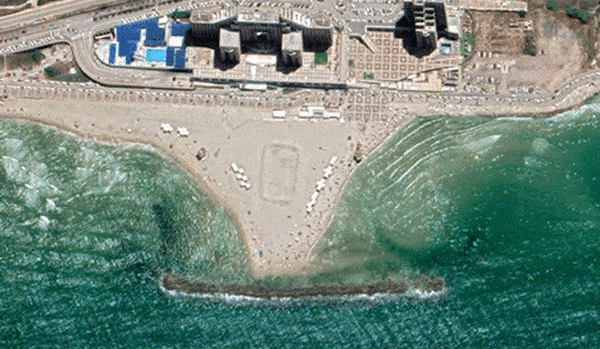 Facing Rapid Rise in Sea Levels, Israel Could Lose Large Parts of Its Coastline by 2050
Lapid to Haaretz: 'I Have Learned to Respect the Left'
The Mossad's Fateful 48 Hours Before the Yom Kippur War
As Israel Reins in Its Cyberarms Industry, an Ex-intel Officer Is Building a New Empire
How the Queen's Death Changes British Jewry's Most Distinctive Prayer