Can the World Cope With Half a Billion Refugees? Philosopher Jonathan Glover Talks Death and Decency
Dan David Prize winner and bioethics expert Jonathan Glover explains why we shouldn't kill even if life is not 'sacred,' how to overcome tribalism, and his mental exercise for Israeli and Palestinian filmmakers
Heading for "ground zero" for cimate change, in Antarctica
Credit: Natacha Pisarenko / AP
Life is not sacred per se, says Prof. Jonathan Glover, which doesn't mean we should go about hacking at our enemies. Humans are prone to war in our very natures and are tribal to our marrow, but we can overcome it. We have to, if we are to save the planet from ourselves.
On Sunday, the British philosopher, 76, became one of nine academics awarded the Dan David Prize for his contribution to humanity. Which is: rendering philosophy useful to actual people.
"This philosophy is wonderfully clever but doesn't actually help us," he thought as a student at Oxford – a time of the Vietnam War and anti-nuclear protests. He wanted to take philosophy from the abstract to the helpful.
Any help humanity can get is welcome. Climate change is accelerating. North Africa, the Middle East and the Mediterranean Basin face irreversible aridification, according to many models. It isn't a question of a few thousand migrants seeking a better life. Hundreds of millions of people may have to flee as their environments become unsurvivable.
The survivable part of the world needs to think in advance whether to repel climate change refugees at gunpoint or to do the decent thing: Overcome kneejerk tribalism that identifies the other as the enemy, and absorb the migrants. Not because of the sanctity of life – a phrase Glover disapproves of – but because it's the decent thing to do.
Well before global warming pinged on our radar, Glover was trying to explain why killing is wrong without involving God in it.
Before applying philosophy, he stresses that first much more needs doing against climate change. He is purely appalled by U.S. President Donald Trump's policies. People should acknowledge that if experts agree on something, they should accept it too, Glover says.
But he acknowledges that people have deep psychological reasons for ignoring the problem.
"We find it hard to take seriously things that are distant from us in place and time. Most of us have the delusion that climate change is still a long way off," he explains. Also, when a problem is that big, we figure our piddling little actions can't possibly affect things. But they can. Turning off one light won't save the planet. But collective action can make a huge difference.
The sacred, the profane and the utter waste of resources
When it comes to helping a big proportion of the world population to move, the people at the destination have to be prepared and willing, and be unwilling to leave the refugees to die. Even then, many may not survive. But how does one persuade the others? Or: Why in Prof. Glover's view, isn't sanctity of life a thing? If it isn't, why is killing wrong?
Glover's problem lies with the word "sanctity," because it doesn't constrain the nonreligious. The observant may obey God's diktats, but if you don't think there's a god, the god can't tell you not to do stuff like disembowel thy neighbor. Even for the observant, the deity could always say no killing except for those bastards over the river who worship a golden badger.
So a reason to eschew butchery has to be generally applicable to religious and atheist alike, Glover explains. It has to stem from sheer decency.
Like everybody decent, he is against all killing, Glover says, and he's also anti-war: Nearly all have been far more catastrophic than are justified by the ends. Thus, he came up with three answers as to why nobody should kill.
"One: if you kill someone, you deprive them of many years of life which may be happy," Glover explains. "Two: it is the most supreme violation of someone's autonomy; and three, there are social reasons. We will all sleep more peacefully in our beds if most people follow the taboo on killing in general."
Some might suspect that the whole point of deliberately killing somebody could be to deprive them of a long, happy life. But even the most ferocious among us would probably prefer to sleep tight without worrying that the neighbor might slit our throat.
But wait, hasn't humanity been improving in the last couple of hundred years? Hasn't society been growing wiser, more sympathetic? Depends who you ask. Some, like social scientist Steven Pinker, think that violence worldwide has been abating. But given the distortion of mass murders and acts of genocide, it's impossible to say, Glover rebuts.
Evidently, the establishment of the United Nations in 1945 did not achieve its purpose, which was to end war. Nor does tribal conflict seem to be in abeyance. Yet if the human race is to survive the self-inflicted devastation of its home planet, all these tribes will have to become one and pull together. Can we do it? Glover thinks we can.
Overcoming the inner monster
Anthropogenic climate change is no longer theory. Though the parameters are legion and forecasts come with more caveats than commas, the science is in: Climate change is here; sea levels are rising; violent weather is intensifying. Pakistan just recorded the hottest temperature ever measured in April – 50.2 degrees Celsius (122.4 degrees Fahrenheit). Whole swathes of the planet are expected to become uninhabitable and this time, in the Middle East, cyclic drought may become locked in and never end.
Humanity will have to crowd into habitable zones. How on earth can diverse groups huddle together if people have been at war for at least 13,000 years?
Glover has spent decades considering the psychology that enables us to commit fiendish acts, and how to overcome our penchant to barbarism: through moral traditions, cultivating moral imagination – and sheer sympathy. We can identify with the plight of the other, even if that other has different-colored skin, eyes or T-shirt.
To cage our inner monster, we have to understand it, and accept that the other has his own inner monster that needs containing too.
Garbage in, garbage out
Regarding enlightenment, the West seems to be suffering a backlash. Abhorrence of violence seems to be on the wane. Just last week, Britain learned of two teens arrested last October for plotting to reenact the Columbine massacre and kill fellow pupils and teachers in Yorkshire. "My thought is that every time there's some massacre like that, it undermines the inhibition on doing things like that just a tiny bit – both for reasons to do with the person and reasons to deal with society in general," Glover tells Haaretz.
(That said, he attributes the prevalence of school massacres in the United States less to moral laxness and more to the absence of gun control and the National Rifle Association's vast ability "to bribe and browbeat politicians.")
Why do people recoil at their neighbor's demise but accept mass death, most recently in Syria, with equanimity? Glover wanted to understand that and how to change that, if possible. If physicists can make solar power cheap, perhaps philosophers can persuade people to think before they slay, he figured.
First, we have to accept that the other is human too. Then we have to teach the kids that others who are different can live with us.
The bitter cycle of war is often fed by humiliation and counter-humiliation, Glover concluded. "Dishonor" and backlash certainly have been quite the habit over the millennia. As (maybe) King David wrote:
"O daughter of Babylon, that art to be destroyed; happy shall he be, that repayeth thee as thou hast served us. Happy shall he be, that taketh and dasheth thy little ones against the rock" (Psalms 137:8-9).
To break the cycle, Glover believes, people must somehow overcome grudges and eschew avenging past humiliations by humiliating the other in turn, and educate the kids to tolerance.
Of all things, the modern history of France and Germany gives him hope.
France and Germany had round after round of humiliating each other profoundly. Hitler's very rise resulted partly in reaction to humiliation. But after World War II, the Allies, smarter now, did not set out to humiliate Germany but to rebuild it. Instead of forcing Germany to pay reparations, as happened after World War I, the Marshall Plan propped it up and the German economy was rebuilt.
"Again and again, things went wrong because of humiliation and backlash. That changed," says Glover, and that is what children ought to be learning in school: real history, taught after a curriculum change to eradicate jingoism. Also, how to assess evidence honestly, "so they don't think total rubbish about climate change." GIGO, programmers call it: Garbage in, garbage out. The same applies to school.
Creating the supertribe
If we are genetically prone to war and are "programmed" to seek our own replication and all else be damned, are we doomed never to form the supertribe that can save the planet?
In his landmark book "The Selfish Gene" (1976), Richard Dawkins remarks that Darwinism may rule the whole of nature, but humans alone can understand this, can understand evolution, and can rebel, and be decent.
"There are changes. Slavery in the modern world still exists, but attitudes have hugely changed," Glover says, for instance. "We can't totally escape our biology, but we don't have to say we are programmed like that, so go ahead."
While we work at fixing our collective personality by overriding our inner pig, we have to work out how to slow climate change. Ever gentle, Glover puts it, "We have to tackle what's left of the problem while we can, so the problem is a bit less horrendous than if we don't do anything." Get rid of people like Trump and vote in people like Al Gore; consider what geographical parts will remain habitable and prepare infrastructure, such as advanced desalination facilities; explore the plausible answers.
"So little scientific research goes into these really major things that matter," he moans – you'll find more work on the ultimate laundry detergent that cleans extra-brite-white. For this fixation on absurdities, he partly blames capitalism and big business, which wants profit, which in turn comes from the easy kinds of research, not the hard ones. "That doesn't mean Stalin was better," he hastens to add.
Totalitarianism resulted in horrors from China to Cambodia to Russia; the latest nightmare is Syria, which, after seven years of civil war, seems no closer to resolution. The world needs to be educated, Glover says: "Look, this is where tribalism leads you."
Surely the world knew that? "It hasn't been made vivid," he suggests: atrocities can happen because people do not fully "know." They did not personally experience the horrors in Yemen and Syria. People are, he fears, becoming desensitized and may not realize when they become part of narratives to kill.
Take the case of Israel and the Palestinians.
Their profound mutual mistrust stems from their erroneous stereotypes of each other, which in turn stem from differing versions of the conflict's history. Israelis may say they're afraid and want secure borders; Palestinians may say Israelis steal their land. It goes on.
Glover has been touting a mental exercise for years – have a team of Israeli filmmakers and a separate team of Palestinian filmmakers each make a movie about the history of the conflict. They watch each other's films and discuss the philosophical question: Can objective historical truth about a conflict be reached?
After seeing each other's narratives, can they write the history as God, or Tolstoy, would have – seeing both sides? Can we get anywhere near it? Can they make a joint film?
Sometimes, marriage counseling is all about getting the warring parties to acknowledge that neither has a monopoly over the story. And perhaps after the conflicting narratives are told, and the kiddies are taught in terms of humanity and decency, the tribes of humankind can come together and think what to do with the hundreds of millions of people who may need to move in order to survive.
"When I was a schoolboy, in my teenage years, I was struck by what a lot of people told me they believed – it was different from what other people told me, about religion, morality, about science and medicine, and so on," Glover tells. "I started to think, is there some way to work out what beliefs really are true about the world and what beliefs could be abandoned?"
To be useful, philosophy must be rooted in what people are like, Glover sums up. And then it can help them.
Click the alert icon to follow topics:
ICYMI
Ken Burns' Brilliant 'The U.S. and the Holocaust' Has Only One Problem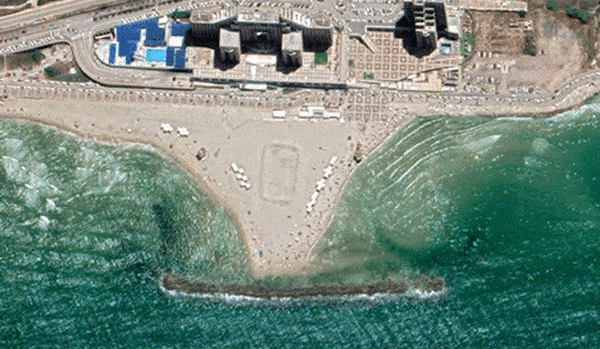 Facing Rapid Rise in Sea Levels, Israel Could Lose Large Parts of Its Coastline by 2050
Lapid to Haaretz: 'I Have Learned to Respect the Left'
The Mossad's Fateful 48 Hours Before the Yom Kippur War
As Israel Reins in Its Cyberarms Industry, an Ex-intel Officer Is Building a New Empire
How the Queen's Death Changes British Jewry's Most Distinctive Prayer