Chemists Propose Solution to Mystery of How Life Began on Violent Early Earth
Experiments in 'primordial' conditions (maybe) found chemical reactions that ape a key biological cycle and could exist under the extreme conditions of billions of years ago
How could life develop there if biological molecules couldn't survive in those horrible conditions? (Picture actually shows an acidic hot spring in Iceland.)
Life began at least 3.5 billion years ago, going by the discovery of fossil bacteria that old in Australia. Some think life began much earlier. Prof. Ramanarayanan Krishnamurthy isn't focused on when the first primordial bacteria budded: we'll never know, he points out. Yet he and his team of chemists at The Scripps Research Institute in California are proposing a solution to one of the key mysteries about how life began.
Prof. Krishamurthy immediately demurs that they are doing no such thing. "We are very careful to say nothing to do with early life, and to say everything to do with early chemical reactions on Earth. But not necessarily in any particular early organism," he clarifies to Haaretz.
The snag confounding theorists is that conditions on early Earth were so hostile that big biological molecules couldn't exist. It's a question of the primordial chicken or the proto-egg: which came first, the organism or the biological cascades?
What he and the team found is a set of non-biological chemical reactions producing some of the same products as a metabolic cycle found in all beings: the Krebs cycle, aka the citric acid cycle.
Ergo, chemical cascades crucial to life today could have begun more simply, driven by chemistry, not biology. They might not have been particularly efficient, but under the right conditions, they would just happen.
A violent early Earth
So, under what conditions did Krishnamurthy and the lab run the experiments? Mild ones, he says.
Were these mild conditions, in which these non-biological reactions were detected, like the conditions on early Earth?
One has no definite idea, Krishnamurthy explains, chiefly because nobody knows what the conditions on early Earth exactly were.
The first life seems to have arisen after the Hadean eon ended four billion years ago. The crust cooled and liquid water appeared during the ensuing Archaen eon. So, at some point, did life.
"We do not know very much about early Earth conditions. We have seen evidence of fossil life 3.5 billion some say as much as 3.9 billion years. We aren't caught in that controversy," he says. "As chemists, if you are looking for reactions that could have kick-started things, made conditions more conducive for life to arrive/emerge – [the reactions we found] are the type of reactions that you may want to consider. They will then constrain the type of environment in which these reactions will arrive. Life would have had to wait for those conditions to arrive."
In other words, there would be precious little point in trying to find chemical reactions that could predate life in conditions so violent (with temperatures of 200 to 300 degree Celsius) that the biggest molecule that could survive would be carbon dioxide or such equivalents. "One needs a certain level of conditions to exist at all," he spells out, hence the use of "mild conditions".
And under these mild conditions, the scientists found a set of reactions that happens, without enzymes, in a single pod, like could happen in a kind of cell-like enclosed structure, he explains: "In this work, we have a mixture of compounds that mimics what life does. It's a coincidence that is very intriguing."
They were not looking for the earliest biological reaction, the professor drives home. "These questions can never be answered. So we move away and ask what facts we can gather that can slowly push us towards a chemically realistic picture, in search for the chemical reactions that might have led to the process that would lead to life on early earth."
Vulnerable molecules
The Krebs cycle, aka the citric acid cycle, is an eight-step chain of chemical reactions that takes place inside the mitochondria of all aerobic organisms, from mosquito to mole-rat to your kids. Using glucose and oxygen, the cycle "harvests" the energy stored in big molecules, whether fats, carbohydrates and proteins, and converts that energy into ATP, which is like a cellular bitcoin – anybody can use it. Each molecule of glucose gets turned into six molecules of CO2 and two molecules of ATP.
Anaerobic organisms do a sort of reverse Krebs-cycle, producing oxygen instead of carbon dioxide.
Krishnamurthy and the team began with the chemical reactions, "wrote the recipe" and then thought which molecules present on early Earth could have worked as ingredients, and have the same result as the Krebs cycle, producing amino acids and carbon dioxide.
They found that two non-biological cycles--called the HKG cycle and the malonate cycle— could do the trick. While absolutely refusing to speculate that some early life form had the HKG and malonate cycles running, it could have, kick-starting a crude version of the citric acid cycle, the team admits.
Krishnamurthy prefers not to be distracted by the conflicting theories on whether the earliest "biological" processes necessarily had to be catalyzed somehow.
Metabolic reactions in living beings are screamingly complex and rely on highly enzyme catalysts that evolved over hundreds of millions of years. Enzymes are massive molecules, massive proteins built of peptide chains that often evolved to be totally substrate specific. While refusing to be drawn on when where why how, Krishnamurthy is willing to speculate that if there were early catalysts, they could have been tiny peptides that could have assisted in handling more complex molecules and reactions.
The researchers think that as biological molecules like enzymes became available, they could have led to the replacement of non-biological molecules.
"The chemistry could have stayed the same over time, it was just the nature of the molecules that changed," says Krishnamurthy. "The molecules evolved to be more complicated over time based on what biology needed."
ICYMI
Ken Burns' Brilliant 'The U.S. and the Holocaust' Has Only One Problem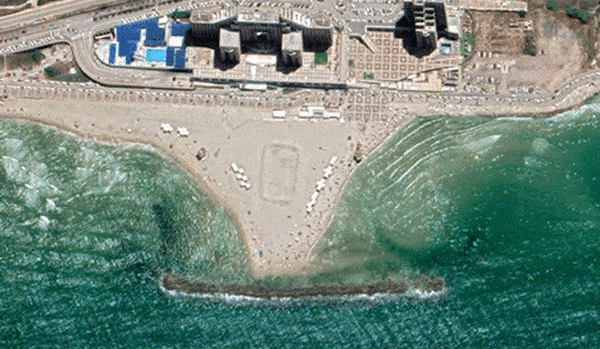 Facing Rapid Rise in Sea Levels, Israel Could Lose Large Parts of Its Coastline by 2050
As Israel Reins in Its Cyberarms Industry, an Ex-intel Officer Is Building a New Empire
How the Queen's Death Changes British Jewry's Most Distinctive Prayer
Chile Community Leaders 'Horrified' by Treatment of Israeli Envoy
Over 120 Countries, but Never Israel: Queen Elizabeth II's Unofficial Boycott