Painful Truth About Jellyfish: Vinegar Won't Cure Sting
Summer is coming and with it come blooms of the pesky critters. Here's what to do — and not to do — if you get stung.
Jellyfish in the waters near Kibbutz Ma'agen Michael.
Credit: Moshe Zorea
Summer is coming and so are the jellyfish, to a beach near you. But if you get stung, you can just pour vinegar onto the welt and you'll be done. Right?
Wrong.
While some appreciate their ethereal beauty, jellyfish for most of us are a pest. They sting, taste like rubber bands, at least to many, and have been gumming up the cooling systems of nuclear reactors worldwide, not the most comforting thought.
And here's another discomfiting thought: The development and movement of their swarms cannot be predicted.
"You might as well ask what the forecast for weather will be in a year," remarks Tamar Lotan, a University of Haifa expert on the gelatinous beasts. Scientists can't even say for sure whether there are more jellyfish as the world's waters warm up with climate change, she says.
What they can say is that jellyfish are more than a seasonal plague. They're there year-round, in one stage of their life—cycle or another. We just don't see them.
"When we aren't swimming or gaping at their gelatinous corpses on the beach, we neither notice them nor care," Lotan says.
Indeed, this January, a huge swarm of nomad jellyfish (Rhopilema nomadica) was spotted off the northern Israeli beaches of Achziv and Nahariya.
Lotan isn't enamored of the common notion that jellyfish blooms have been proliferating because man has eradicated their natural predators, though overfishing, eutrophication and climate change can make a difference, she qualifies. But as for predators, at the adult stage of their lives, they don't have many, she says.
Having existed for some 600 million years, jellyfish are what zoologists call a dominant species, which means that if the conditions of climate and food are comfortable, they proliferate madly.
"Do we have more jellyfish overall? Or are we bringing them to new areas and then seeing wild proliferation?" she asks.
"We don't know – it could be that the total population has not changed. But if the local species likes warm water and the world's waters are warming, and if they have few natural predators, what you will get is jellyfish swarms."
The forecast: There will be jellyfish
People seem to suspect that jellyfish spontaneously generate along Israel's beaches in the spring and summer. In fact they're in the Mediterranean waters year-round. Whether you see them is a function of species, seasonal water temperature and life—cycle stage.
The most common species on Israel's beaches, on the warmer east part of the Mediterranean Sea basin, is Rhopilema nomadica. It's an invasive species that apparently originated in the Indo—Pacific, and some say it reached the Mediterranean Sea in the 1970s as stowaways in the ballast tanks of ships or through migration through the Suez Canal.
Finding delightful conditions, Nomadica thrived. By the 1980s it was firmly established and has been stinging seagoing Israelis ever since. (And it largely displaced the incumbents, rhizostoma puimo, better known as frilly-mouthed or dustbin-lid jellyfish.)
The jellyfish we see and loathe on the beaches are the adults. But they start life as 2-millimeter polyps adhering to rocks, shipwrecks or whatever — but not sand — on the sea floor.
Though jellyfish do have a sex life (read that and weep), the polyp stage can reproduce asexually, making more polyps, Lotan explains. As the stalk of the polyp lengthens, it can split into many smaller polyps. Each turns into a jellyfish, which can then float around and make merry with jellyfish of the other sex.
So between sexual and asexual reproduction, each sperm and egg of jellyfish can create a great many progeny. Naturally, fish eat a lot of young jellyfish but their natural ability is wondrous, says Lotan.
Given that few species eat jellyfish, the process of their proliferation is intense, she remarks. Its main constraints are environmental conditions and water temperature.
Nomadica stays in the eastern Mediterranean Sea because in the west the water temperature drops below 17 degrees, which prevents asexual proliferation. So great swarms don't develop there.
A painful truth: Vinegar doesn't work
The good news is that Israel doesn't have nuclear reactors on the coast to get gunked up by jellyfish, though it does have desalination and other plants that do. The bad news is that when Nomadica stings you, the "conventional wisdom" palliative of applying vinegar (or urine) doesn't work. Deterrant lotions can be more effective and recent ointments on the market, such as Zerym, claim to have a palliative effect.
Not so vinegar: applying it to the burn is pointless, Lotan says. Never mind that everybody from the concerned family encroaching on your beach blanket to the lifeguard insists otherwise.
Lotan says that particular fallacy arose in the 1970s, when vinegar was implicated in affecting stings by one species, the tiny but deadly box jellyfish that plagues Australia's shores. Vinegar was not implicated in treating the horrible burns caused by box jellyfish but in paralyzing its stinging mechanism.
So if you are in Australian waters and find the thin tentacles of the box jellyfish wrapped around you; and if you are taken out of the ocean (usually by swimmers because you will be in too much pain to move); and if you pour vinegar onto the tentacles, the stinging mechanisms along those tentacles may stop working. There are now new scientific reports that question this assumption, says Lotan.
But in any case it will do nothing to the stinging mechanisms of other jellyfish. In fact, if you apply vinegar to Nomadica's tentacles, not only isn't it paralyzed, all its stinging mechanisms apparently fire at once, says Lotan. So don't do that.
To ease your welts, treat them like any other wound, she suggests. And while you're at it, don't apply urine to the welt, either. All other objections aside, it doesn't work.
At least the humble Nomadica is no box jellyfish. Yes, that sting is caused by toxin, but its effects usually wear off fast, inside of an hour.
Even the Health Ministry, contacted by Haaretz, shrugged that it has no particular directives for jellyfish insult.
Unless you're particularly sensitive to it. And if that happens? "Go to your general practitioner or dermatologist," the ministry's spokesman suggested,
Click the alert icon to follow topics:
ICYMI
Ken Burns' Brilliant 'The U.S. and the Holocaust' Has Only One Problem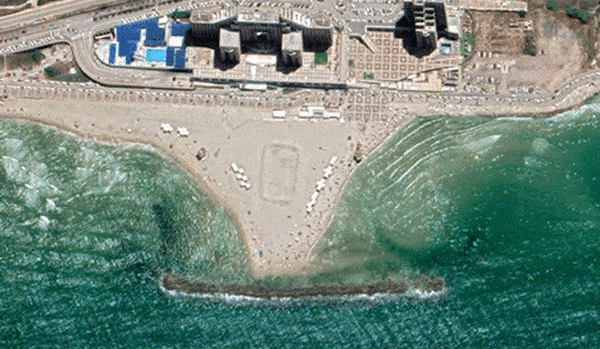 Facing Rapid Rise in Sea Levels, Israel Could Lose Large Parts of Its Coastline by 2050
As Israel Reins in Its Cyberarms Industry, an Ex-intel Officer Is Building a New Empire
How the Queen's Death Changes British Jewry's Most Distinctive Prayer
Chile Community Leaders 'Horrified' by Treatment of Israeli Envoy
Over 120 Countries, but Never Israel: Queen Elizabeth II's Unofficial Boycott