The Best Haaretz Science Stories in 2014
From caveman burial rituals, to which direction your dog points his tush when he makes, to nanotechnological advances in cancer treatment – Haaretz brings you the best stories of science 2014.
An audio-visual display at the Large Hadron Collider exhibition at the Science Museum in London.
Credit: Reuters
Scientists discover: Your dog poops to the north
Fido bases his relief on the orientation of Earth's magnetic field, scientists announce. "Dogs are very precisely oriented on the north-south axis while pooping, but only if the magnetic field is stable," elaborates Petra Kovakova from the Czech University of Life Sciences, who studied the body positions of 70 pooches while they did their business outdoors. After observing 37 breeds, she concluded that all shapes and sizes eschewed relief toward the east or west if they had another option, though it's still a mystery why.
Also in January:
Carmel cavemen used plants in rituals 13,000 years ago
South Korea scientists develop cancer-treating nanobots
Big breakfast can help women fight infertility, research shows
Why scientists are putting flies on little treadmills
Why did Stanford University researchers put flies on a treadmill? To see how their brains respond to motion. That's why. And how do they work? Like yours, they say. "The basic building blocks for how the circuits in the fly's brain work are really shockingly similar to the brains of humans and the brains of other vertebrae models that people have studied," said Thomas Clandinin, an associate professor of neurobiology. Now you know.
Also in February:
Scientists discover: Elephant vocal chords work like yours
Hookah hazards: Not only cancer but herpes, experts say
Israeli research finds 'kangaroo care' helps heal preemies
Scientists find 800,000-year-old footprints in U.K.
Scientists unlock secret of mind control — in zombie cockroaches
We knew that jewel wasps, an unlovely creature if ever there was one, lays its eggs in the cockroach brain. The egg hatches and the larva eats the living roach, eventually hatching from its abdomen. But now scientists at Ben-Gurion University of the Negev have identified the sensors on the wasp's stinger that guide it into the cockroach's tiny brain. Aren't you happy you know that?
Also in March:
'Chicken from hell' found who lived alongside T. rex

Astronomers discover ripples in the fabric of space-time
New Israeli lab seeks to punch a hole in spacetime, literally
Fossil whale shows early evolution of sonar
The precursor to life on earth? The humble sponge

Methane-belching microbe killed 95% of Earth's species, say scientists
Not super-volcanoes, not comet crashes but a humble germ that exists today seems to have caused the great Permian Extinction. How? Methanosarcina began a growth frenzy, emitting vast quantities of methane that heated up the climate and acidified the oceans (sound familiar)?
NBC News: Permafrost Methane Time Bomb>
Also in April:
Early pterodactyl from China resolves evolutionary mystery
The impact of Man: 4,000 years of environmental damage at Acre
NASA discovers most Earth-like planet yet
CERN confirms new exotic subatomic particle
Too many beards spoil the broth
Is she the one? Your hormonal profile knows
Why do dieting mice live longer?
Oxytocin made you do it? Lying is hormonal, scientists say
Feeling blue? Maybe you're not eating enough salt, say scientists
Also in May:
Truvada as preventative for HIV: Careless use can only make things worse
WATCH: Scientist builds robot spider to explore Mars

Solved: Mystery of phantom limb pain
Global warming behind raging California wildfires, research shows
When cancer treatments backfire and cause the body to defend tumors
Unraveling the mysteries of Parkinson's and the mind
Scientists create best-ever simulation of the universe's evolution
Scientist discovers how to turn jellyfish into plastic
Jellyfish is a feature in some Asian dinners, aside from which man hasn't found much use for the primitive animals. One man is working on a way to turn them into a perishable resource for medical treatments, advanced bandages and perishable plastic products. They grind the things into sludge, throw out the 90% water content and are left with – well, slime, to which nanoparticles with useful properties are added - such as electrical conductivity, anti-bacterial materials, medicines and glowing substances.
NASA launches balloon carrying prototype of Mars 'saucer'
Israeli, U.S. researchers prove that kidneys are capable of regeneration
Paleontologists find world's smallest hedgehog
50 million years ago a hedgehog roamed the land today known as Canada. Unlike say the giant sloth and gargantuan mammoth, this was a dinky little thing: a whole family could have fit in the palm of your hand. We don't know if the animal, which was about the size of your thumb, had quills or not, because of its poor state of preservation. It probably did. It is a distant cousin of the moonrat.
Also in July:
Dad had PTSD? You may inherit susceptibility
U.K. research brings Alzheimer's blood test closer
Effects of starvation can affect several generations
Scientists develop nanotech explosive detector
Israeli research could be breakthrough in depression treatment
Study: Marijuana helps prevent PTSD
At least, it works in rats, according to the Haifa University team, which used synthetic marijuana to avert the development of post-traumatic syndrome disorder in the hapless rodents. And how does fake pot work? Not entirely surprisingly, it seems to prevent the rat from developing the traumatic memory. It then doesn't respond when exposed to a "trauma reminder" - an event that is not traumatic in itself but that evokes the memory of the experience of the traumatic event. Yeah. But other studies on weed indicate that it doesn't do anything good to memories you want to keep either.
Also in August:
Jealousy is primordial and your dog feels it, scientists prove

Cat genome sequenced by giant multinational team
Using gold to detect cancer early

Researchers develop novel method of delivering cancer drugs
New pterosaur species found in Brazil lived in families
Artificial sweeteners linked to diabetes and obesity, say Israeli scientists
Using artificial sweeteners can increase the probability of developing diabetes and obesity, ironically the very conditions they're supposed to prevent, researchers at the Weizmann Institute of Science announced. They discovered that while artificial sweeteners don't contain glucose, they do affect how our bodies process sugar: our bodies can lose the ability to handle sugar. Since our intestines don't even absorb these sweeteners, genocide the scientists wondered who does and found: it's the bacteria in your guts. If you have certain types, eating the sweeteners has exactly the wrong effect on you.
Israeli discovery could help women with fertility problems get pregnant
Israeli violinist plays while undergoing brain surgery
Ashkenazi Jews descend from 350 people, scientists say
Getting the 'God particle' to talk
New species of frog discovered in New York City, of all places
Actually, Rana kauffeldi had been discovered 80 years ago, but nobody noticed until one scientist wondered who the devil was making that weird croaking sound. "That's no southern leopard frog," he thought to himself.
Also in October:
Israeli scientists achieve breakthrough in DNA computing
Water on earth originated outside the solar system, scientists prove
Night time may be the right time to treat cancer, find Israeli scientists
Lizards' secret of longevity: no meat, little sex

Miracle in Louisville? Virgin python gives birth to clone babies

Israeli scientists figure out how to really measure ocean acidification
It's no great trick to measure changes in water acidification in one location. Doing it for a whole ocean is a whole other kettle of fish.
Also in November:
Improving memory through Alzheimer's-linked molecule

Autistic brains no different from 'typical' brains
Working shifts? New study has some bad news for you
How to quit smoking: Sleep conditioning with rotten eggs
Nanotechnology to find the right drug for cancer, without poisoning the patient
A cancer drug may work wonders in one patient and do nothing for another. An Israeli chemical engineer thought of a new way to personalize medicine and match the right drug to the right patient – while bypassing the painful, sometimes deadly, trial-and-error stage. DNA barcoding in nanoparticles, anyone?
NASA rover finds organic molecules, methane gas on Mars
Scientists mimic a living cell on a silicon chip, to decipher genetic expression

Click the alert icon to follow topics:
ICYMI
Ken Burns' Brilliant 'The U.S. and the Holocaust' Has Only One Problem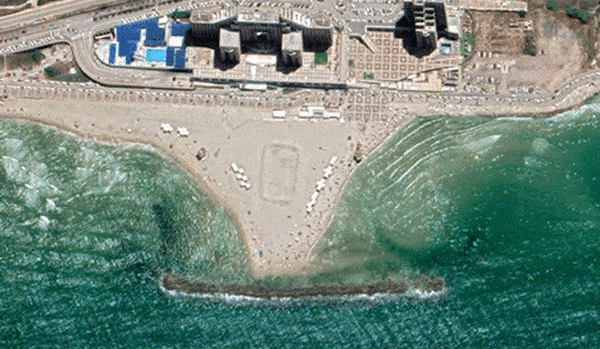 Facing Rapid Rise in Sea Levels, Israel Could Lose Large Parts of Its Coastline by 2050
As Israel Reins in Its Cyberarms Industry, an Ex-intel Officer Is Building a New Empire
How the Queen's Death Changes British Jewry's Most Distinctive Prayer
Chile Community Leaders 'Horrified' by Treatment of Israeli Envoy
Over 120 Countries, but Never Israel: Queen Elizabeth II's Unofficial Boycott