Why Caretakers Are Catching Ebola: They're Making Mistakes, Says Expert
It isn't a question of whether the deadly virus 'is coming,' says Dr Leslie Lobel: it's around, has been around and will be, and airports should buy infrared scanners.
Medical staff in Newcastle takes part in a national exercise to test Britain's readiness for an Ebola outbreak, October 11, 2014.
Credit: Reuters
As the number of deaths in West Africa from Ebola nears 5,000 and cases appear around the world, the question seems not to be whether the virus is spreading in this age of jet travel, but when and where. Yet there is no reason to panic, counsels Dr Leslie Lobel, a top expert on the virus. People, mainly caretakers, need to understand exactly what they're up against and stay vigilant.
Careful and vigilant, he stresses. Not hysterical and vigilant.
The conventional wisdom is that Ebola is unlikely to spread like, say, influenza has in the past, because it's hard to catch. The Ebola virus is not airborne. You have to come into actual contact with a sufferer's bodily fluids – blood, saliva or semen – in order to catch Ebola (the World Health Organization says it hasn't been found in sweat).
So why are so many health-care workers catching the disease? The answer seems to lie in a fatal combination of proximity, ignorance and fecklessness, explains Lobel, a Ben-Gurion University researcher, in an interview with Haaretz.
An Ebola sufferer walking down the street isn't going to infect anybody unless he kisses them or coughs on them: droplets from the mouth may contain the virus. But a doctor or nurse or ward orderly may come into contact with bodily fluids unless they are extremely careful. They may have hazmat gear but may not know how to use it properly, which explains why so many health-carers have become sick while treating Ebola patients.
Now Texas is reporting its second case: a nurse at the Texas Health Presbyterian Hospital has tested positive for Ebola after providing care for Thomas Eric Duncan, who flew in from Liberia with the disease, and died of it last Wednesday. This is the first known case of Ebola transmission in the United States.
The case of Duncan himself highlights the trouble with the system. Never mind hazmat suits: He had been walking about the hospital and people were taking care of him without knowing he had Ebola. "This is outrageous. It shouldn't have happened," says Lobel. The second Duncan started developing fever, it being known that he came from Liberia, which has been stricken hard by the disease, he should have been quarantined. The Texan authorities evidently felt this was a case of NIMBY - not in my back yard, and didn't take the case seriously. Big mistake.
Teresa Romero, the nurse in Spain who contracted Ebola while providing care, had been wearing full protective gear – but may have touched her face with her gloved fingers. People do without even realizing it. "Work under conditions of high containment has to be well choreographed," says Lobel. "These techniques were probably new to her. But every little movement has to be done right; you have to know what to do."
That explains exactly how the caregivers wind up with Ebola, whose mortality rate is around 50 percent: they put on the hazmat suit but don't follow the basic rules. "You can't make mistakes like this," he drives home the point: "What we're seeing is a lot of mistakes."
Lobel sees students doing this sort of thing all the time – working in extremely hazardous conditions with the right gear but failing to use it right, he adds. The solution is to train and drill, drill, drill. Then drill some more.
Big mistake: Ask silly questions
There are five known strains of Ebola. Lobel's lab in Be'er Sheva, which he co-directs with Dr. Victoria Yavelsky, has focused largely on this strain for the last 12 years, while other scientists were more interested in other strains of Ebola, which the Russians were apparently working on weaponizing.
Progress on developing vaccines has been made, though it bears noting that there is, by definition, no cure for viral diseases, not even for the common cold. But one can treat symptoms and boost the immune system.
If, that is, one catches the sufferers, and here is where the world is making every mistake in the book, says Lobel.
If governments are serious about halting the spread of Ebola, airports will have to install infra-red scanners and screen everyone – every passenger from every destination – looking for people running a fever, says Lobel. "That's a no-brainer."
What worries him is that after this Ebola frenzy, the world will recede into apathy. But Ebola - which terrifies people perhaps less for its death rate and more for its symptoms - should be an awakening. Ebola will pass, but it or some other outbreak will come along that could be even worse - humankind has known plenty of viral horrors, including influenza, which has killed countless millions. The world needs to be ready to cope.
What there's absolutely no point in doing, is handing out questionnaires. "People lie," Lobel observes.
The Excalibur precedent
In any case, hysteria can lead to even more mistakes. Take the death of Excalibur, dog of Teresa Romero.
Upon Romero's diagnosis, despite a vast social-media campaign driven by Teresa's husband Javier himself to save the animal, the city of Madrid obtained a court order to put Excalibur down, lest it prove to carry or have Ebola.
Could it?
Probably not. "I think it was a little drastic. The dog should have been monitored. If it had been a human being they wouldn't have killed him," says Lobel. That's what they do in cases of suspected rabies, which has a 100% mortality rate, not a 50% one, he points out.
In further fairness to the Madrid local government, it may not have had facilities appropriate to quarantine the unfortunate Excalibur properly, Lobel concedes.
But there was clearly an element of hysteria involved. Dogs are not Ebola carriers. Horses, which are used to prepare serum for Ebola, don't get the disease.
In fact, nobody even knows what the natural reservoir of Ebola is. Reports that the disease originated in fruit bats has not, repeat not, been substantiated, though bats can get infected.
"We know fruit bats can harbor Marburg but they do not harbor Ebola. People keep saying that but it isn't true. We do not know what the reservoir is in nature," Lobel spells out.
Previous breaks were contained rather rapidly. Why is this one so bad? "First of all any outbreak of Ebola is bad," Lobel corrects the question. "Secondly, this was the perfect storm of viral disease." Not only is it one of the more lethal viruses known to man: it has erupted in countries with the most meager medical care in the world, that have the least control over their populations.
And the worst thing is that people don't get it yet. Governments do, says Lobel, but that isn't a "government" asking questions at the airport or screening passengers, or taking an Ebola patient's temperature. Those are people and until they get it, they will continue to don protective gear and then unthinkingly touch their faces, unwittingly rub an itching eye or secretly, pick their nose.
"This is the problem because in the eyes of the virus we're all the same – black, white, Jew or Muslim. I'm an earthling," says Lobel. "We're all the same. If people realized we're on the same boat they'd realize we need to reach a balance with nature. If this ravages Africa, it will come back at us in a huge way."
Click the alert icon to follow topics:
ICYMI
Ken Burns' Brilliant 'The U.S. and the Holocaust' Has Only One Problem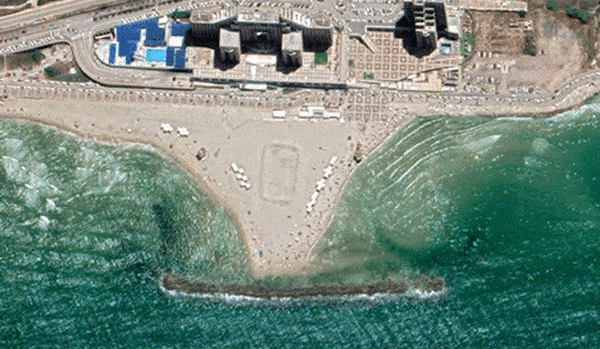 Facing Rapid Rise in Sea Levels, Israel Could Lose Large Parts of Its Coastline by 2050
As Israel Reins in Its Cyberarms Industry, an Ex-intel Officer Is Building a New Empire
How the Queen's Death Changes British Jewry's Most Distinctive Prayer
Chile Community Leaders 'Horrified' by Treatment of Israeli Envoy
Over 120 Countries, but Never Israel: Queen Elizabeth II's Unofficial Boycott