Opinion |
What's Fueling the Shocking Rise of Italy's Far Right?
Thanks to deft political pandering by Giorgia Meloni, leader of the fascist-friendly Brothers of Italy, anti-vaxxers now have a powerful political patron in the country that suffered Europe's second highest COVID death toll
Giorgia Meloni's new base: Members of Italy's 'No Vax' movement stick a yellow Star of David on their baby to protest against the government's 'green pass' COVID vaccination policy
Credit: GUGLIELMO MANGIAPANE/ REUTERS
If elections were held today in Italy, a far right movement with deep post-fascist roots would have a clear shot at winning.
Brothers of Italy, which took just a bit more than four percent of the vote in the 2018 elections, has seen massive gains in recent opinion polls, and is now supported, according to most polls, by more than 20 percent of Italians, just inching out the League, the other major right-wing force in the country.
So what is going on? Has Italy suddenly gone back to black?
>> Black Is Back: How Fascism Is Fashionable in Italy (Again)
While it can be demonstrably argued that nostalgia for Benito Mussolini's regime (and limited agitation) is still strong in Italy, the country has certainly not turned fascist overnight.
Much of the Brothers' meteoric rise is due to Italy's current political circumstances amid the COVID-19 pandemic and its clever exploitation by Giorgia Meloni, the party's leader, who openly aspires to one day rule the country.
Brothers of Italy (Fratelli d'Italia – named after the opening words of the national anthem) is the latest political incarnation, several times removed, of the Italian Social Movement, a party founded in the post-war years by true-believing survivors of Mussolini's regime.
For years now, Meloni has been working to transition the Brothers from a movement that marched through the streets flashing the Roman salute and commemorating its dead "martyrs" to a relatively more mainstream, ultranationalist right-wing party.
Often compared to Marine Le Pen, the leader of France's far-right National Rally, Meloni has shaped her platform to include many of the codewords that are pretty much par for course for any successful right-wing populist movement in Europe: anti-EU; defense of Italian sovereignty; opposition to abortion and LGBTQ rights; defense of "Christian values"; fearmongering about immigrants and demagogic warnings about Europe's creeping "Islamization."
She skillfully keeps her core post-fascist base happy by refusing to condemn Mussolini's regime, while attracting new followers by blaming the EU or migrants for Italy's economic and social ills.
Meloni has become so popular in Italy partly thanks to her down-to-earth charm and the attractiveness of her image as a self-declared conservative feminist. That latter self-definition didn't stop her from posing for a top gossip magazine in a (modest) swimsuit decorated with the Italian flag.
Meloni is the only woman to lead a major political party in Italy, but the real glass ceiling she has hit is the one formed by the League party. Led by Matteo Salvini, it offers pretty much the same brand of anti-establishment nativist policies as the Brothers, but with a less dark historical and ideological background. They've been competing for the same voter pool for years, and Salvini has always had the upper hand. Until now.
Since February, Italy has been led by a national unity government headed by Prime Minister Mario Draghi, a former president of the European Central Bank. He is supported by a broad coalition of almost every party in parliament, including the League and the Five Star Movement, the grassroots protest party founded by comedian Beppe Grillo.
Although widely respected in mainstream politics, Draghi is the embodiment of the globalist, eurocratic boogeyman against which the League and Five Stars have been agitating for years. That those two parties agreed to join Draghi's government left many of their supporters disillusioned, and primed to look elsewhere.
Some have ended up flocking to Meloni, the only significant political leader to stay out of the unity deal, and thus by default the head of Italy's political opposition.
Meloni has made sure to capitalize further on this unique opportunity. She's done that by pandering, dangerously, to Italy's growing crowd of vaccine skeptics, anti-vaxxers, conspiracy theorists and pretty much anyone who opposes the anti-COVID measures of the Draghi government.
Earlier this month, Italy introduced a "green pass" for vaccinated people, a requirement for entry into restaurants, bars, museums and other public venues. Meloni panned it as a move that "limits the freedom of citizens, further devastates the economy and de facto introduces a vaccine mandate."
In various tweets she's called the decision "dangerous and discriminatory" and described the green pass as an "unconstitutional folly" and "the final step on the road to the creation of an Orwellian society." For the Brothers of Italy, Meloni declares, inidividual freedom is "scared and inviolable."
This is the same politician who, as recently as this March, wrote a panegyric to the green pass idea: "Why doesn't the EU Commission request an emergency procedure to the EU Parliament to approve the digital green pass? The green pass is the first step to eliminating the obstacles to free movement that have so damaged our economy, especially the tourism sector. It's a tool that should be implemented as soon as possible."
Accused of hypocrisy, Meloni grabbed the goalposts and relocated them. She claimed she supported a different green pass – one that allowed international travel – but that she was against, had always been against, would always be against, a green pass that limits access to venues within the country.
More likely, she has sensed the potential of crowds to gain power: the savvy appeal to tens of thousands of people who have protested the green pass in demonstrations across Italy over recent days. While not everyone at these grassroots protests is a potential voter for the Brothers, there is enough ideological overlap for a marriage of convenience.
In a despicable, ignorant performative equation that has cropped up at rallies across Europe and Britain some of the protestors wore yellow stars, comparing the state's pursuit of the non-vaccinated to Jews persecuted by Nazis. Some shouted "Nuremberg, Nuremberg," suggesting doctors and journalists should be brought to trial for their supposed war crimes on COVID.
Italian media reported that many of the protesters in Italy were openly members of the multitudinous small groups that make up the constellation of Italy's far right.
Meloni's green pass flipflopping also touches on vaccine policies. As Italy considers introducing a vaccine mandate for at least some occupational categories, such as teachers, on top of the existing mandate for health workers, Meloni has tweeted that such a move would be unconstitutional and fit for a "totalitarian regime."
The allegation of unconstitutionality is patently false. Italy has mandated vaccines for decades – with the number of compulsory shots being raised from four to 10 by a 2017 law.
Ironically, it seems that one of the few things WWII fascist Italy and post-war Italian democracy agreed on was the need for vaccine mandates: the first compulsory jab, against diphtheria, was introduced in 1939 by the government of one Benito Mussolini.
And Meloni knows this all too well. In 2018, discussing vaccine mandates, she wrote the following tweet, which has since been deleted, but had been archived by some savvy Italian media observers.
"On vaccines we need to have the humility of trusting the scientific community," Meloni said then. "I think going back would be a mistake. It's a topic that must not be dealt with on an ideological level: let those who are competent decide which vaccines are necessary and mandatory."
The Brothers' leader is now, improbably, trying to square that circle, claiming she is not against inoculations but is "merely asking questions." Italian media reported Monday that she herself had quietly received a first dose of the COVID-19 vaccine.
While in the United States vaccines have long become a political issue, weaponized by part of the Republican Party and libertarians, Meloni's courting of anti-vaxxers under the guise of defending liberty represents a new low for Italy's far right.
On the face of it, opposing a strong state role in combatting a pandemic should be at odds with the political roots of the Brothers. But fascism has always had a revolutionary, anti-establishment streak, which has only grown in postwar decades as far-right militants saw themselves as underdogs fighting an Italian state that, in their view, was either controlled by bloodthirsty communists or imperialist Americans.
And on a different level, this is a game that Meloni has successfully played before: winking at a base filled with extremists while also appealing to a broader conservative audience.
Among those who have taken note of Meloni's new tactic is Salvini, head of the League and her main opponent for the leadership of Italy's right-wing camp. Sensing his supporter base slipping away, he has jumped on the vax-skeptic bandwagon.
Salvini has stated that, "It's not necessary" for those under 40 to vaccinate, and he now opposes introducing a mandate for teachers or students. "This is not right for a free country," he told Italian reporters. "I don't want to see my 18-year-old son stalked by a syringe."
Outside observers might relate with incredulity to this debate. Italy, after all, was the earliest and (bar the UK) the hardest hit by COVID in Europe: nearly 130,000 Italians have died, and over 4.3 million infected; the world witnessed the searing footage and testimonies of a health system under such extreme stress it almost collapsed. The death toll in 2020 alone was the highest of any year since WWII.
And while Meloni and Salvini play footsie with the anti-vaxxers, only half of Italy's 60-million-strong population have been jabbed with the two necessary vaccination doses. That's not a bad rate, except authorities warn there are still more than 2.5 million people above age 60, the most at-risk category, who are not immunized.
There has at least been some pushback from mainstream politicians, who have condemned both Salvini and Meloni's comments. "The invitation to not vaccinate is an invitation to die, or have others die," Draghi responded in a news conference.
Former Prime Minister Silvio Berlusconi, whose much diminished moderate conservative party also backs the current government, published a letter Tuesday in the leading daily, Corriere della Sera.
"Opposing vaccines and the green pass is not a matter of freedom," Berlusconi wrote. "Not vaccinating or not taking other elementary precautions is a choice that has consequences for others too. One of the cornerstones of liberal rights is the right to personal safety, to go to a restaurant, take a plane, go to a show or a sports event without running the risk of being infected."
Salvini's hesitancy in endorsing the green pass, and the universal vaccination program, is causing tensions in the broad and fragile national unity government, which could lead to its collapse. The subsequent early elections would be a godsend for Meloni's surging party.
If the polls are right, the Brothers could likely form an all-right wing governing coalition with the League and Berlusconi's Forza Italia party. After all, they have been allies before, and Meloni's scant government experience comes from a stint as Berlusconi's youth minister from 2008 to 2011.
This time however, the tables would be turned: Berlusconi's party, polling at around seven percent, would be the junior partner, and Meloni, as head of the main political force in the country, could rightfully demand the spot of prime minister.
Even if early elections are avoided and Italians go to the polls as scheduled in early 2023, it's hard to imagine Meloni's support evaporating that quickly. She has reaped the COVID whirlwind to her advantage, while achieving another significant step in the postwar mainstreaming of the far right in Italy.
It's clear that Meloni, championing "God, fatherland and family," in the words of the Brothers' motto (a conscious echo of fascist slogans), has luck, expedience and the proven attraction of skepticism about science and state institutions, conspiratorial thinking and xenophobic nationalism on her side - and that she will remain a political force to be reckoned with for years to come.
Ariel David is an editor at Haaretz, and a Tel Aviv-based foreign correspondent for Italian and English-language publications. He was previously AP's correspondent in Rome, covering Italy and the Vatican. Twitter: @arieldavid1980
Click the alert icon to follow topics:
ICYMI
Ken Burns' Brilliant 'The U.S. and the Holocaust' Has Only One Problem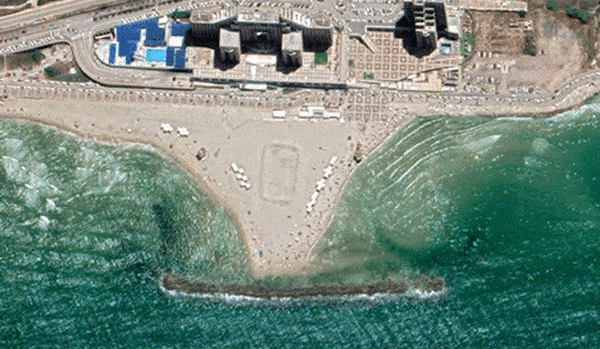 Facing Rapid Rise in Sea Levels, Israel Could Lose Large Parts of Its Coastline by 2050
As Israel Reins in Its Cyberarms Industry, an Ex-intel Officer Is Building a New Empire
How the Queen's Death Changes British Jewry's Most Distinctive Prayer
Chile Community Leaders 'Horrified' by Treatment of Israeli Envoy
Over 120 Countries, but Never Israel: Queen Elizabeth II's Unofficial Boycott