Opinion |
How Israeli 'Ninja Warrior' Killed Off the Wimpy Diaspora Jew for Good
Is it any wonder that a country that is increasingly compared to Sparta has an obsession with muscles and being tough?
A contestant on 'Ninja Israel'. A national craze.
Credit: A screenshot from Mako
This summer has been one of the most violent ever in Israel. In Ramle, a man was shot dead over a space in a shopping mall parking garage. In the south, a driver stabbed another driver in the chest for cutting him off with his car. Two brothers stabbed a third outside a shelter for LGBT teens in Tel Aviv. In Rehovot, a 35-year-old man stabbed a 6-year-old boy.
In Kiryat Yam, Solomon Teka was shot and killed by a policeman. In Ayia Napa, in Cyprus, a bunch of Israeli teens did whatever they did to a young British woman; it still isn't clear exactly what happened, but in any case it was repulsive, exploitative and at least borderline criminal. These are only some of the incidents.
Ah, and I forgot the violent incidents at Pancake House and the Yamit 2000 Water Park, with the plastic chairs that became primitive weapons as though we were on an expedition to conquer the kiddie pool back in the days of Julius Caesar, in 30 B.C.E.
And all this summer, with the stabbings and the shootings and the beatings, the coercion and the manipulation, the most popular television show in the country is "Ninja Israel." Coincidence? I don't think so.
The program is enjoyable and it doesn't involve any of the superfluous drama and emotional manipulation of other reality shows (relatively speaking, all right?). In and of itself, "Ninja Israel" does not encourage violence but it does encourage the tendency, the thought, that people have to be tough, athletic and strong.
This is an import of an American format, the idea for which the Americans took from the Japanese, who have a long tradition of revering strength and discipline (as well as cruelty). The host of the American show said in an interview to Ynet that it isn't a competition but rather a way to be "better."
This is the American ethos, whereby each individual is responsible for himself and he is capable of excelling, dreaming big dreams and shooting someone in the head if there's no alternative. Everything is kosher when you want to be the best of the best. And no one has the right to interfere with you.
In Israel, they won't let us forget, you are never simply strong and muscular. You are strong vis-à-vis someone. You are supposed to be prepared to use your strength and muscles against enemies. Physical strength is a weapon in the struggle for our land, in the struggle of one side against another in a country that is torn and disintegrating into shreds. At the very least, muscles are supposed to make a scary, alarming, deadly impression.
On "Ninja Israel," have they finally killed the weak, wimpy, sickly, degenerated Diaspora Jew, the one whose legs are crooked, who lacks physical agility and whose posture does not inspire respect, as described by Zionist thinker Max Nordau, and who is incapable of hanging upside down on a bar? Zooming into the air on a zip line? Leaping over bridges?
Maximum he can bake rugelach and lend money with interest. In the television program they celebrate the muscular Jewry that Nordau advocated. This is the fufillment of Zionism according to the franchisee, Keshet. On a recent episode none other than a great-grandson of Menachem Begin appeared! "Ninja Israel" will not forget the heritage of the Irgun!
The contestants on "Ninja Israel," gym rats all, look as though they're competing in a group challenge in some special forces unit. Some of them indeed boast of an illustrious military career, and nostalgic images from their army service are shown on screen. Even an innocent reality show becomes a competition about tall tales from the legendary elite unit. The message is clear: Once a soldier, always a ninja.
Let's not pretend this is just physical fitness and sport. This can't be just physical fitness and sport. More and more people are comparing Israel to Sparta, a state under constant threat, always on the alert, and therefore there is no alternative but to see "Ninja Israel" as a Sparta prep program. "Ninja Israel" isn't a purely militaristic show. The militarism in it exists as a nostalgic sentiment beneath the surface. It is there because this is Israel.
Militarism is a language everyone understands, it's a shared past, it's ratings. The competitors "stretch themselves to their limits." What for? So that when the time comes, and it will come, everyone knows it will come, it's only a matter of time, they will be able to leap on our enemies straight from the zip line.
This summer, this bloody, violent summer, "ninja obstacle courses" for children have opened throughout Israel. They are exhorting parents to bring their progeny in order to bring out their inner ninjas. Sports eduction? We won't deny that. "Ninja Israel" is responsible for the blossoming of the idea that we all, with our wives, our infants and our children, must be tough and strong. This is also the model of beauty that has become established. Washboard abs, rock-hard pecs, the Hebrew hunk, the country as a gym.
I recently joined a gym. I stepped into a parallel universe in which men and women, half-naked, in tight shorts and tank tops, inhale and exhale, grunt and grimace as their veins swell, their faces turn red and they lift weights, 50 kilograms, 100 kilograms, do dead lifts, work on their hamstrings, enter "beast mode," do pushups, run on treadmills, spin on stationary bikes and above all – look in the mirror.
Every action is accompanied by a sideways glance, at what is reflected back. Pumped muscles, slathered in sweat, quivering, throbbing, tanned, up down, up, down. With what passion they look in the mirror, with what self-love, what eroticism. Onanism in public. The gym is "through the looking glass." Big muscles, small muscles, short muscles, long muscles. The music of muscles for homo narcissus erectus.
If a guy works out at the gym and doesn't look in the mirror, does he have muscles? It is the mirror that validates the existence of the muscular man, the bodybuilder. Without the mirror, without the display of the muscular presence, without the public setting, muscles aren't worth anything.
The muscular person will seek out every opportunity to display his muscles, just like the people who get a tattoo on the lower back and wear midriff shirts so the whole world can observe the dubious marvel. The muscular individual wants to say, look at me, I have muscles, I am strong. It might be fragile inside but I am strong on the outside. I might be a coward, but I am strong. I might be insecure, but I am strong. I might be on the verge of a nervous breakdown, but I am strong. Muscles are both the disguise and the thing itself.
I read in an article that muscles are in fact a Marxist tool. When you lift weights, you have ownership of the means of production and the mode of production and also the product. At the gym, the workers have control of their labor and the products (muscles) do not belong to anyone but themselves.
In capitalism, muscles are a way for men and women to glory in their plumage. The gym is no different from any other place where the body becomes an arena of aesthetics and economic and social status. Only here, everyone is trying to show they have a pumped and sculpted body.
The skinny and the weak have no choice but to flatten themselves against the walls, to be ashamed and to cast down their eyes, to become shadows. I am saying this as a proud weakling. Anyone who is not strong, anyone who doesn't have muscles, has a knife or a pistol, for anything that might come along. Thinness is sickly, weakness is leftist, a beer belly is extreme left.
The two most popular TV programs this summer are a cooking show ("MasterChef Israel") and a fitness show ("Ninja Israel"). On one, they cook, On the other, they leap. One is a show about food. The other is a show of eating disorders and fear of loss of control. It seems as though all Israelis these days are into cooking and working out. Am I the only one who misses the skinny, weak Jew who can't make shakshuka?
Click the alert icon to follow topics:
ICYMI
Ken Burns' Brilliant 'The U.S. and the Holocaust' Has Only One Problem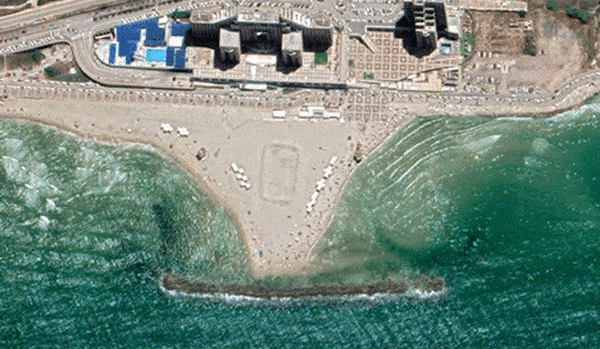 Facing Rapid Rise in Sea Levels, Israel Could Lose Large Parts of Its Coastline by 2050
As Israel Reins in Its Cyberarms Industry, an Ex-intel Officer Is Building a New Empire
How the Queen's Death Changes British Jewry's Most Distinctive Prayer
Chile Community Leaders 'Horrified' by Treatment of Israeli Envoy
Over 120 Countries, but Never Israel: Queen Elizabeth II's Unofficial Boycott