Opinion |
Why We Must Keep Looking at Politics Through the Lens of the Holocaust
The mantra 'never again' – the clarion call to teach the Holocaust in order to prevent such atrocities in the future – demands we study how those catastrophes occurred and avert their repetition
FILE PHOTO: Rep. Alexandria Ocasio-Cortez, D-N.Y., was attacked for allegedly misunderstanding the nature of the Holocaust by saying asylum seekers were being held in 'concentration camps'
Credit: Kevin Hagen,AP
Since the ascendancy of U.S. President Donald Trump, pundits and scholars have debated whether this is a moment of contemporary fascism.
The rhetorical battle reached a new crescendo last week when Rep. Alexandria Ocasio-Cortez described the American prisons where asylum seekers – many of them children – are incarcerated without trial or oversight as "concentration camps." In response, she was attacked for abusing and misunderstanding the nature of the Holocaust, even as an explosion of exposés on the inhumane abuses against children in these camps suddenly dominated our headlines. Yet her critics have tended to ignore the voices of Holocaust studies experts, many of whom, such as Amy Simon and Federico Finchelstein, have rushed to defend the congresswoman.
>> Donald Trump is still setting up concentration camps on American soil | Opinion
The notion that the use of the term "concentration camp" or any reference to Nazi history lacks scholarly merit is simply false. Historians offer expertise. Yet when they cautiously raise the contemporary relevance of the interwar period, they are too often met with cries of violating Godwin's Law – a phenomenon that the longer an issue is debated, the higher the probability of a comparison to Nazis – as if reciting that mantra somehow rebuts any historical argument. Indeed, Simon and Finchelstein are hardly the only historians to draw on their expertise to better understand the contemporary political moment.
Christopher Browning, one of the world's leading Holocaust scholars, has described numerous echoes of Nazism in Trumpism. Ultimately, he finds Trump's pathological narcissism different than Hitler's commitment to a grander, racist ideology, despite the president's comfort with hate-mongering. Trump seeks to lead us to "kleptocracy and autocracy," Browning writes, which he fears may succeed based on the erosion of the free press, incessantly nurtured by Trump, and the undermining of representative democracy by gerrymandering and voter suppression.
Eric Weitz, a specialist on Weimar Germany, bluntly writes that "Today's Republicans … are like the conservatives who put Adolf Hitler in power," threatening our democracy by allying themselves with radical nationalists as their ideological predecessors did in 1933. "The political language of fear and hostility directed at 'foreign' elements … enables moderate and radical conservatives to come together. The moderates make the radicals salonfähig, acceptable in polite society. That is the real and pressing danger of the current moment," he writes.
Another Weimar specialist, Richard Bodek, addresses the glorification of violence in Trump's rhetoric and at his rallies, and at the exploitation of xenophobia as a political tool. "Where the German comparison is apt is when discussion is replaced by violence, where a shared sense of citizenship is replaced by hatred," he writes.
His warning is echoed by Rudy Koshar, who focuses on Trump's rhetoric of walls – literal and metaphorical. "Fascism is defined by the creation of walls," he writes. "As an ultranationalist movement grounded in xenophobia and militarism, fascism saw the nation as an armed camp in need of defense from the outside world." Indeed, "domestic border-setting" played a central role in the vitriolic rhetoric of Nazism.
Even Robert Paxton, who prefers to call Trump a plutocrat seeking unchecked executive power through the evisceration of the free media and the stacking of the courts, locates "echoes of fascism" in Trump's narrative of national suffering and his singular ability to redeem us. He also points to Trump's exploitation of ethnic stereotypes and the fear of foreigners designed to wrest working-class voters from the left wing, which he calls "directly out of a fascist's recipe book." In 2016 Paxton was particularly hesitant to evoke the Nazi precedent because the conservative establishment still refused to get in line behind Trump at that time; clearly, that resistance has since evaporated.
Like Paxton, Ruth Ben-Ghiat, a leading expert on Italian Fascism, is hesitant to call Trump a full-fledged fascist, even as she sees far more than fascist echoes in him. For over three years she has led a sustained campaign to warn the United States of the authoritarian threat based on these tactics, which she calls "fascistic."
Meanwhile, Holocaust scholar Helene Sinnreich has noted over a dozen characteristics of the Nazi rise to power with clear parallels to the rise and rule of Trump, such as campaigns based on xenophobic and racist nationalism that promise a return to a mythic period of greatness, a celebration of violence, attacks on the free press as treasonous, the promulgation of dishonest propaganda, and an assumption by existing elites that the radical leader will normalize once in power, which doesn't happen.
Richard Frankel, an expert on 20th-century German history, published "States of Exclusion: A New Wave of Fascism" last month. The book "uses the lessons of German history to warn us of the dangers of Trump's America and the need to act before it's too late." Nazi expert Richard Steigmann-Gall also calls Trump a fascist, citing a variety of indicators, including the ideology of group victimization, the cult of the leader who must trusted beyond reason, a crisis that cannot be solved by traditional (democratic) methods, and more.
Perhaps the most vocal expert of this period is the celebrated Yale historian of Europe's 20th-century atrocities, Tim Snyder. In countless articles and two books, Snyder urges readers to recognize this moment as a potential reiteration of those terrible regimes. Snyder reminds us that "Some things are better now than they were in the 1930s but some things are worse." For example, he argues that the media today is worse off, but the United States is a larger and wealthier country, more integrated into the world (for now) and with far stronger democratic traditions. Above all, he writes, we are different in that we can learn from that earlier period.
There are countless other examples. One might add to this the context of Trump's rhetoric of dehumanization – he regularly describes immigrants as snakes or other animals – backed by policies that block brown immigration and deliberately inflict suffering to deter brown asylum seekers. Similarly, his focus on immigrant crime – statistically below the national average – and establishment of a new government agency to track it eerily evokes the Nazis' tracking of crimes committed by Jews, an agency designed to stoke hatred not fight crime.
The collective voice of so many leading experts in this field does not suggest simplistic parallels between this moment and the catastrophes of the Holocaust. None of them is saying that Trump is Hitler or insisting that we are inextricably careening toward Auschwitz. Rather, as Eric Levitz put it, Ocasio-Cortez's remarks "rest on the implication that the Holocaust was such an abominable crime that any injustice that even vaguely resembles it requires her constituents' attention." And while there are certainly expert voices more circumspect, she and those who agree with this language have ample expertise to back them up.
The mantra "never again" – the clarion call to teach the Holocaust in order to prevent such atrocities in the future – demands that we study how those catastrophes occurred to help us see the warning signs and avert their repetition. It is part of why the United States Holocaust Memorial Museum – whose current leadership has come out against Ocasio-Cortez – was founded, why it features exhibits on other atrocities, which use the term "concentration camp," and why it used to sell a poster detailing the warning signs of fascism. Holocaust education is not an exercise in voyeurism; it is an attempt to understand how humanity came to choose evil pathways. The Holocaust is not a myth; it was a complex crime that evolved over many years and was executed by real human beings, based on motives that still animate people today.
"Never again" is not a confident statement of self-evident fact; it is a moral call to act swiftly at the moment we see the process begin again, targeting any vulnerable group. The call to prevent the next atrocity cannot wait until we reach the final abyss.
Joshua M. Shanes is Associate Professor of Jewish Studies at the College of Charleston
Click the alert icon to follow topics:
ICYMI
Ken Burns' Brilliant 'The U.S. and the Holocaust' Has Only One Problem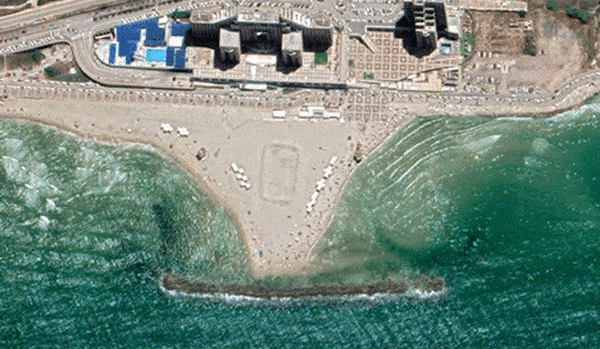 Facing Rapid Rise in Sea Levels, Israel Could Lose Large Parts of Its Coastline by 2050
Lapid to Haaretz: 'I Have Learned to Respect the Left'
The Mossad's Fateful 48 Hours Before the Yom Kippur War
As Israel Reins in Its Cyberarms Industry, an Ex-intel Officer Is Building a New Empire
How the Queen's Death Changes British Jewry's Most Distinctive Prayer