Opinion |
Were They Murdered Just as Jews in the Holocaust, or as Citizens as Well?
I recently discovered my grandfather's prisoner card. The words that were written on it – 'Jew' and 'Pole' – seem to signify a lack of national identity
Polish nationalists march to the U.S. Embassy in Warsaw, protesting U.S. pressure on Poland to compensate Jews whose families lost property during the Holocaust, May 11, 2019.
Credit: Czarek Sokolowski / AP
A few weeks ago, I saw for the first time my grandfather's Häftlings-Personal-Karte, his prisoner cards, the small dossier documenting his existence as a slave of the Third Reich. The details there are sparse, but meticulous: His dates of arrival at three "official" concentration camps (but not the more temporary labor camps where he was held earlier in the war), his date and place of birth, a few physical attributes and most importantly his occupations of "electrician" and "plumber."
Those are the only falsehoods in his file. At sixteen when the war broke out, my grandfather had yet to learn a profession, but somehow, through ingenuity and good fortune, in those first undocumented camps, he had managed to apprentice himself to a plumber and then an electrician, learning enough to pass himself off as one by the time he was transported to his first big camp, Flossenburg, and registered in the system.
>> Read more: Despite anti-Semitism fears, Poland's Jews refuse to hide away
It was those two words, electrician and plumber, which saved him in the last two camps he was sent to – Mauthausen and Gusen, the only ones officially designated as Category III – extermination through labor. Most of the Jewish inmates were put on the teams digging a giant underground hangar, and if they did not die in cave-ins, they were executed once their work was completed. But as a skilled worker, he was put on the assembly lines, building Hitler's "wonder weapons" – the Messerschmitt Me-262 jet-powered fighter, where the death rates were a bit slower.
There are two more words on his prisoner card, the grounds for his incarceration – "Jew" and "Pole." No other explanation was necessary. He was a member of a race that was to cease to exist and formerly a citizen of a country that had already ceased to exist, in 1939 when Nazi Germany and the Soviet Union had collaborated to wipe Poland off the map. But what did it matter to the camp system that he had once been a Pole? Surely being a Jew was enough?
"The destruction of European states in the 1930s was a precondition to all of the major Nazi crimes, including the Holocaust itself," writes Timothy Snyder in "Black Earth: The Holocaust as History and Warning." Snyder argues that rather than the extermination of Europe's Jews, being the result of the Third Reich as an all-powerful state, it was chiefly the destruction of states that made their Jewish citizens most vulnerable for wholesale murder. Therefore, Snyder notes that "the enormous majority of the victims of the Holocaust were not German citizens; Jews who were German citizens were much more likely to survive than Jews who were citizens of states that the Germans destroyed. The Nazis knew that they had to go abroad and lay waste to neighboring societies before they could hope to bring their revolution to their own."
So yes. Being Jewish was reason enough for being sent to the camps. But being a Jew from Poland, a country twice-destroyed by Germany and Russia, made you a Jew with no form of state protection. Snyder's theory is that the fate of the Jews was determined, not by the level of anti-Semitism in the countries of their birth, but by the existence of a national government and state institutions. Which is why, even when shorn of all their civil rights, German Jews still had a better chance of survival than Jews from states that had been officially erased like Poland and the Baltic states, because they were, ironically perhaps, still German subjects. It explains also why most French and Italian Jews survived – as their national governments continued to exist. Three-quarters of the Jews of Holland and Greece, whose governments fled upon occupation and ceased to have any sovereign control, were shipped to the death camps for extermination.
At the Wannsee Conference, which sought to coordinate the implementation of the "Final Solution," all Jews of Europe and outlying countries, eleven million of them, were marked down for elimination. The Germans had time to murder just over half that number before they lost the war. Those who were easiest to transport, Jews without any citizenship, died first and in much greater proportions. That's what "Jew" and "Pole" on a prisoner card meant. You and three million like you were first in line.
But what to make of it today? That's always the unanswerable question. Somehow, whenever you try to draw contemporary conclusions from the Holocaust, you fall flat. Even Snyder's brilliant book ends with a much weaker afterword on the warnings for modern societies, not because it isn't an excellent stand-alone analysis of the challenges of the 21st century, it is, but it just feels disproportionate, coming after the sledgehammer blows of the previous century.
I've been trying to work out in recent months what a Polish-Jewish identity means, for someone of who all of their ancestors were Polish Jews, in today's Europe when the populist-nationalist government in Warsaw is dismantling liberal democracy and rewriting its World War II history, diminishing the uniqueness of Jewish victimhood. Those two words on my grandfather's prisoner card don't make me feel closer to my Polish roots. They signify a lack of national identity and emphasize his Jewishness.
Many are trying today to deny the Jewishness of the Holocaust and to either nationalize or universalize its victims, depending on their political purpose. On Wednesday, Jeremy Corbyn, leader of the Labour Party, apologist for countless anti-Semities and Holocaust deniers and the man who has done more than any political figure in this generation to make a Jewish community in a western country despair for its place in society, had the boneheaded, tone-deaf effrontery to read a quote from Anne Frank's diary in parliament. Unsurprisingly, he didn't even have the minimal human decency to note the reason she had been in hiding with her family in Amsterdam and then died in the Bergen-Belsen concentration camp, was her Jewishness.
For left-wing dogmatists like Corbyn, those murdered in the Holocaust were not Jews, but "victims of fascism." For today's leaders of Poland, Jews were just Polish victims. And we, for whom they are our grandparents and great grandparents, and their brothers and sisters, are trapped between wanting them to be individuals for their lives and deaths to have a deeply personal, and yes, a Jewish meaning, but also to mean something for the rest of the world.
Click the alert icon to follow topics:
ICYMI
Ken Burns' Brilliant 'The U.S. and the Holocaust' Has Only One Problem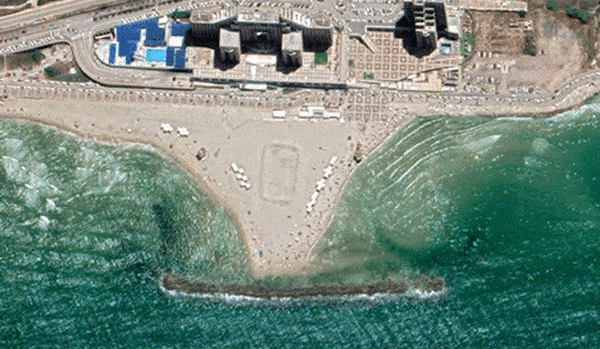 Facing Rapid Rise in Sea Levels, Israel Could Lose Large Parts of Its Coastline by 2050
As Israel Reins in Its Cyberarms Industry, an Ex-intel Officer Is Building a New Empire
How the Queen's Death Changes British Jewry's Most Distinctive Prayer
Chile Community Leaders 'Horrified' by Treatment of Israeli Envoy
Over 120 Countries, but Never Israel: Queen Elizabeth II's Unofficial Boycott