Opinion |
Israeli Former Chief of Staff Gantz Could Represent Quite a Challenge to Netanyahu
He has a resumé, vague viewpoints, he looks great, really believes in reconciliation and unity, and, no less important, he's brand new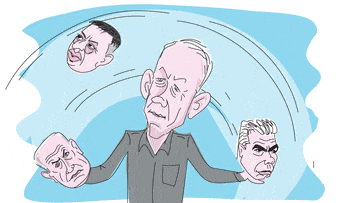 When Benny Gantz and his representatives conducted the negotiations about his joining the cybersecurity firm Fifth Dimension, they had an unusual condition: Nobody was allowed to publish things that would harm the image of the former chief of staff. It's logical that Gantz was concerned about his good name; it's less common to try to include that as a condition in commercial negotiations.
Now, with the company closing, it's likely that some of the dirt will adhere to its chairman. Only four months ago, Gantz spoke with pride about the company and his contribution to it in an interview with the Globes financial daily: "I can tell you what it does to someone who is a professional in that world. He says: Wow! … You don't spend time here only in order to earn money – this story will result in fewer criminals and fewer terrorists. It's very simple." What's your contribution? "Directions of activity, connections, exposure to the world and to investors. The money that was invested didn't get here by chance."
What appears to be a business failure only confirms what most of those who know Gantz well think of him: an excellent man, decent, honest, but he has difficulty making decisions. He's not made of the stuff that we're used to in our prime ministers.
A retired major general said of Gantz: "The last person that I would think could succeed in politics." I spoke to many of Gantz's colleagues. Virtually all of them respect him, admire him and doubt whether he is the man who can challenge Prime Minister Benjamin Netanyahu.
>> Netanyahu's two greatest fears have suddenly materialized | Analysis
On this matter I'm in the minority. In my opinion, if a public opinion poll were to be conducted today among center-left voters, asking them to rate their 10 most important considerations in the decision about whom to choose, I think No. 10 would be "anyone but Bibi," No. 9 would be "anyone but Bibi" as would No. 8, No. 7 and so on up to No. 1. The occupation, the social gaps, the incitement and all the rest are important, but wouldn't make it to the first 10 spots.
In the previous election this camp gave 24 seats to Isaac Herzog. A few weeks before the election I asked Reuven Adler, Herzog's strategist: Aren't you somewhat afraid to run someone like Bouji, a talented politician, but not really someone who has proven Herzog leadership potential? Adler replied that if we were to throw a stone now from the window, whoever it hit would be preferable to Netanyahu.
Those words largely reflect the energies of the center-left camp. Anyone portrayed as any kind of challenge to Netanyahu will go places. The rest will sink. Gantz – with all his shortcomings as a potential leader – has many advantages as a candidate: a resumé, vague viewpoints, he looks great, really believes in reconciliation and unity, and, no less important, he's brand new.
>> Despite his recent triumphs, Netanyahu is terrified of elections | Analysis
Gantz has a real chance of picking up momentum and leading the largest party in the center-left bloc. That would cause the shrinking of Yair Lapid and the semi-elimination of Avi Gabbay. Yesh Atid and Zionist Union voters, according to several in-depth polls, are simply not all that committed to their parties. At the moment they don't have anything more attractive. If for a brief moment Gantz looks like a threat to Netanyahu, they'll race to him.
Gantz is the target of considerable criticism, and rightly so, for being a incessant hesitator who has conducted talks with too many parties – but that's very smart on his part. An associate of his told me that he knows he has to jump in only at the last moment, so there will be as little time as possible for his attraction to fade.
This entire analysis depends on Gantz not making any embarrassing mistakes, as Yossi Verter wrote in Haaretz over the weekend. The left-wing base is tired of all the various masqueraders.
Gantz, at the moment, is the only one who can transfer five to seven seats from the right-wing bloc to the left. That's still doesn't make it feasible for him to form a coalition under his leadership, but if he has the sense to let an experienced campaigner manage him and control everything he says, as difficult as that will be for a former chief of staff, he could represent quite a challenge to Netanyahu.
ICYMI
This Bedouin City Could Decide Who Is Israel's Next Prime Minister
A Women's Rights Lawyer Felt She Didn't Belong in Israel. So She Moved to Morocco
'It Was Real Shock to Move From a Little Muslim Village, to a Big Open World'
'There Are Similarities Between the Hasidic Community and Pornography'
'RRR': If Cocaine Were a Movie, It Would Look Like This
Yair Lapid's Journey: From Late-night Host to Israel's Prime Minister