Opinion |
If You're Happy With This Israel, Clap Your Hands
Way back in October, Netanyahu paved the way for the nation-state law by making clear the underlying, unifying ideology of the pro-Israel hard right: The Zionism of Nasty
Coalition members standing together after the nation-state bill passed on July 19, 2018.
Credit: Olivier Fitoussi
Way back in October, Benjamin Netanyahu paved the way for the nation-state law with a speech that made clear the underlying, unifying ideology of Israel's hard right: The Zionism of Nasty.
At the time, in a tone which was sulphurous even for Netanyahu, the prime minister officially opened the Knesset's winter session by redrawing the demographic map of Israel.
>> The Israel you know just ended. You can thank Netanyahu | Bradley Burston <<
There are two kinds of people here, the speech let it be known. How can you tell which ones are true Israelis? Easy:
"Israelis know it's good to live here," Netanyahu said. For them, he explained, "Israel is a beloved homeland, a warm home and, without a drop of cynicism, a wonderful country."
Then there are all the others. Telegraphing his assault with a grin that a sadist could envy, he grouped them all under one heading: "Hamutzim" – Debbie Downers, bitter and small, sourpusses.
Not real Israelis.
If you're Israeli and you know it, clap your hands, Netanyahu signaled to his loyalists at the time. You've come to know them since, from the underwear that cannot be unseen in the bubbly, astonishingly inappropriate Likud celebration that followed passage of the nation-state law.
The image is everywhere. In an ironic twist to a legislative effort meant to emphasize Israel's strictly Jewish national symbols, that photograph has now become emblematic not only of the nation-state law, but of Israel as a whole.
From now on, Netanyahu signaled, the Zionism of Nasty will be Zionism itself, the creed that states that nastiness and belittling and name-calling of neighbors are not only somehow Jewish values, they are worthy of constituting an entire nationalist ideology on their own.
As are the other moving parts of the Netanyahu coalition: Agreed-upon supremacy, arrogant self-pity, denial of minority rights, disguising occupation behind a biblical name, and masking and installing annexation behind a range of twisted-pilpul legal maneuvers.
If you're happy and you know it, condescend.
"When Hamutzim talk, you hear conversations like, 'Isn't the situation here horrible and terrible?" Netanyahu sneered back then in October, dismissing anyone who disagrees with him as pampered, hypocritical, effete, not fundamentally part of this place – a person who, if we're lucky, or if we're cruel and bullying enough, will someday decide to go away and not come back.
"'Isn't everything falling apart?' he "quoted" his critics as telling one another. "'By the way, did you order tickets to London or Berlin?'"
"They're Hamutzim," Netanyahu said, then adding, pointedly: "And they fly away."
Again and again, Netanyahu drove home that slur, Hamutzim. They are ungrateful and therefore unsatisfied, his tone made clear. They are Hamutzim and nothing more, dispensable and fundamentally extraneous accompaniments to the main meal.
Again and again, he made sure to underscore the idea that the only real victims in the Holy Land, the only really downtrodden here, are the settler Jews of the West Bank.
And that the only thing which advocates of self-determination and democracy really want, is to see those Jews suffer.
"The Hamutzim do another thing," Netanyahu declared, letting his people know that advocates of compromise and equality were not really interested in peace at all. "They always describe the situation as frozen, marching in place. For them, as long as Jews aren't evacuated from their homes, we're frozen."
If you're happy and you know it, make things worse.
In recent days, as soon as the smoke cleared in the Knesset - as soon as Netanyahu and his people had officially and without remorse denigrated Arab citizens of Israel, dismissed the LGBTQ community, scoffed at and delegitimized non-Orthodox Jews, further alienated Diaspora Jews and worked to undermine the independence and legitimacy of the Supreme Court and the judicial branch as a whole - the Zionism of Condescension went to work in a big way, ostensibly seeking to explain to a waiting world the nation-state law and other measures.
And, without fail, making things worse.
It wasn't bad enough, obvious enough, that the nominal sponsor of the nation-state law, senior Likud lawmaker and former Shin Bet chief Avi Dichter, closed the dead-of-night debate over the bill by turning to jeering Arab legislators and declaring:
"We were here before you, and we will be here after you."
A series of other right-wing figures have since "explained" that the law would in reality change nothing – which, in effect, meant that the only real reason it was passed was to anger Arab citizens of Israel and cater to Jews who hate them.
Not to be outdone, the Condescendant in Chief of the Netanyahu administration, Dror Eydar, the OpEd editor of his pet newspaper Israel Hayom, let it be known on the front page Tuesday that the only reason for the storm over the nation-state Llaw was, yes, "ignorance."
"Okay, so what if the Jews of Haaretz, who are ashamed of their own Jewishness - just as the Jews of Germany were ashamed of the Jews of Eastern Europe ('Ostjuden') who seemed to them to be too Jewish – think that any mention of 'Jewish' in the nation-state law is 'racist' and 'fascistic' and other terms even worse – but the sane, Zionist left (Is there still such a thing) as well?"
Also on Tuesday, Israel Hayom told us in a separate section:
"The law defining Israel as the nation-state of the Jewish people is just and timely. It also takes action against the Palestinians' subversive attempts to cause Israel to collapse from within."
If you're happy and you know it, and you really want to show it, take your cue from Israel Hayom:
We must not let the Palestinians cause Israel to collapse from within.
No. We are a free people in our own land. We proved it over and over just last week: This is our job. We, the Jews, and no one else, will cause Israel to collapse from within.
Click the alert icon to follow topics:
ICYMI
Ken Burns' Brilliant 'The U.S. and the Holocaust' Has Only One Problem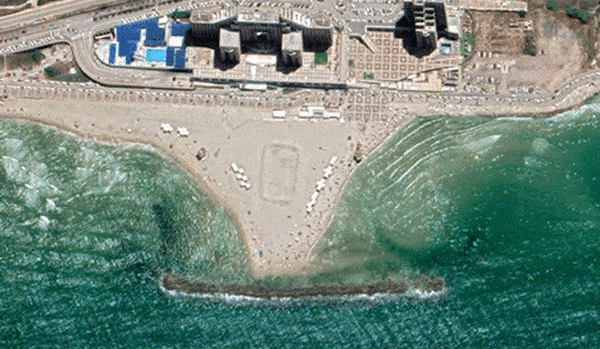 Facing Rapid Rise in Sea Levels, Israel Could Lose Large Parts of Its Coastline by 2050
As Israel Reins in Its Cyberarms Industry, an Ex-intel Officer Is Building a New Empire
How the Queen's Death Changes British Jewry's Most Distinctive Prayer
Chile Community Leaders 'Horrified' by Treatment of Israeli Envoy
Over 120 Countries, but Never Israel: Queen Elizabeth II's Unofficial Boycott