Sixty-seven Things Gideon Levy Loves About Israel
Yom Kippur, Israeli wine, and Gaza. Haaretz's Gideon Levy was sent out on a mission to find 70 things he loves about Israel and came up with 67 – and that wasn't easy, either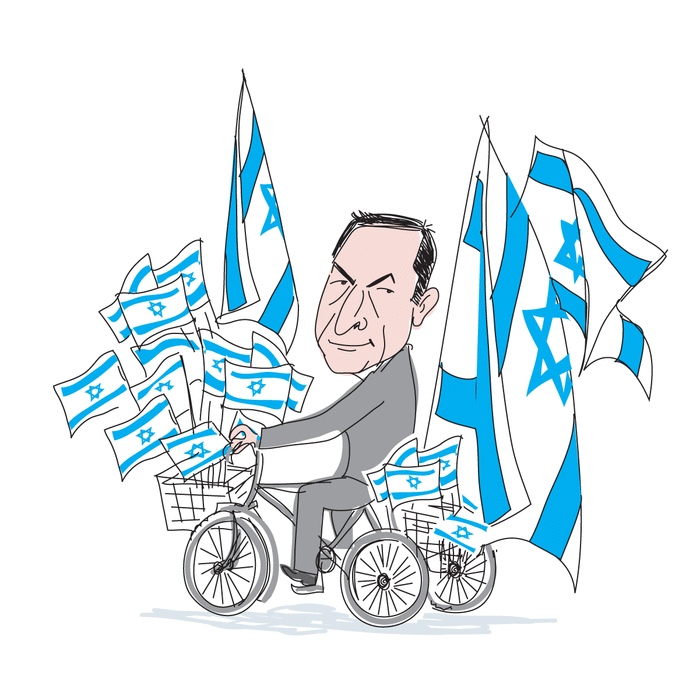 Haaretz suggested that I come up with 70 things that I love about Israel. I tried to bargain. I suggested that I make do with seven, which I'd make a real effort to find. Even Shimon Riklin, a sworn Lover of Zion, can't find 70 things these days. "Riklin would find 1,948 things," the editor retorted. I accepted the challenge. In the end, I found 67 – another charged number.
1. Stand Street, Tel Aviv. This is the street of my childhood. There isn't a stone there that I don't know, a door that doesn't trigger sweet memories: from the home of Atrakchi and the Tnuva cafeteria at the top of the street, to the groceries of Shaul and Meir in the middle, to the homes of Sarna, Vogel and Tzahubi, to Larich's blacksmith shop, and to the DeSoto taxi at the corner of Leon Reich Street, whose owner would cover its engine in winter with a wool blanket lest it get cold. It's impossible not to love a country with such memories.
2. Cat feeders. There aren't many things that are more heartwarming or make me more proud than Israelis who feed cats. You see them on every corner – the country's salvation army.
3. Our three "tenors": Amos Oz, A.B. Yehoshua and David Grossman. Wonderful writers, not always bold enough, not always radical enough, sometimes too cynical, but they never hesitate to emit a clear voice and to be politically engaged. In a country where most artists toe the line, they are a ray of light and source of inspiration. In a country where there is not much to be proud of when it comes to many circles abroad, they save lost honor.
4. Meir Banai. There was something so genuine about him.
5. Highway No. 1. Or any other road that leads west from Jerusalem. Oh, leaving Jerusalem!
6. Bnei Brak. The most different city in Israel.
7. Israeli wine. I'm a patriot when it comes to this. Only Israeli wine – just not from the settlements or the Golan Heights, of course.
8. Israeli body lotion. Like with wine, only with lotion.
9. The area around Tel Aviv's central bus station. The most fascinating and authentic place in the city. Any big city that respects itself has a neighborhood of migrants, which usually only adds to its character, pluralism and color.
10. Haaretz newspaper. If it didn't exist, Israel would be an entirely different place, much worse than it is, in many respects. In recent years, it has set new records for bravery, freedom of expression and international recognition. It fills me with pride to be part of it.
11. Getting lost on some street and knowing someone will stop to help you. This is true especially if you are a woman.
12. To arrive as an Israeli Jewish journalist at the home of a Palestinian family where just a day or two before, soldiers from your country killed its children, injured their father or arrested their siblings, and to know that they will nobly and hospitably welcome you, and will speak to you about peace and living together. It's impossible not to be impressed by this, every time anew.
13. To wander the streets of Tel Aviv and miss all that's gone. There are at least 70 such things, if not 700. Or, to be precise, 7,000.
14. Uri Avnery. The Israel Prize winner for journalism or life achievement, or both – only he just hasn't won it yet.
15. Daniel Barenboim. A man of conscience, a great man of the world and who spent his childhood years in Israel, who never forgets his Israeli-ness, and precisely because of that has avoided performing here, without saying so in so many words. Maestro Barenboim cares very much about what happens in Israel, much more than many local self-styled patriots. He is certainly one of the greatest Israelis of his generation.
16. Israeli neighbors. Love them or hate them, with powerful emotion unmatched abroad, where people barely know the name of the person living across from them. Whom would you prefer: a distant brother or a close neighbor? In Israel, the choice is totally obvious.
17. Allenby Street in Tel Aviv. A real, colorful thoroughfare you can wander on, over and over. It reminds you that despite pretensions of living in a place that's similar to New York, we are deep in the Middle East – and maybe it's better that way.
18. Tel Aviv's Ramat Aviv Aleph neighborhood. The old, good and modest version. An island of green that can be traversed via narrow alleys without almost ever crossing a street – the opposite of the "luxurious" Ramat Aviv Gimel or the new Ramat Aviv. Check out the differences between them and you'll see what has changed in this country.
19. The house on 33 Hess Street, Haifa. An old apartment building, surrounded by greenery and with balconies of yore. From the balcony of the kitchen of Irma Miller on the second floor, I would often watch the ships entering the port and afterward play with the glass animals from Czechoslovakia that were in her living room display cabinet. Irma Miller is long gone. Her glass menagerie is gone, too. But the house is still there as are the ships. I can't go to beautiful Haifa without passing by the building and sneaking a peek at its stairwell.
20. The house on 39 Rahel Immeinu, Jerusalem. An old stone home, where Ida, Regina and Yoshka, the uncles and aunts, lived in a communal apartment with another two families. Against my will, I would spend time there, standing on the balcony and crying, during the vacations of my parents, who went to a sanitarium in Kiryat Anavim. I can still smell the dim stairwell of the building in the Greek Colony. The same goes for the smell of the Maariv newspaper that Ida would buy for me at the tiny kiosk that was embedded in the wall of the Hapoel Jerusalem soccer stadium down the road. The kiosk and the stadium are gone. The building is unchanged.
21. A traffic accident resulting in a scratch on the bumper of a spotless jeep. The shouts, the threats, the punches, the curious bystanders, the documentation via cell phone, the witnesses, the forms, the severity. All for a scratch! There are few scenes that are more amusing, as long as you aren't involved, of course.
22. Traveling by bus. Looking inside a bus or outside, through the window – this is a world of its own.
23. Traveling by train. Ditto.
24. Not traveling by taxi. The reasons are well-known.
25. "Time," by Yehuda Amichai. "How without pain – time," "Advice for good love," "The old ice factory in Petah Tikva, a wooden tower, boards blackened by rot, in my childhood a weeping lived there." Poems and phrases [translated by Amichai and Ted Hughes] that I will never forget.
26. Mahmoud Darwish's "Bed of a Stranger" and "State of Siege," as well as: "Why did you leave the horse alone? To keep the home alive, son. Homes die if their inhabitants leave" [translation into English by Ibrahim Taha].
27. "Something for Someone," David Avidan's book.
28. "Northeasterly," Natan Zach's book.
29. The Israeli sitcom "Sabri Maranan." There's never a time when I turn on the television and there is no new episode or rerun of this pleasant and addictive show.
30. Shlomi Eldar's "Foreign Land." The documentary cinema that has arisen in this country, including this film, is a reason for love and pride. The gap between the brainwashing mass media, which is stupefying and whitewashing, inciting and distracting, inflaming and destructive, and honorable Israeli-made documentaries is amazing.
31. The municipal pool in Ramat Aviv. A house of prayer, a little bit of a temple. A reason to get up at six o'clock, every morning. A reason to love everything, for one hour, until it all dissipates.
32. Ron Huldai. The Tel Aviv mayor who keeps doing things and doesn't always get thanked for it.
33. Israel Hayom. More honest and fair than Yedioth Ahronoth, and less engaged in sensationalist journalism than Yedioth. The incitement and right-wing, nationalist propaganda in Israel Hayom is the same incitement and propaganda as in Yedioth, but less cynical. The impression is that most of the writers at Israel Hayom believe in what they write.
34. Shulamit Aloni. I loved her.
35. Gabi Gazit's radio program. A great loss.
36. Matzpen. The members of this [now-defunct, anti-Zionist] organization were true pioneers, who paid a price that no one here has paid for their beliefs. Banished, slandered, subject to being followed – and far-seeing.
37. Nabi Saleh. Many more people will remember this Palestinian village than the Halamish settlement built on its lands. Anyone who wants to see how people fight for their liberty, their honor and their land – values that for most of us are empty words – should go there.
38. Yehoshua Kenaz. The editor at Haaretz who would answer the phone "Yehoshua the editor speaking," when he was already one of the best authors in the land.
39. David Schütz. His novels worked magic on me.
40. "But Where is Daniel Wax?" Perhaps the most beautiful and saddest Israeli film produced here.
41. The Gaza Strip. I love and miss Gaza, its people, their warmth, the places, the heartrending personal stories. It has been closed for 11 years to Israeli journalists – on Israel's orders. Every time they threaten me with "Go to Gaza!" – I say in my heart: I wish. There is no place in the world that I hunger to visit today than Gaza. There is no place I would rather report about. It is the place I left behind with the most sadness, compassion, shame and grief. I miss it and its people.
42. Yarkon Park. It's impossible to sail, run or ride there – and not love it. And to remember the mayor of the gray city of Tel Aviv, Yeshoshua Rabinowitz, who steered it into existence.
43. Teva Naot sandals.
44. Ayman Odeh, Ahmad Tibi, Jamal Zahalka. The best of Israel's native-born sons and the best of its Knesset members.
45. Friday-Saturday in the country. Including all the typical personal routines, without which life isn't life.
46. Amira Hass. A distinguished colleague.
47. Yoram Sheftel's radio show. In low doses, it's amusing and funny.
48. Israel's troublemakers. No one engenders more pride and respect for Israel than these people – the remnants of Israel's conscience, its true lighthouse, whose light is fading.
49. Alex Levac.A distinguished partner.
50. "The Voice of Music" and "Kan 88 FM." Radio with barely any state news and lots of great music. Places of refuge.
51. Haaretz's death announcements. The most optimistic part of the paper.
52. Passover peanut cookies. It's lucky they are around only one week a year.
53. Yom Kippur. Because of the quiet.
54. "Lowest deeds from loftiest heights." There is no opinion piece that I am prouder of.
55. Maayan Harod National Park. A magical and mysterious part of childhood, mainly because of the adventure of climbing up to the burial plot of [Zionist leader] Yehoshua Hankin.
56. Jaffa Road, Tel Aviv. The Lieber chocolate factory that stood across the way, intoxicating from afar with its smell; the adjacent Beit Romano; a cup of tea from the cart of the person distributing tea at my father's office; his colleagues who called him "Doctor Levy" and had unusual names: Orbaitel, Bunk, Lax, Eli from the store, Avram with the Oldsmobile, and Reuven from the glass warehouse there.
57. The Israelis of the Aqua Sun resort [in Nuweiba].
Every year, for years, Sukkot and Passover, Passover and Sukkot, in Sinai. The same gang that wasn't organized in advance, of which now only memories remain.
58. Bnei Sakhnin soccer team. Israeli pride, a reason to take an interest in what's going on in the league.
59. B'Tselem. From the outstanding name [of this Israeli human rights organization] to the very last of the investigators in the field, they are professional, trustworthy and conscientious.
60. Hasbara – Israeli propaganda, referred to as "public diplomacy." It's impossible not to love such cheap, inferior propaganda, for which no lie is too foreign. And everything is done in the name of a well-armed and economically thriving regional power, which has every type of weapon available on the planet, which has scorned international law and the world for decades – a violent and evil occupier that presents itself as a victim, as fighting for its very existence, as if the whole world has risen up to destroy it. That same power sees itself as a light unto the nations, which builds field hospitals in the Philippines every time there is an earthquake, which gave an ungrateful world the cherry tomato. And most of its residents believe all that jazz.
61. Breaking the Silence. When the [anti-occupation] organization was founded, I was sure it would change the rules of the game, for in its wake no one could claim that they didn't know. These are not the lies of Gideon Levy. These are testimonies by the soldiers themselves. Yet the security establishment and the collaborating press managed to pulverize it.
62. The New Israel Fund. One of the most hope- and pride-imbuing NGOs.
63. "One Day" by [singer-songwriter] Tomer Yeshayahu. The song goes something like this: "On the beach of Gaza / Blue balloons / White-sailed boats / Donkeys next to us / One day, one day perhaps."
64. "Before Evening" by Yaakov Shabtai and Sasha Argov. As performed by the Hama'apil trio. The most beautiful Israeli song?
65. Prof. Yeshayahu Leibowitz. Ahead of his time, against everyone. The Prophet Yeshayahu (Isaiah). Eternal proof that there are people who are irreplaceable.
66. The State of Israel. If it were only different.
67. The one-state dream. There's been such a state for 50 years already, but it hasn't been democratic. Between the sea and the Jordan River, a dream of a democratic and egalitarian state for all. One person, one vote. One day.
Click the alert icon to follow topics:
ICYMI
What if the Big Bang Never Actually Happened?
'Strangers in My House': Letters Expelled Palestinian Sent Ben-Gurion in 1948, Revealed
AIPAC vs. American Jews: The Toxic Victories of the 'pro-Israel' Lobby
'This Is Crazy': Israeli Embassy Memo Stirs Political Storm in the Balkans
Israel Rewards Hamas for Its Restraint During Gaza Op
Gazans Are Tired of Pointless Wars and Destruction, and Hamas Listens to Them