Opinion |
When Jews Are Outsiders in Their Own Home
Just as Israel's African refugees at last saw a flicker of justice, another callous deportation crisis erupted in Britain. That sudden feeling of being unwanted in the place you consider home? We know it too
The leader of Britain's Labour Party Jeremy Corbyn attends an event in London, April 19, 2018
Credit: \ HENRY NICHOLLS/ REUTERS
On Monday morning we woke up to a better Israel.
The previous day, the government had been forced to inform the High Court of Justice that it did not have an agreement in place with Uganda to deport Eritrean and Sudanese refugees there.
The last 200 refugees still awaiting deportation at the Saharonim detention center were released. It was the first day in over a decade in which refugees were not incarcerated in Israel for the sin of escaping here from oppression and war.
>> We Israelis Are Turning Our Backs on African Refugees || Opinion <<
All the work by this newspaper and other Israeli media outlets, human rights organizations, activists and citizens' petitions finally shamed both the Rwandan and Ugandan governments into pulling out of the secret agreements.
It would have been better had it been the Israeli government coming to its senses and sticking with the humane and sensible agreement reached with the United Nations refugee agency, instead of keeping 37,000 refugees in limbo.
But mass deportations are for now off the table and Monday morning was a rare moment of satisfaction when many Israelis felt more at peace with their country. A moment that for me quickly evaporated as news came of a deportation crisis in my other homeland.
The "Windrush Generation," named for Empire Windrush, a ship bringing 500 Jamaicans to the port of Tilbury on June 22, 1948, was a wave of Afro-Caribbean immigration to Britain. After six long years of war, Britain was rebuilding and needed workers. Subjects of its imperial outposts in the Caribbean were invited to emigrate and over the next two decades, as many as 200,000 arrived. Laws were passed to allow them to remain, and become British citizens.
But as a result of generations of bureaucratic mishandling, coupled with the peculiar British convention of not requiring residents to have identification documents, a large number of those who arrived as children in the Windrush migration, are now finding it extremely difficult to receive health care, pensions and jobs. By some estimates, up to 50,000 people over the age of 50, who have lived nearly their entire lives in Britain, are affected. This has been exacerbated by a policy, enacted by then-Home Secretary and now Prime Minister Theresa May, of creating what she described in 2012 as "a really hostile environment for illegal immigrants."
This policy may not have been targeted at the children of the Windrush Generation but, as finally emerged Monday, it now affects the lives of those tens of thousands of people who arrived and remained in Britain legally, but are now finding it almost impossible to prove that. Some of these by-now-elderly men and women have already been arrested, pending deportation, as their bewildered relatives scramble to assemble a record of their lives.
If you haven't heard yet about the Windrush saga, I suggest you go online and read more about it. It is the perfect example of how a callous policy toward immigrants can end up sucking in entire communities and depriving them of their most basic rights. Start by watching the angry speech made Monday in parliament by Labour MP David Lammy. It is less than two minutes but it captures all the shame, humiliation and rage of people who are one day informed that they are no longer regarded as citizens of the country where they have raised their families and regarded as home for nearly their entire lives.
The next day in parliament, another debate was held, concerning another British minority group that feels no longer welcome in their home. Yes, it's the ongoing sorry story of anti-Semitism in Jeremy Corbyn's Labour Party. One after another, Labour MPs, both Jewish and non-Jewish, got to their feet to speak of their experiences of abuse, over the last nearly three years since Corbyn's surprise leadership victory. He did not even have the grace to sit there, through all of them, and left it to a colleague to respond on behalf of the party's leadership.
Like most Jews born in Britain, I am a descendant of the wave of immigration that preceded the Windrush Generation. Our grandparents and great-grandparents fled Eastern Europe from the late 19th century until the end of the Holocaust. Few comparisons can be made between Jews and Afro-Caribbeans in today's Britain. No one is about to cart away Jewish grandmothers from Golders Green to Yarls Wood detention center, in preparation for their deportation to Poland or Lithuania. British Jews are secure and prosperous, an unparalleled success story of integration. Unlike British-Caribbeans, they have faced few obstacles in their lifetimes in education or employment and there is no recent memory of race riots. In fact, you would have to go back to the largely-forgotten 1947 pogrom of Cheetham Hill to find any serious outbreak of anti-Jewish violence. And while the Community Security Trust has recorded a rise in anti-Semitic incidents, these are at least partly to be ascribed to more awareness, better reporting and the increased exposure of racist fringes on social media.
Protected by among other things, major government investments in the community's security, British Jews do not live in a hostile environment. But even in the most secure environment, that you have considered home your entire life, you can suddenly be made to feel unwanted.
That is how many Jews have felt in the last two and a half years in the Labour Party, when being attacked by other members, supporters of the new leader. The very fact of their Jewishness has been used against them, to taint their positions. Even Jewish party members who are Corbynists, including the founder of the pro-Corbyn Momentum group, Jon Lansman, have suffered anti-Semitic abuse.
All this has taken place in a party which so many Jews felt in the past was their safe haven from racism, their political home.
If you haven't seen them, then go and watch those Commons speeches online, too. I was particularly moved by the one made by former minister Margaret Hodge. It was more low-key than some of the others, but it was particularly revealing.
Many British Jews are no more than vaguely aware, if at all, that Hodge is Jewish. Unlike other Jewish MPs, she has not been a fixture in communal events over her long political career. But it was actually the fact that she has chosen to not be part of the established community that lent so much poignancy to the way she spoke of being the daughter of German refugees, born in the last year of World War II in Egypt, and how the memory of her grandmother's death in the Holocaust, have given meaning to her life and formed her identity, both as a Jew and a politician.
And though, as she noted, she has received less abuse than some of her colleagues who are more well-known for being Jewish MPs, she has been on the receiving-end of enough to make her feel, after 50 years as a Labour member, that "my party has allowed anti-Semitism to go unchallenged. Anti-Semitism is making me an outsider in my Labour Party."
>> No One Gets to Say Who Are Good Jews. Not Even Jews || Analysis <<
Many Jews who were born after 1945 heard from their parents versions of the "remember, we are just guests here," speech. It didn't make sense to them, growing up in democratic countries, where their Jewishness was no barrier to success, and it shouldn't have to make sense today.
But in France, where three years ago synagogues and Jewish schools were suddenly surrounded by armed troops, for their security, in Britain where the main party of opposition has suddenly become such a hostile environment for Jews, and in the United States where, in a bizarre turn of events, an administration with so many Jews in key positions has became the source of deep shame and grave concern for most American Jews, that guest-status is now tangible once again.
And no, the answer to this is not Israel. As David Grossman said in his speech at the alternative Memorial Day ceremony for Israelis and Palestinians who have lost loved ones to the conflict, after 70 years of independence, "Israel may be a fortress, but it is not yet a home."
It is not yet a home because despite the strength of its fortress walls, it cannot find the way to allow the millions of Palestinians living beside it to have a home as well.
And it can't be a home if despite the prosperity of its economy and full employment, it can't bring itself to allow 37,000 refugees to live in it.
And even when Israel finally solves these issues, goes on to new challenges and hopefully becomes more of a home, it will be a home for Israelis, not for Jews who have decided to make their homes elsewhere.
As unique as the Jewish past of displacement and persecution may be, there is nothing unique about displacement, which is why the Torah constantly reminds to remember we were strangers in strange lands. No matter how successful we may be in the countries we have chosen to live and no matter how high the fortress' walls are, we will never be at home when others who live beside us are not.
Click the alert icon to follow topics:
ICYMI
Ken Burns' Brilliant 'The U.S. and the Holocaust' Has Only One Problem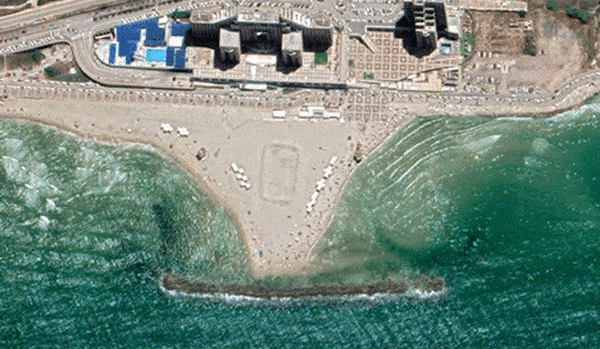 Facing Rapid Rise in Sea Levels, Israel Could Lose Large Parts of Its Coastline by 2050
Lapid to Haaretz: 'I Have Learned to Respect the Left'
The Mossad's Fateful 48 Hours Before the Yom Kippur War
As Israel Reins in Its Cyberarms Industry, an Ex-intel Officer Is Building a New Empire
How the Queen's Death Changes British Jewry's Most Distinctive Prayer