Opinion |
The Kids Are Going to Save You, America. There's No One Else Left to Do It
The kids of Parkland, Florida have moved an entire world. They went through one circle of hell after another this week, and their voices still managed to cut through Trump's churlish tweets like light itself
Samantha Ramirez, 12, holds a sign with other students and parents at an intersection near the Marjory Stoneman Douglas High School in Parkland, Florida, February 18, 2018.
Credit: Gerald Herbert/AP
In October, 2015, an oddly gleeful presidential candidate Donald Trump tweeted, "Russia and the world has already started to respect us again!"
The tweet came back to me last week when people here, people who love America, tried to make some sense of the horrific Florida school shooting, and found that they could not.
What does the world see now when it looks at the States? From this distance, some 9,000 kilometers, you can see certain things about America as clear as day. But it's not respect that America is stirring. It's horror, and it's dread.
People overseas look at America and learn that the massacre in Florida was the 30th mass shooting in America since January 1. Six weeks.
And they know now also that Trump won't lift a finger.
To people abroad who are praying that America can come through this, and somehow come through it stronger, this is what it looks like: America is falling. There's no floor. Looking back over their entire lifetimes, they have never seen America in worse danger.
From this distance, America looks hobbled and bleeding and reeling from grief. There's no one in charge, nearly nothing to stand between innocent children and the next unnatural disaster, the next premeditated horror, the next $600 AR-15 assault rifle to take 17 lives outright and to leave another 3,000 shattered, a community left forever bereft, thousands of families bent and raw and furious and anxious and never ever anywhere near the same.
And yet. There are these kids who have moved an entire world. There are these kids in Florida who went through one circle of hell after another this week, and whose voice managed to cut through Trump's churlish tweets like light itself.
Look those kids in the eye, America.
Tell those kids in Parkland, Florida, the choice you're prepared to make now.
For those kids, and for America, This is life or death. And those kids are going to save you, America. There's nobody else left to do it.
"We've been hearing a lot that this is not the time to talk about gun control, and we can respect that. We've lost people. It's important to mourn," Douglas High School junior Cameron Kasky said this week. Kasky and other Douglas students spoke with eloquence and Stunning moral strength about the nationwide March For Our Lives they are planning for next month, hoping to see marches in every major American city.
"Here's the time to talk about gun control: March 24th," Kasky said.
"This is about us begging for our lives," he said. "This isn't about the GOP, this isn't about the Democrats. This is about us creating a badge of shame for any politicians who are accepting money from the NRA and using us as collateral."
When the young adults of Parkland and across the country look at today's America, they can see a storehouse of failure.
They know that the job of the president of the United States is to protect the people of the United States. And they've heard Trump's answer loud and clear. What he always answers at times like this: Don't look at me.
It's life and death, and Trump's on the wrong side.
"We are going to be the kids you read about in textbooks. Not because we're going to be another statistic about mass shooting in America," said shooting survivor and Douglas high school senior Emma Gonzalez
"We are going to be the last mass shooting."
The young leaders, ferociously determined as they are astonishingly composed, have taken to addressing Trump directly, as did senior David Hogg on CBS' Face the Nation:
"We've seen a government shutdown, we've seen tax reform, but nothing to save our children's lives. Are you kidding me? You think now is the time to focus on the past and not the future to prevent the deaths of thousands of other children? You sicken me."
This week, Trump told the whole world that he won't do a thing even to protect the people of the United States from the direct assault of a foreign enemy. Why, then, should anyone expect him to do anything to protect America's own children from America's own assault weapons?
The week of the Florida massacre, American learned that Russia had, without any doubt, carried out a massive operation to subvert the most fundamental democratic foundations of the United States of America, during that 2016 election which saw Trump win.
"But wasn't I a great candidate?" the president tweeted on Sunday morning.
"Frankly, the United States is under attack," Director of National Intelligence Dan Coats told the Senate Intelligence Committee, adding that Russia is attempting to "degrade our democratic values and weaken our alliances." Trump's own man, CIA Director and ex-Republican congressman Mike Pompeo, told the committee "Yes, we have seen Russian activity and intentions to have an impact on the next election cycle here."
Trump said, don't look at me.
Unwilling to look away, the Parkland students very quickly saw something the rest of us did not.
Trump is scared. He's scared chalk white. Fox News is scared. Fox News has been scared into carrying the voices of the students.
But there's something more important than any of that. Something that explains all of this:
The NRA is scared. In the only country in the world where you can say "gun rights" with a straight face, the NRA suddenly has nothing to say. The most powerful single lobbying force in the United States of America has been scared into silence.
In Parkland, student survivors have formed a group called Never Again. They are determined to stand up to the NRA and fight. They have already used the NRA's own shopworn slogans as powerful ammunition against the group. They are undaunted by the fact that so many catastrophic shootings have gone without any changes in the laws governing guns.
Emma Gonzalez, whose speech to a rally following the killings found resonance the world over, said "We have a incredible support system, and we are going to be the difference."
Added student Cameron Kasky, "We are losing our lives while the adults are playing around. We have received endless support from your generation, and we thank everybody for that immensely, we really appreciate it."
Yet, Kasky added, "We don't need you. On March 24 you're going to be seeing students in every single major city marching. We have our lives on the line here. At the end of the day, that is what's going to be what's bringing us to victory and to making some sort of right out of this tragedy."
The young people are not jaded. They are seething in anger. And they believe with everything they have, that democracy in America still has strong enough foundations to defeat even the gun lobby.
"If our elected officials are not willing to stand up and say 'I'm not willing to continue to take money from the NRA because children are dying'," said David Hogg, "they shouldn't be in office, and they won't be in office, because this is a midterm year, and this is the change that we need."
In Donald Trump's America, something has changed. The NRA, for the first time ever, is in trouble.
It faces the wrath of an enormous potential coalition of electoral opponents in November, fueled by the votes of young people, women, minorities, and many others sick to death of the uniquely American pandemic of gun slaughter.
The night of the Parkland murders, former congressman David Jolly of Florida shocked his Republican colleagues by coming out with an entirely unexpected strategy for successfully passing gun control legislation in the future.
"First, flip the House," Jolly said, using the term for striving to overturn the Republican majority through midterm elections. "Flip the House. Republicans are not going to do a single thing after this shooting we saw today.
In an interview with CNN, Jolly said, "Let's be brutally honest about what we do know, and I say this as a Republican. Republicans will never do anything on gun control. "
And one more word about how America looks from a distance. Just how warped are U.S. gun laws. A small sample:
In Florida, the legal age for buying beer and other alcohol is 21. You must also be 21 to purchase a handgun.
But if you're only 18, you can legally buy an AR-15 assault rifle. As did Nikolas Cruz, 19, who in February of last year, bought from a licensed dealer the assault rifle he used to massacre Parkland students and teachers.
After the October mass shooting in Las Vegas which left 58 dead and more than 850 wounded, there was a broad outcry to ban bump fire stocks, the install-it-yourself modification which enables owners of assault rifles to shoot dozens of victims in a single minute.
Not only did the federal government fail to ban bump fire stocks - and not only was there an immediate, sharp rise in bump fire stock sales - but the first post-Las Vegas gun-related legislation passed by the Republican House was a bill to make it much easier for gun owners — including, the Washington Post noted, those with dangerous histories — to carry concealed, loaded firearms across state lines and across the country.
At the time, the NRA called expanding the carrying of hidden weapons its "highest legislative priority."
During last week's student rally which has spurred - yes - newfound respect for America around the world, senior Emma Gonzalez declared:
"If the president wants to come up to me and tell me to my face that it was a terrible tragedy and how it should never have happened and maintain telling us how nothing is going to be done about it, I'm going to happily ask him how much money he received from the National Rifle Association."
But she already knew the answer, she continued: "Thirty million dollars."
"They say no laws could have prevented the hundreds of senseless tragedies that have occurred. We call BS," she said.
The students know something about Trump's weaknesses which perhaps Trump himself doesn't know. It begins with this:
Trump has only one side. His own. He's not on the side of America. He's only on the side of Trump. Don't look at me, he says, and he means it. America First? Not hardly. It's Trump First. And Trump Only.
Americans know they need to protect themselves. Their lives are truly on the line. They need to protect themselves from the NRA. And when it comes to protecting them, they are learning that Donald Trump is the last person they should look to for help.
Come November, with the help of extraordinary young people nationwide, they'll be looking elsewhere.
Click the alert icon to follow topics:
ICYMI
Ken Burns' Brilliant 'The U.S. and the Holocaust' Has Only One Problem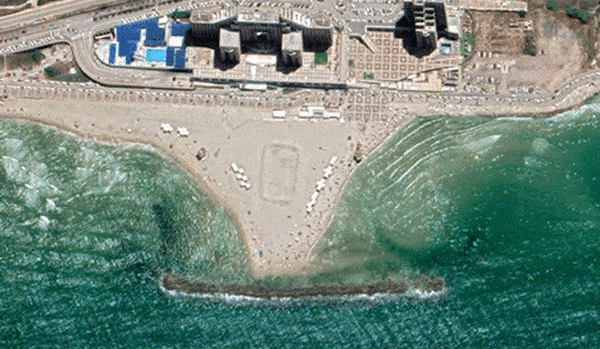 Facing Rapid Rise in Sea Levels, Israel Could Lose Large Parts of Its Coastline by 2050
Lapid to Haaretz: 'I Have Learned to Respect the Left'
The Mossad's Fateful 48 Hours Before the Yom Kippur War
As Israel Reins in Its Cyberarms Industry, an Ex-intel Officer Is Building a New Empire
How the Queen's Death Changes British Jewry's Most Distinctive Prayer