Opinion |
The Women's March Felt Good. But the Only anti-Trump Act That Counts Is a Punch in the Mouth - at the Polls
At New York's Women's March 2018 we savored our self-righteousness at witty signs declaring 'Yay! Payoffs To Porn Stars Are Now Tax-Deductible'. But a thousand posters of Trump's sphincter-like mouth with the word 'Shithole' can't replace the granular, boring, necessary work of getting out the vote
Participants in the Women's March in Chicago, Illinois, U.S. January 20, 2018
Credit: \ JOSHUA LOTT/REUTERS
Seven presidential elections ago, way back in 1992, a personal relationship guru named John Gray published the book "Men Are From Mars, Women Are From Venus." What Gray meant by his astrological metaphor was that the sexes approach life so irreconcilably that they might as well have come from different planets.
That otherwise forgettable confection of pop psychology has stuck in my mind these past few years as I have contemplated how America could have swerved from the Barack Obama coalition, with all of its demographic advantages, to the white-supremacy restoration led by Donald Trump, which took power while substantially losing the popular vote.
The way I explain this implausible realignment, per John Gray, is that conservatives do party politics and liberals do causes. The interest groups and major donors of the right, whether the National Rifle Association or the Koch Brothers, consciously labor for the Republican Party's gain. The Tea Party movement took over the party establishment like an invasive species.
On the left side of the political divide, all the energy goes to issues, whether it was the anti-Vietnam War movement a half-century ago or same-sex marriage in the last decade. The presidential candidates who excite the liberal constituency are those who present themselves as too pure for the sullied compromises of political parties – Eugene McCarthy, George McGovern, Barack Obama, Bernie Sanders.
So, as my wife and I joined the crowd Saturday on Central Park West for the second annual Women's March, I could not help but feel caught between elation and wariness. Marches are what we liberals are good at, with the witty signs, the street-theater marionettes, the impromptu drum lines and amateur brass bands.
How can you not smile and savor your self-righteousness when you see a sign declaring, "Yay! Payoffs To Porn Stars Are Now Tax-Deductible" or a poster of Donald Trump's sphincter-like mouth with the single word "Shithole." They brought back memories of last year's march, where my favorite protestor, in reference to a rumored Trumpian sexual kink, wore a shower nozzle that rained down streams of yellow tinsel.
On that day, the Women's March served a vital and visceral purpose. It was the moment when the tens of millions of Americans who had voted against Trump, and been almost literally paralyzed by the unforeseen victory, got up off the floor and decided to fight.
The reality, though, is that our fights these past 12 months have mostly been of the rear-guard variety. We have depended on federal district courts to stave off the various forms of the Muslim ban. We have relied on the military brass to essentially ignore the ban on transgender soldiers. We have needed the all-too-rare Republican dissidents to supply just enough swing votes to derail Trump's effort to destroy Obamacare.
Trump has done so much damage and committed so many outrages since last January that it was disorienting to look at the marchers in their pink pussy hats and read signs referring to "Nasty Women" today and realize that those controversies were of recent vintage, not from some distant decade. Satire can barely keep up with Trump's production of raw material.
So the second march needs to lead to more than the sugar high of #Resistance. It needs to be about pouring all the justifiable wrath against Trump into the granular, boring, and necessary work of retail politics – the politics of phone banks, door-knocking, cash donations, driving voters to polls, confronting Trump's House and Senate enablers when they dare to hold town-hall sessions.
It was heartening to see volunteers, clipboards in hand, registering voters at several of the intersections my wife and I passed. I appreciated the messaging in some of the placards: "Bring #Woke Is Good, Voting Is Better," "November 6, 2018, The Day Snowflakes Become An Avalanche."
Fulfilling such a prophecy, however, requires a broad-based commitment to the gritty toil of party politicking. Far from its portrait as a messianic achievement, the Civil Rights Movement combined the rhetoric of moral persuasion with practical goals and tactics for achieving them. In contrast, the Occupy and Black Lives Matter movements have so far failed to translate their necessary critiques of American society into the political power to correct that society. In the coming months and years, we will find out if #MeToo falters in the same way.
Intersectionality, as the left-wing philosophy of the moment, insists upon a magical convergence of all forms of victimhood. But the Democratic Party, from Franklin Roosevelt's time through Bill Clinton's, offered a viable, if imperfect, version of realistic intersectionality: the party as the broker that balanced the legitimate self-interests of its constituent groups, none of them getting everything, none being denied a seat at the table.
Already, I can see my fellow liberals taking far too much comfort from Trump's record-low approval ratings, as if we have forgotten that he won election with abysmal favorability numbers. We have put way too much emphasis on Democratic victories for the governorships of Virginia and New Jersey, states that are purple and blue already.
Yes, Doug Jones became the first Democratic senator from Alabama in decades, but it took an epic turnout of African-American voters for him to barely scrape past a credibly-accused child molester. Last week's upset win by a Democrat in a flyspeck-sized state-legislature district in Wisconsin has been interpreted as the augury for a Democratic wave to take back Congress in 2018.
No such wave will arrive if the Democratic base and sympathetic independents turn out in paltry proportion, as they have in the last two midterm elections, both Republican landslides. There is no hope of changing the minds of any Trump voter; there is only the urgent goal of outnumbering them.
Trump's impregnable appeal rests not on the standard-issue Republican program of tax cuts for the rich and rolling back government programs for the poor, which any of his GOP competitors from Jeb Bush to Ted Cruz would also have done; Trumpism relies uniquely on his overt appeal to hatred and his legitimization of bigotry in the public square. No bully responds to reason. The only thing a bully understands is a punch in the mouth.
Now that the sun is setting on this unexpectedly clement January day and the crowds are dispersing from Columbus Circle and Bryant Park, the to-do list is simple enough. Organize, and organize, and organize. Vote, and vote, and vote. The most important march of all is the one to the polling place on Election Day 2018.
Samuel G. Freedman, a frequent contributor to Haaretz, is the author of eight books, including Jew vs. Jew: The Struggle for the Soul of American Jewry. Twitter: @SamuelGFreedman
Click the alert icon to follow topics:
ICYMI
Ken Burns' Brilliant 'The U.S. and the Holocaust' Has Only One Problem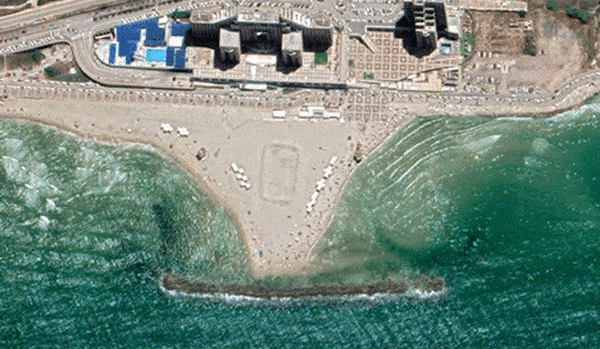 Facing Rapid Rise in Sea Levels, Israel Could Lose Large Parts of Its Coastline by 2050
Lapid to Haaretz: 'I Have Learned to Respect the Left'
The Mossad's Fateful 48 Hours Before the Yom Kippur War
As Israel Reins in Its Cyberarms Industry, an Ex-intel Officer Is Building a New Empire
How the Queen's Death Changes British Jewry's Most Distinctive Prayer