Opinion |
ISIS Wants to Build a Base in Palestine. Donald Trump's Just Given It the Best Recruiting Tool
Battered in Syria and Iraq, ISIS is intensifying efforts to attract Palestinians jihadists away from 'apostate' Hamas, deriding its weak response to the Jerusalem decision by Trump, the 'senile hallucinating crusader'. But an intense jihadi backlash means now ISIS itself is accused of being the 'agents of the Jews'
Graffiti depicting the ISIS flag in Ma'an, Jordan. Oct. 28, 2014.
Credit: AP Photo/Nasser Nasser
It was far from surprising to see jihadi groups immediately capitalize on President Trumps formal recognition of Jerusalem as Israels capital. Their responses were generic products of a decades-old rhetorical strategy: threatening attacks, condemnations of Israel and the West, calls to jihad, and the promise to "liberate" the al-Aqsa mosque.
ISIS was strangely quiet on that matter, though, responding via a low-key article its weekly Naba newspaper. And, as I noted, the spent more time criticizing the global Islamist powers than Trumps decision itself.
But ISIS silence would prove short-lived.
On January 3, the group was all-in for capitalizing on Trumps decision with a new video from its Sinai Province in Egypt. And the video zeroed in on a new enemy, and fellow terrorist-designated entity: Hamas.
Dubbed "The Faith of Ibrahim," the 20 minute documentary-style video opens with footage of Trumps announcement, Israeli Prime Minister Benjamin Netanyahu, and of Jerusalem.
In the background, the narrator accuses Hamas of "betraying" Palestinians and the Muslims for allowing such a move to happen:
The apostate gang of Hamas took advantage of the great place that Allah had made for al-Aqsa inside the very heart of the Islamic Ummah, to achieve its own political party interests even if the price for those filthy worldly interests was the blood of the Muslims, and that the Al Aqsa issue...was neglected and forgotten. All until this senile hallucinating crusader dared to announce Jerusalem as the capital of the Jewish statelet.
Featured in the video is Abu Kadhim al-Maqdisi, the ISIS Sharia judge in ISIS Sinai Province, who condemns Hamas as "the disbeliever party in Gaza" and "worshippers of their own interests."
It also responds to Hamas crack-downs on ISIS supporters in Gaza, criticized Hamas' ties with Egypt (and tightening of the border with Sinai), and Hamas relationship with the Iranians, Hezbollah, and other Shiite entities.
In the closing segment of the video, Abu Kadhim issues a fatwa [religious edict] announcing that shedding the blood of Hamas members is permissible, and urges attacks on the group's members and interests:
Repel their assault, and respond to their aggression. Never surrender to them. Use explosives, silenced pistols and bombs. Bomb their courts and their security locations, for these are the pillars of tyranny that prop up its throne. Fight the followers of Satan, for the plots of Satan are weak. Do not spare any cursed Rafidha [Shiite] in Gaza or any Christian disbeliever, insolent atheist, or apostate Brotherhood member.
ISIS doubled down on its declaration of war against Hamas, showing the sadistic execution of an alleged Hamas' military wing Izza Deen al-Qassam fighter.
From Arab leaders and major Muslim communities, all the way to fellow jihadi militants in Syria, Yemen, Somalia and elsewhere, it is nothing new for ISIS to shed the blood of those once thought untouchable.
But this video shook the global jihadi community. Jihadists not aligned with ISIS condemned its execution of a "mujahid" (holy warrior) while bashing ISIS as "the Khawarij [renegade] dogs of hellfire in Sinai," and wishing, "may Allah avenge his blood."
One jihadi channel posted series of messages about the video stating in part:
This video has exposed the khawarij dogs of hellfire that they are the agents of the jews whether they know it or not and whether willingly or not. How can the jews not be happy with such neighbours [sic] in Sinai? They should even provide them with weapons and supplies to do the dirty work for them against the Muslims in Gaza.
Astonished, jihadis struggled to understand why ISIS would issue a fatwa against those attacking Israel. One Telegram channels lengthy post stated in part:
Is this how they [ISIS] support Al-Aqsa after the announcement of Trump making it the capital of Israel?
"Tawheed Awakening," a prominent ISIS Telegram channel among Western jihadists, criticized ISIS asking:
While The Mujahideen [Hamas] are inciting against and are killing The Yahood [the Jews] and their agents, The Khawarij dogs [ISIS ] of Hellfire are killing those who are killing and fighting the Yahood and who are their biggest enemies.
In a series of posts criticizing the new ISIS fatwa, the "Muwahid" channel declared:
This is clearly helping the jews in open daylight. They [ISIS] declared war on Hamas and Kataib Qassam [Issa Deen al-Qassam Brigade] and forgot all about the jews, rather they are even helping them by preventing weapons from reaching the mujahideen in Gaza who fight against the jews.
This video has exposed the khawarij [renegade] dogs of hellfire that they are the agents of the jews whether they know it or not and whether willingly or not.
Users on jihadi chat groups furthermore called ISIS "idiots" for "helping the Jews." One user wrote:
As I said before, daesh are proxies of Israel. Now even further evidence has been revealed. A Khilafah which kills the killers of the Jews
Jihadists even published graphics of ISIS leader Abu Bakr al-Baghdadi covered with the Israeli flag.
The jihadists were equally astounded by the ISIS videos denunciation of Ahmed Yassin, a Hamas spiritual leader and founder, as "an apostate infidel." This is no small statement to make: After Yassin was assassinated by Israeli forces in March 2004, Osama bin Laden himself vowed to avenge his killing.
The al-Muwahid channel wrote of ISIS bold declaration:
ISIS channels proud of their latest video from Sinai because of the Takfir [excommunication] on Shaykh Ahmad Yasin. While Shaykh Usama bin Laden promised to take revenge for him against the Jews. So who changed?
ISIS supporters, amid a rabid anti-Hamas online campaign for the new video, countered these criticisms with their own "agents of the Jews" insults, among others. "Mustafa al-Iraqi," a prominent pro-ISIS Telegram channel, fired back:
Even when its clear for the blind and the one who can see, that the murtad (apostate) Hamas have not been fighting the Jews for years and instead turned their weapons on salafis and Islamic State supporters in Gaza. Imprisoning them, torturing them, executing them, preventing them from leaving to join Wilayat Sinai.
Just die in your rage ya munfiqn [hypocrites]
Another pro-ISIS channel distributed a summary of the video, containing a strong emphasis on its branding of Hamas as an "apostate gang" for its "moderation" and being friendly with infidels." The Telegram channel also encouraged other ISIS supporters to disseminate the video to the largest possible extent:
So all the unifying brothers from the supporters should copy this pamphlet and publish on all your pages and channels, for I do not want [to] share it a way that the life of the pamphlet is tied to [only] one account, because it could be closed at any time.
The day after the video was released, ISIS doubled-down on its enmity with Hamas through an infographic in its Naba newspaper. Echoing the Sinai Province video, the infographic labeled Hamas as an apostate organization for "writing kufr legislations," forming "alliances with tawaghit [tyrants] of Iran and others," and "coordinating and seeking assistance to fight the muwahidn [monotheists] in Wilayat Sinai and other places."
So what card is ISIS playing? Common sense would suggest that a group like ISIS, militarily battered and shrinking in its territory, has little room to make new enemies, right?
Not in this case.
ISIS choice to make enemies with a heavily-funded group, recognized by both Arab and Western communities as the most significant force against Israel, comes at a perfectly timed intersection between ISIS military straits and geopolitical circumstances.
ISIS is shrinking in Syria and Iraq, and to set up a base in a place like Palestine, even if it be through a more guerilla-like presence, would be a significant way to compensate. And, with Trump's announcement of Jerusalem as the capital of Israel, ISIS sees a golden opportunity to exploit a newly invigorated anger among Palestinians.
To expand into Palestinian territory has been an far-from-hidden goal of ISIS Sinai Province. This provincial division of ISIS, which proved capable of massive and sophisticated attacks (like the October 2015 downing of Metrojet Flight 9268, one of the only airplane bombings in decades), has lately been one of ISIS most active provinces.
Furthermore, of all the global jihadi groups, ISIS proved itself to be the only one able to recruit Palestinians and have attacks carried out in Israel in its name.
ISIS Sinai province is based in the north-east area of the Sinai Peninsula, near the border with the Gaza Strip. As most of its recruits come from Gaza, Hamas has been working closely with the Egyptian government to tightening those borders, creating a major obstacle for ISIS in expanding its operations there.
In short, ISIS has the potential for a base of supporters in Gaza, but Hamas is stopping it.
Hamas is also, without a doubt, the most significant terrorist force against Israel, and is even believed to be planning a large scale attack in retaliation for Trumps Jerusalem announcement. Thus, ISIS cannot address Palestinians or the region without addressing Hamas as well.
Indeed, the jihadists backlash against ISIS for its killing of a Hamas operative on video is not a PR crisis for the group, nor a loss of face. It is exactly what the group wants: to disrupt and dismantle the decades-old jihadi establishment and its modus operandi, and ultimately to tap into the darkest niches of anger regarding the Palestinian situation. As weve seen in the last four years, inter-factional and ideological rifts have rarely if ever damaged ISIS.
That said, ISIS' newly intensified outreach to Palestinians shouldnt be seen merely as mere shock material. ISIS released "The Faith of Ibrahim" video at a time where many Palestinians are angry and hopeless amid Trumps Jerusalem announcement. That move was seen as a large step backward after decades of promises by local and global jihadi organizations to "step with our dusty feet upon the courtyards of al-Aqsa and cry 'Allahu Akbar' in celebration and conquest."
Couple that mounting dissatisfaction with the fact that ISIS, of all non-local jihadi organizations in the Israel-Palestine region, is the only one to have proven influence, through coordinated and inspired attacks, and you have a potentially dangerous set of circumstances.
Of course, ISIS, an organization with no end-goal apart from its fixed vision of a caliphate, has nothing to offer Palestinians except increased bloodshed and chaos. But as weve seen time and time again, where there is anger and instability, there tends to be a lot of room for the worst of ideas to gain momentum.
Rita Katz is the Executive Director and founder of the non-governmental counterterrorism organization, SITE Intelligence Group. She has tracked terrorist networks for decades and regularly leads research into terrorist communities online. Ms. Katz is the author of Terrorist Hunter: The Extraordinary Story of a Woman who Went Undercover to Infiltrate the Radical Islamic Groups Operating in America (Harper Collins, 2003). Twitter: @Rita_Katz
ICYMI
Ken Burns' Brilliant 'The U.S. and the Holocaust' Has Only One Problem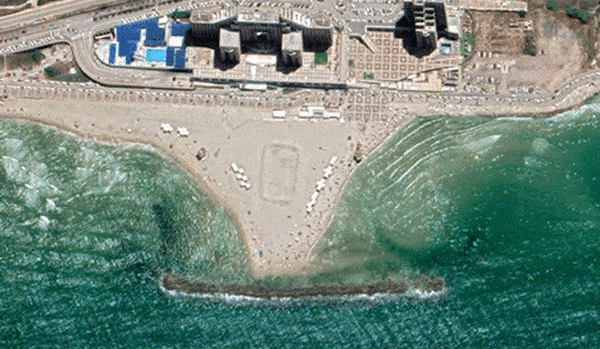 Facing Rapid Rise in Sea Levels, Israel Could Lose Large Parts of Its Coastline by 2050
As Israel Reins in Its Cyberarms Industry, an Ex-intel Officer Is Building a New Empire
How the Queen's Death Changes British Jewry's Most Distinctive Prayer
Chile Community Leaders 'Horrified' by Treatment of Israeli Envoy
Over 120 Countries, but Never Israel: Queen Elizabeth II's Unofficial Boycott