Opinion |
If I Were Palestinian, Would the Knife-wielding Settler Who Attacked Me Have Faced Justice?
The toxic environment of radical Israeli settlements is incubating violence, while Israel's security forces has a miserable record of bringing those who attack Palestinians to justice
A settler attacks Rabbi Arik Ascherman, who worked for Rabbis for Human Rights at the time, with a knife near the settlement of Itamar in West Bank. October 23, 2015.
Credit: Rabbis for Human Rights
In 2015, a masked minor from the settlement of Itamar attacked me with a knife and rocks as I was trying to direct Israeli security forces to a fire set by Israelis in a Palestinian olive grove. My attacker was recently sentenced to 150 hours of community service.
He must pay me NIS 5000 ($1435) in damages and will need to pay an additional NIS 5000 if he is involved in violence during the next two years. He won't be incarcerated. There will be no conviction on his record, allowing him a new start, and to enter the army when he reaches the age of conscription.
There has been a sturdy debate surrounding the sentencing from both the left and right political camps: according to their view, the sentence was either proportional, or critically insufficient.
However, both camps focus primarily on the light nature of the sentence. My concern is how to reduce the chance that the sentencing will lead to more attacks by settlers against Palestinians and human rights defenders. There are crucial, but largely ignored, aspects of the sentence that, I believe, could actually lead to fewer attacks.
First of all, my case was unusual. Statistically, when Israeli settlers or right-wing activists attack Palestinians, they are rarely arrested or prosecuted. According to human rights group Yesh Din, between 2013-2016, a mere 20 cases out of 289 cases of Israeli nationalists committing ideologically motivated offenses against Palestinians led to indictments against offenders – just 8%. 225 cases closed upon completion of the investigation without any indictment.
This time, I was attacked as a human rights defender. But as an Israeli Jew, my case appears to have been dealt with by Israel's justice system in a far more just and efficient manner than almost all Palestinian victims of violence.
I requested that my case to be made public, even though this is not usually done when the offender is a minor, to put pressure on the Israeli police and legal system. My case proves the police and the legal system can do much better, if they want to, in all those other cases when Palestinians have been the target.
There was clear video of my attack, but that's been the case in other incidents too, for instance when masked youth mercilessly beat an elderly couple with a bat. Indeed, in the three month period from April-June 2017, nine violent incidents have been caught on video in which settlers have thrown stones and attacked Palestinians, activists and even Israeli soldiers. There are no suspects in custody in any of those cases. In some cases, Israeli identity cards have been found at crime scenes, but still, no arrests were made.
If my attacker was identified, charged and sentenced within two years, then we must remind the police that they are capable of this same commitment to time and resources and justice every time. There is no excuse for the miserable record of the security and police forces in bringing to justice those who assault Palestinians.
To those who criticized the sentencing of my attacker as unduly lenient: My attacker indeed received a light sentence - because he has worked hard at his own rehabilitation.
While I share the concerns that a non-custodial sentence may encourage future attacks against Palestinians and activists, it is wrong to view this simply as leniency towards a violent perpetrator.
The sentencing decision states that my attacker has undergone intensive non-violence therapy and taken additional steps to rehabilitate himself. He and his family left the Occupied Territories during the period of his indictment. It's true that therapy is no guarantee against recidivism, and perhaps the family will also now return to the West Bank settlement of Itamar.
However, court testimony from my attacker and others indicate he has indeed cut himself off from his former environment, to start anew. This is also an admission of how toxic that right-wing settler environment can be.
At the hearing, I stated that I would like to put on trial those who had inculcated in my attacker the ideas that led him to meet me on that hill with knife in hand. I hope that this testimony can be used to promote change – and that parents and those in positions of educational influence will take heed of the violence their environment has cultivated.
Some say my attacker will never change. However, we just learned in last week's Torah portion, VaYigash, that a person can, and is obligated to, change. Judah has no mercy for his brother, nor thought for his father, when he suggests selling Joseph into slavery. When Joseph, now second-in-command to Pharoah, threatens to take Benjamin as a slave, Judah gives an impassioned speech demonstrating empathy with his father, asking that Joseph take him instead.
If we believe what the probation officer and my attacker's therapist report, this is a story of the success of a young man working hard to rehabilitate himself. His success could be all of our success, and all of society's. It would be a positive message indeed that it's possible to work on one's self - and that we expect a transgressor to do so.
The sociologist Emile Durkheim posited three possible goals of punishment: Revenge, protecting society, and rehabilitation. At the hearing, I made it clear I wasn't interested in revenge, and I didn't see any point to jail time. I asked the court to order steps promoting rehabilitation, while protecting society, including Palestinians.
I am at peace with my decision to request rehabilitation. We must honor God's image in every human being. When a perpetrator works to rehabilitate himself or herself, we should all be giving the backing s/he needs, whether or not s/he is from our ideological camp.
I have mixed feelings about my attacker's lack of a criminal conviction. Would this set a problematic legal precedent and expose a moral hazard? The probation officer thought it would give him his best chance to start over. I want him to have that chance. However, a criminal conviction would have sent a much clearer message.
The officer and the judge also wanted to avoid conviction in order to allow my attacker to be inducted into the army. I requested that my attacker not be inducted if it wasn't completely certain that he would use the power placed in his hands responsibly.
While I want to believe that my attacker's therapy has made a significant change, his therapist recommended that he continue the program. The prosecution pointed out that the probation officer's report raised questions about whether my attacker took full responsibility for his actions.
Even in the best of circumstances, therapy can't guarantee that somebody will not return to their violent ways. Even if he regrets attacking a fellow Jew, what about Palestinians?
The sentence should have included further safeguards. Now it is up to the army. If he is inducted, he must be watched, and not initially placed in situations that put his rehabilitation to the test.
I asked that my attacker be required to meet with a religious Jew who holds different opinions to him regarding Palestinian human rights. My goal was not to change his opinions, but to expand his universe. I argued that a factor leading to his violence, as well as ongoing trauma from the brutal murder of five members of the Fogel family, who lived in Itamar, was a belief cultivated by his environment that God commands "redeeming" the entire Land of Israel by any means possible. Helping Palestinians work their lands threatened the foundations of his world.
When my attacker initially agreed to meet me, in the framework of a restorative justice program, I was thrilled. That turned to disappointment when he pulled out. I then read with surprise, in the court decision, the claim that my attacker pulled out of the meeting because he'd been told that he wouldn't be allowed to express criticism of me. That wasn't a precondition I had set.
If my attacker, or anybody who knows him reads this, I am still willing to meet him - without preconditions.
I truly wish my attacker success as he continues to rehabilitate himself. At the same time, I am concerned about keeping Palestinians and human rights defenders safe. The problematic aspects of the sentence can't be changed, unless the state itself decides to appeal the verdict.
Where we do have some influence is in how the sentence is interpreted in the public sphere.
Potential attackers must not see this case as an automatic legitimization of lenient sentences for violence – which diminishes the gravity of the assaults themselves.
We must send out a clear message, backed by the actions of the security forces, that the police can and will track them down, that Israel's security services will actually do what they are clearly capable of, as my case shows, and that there can be no escaping justice.
Rabbi Arik Ascherman is the founder and executive director of Torat Tzedek -Torah of Justice. He previously led Rabbis For Human Rights for 21 years. Twitter: @RavArik
Click the alert icon to follow topics:
ICYMI
Ken Burns' Brilliant 'The U.S. and the Holocaust' Has Only One Problem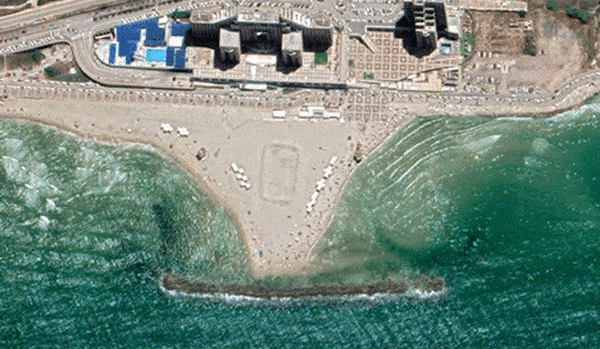 Facing Rapid Rise in Sea Levels, Israel Could Lose Large Parts of Its Coastline by 2050
As Israel Reins in Its Cyberarms Industry, an Ex-intel Officer Is Building a New Empire
How the Queen's Death Changes British Jewry's Most Distinctive Prayer
Chile Community Leaders 'Horrified' by Treatment of Israeli Envoy
Over 120 Countries, but Never Israel: Queen Elizabeth II's Unofficial Boycott