Opinion |
In America's LGBT Community, Can I Be Queer, or a Jew, but Not a Queer Jew?
Jews and queers are natural allies. But the Chicago Dyke March's rejection of Jewish symbols begs the question: Are Jews no longer welcome in LGBTQ spaces?
File photo: Jewish gay pride flags, as shown here in Jerusalem, July, 2016.
Credit: Michal Fattal
Coming out as a bisexual in a queer space is complicated. And not least for Jews. We're not straight, so the heteronormative community makes it clear we're "out of the club." But we're not quite "queer enough" either, so we often get cold-shouldered (if not actively kicked) out of the queer club, too. We occupy this strange liminal space where our personal-identity-cards are under blacklights, scrutinized endlessly to "prove" whether we belong in or out of the "real queer" club.
I'm used to that. I've been an activist for queer rights since I was 15, when I came out because I had a crush on a girl in my cabin at Jewish summer camp but had a boyfriend and was very confused until I learned some new terminology.
I left Georgia for college, majored in Jewish Studies and LGBT Studies—I thought I was in heaven when my advisors allowed me to combine internship requirements with the DC JCC's LGBT engagement program.
Biphobia within the queer community became a regular part of my life, both personally and academically—it was my senior research topic. I've always refused to be inauthentic, to pretend to be "gayer" than I was, or to disrespect all the wonderful relationships I've had (and continue to have) with men by trying to pass myself off as gay in vain hopes of a chance with even the cutest biphobic lesbian. It's simply Not My Thing. I was still in my early twenties when I decided I was already too old and tired to maintain any type of closet around my personal identities.
Never in my life did I think I'd have to consider closeting my Jewish identity in a queer space. But the balagan with the Chicago Dyke March is making that happen now.
Removing Jewish symbolism from a queer event just seems so backwards. Jews (most of us at least) and queers (only most of us, now, too?) make such a natural allyship. Why would you ban the symbol of a community whose history is just as marginalized? A community that has only become accepted as "American enough" within the past few decades, meaning many of our grandparents, parents, or even ourselves (fellow Bible-Belt-Jews, y'all!) clearly remember not being welcome here based on our Jewish background?
And by now, every American-Jewish denominational movement other than Orthodoxy has become pro-LGBT in its statements of principles and leadership, even if some laypeople or individual leaders are still adjusting (and a few sections of the Modern Orthodox community are catching up, too).
My rabbi growing up spoke out – loudly, even by the standards of the Reform movement - against the Defense of Marriage Act and Don't Ask Don't Tell. When I was 16 and a madricha (teaching assistant) at Hebrew school, the Ed Director was the first one to reassure me that, after one of my students saw a pride pin on my purse (I forgot it was even there!) and threatened to get me fired over it (which was, and still is, legal in Georgia, for now), the administration's response would be a school assembly with a speaker from a Jewish LGBT advocacy organization "because this shul believes in your worth as a human being and we want all our students to recognize that worth, too." I was raised to believe that fighting for the right of everyone to live and love without discrimination is a Jewish value.
We Jews have a saying we maybe throw around too much: Never Forget. We'll never forget the Holocaust's horrific destruction of the European Jewish, queer, Romani, disabled, and more communities. But we throw it around so much because it's that important: Human beings have worth, and discounting that worth is never acceptable. Never Forget how easy it is to fall into the oh-so-human trap of Othering the exact human beings you should be embracing.
By demanding the removal of Jewish symbols from a queer space, the organizers of the Chicago Dyke March have shown their true colors, and these are not the pretty rainbow ones.
They are showing us that Jews are not welcome in LGBT spaces. They are saying that it's impossible for queer Jews to be complex human beings who can both support queer rights at home and general human rights abroad. They are perpetuating the misconception that Jews, Judaism, Zionists, and Zionism are inseparable and therefore it is impossible to be critical of the philosophies without rejecting the people. They are pushing an agenda of thinly-veiled anti-Semitism where a message of community pride in diversity used to flourish.
Sometimes the "anti-Zionism isn't inherently anti-Semitism" argument can hold water, but in this case? None whatsoever. The symbol being banned is the Jewish star, not the Israeli flag. A six-pointed-star on a rainbow flag is a Jewish queer pride flag, just like a crescent on a rainbow flag would be a Muslim queer pride flag and a cross on a rainbow flag would be a Christian queer pride flag. Argue all you like that "it's different because the Israeli flag has stripes on it," but think about it for half a second longer, and maybe you'll see why I call it out as shenanigans.
Would a rainbow Muslim crescent flag be 'accused' of being solely for 'Azerbaijani Pride,' also a striped flag, or any of the other 12 Muslim countries with the crescent on their flag, rather than overall Muslim pride? Would a rainbow cross flag be considered only British or Danish or any of the 31 countries with crosses or cross-based symbols on their flag rather than queer Christian pride in general? Why is the Jewish star so different, unless anti-Semitism is at play here?
American Jews are not monolithic. Some of us are Zionist, some of us are anti-Zionist, some of us don't give a flying felafel about Israel's politics either way. That's not what the Chicago Dyke March organizers seem to think: apparently, to them, all American Jews blindly shill for Israel, so there's no room for Jews in progressive activism.
But Sarsour was wrong, and the Dyke March organizers are, too: I can support the rights of American women and Palestinian women and Israeli women. I can support LGBT Americans and Israelis and Palestinians. I can be feminist/pro-queer/pro-Israel/pro-Palestinian all at once. Human beings, including queer American Jews, are fully capable of encompassing complex, nuanced opinions – even if the Dyke March organizers are too blinded by anti-Semitic faux-rage to be capable of recognizing that fact right now.
We could use this incident to open a dialogue about how we navigate the liminal spaces between our intersecting communities' ideals and values, to shine a "Light Unto The Nations" for other advocacy movements, but banning the symbol of the Jewish people from a Pride march does nothing but demonstrate the organizers' lack of faith in the Jewish-queer community's humanity.
Queer spaces and Pride events are – or should be – for LGBTQ folks of all backgrounds, but if Jewish participation with even the faintest whiff of Israel supposedly poisons the parade, then it's high time we embarked on a serious leadership detox and cleared the way for a less anti-Semitic Pride month next year.
Rae Antonoff, MAJE, is an artist and freelance Jewish educational consultant & curriculum designer based in Los Angeles. A graduate of the University of Maryland-College Park and Hebrew Union College-Jewish Institute of Religion, she is an artist and an educational entrepreneur, whose latest endeavour, www.JLearnHub.com formally launches in mid-August. Twitter: @RaeAnIAm
Click the alert icon to follow topics:
ICYMI
Ken Burns' Brilliant 'The U.S. and the Holocaust' Has Only One Problem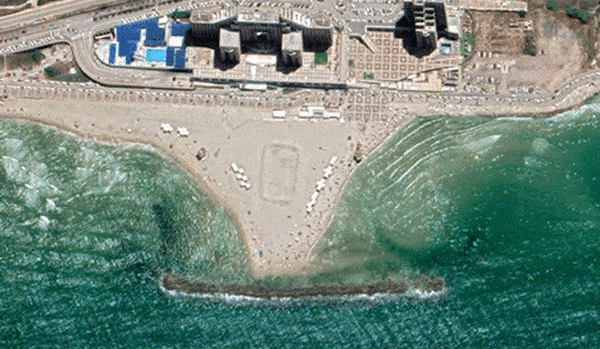 Facing Rapid Rise in Sea Levels, Israel Could Lose Large Parts of Its Coastline by 2050
As Israel Reins in Its Cyberarms Industry, an Ex-intel Officer Is Building a New Empire
How the Queen's Death Changes British Jewry's Most Distinctive Prayer
Chile Community Leaders 'Horrified' by Treatment of Israeli Envoy
Over 120 Countries, but Never Israel: Queen Elizabeth II's Unofficial Boycott