Opinion |
Wounded but Alive: It's Not Yet Game Over for Turkey's Democracy - or Its Resistance
It's too early to declare the Turkish Republic dead and buried. The president's popularity has maxed out at 50 percent of the population, and the anti-Erdogan opposition won't be silenced
"No" supporters in Besiktas, Istanbul submit their petition calling for the referendum's annulment, claiming blatant vote-rigging had swung the result. April 18, 2017
Credit: BULENT KILIC/AFP
Walking the streets of Istanbul just a week before the country's fateful referendum, from any and every point I could see the larger-than-life faces of the country's president, Recep Tayyip Erdogan, or his Prime Minister, Binali Yildirim, trying to convince voters to get out and vote "Yes," for a 'better' Turkey. That entirely disproportionate number of "Yes" campaign posters filled the streets of even overwhelmingly anti-AKP neighborhoods; even there very few posters could be seen pushing a "No" vote.
Nevertheless, I sensed hope among many "No," voters, who believed that in the end, it was the Turkish people who would decide the fate of the referendum and not posters. Further, what might have appeared to some as a lack of organization among the "No" camp, was actually a strategy; the secular-CHP, the smaller, mostly Kurdish, HDP, and other fringe parties and civil organizations, maintained a significant measure of autonomy, presenting their case to their own constituencies, in place of opting for a unified campaign. Solidifying each voting bloc rather than attempting a one-size fits all campaign.
But it wasn't only the Yes vote takeover of the public space that constituted an unfair playing field. The whole referendum process itself took place under a State of Emergency. While the government had a free hand to do what it wanted, some of the strongest voices in the "No" camp were severely constrained: some are sitting in prison, such as the co-chairs of the HDP party, Selahattin Demirtas and Figen Yuksekdag, together with government critics, not least a slew of journalists, such as Ahmet Sik and Kadri Gursel.
While the Turkish government claimed foul play in Europe, when some European leaders blocked Turkish officials from campaigning on European soil, 'No' campaigners ironically faced bans within Turkey itself. The Ankara rally of Meral Aksener, the rising voice among Turkey's nationalists, was cancelled by the local authorities unwilling to provide her security. Aksener was not just aiming her opposition at Erdogan, but also her former party head, the nationalist MHP leader, Devlet Bahceli, who repelled many party members with his support for Erdogan, seen as a desperate tactical attempt to hold on to power.
Another 'No' campaigner, Tuna Beklevic, was prevented from holding rallies on the grounds that his party hadn't been officially recognized, despite fulfilling all the requirements. Beklevic persevered, visiting numerous cities and using Facebook to hold a virtual rally which attracted almost 70,000 viewers.
Well, the government ended up with a huge surprise last Sunday when - despite some polls predicting an easy victory for them - the opposite occurred. The "No" camp gave Erdogan, and his weak nationalist ally, Devlet Bahceli, a run for their money, with Turkey's three major cities, Istanbul, Ankara, and Izmir (and many other urban centers) going to the "No" camp. Even if the "Yes," camp won on bare numbers, the outcome of 51.41 percent to 48.59 percent was achieved only among serious concerns of mass voter fraud.
Since the referendum results were released, protesters have taken to the streets across Turkey demanding the Supreme Election Council explain its last minute acceptance of over a million "non-stamped ballots," and address a long list of documented irregularities. However, the Council has flatly rejected their call, strengthening fears that it too has all but become a government mouthpiece. Unfortunately, the "No" camp has little power to enforce its demands and its attempts to bring it to the Constitutional Court will have a slim chance at best to produce results. However, its persistence stains the legitimacy Erdogan so longs for.
So where from here? Some analysts have gone so far as to declare the end of the Turkish Republic, reiterating much of their pre-referendum coverage, which characterized the vote as a zero-sum game of dictatorship versus democracy.
This dichotomy ignores the fact that even if the "No" camp had won the referendum, under the current State of Emergency, Erdogan and his AKP party which has a strong grip over Turkey's bureaucracy and government offices, would continue to rule solely (and oppressively if they choose to do so) with or without a referendum victory.
This dichotomy is also problematic due to the fact it transforms the AKP supporters into one unified group, and that their voting "Yes" is a confirmation of their support for a full-blown dictatorship. Admittedly, there are strong political and security arguments why someone might support the constitutional changes. However, in the current political atmosphere, the vote could only polarize the electorate.
On the flip side, this dichotomy robs the multiple oppositions of any agency whatsoever, as if their strong resistance to Erdogan is completely inept and that they are doomed to live under a fascist dictatorship, in which the only hope for them is leaving their homeland.
So, no, it is not game-over for those who oppose Erdogan. Yesterday's Erdogan is no different than today's Erdogan, save for the fact that he has received a strong message that, at least for now, his popularity has dwindled and that his popularity has maxed out at not much more than 50 percent of the population. This is not likely to change in the near future, and if Erdogan does make note of the dynamic changes within the Turkish electorate, he might even lose his bid for presidency in the 2019 elections, never having the chance to rule with super-presidential powers accorded to him in the referendum.
For the opposition, the arrests of protesters taking part in post-referendum protests, with one even being charged with "delegitimizing the "Yes" victory", the referendum is not a turning point but rather a continuation of "more of the same." The victory of capturing Istanbul, where almost 25 percent of the overall Turkish population resides, together with the belief that the vote was stolen, has emboldened them for now, showing that they are very much alive. True, this most likely will not continue, in which case, silent resistance to Erdogan's power will return, as the risk of arrest outweighs the urge to take to the streets.
Like Erdogan, who needs to reassess his base, the opposition groups need to as well. Will Meral Aksener be able to form a successful party that will replace Bahceli's MHP, providing a new path for the nationalist opposition? Will a center-right party emerge from former AKP members challenging Erdogan? Will the secular CHP be able to reach out to new groups, create fronts, which will be able to break their normal 25-27 percent of the overall vote in parliamentary elections? Will these parties create a dynamic where the mostly Kurdish leftist HDP can remain a relevant party in light of the mass arrests that have taken place during the last almost two years? These questions are just a few of many pressing questions that could prove a challenge to Erdogan and his AKP party in the future.
It is for these reasons that the referendum victory of the AKP should not be seen as a turning point but rather a continuation of the standoff between Erdogan's AKP and different oppositional forces, one that unfortunately promises more instability, a continued sluggish economy, and frustration among those who do not see eye-to-eye with Erdogan and his hard-core supporters.
Nevertheless, one only need to look at Turkey's shaky history to understand that just as its jails have revolving doors, new political systems, such as the post-referendum constitutional changes, can also be discarded over time. While many can predict what Turkey might look like in two years, what it might look like in a decade is still very unclear. While the path and determination of Erdogan is clear, the opposition could splinter further while the jockeying continues for its leadership, which may result in a force weakened even further and incapable of any real challenge to the newly empowered president.
Louis Fishman is an assistant professor at Brooklyn College who has lived in Turkey and writes about Turkish and Israeli-Palestinian affairs. Follow him on Twitter: @IstanbulTelaviv.
ICYMI
Ken Burns' Brilliant 'The U.S. and the Holocaust' Has Only One Problem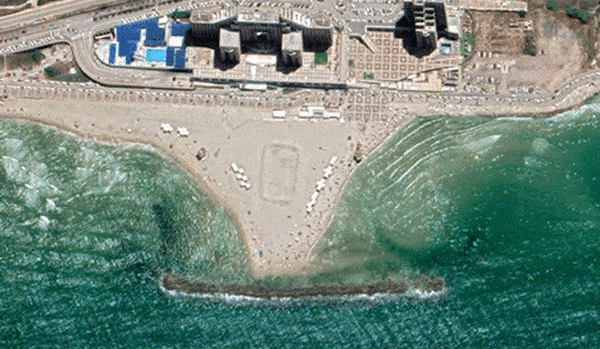 Facing Rapid Rise in Sea Levels, Israel Could Lose Large Parts of Its Coastline by 2050
As Israel Reins in Its Cyberarms Industry, an Ex-intel Officer Is Building a New Empire
How the Queen's Death Changes British Jewry's Most Distinctive Prayer
Chile Community Leaders 'Horrified' by Treatment of Israeli Envoy
Over 120 Countries, but Never Israel: Queen Elizabeth II's Unofficial Boycott