Opinion |
This Is What Happens When White Nationalists Get the Keys to the White House
Overt unapologetic racism was once treated as a freak occurrence. Now it's de rigueur.
U.S. Republican Congressman Steve King speaking in Des Moines, Iowa, January 23, 2014.
Credit: AP / Charlie Neibergall
Once again, Iowa Congressman Steve King proved he's the best ally white nationalists have in Washington.
Last week, in comments so unsubtle they make Donald Trump seem like the master of innuendo, King stoked controversy with a tweet that praised Dutch far-right leader Geert Wilders (who ended up losing an election). King declared "culture and demographics" as "our destiny" and said "we can't restore our civilization with somebody else's babies."
Days later, King went even further in a radio interview where he predicted a race war in which Hispanics and blacks fight each other, letting white people prevail. "I will predict that Hispanics and the blacks will be fighting each other" before whites become a minority, King said. Granted, this wasn't the first time King co-opted white nationalist rhetoric.
Indeed, King's overt, unapologetic racism stands out, even among the nativist crowd that has overtaken the GOP. But even for a bona fide racist like King, this was a new extreme; predictions of race wars used to be the province of neo-Nazis and the likes of Charles Manson. Yet here was a senior Republican sounding his own version of "Helter Skelter" without once having to say he was sorry.
While few would go as far as he did, King isn't alone in this: His race-war baiting is symptomatic of the rise in the use of white-nationalist tropes by American politicians. While few publicly endorsed his comments (former Ku Klux Klan leader David Duke rushed to his defense), similar rhetoric has been used or echoed by prominent figures on the American far right, some of whom are now senior White House staff, as The Huffington Post noted this week.
Consider, for instance, the unlikely resurgence of the obscure 1970s novel "The Camp of the Saints" by the French novelist Jean Raspail. In this absurdly racist tale about a race war, Europe and the rest of Western civilization have been brought to their knees by hordes of impoverished third-world immigrants.
The book has become a cult favorite among a narrow contingent of far-right extremists and white nationalists in the past four decades, but has recently gained international recognition for being one of Steve Bannon's favorite books. The work has reportedly had a profound impact on Bannon President Trump's chief strategist and senior counselor, the former head of Breitbart News, and the ideological heart of the administration.
More than once, Bannon has referred to the Syrian refugee crisis to a "Camp of the Saints-type invasion."
Miller, Gorka and others
The central message of the novel (if one could call it that), that non-Christian, non-white peoples are incompatible with Western civilization, speaks to the anti-immigrant panic that has become the crux of the American right. It also speaks to the "Clash of Civilizations" narrative promoted by Trump and other advocates of anti-Muslim measures.
Trump policy advisers Stephen Miller and Sebastian Gorka also seem to have a similar hysterical take on immigration. Miller (who is Jewish) is the architect of Trump's first travel ban, co-author of his "American Carnage" inaugural address and the writer of his speech at last year's Republican National Convention that presented a vision of America as a run-down wreck overtaken by immigrants thanks to corrupt liberal elites. Along with Bannon, he's the chief architect of Trump's immigration policy.
Gorka, who may or may not be a sworn member of a Nazi-affiliated far-right order in Hungary, has called the acceptance of Muslim refugees "national suicide" and said the front line in the war against Islamic radicals "is when you leave your house in the morning."
In the Camp of the Saints camp one can also find National Security Council official Michael Anton, who once said Islam is a violent religion wholly "incompatible with the West."
And these three are the moderates. Before the election, on Bannon's radio show, Trump surrogate Roger Stone warned of a future in which "hordes of Islamic madmen are raping, killing, pillaging, defecating in public fountains, harassing private citizens, elderly people." This panic-induced incitement wasn't an anomaly, it was standard for the show.
Then there's King, leader of the "Hell No" caucus, a band of far-right Republican congressmen who for years stood in the way of immigration reform; the same King who once called immigration a "slow-motion holocaust." King also once compared immigrants to dogs and defended it by saying it was a "compliment."
King, who once wanted to build a electric fence on the border, went so far as to design a mock-up, saying "we do that with livestock all the time." He also once asked: "did any other subgroup of people contribute more to civilization" than white people?
That same King, the King who wants to "purge leftists" from the executive branch, is a close ally of Trump. The two even campaigned together during the 2014 midterm elections.
King 'the great mentor'
Ideologically, King shares a worldview with the leaders of the so-called "alt-right." In the radio interview where he made his comments about blacks and Hispanics fighting each other, King also recommended "The Camp of the Saints." Bannon once called him "a great mentor to all of us and a great friend of the site [Breitbart], and a true warrior."
Once a marginal political figure, hated my many of his peers former Speaker of the House John Boehner once reportedly called him an "asshole" King is now a force to be reckoned with in the GOP thanks to his closeness to Trump.
This might help explain the nearly nonexistent resistance of GOP politicians and other conservatives to all this craziness. (Though, for example, Speaker of the House Paul Ryan said he "clearly disagrees" with King, Fox News host Tucker Carlson called his "other people's babies" comments "defensible.")
But really, what moral authority do they have to say anything? For years they've been stoking anti-immigration fears ("Mexicans are taking all the jobs!"), anti-Muslim hatred ("Sharia law is coming to Alabama!") and white panic ("Obama is a Kenyan-born America-hating Muslim! Black Lives Matter is out to murder police officers!"). The race-war narrative was already built in.
Cue the alt-right contingent who, obsessed as they are with "white genocide" and the "browning" of America, upped the rhetoric and made sure everyone understood what all this dog-whistling really meant.
It's hard to remember, but time was not too long ago that the overt, unapologetic racism of someone like King was treated as a freak occurrence (of course, it was never really a freak occurrence). Some insane state senator or low-level congressman would spout some racist nonsense, Jon Stewart's "Daily Show" would do a segment about it, and we'd all laugh about crazy racists living in the past and not worry too much. After all, we thought, there's a low-ceiling for this kind of anachronistic racism, and politicians spouting this sort of nonsense would never amount to much.
But that was before those same people were handed the keys to the White House and control of both houses of Congress. Now the chief proponents of the race-war narrative have all the power in the world to make their apocalyptic visions come true.
Or as the song says: "Look out, helter skelter."
Click the alert icon to follow topics:
ICYMI
Ken Burns' Brilliant 'The U.S. and the Holocaust' Has Only One Problem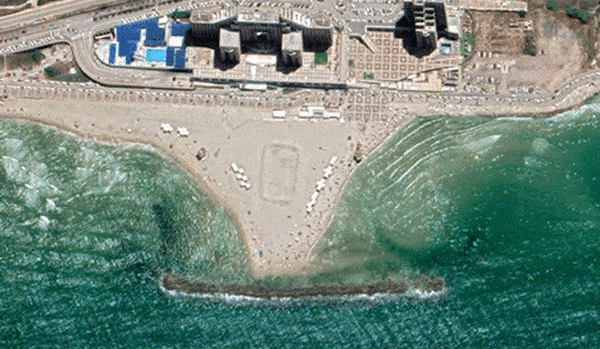 Facing Rapid Rise in Sea Levels, Israel Could Lose Large Parts of Its Coastline by 2050
As Israel Reins in Its Cyberarms Industry, an Ex-intel Officer Is Building a New Empire
How the Queen's Death Changes British Jewry's Most Distinctive Prayer
Chile Community Leaders 'Horrified' by Treatment of Israeli Envoy
Over 120 Countries, but Never Israel: Queen Elizabeth II's Unofficial Boycott