Opinion |
Do People Really Deserve to Die Because They Live in Gaza?
When Haaretz published a story about female cancer sufferers being denied permits to visit Israel or the West Bank for treatment, most of the responses were distinctly lacking in love for the stranger.
A Gazan woman protesting Israel's refusal to grant exit permits to cancer sufferers with appointments in Israel, the West Bank and East Jerusalem.
There was a small story in Haaretz two weeks ago, written by Jack Khoury, dealing with some female cancer patients from Gaza. They were protesting because the Israeli authorities were preventing them from coming to Israel (or East Jerusalem or the West Bank) for medical treatment.
The title of the story on the Hebrew website read, "Gazan patients protest the withholding of permits allowing them to leave for treatment."
The subhead, meanwhile, stated: "According to the demonstrators, the protest began due to the sharp rise in the number of patients who were not receiving permits to leave Gaza for treatment in Israel. Sihan al-Tatri, a leukemia patient, said, 'If they don't give me a permit, they are sentencing me to death.'"
I've been following this story since it came out, although I was mainly interested in the comments posted under the story. On the surface, this story should have melted the heart of any reasonable person, even one posting on the website anonymously. Even though the story concerns Gaza and Arabs (with Hamas lurking in the background), this is ultimately a story about women suffering from cancer who require medical treatment.
According to the comments, though, hearts did not melt. On the contrary, they seemed to harden. People who are dying of an illness no longer arouse compassion; people seeking help no longer move the people who so love to be moved by a performance on "The Voice Israel."
I wondered whether people had really become so hard-hearted, and if this cruelty represents a real change in the Israeli DNA. The words expressed were clear and harsh – but perhaps this very mechanism is just something that evokes vile stuff in people? Maybe the comments section has acquired some internal sadistic characteristics of its own? Perhaps the almost criminal ease with which a person can type his opinion, and the fact that the virtual world is perceived as unreal, make it easier to let loose this primal, unfiltered, bestial instinct?
That's why I thought of writing about it in the newspaper – making the virtual more real, something that can be touched and felt. On paper, one can look at words differently, as something more permanent, more palpable. I thought that if a commenter could look at him/herself from a different angle, a more "serious" and more binding one, perhaps his gag reflex would be restored.
Name: "Oren from Petah Tikva" (07.01.2017 00:16)
Subject: Leftists deem it important to create the illusion that Israel is responsible for Gaza.
"If Israel is responsible for Gaza, the Palestinians' dire straits are Israel's fault. This baseless story doesn't question whether this Gaza resident should receive any treatment in Israel. And if I wanted Iran to treat me, do I deserve it?"
A classic Arab response – I've been deprived. (07.01.2017 00:22)
"Look at the map: Hamastan, a Nazi enemy state, bordering on Egypt, a sister Arab state. The exit is through the Rafah crossing. Good luck."
-----------
Name: "Opinion" (07.01.2017)
Subject: I find it hard to read Haaretz.
"Almost every topic is presented as a provocation. Look at this example. Why should we treat people from another country unless there is an agreement? I can't understand how they can come to Israel with complaints. Will Americans take care of us? It's the same with every story. Maybe my logic is faulty. Sorry, I can't connect."
-----------
Name: "Ran Levi" (07.01.2017 00:25)
Subject: Why doesn't the Palestinian state of Hamastan look after its residents and get equipment for cancer treatment?
"Now I remember – some of the money goes to the Gulf bank accounts of [Hamas leader Ismail] Haniyeh and other senior members of his gang, while the rest of the money goes toward building tunnels, buying rockets, drones, robotic submarines and other equipment for fighting the Zionist enemy. In short, let these patients drink Gaza's seawater, as was once recommended by the boy-loving pedophile [Nasser] al-Qudwa. In other words, you voted for Hamas (as did 80 percent in the last elections), face the consequences."
-----------
Name: "Orna from Jerusalem" (07.01.2017 00:25)
Subject: It's already too crowded in our hospitals. We don't need these women here.
-----------
Name: "Hiccuper" (07.01. 2017 00:41)
Subject: I trust the judgment and decision of the Shin Bet security service.
-----------
Name: "I don't understand" (07.01.2017 00:45)
Subject: Does Israel prevent them from getting treatment in Egypt?
-----------
Name: "Shula" (07.01.2017 11:10)
Subject: Jack, remind us: What exactly do we owe them?
-----------
Name: "Bleating sheep" (07.01.2017 11:21)
Subject: Why should my taxes go toward treating the enemy's sick? Why let them enter anyway?
-----------
"No" (07.01.2017 11:48)
Subject: Let them sell their rockets, then they'll have money to treat cancer in Gaza.
-----------
Name: "Light wind" (07.01.2017 13:58)
Subject: What a nerve!
"Since when does a country have to provide health services to citizens of an enemy country that doesn't recognize it and fights it? Great, Haaretz will soon be claiming that the wives of Hezbollah and ISIS are refused treatment in Israel. Let them go to Egypt, Saudi Arabia, Qatar and Turkey. There are great hospitals there, aren't there? What does Haaretz want from us? How low can it go in its madness and insolence?"
-----------
Name: "Maniac" (07.01.2017 14:55)
Subject: Go to Hamas.
-----------
Name: "Good health to them" (07.01.2017 15:56)
Subject: Let them go to Turkey.
-----------
Name: "Oh, Khoury, Khoury" (07.01.2017 17:56)
Subject: There is also an Israeli in Gaza who is refused exit. And bodies as well. Who will pay for the treatment?
-----------
"Turn to the Iz al-Din brigades" (07.01.2017 18:55)
Subject: Very touching.
-----------
Name: "Natalie" (07.01.2017 08:58)
Subject: The snake and the crocodile meet for a beer and cry over their fates.
-----------
Name: "A sane Israeli" (07.01.2017 19:30)
Subject: Enough with hypocrisy!
"Let Hamas look after its patients until there is peace!!! Israeli citizens shouldn't have to pay for hospitalizing cancer patients from Hamastan. We're not Christians who offer the other cheek after getting slapped (Qassam rockets). An eye for an eye is the right policy – let Hamas release the Israeli prisoner of Ethiopian descent who needs psychiatric help, and the body of Hadar Goldin."
-----------
Name: "Israel Zohar" (07.01.2017 22:43)
Subject: Treating cancer patients from Gaza.
"The saying 'Your own come first' was never more apt. It's absurd to make the waiting times longer for Israeli citizens for the benefit of the ladies from Gaza. They should convince Hamas to invest its energy, money and construction materials into building hospitals and buying medicine instead of building tunnels and producing more and more rockets."
-----------
Name: "Dan" (07.01.2017 22:49)
"Is the fact that they are trying to destroy a Western state a reason to give them preferential treatment over, say, African states? Do they deserve more electricity and medical services than a citizen of the Ivory Coast? Why? Because the people they want to murder need to help them? Let them rot."
-----------
Name: "Hagar" (07.01.2017 00:41)
Subject: What a rabble has been writing here, God help us.
Click the alert icon to follow topics:
ICYMI
Ken Burns' Brilliant 'The U.S. and the Holocaust' Has Only One Problem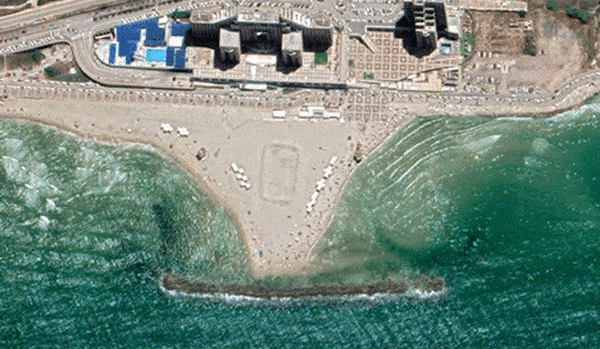 Facing Rapid Rise in Sea Levels, Israel Could Lose Large Parts of Its Coastline by 2050
Lapid to Haaretz: 'I Have Learned to Respect the Left'
The Mossad's Fateful 48 Hours Before the Yom Kippur War
As Israel Reins in Its Cyberarms Industry, an Ex-intel Officer Is Building a New Empire
How the Queen's Death Changes British Jewry's Most Distinctive Prayer