Opinion |
He's a Monster. And Now He's President of the United States
You don't let a predator near your family. You don't let a monster into your home. And if the monster is already there, you stand up to him. Head on. With everything you have. What part of 'Never again' do we not understand?
A worker puts a hat on of a life-sized wax statue of U.S. President-elect Trump at Madrid's wax museum, January 17, 2017.
Credit: SUSANA VERA/REUTERS
The first time that my wife told me "He's a monster," I thought about it, nodded, and let it go.
At the time, Donald Trump seemed to have little or no chance of being elected president of the United States. I didn't want to bring myself to think about what it could mean if he eventually won. But my wife sees the future a whole lot better than I do.
It's been 19 months since Trump announced his candidacy. He has since made the following into one of those things that's impossible to unsee:
He's a monster. And now he's president of the United States.
>> Get all updates on Trump and Israel: Download our App, sign up to Breaking News Alerts, and Subscribe >>
In America, from a tender age, children are trained, drilled, not to fear the monster they may suspect is lurking in the closet or, worse, beneath their bed. From Sesame Street's Elmo through "Where the Wild Things Are" and beyond, we get to know monsters as cuddlesome, sensitive, playful, caring, supportive, instructive - in all, nothing to be feared.
Not this time.
"Monster," the dictionary tells us, "A large, ugly, and frightening imaginary creature; an inhumanly cruel or wicked person; (humorous) A rude or badly behaved person, typically a child."
Look around. No one's laughing.
For months and months he was just behind the closet door, clawing and snorting and mugging and bellowing, throwing out vile slurs at just about anyone who was not male, white, Protestant, disparaging in one way or another anyone who was disabled, liberal, the wrong kind of veteran, the wrong kind of American, the wrong kind of immigrant, which was non-European, the wrong kind of Republican, which was any Republican who ran against him or supported those who did.
But he wasn't going to win, the wisdom went. The Republican Party would never let him.
Still, the monster came closer. You could hear him rutting there in the dark. He began to let us see what he was truly made of, behind the gilt and blinding back-lighting and the preposterous, P. T. Barnum "We Are The Champions" entrance of the 21st century horse manure matador, behind the third-person auto-namedropping and the working-stiff affectations.
And as the monster came ever nearer, as he moved to striking distance, under our beds, he let us all know that all bets were off. Pride in sexual assault, outright denial of having ridiculed a person's handicap, tolerance for the active support of white supremacists and outright Nazis – again and again he thoroughly de-legitimized himself as a prospective president. But nothing and no one stopped him.
And then he was no longer under the bed. Now he is standing tall, ready to strike, his true inaugural message unmistakable:
The rules of human decency, the strictures of basic shame, the tenets of basic citizenship, the most fundamental rules of life in a society – all of them are now hereby null and void. All of them are so Last America.
Only one thing - the monster is wrong. The basic rules of life are still the same:
You don't let a predator near your family.
You don't let a monster into your home.
And if the monster is already there, you stand up to him. Head on. With everything you have.
This is not just any predator. This is not just any monster.
This is the predator with the power and the privilege and the right hidden backers, to get away with governmental murder.
This is the monster who thinks nothing of reaping political capital by stripping health care from as many as 20 million Americans – many of them his own voters. Many of whom will die on his watch, while the monster has diverted the national attention elsewhere, as he expertly shovels more horse manure in our faces.
This is the monster who, days before his inauguration, declares cold war against the NATO alliance, to the horror and consternation of 27 allied countries. Only one country agrees with his attack on NATO – Russia. "I took such heat, when I said NATO was obsolete," Trump tells the Times of London. "It's obsolete because it wasn't taking care of terror. I took a lot of heat for two days. And then they started saying Trump is right."
This is the predator who portrayed millions of Americans of color, of Hispanic heritage, or of Muslim faith, as monster hordes, subhuman as zombie armies, massing at the borders and swarming an America of quiet white suburbs, violent crime and fanatical terrorism their only aim.
This is the monster who, during his inaugural address, is expected to speak about unity and healing wounds, less than a week after having told civil rights icon John Lewis that he doesn't know his place – and then deepening the wound by canceling plans to visit the Smithsonian Museum of African American History and Culture the next day in observance of Martin Luther King Day.
This, remember, is the monster who, a month ago, during a speech in Alabama, the final stop on a "Thank You Tour 2016" series of victory rallies, promised the nearly all-white crowd, "We're going to go back to the old days."
This is the monster who whipped supporters into a frenzy with calls to Drain The Swamp – all the while neglecting to mention that the swamp is where he lives. And that the drainage ditch he's been digging for the likes of Goldman Sachs and Exxon alumni, leads not away from the White House, but in through its every portal.
This is the monster who first talked anti-Semitic trash to prospective Jewish donors, then adopted and promoted the Plot Against America slogan "America First" – even when told that this insulted and effectively threatened American Jews, then dog-whistled support to Jew-hating American Nazis, then defended an overtly anti-Semitic meme against Hillary Clinton, then appointed an ambassador to Israel so profoundly hateful that he called thousands of American Jews by the worst four letter word one Jew can call another: kapo.
This is the monster who compared his treatment at the hands of the press, to the genocidal crimes of the Nazis.
And this is the monster whom the head of the Simon Wiesenthal center will bless at the inauguration.
What part of "Never again" do we not understand?
That's the thing about monsters. If you just let them be, or if you normalize them, or if you try to engage with them, mollify them, or just do your best to to ignore them, they will attract and awaken and embolden other monsters.
The other monsters are watching. They're giving you no choice. You stand up and fight. Otherwise, sooner or later, they'll be in your house, too.
Click the alert icon to follow topics:
ICYMI
Ken Burns' Brilliant 'The U.S. and the Holocaust' Has Only One Problem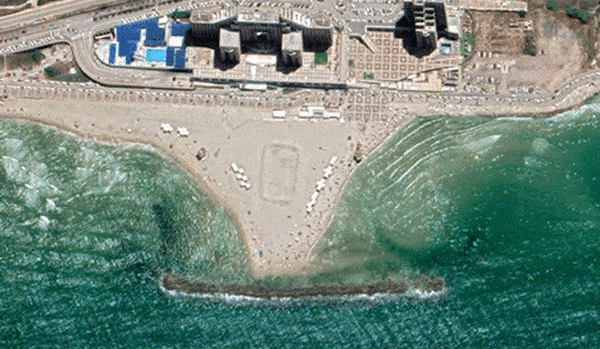 Facing Rapid Rise in Sea Levels, Israel Could Lose Large Parts of Its Coastline by 2050
As Israel Reins in Its Cyberarms Industry, an Ex-intel Officer Is Building a New Empire
How the Queen's Death Changes British Jewry's Most Distinctive Prayer
Chile Community Leaders 'Horrified' by Treatment of Israeli Envoy
Over 120 Countries, but Never Israel: Queen Elizabeth II's Unofficial Boycott